We all love a good bike, no doubt. But there is more to a good bike than just the "bike itself". In fact, the accessories that accompany a high-end, top-of-the-class motorcycle are what defines a rider's experience.
On that note, here is a quick primer of our pick of top 10 motorcycling accessories that you shouldn't lack in 2023:
List of the Best Motorbike Riding Accessories of 2023:
1. BikeMaster Multi-Tool With Sockets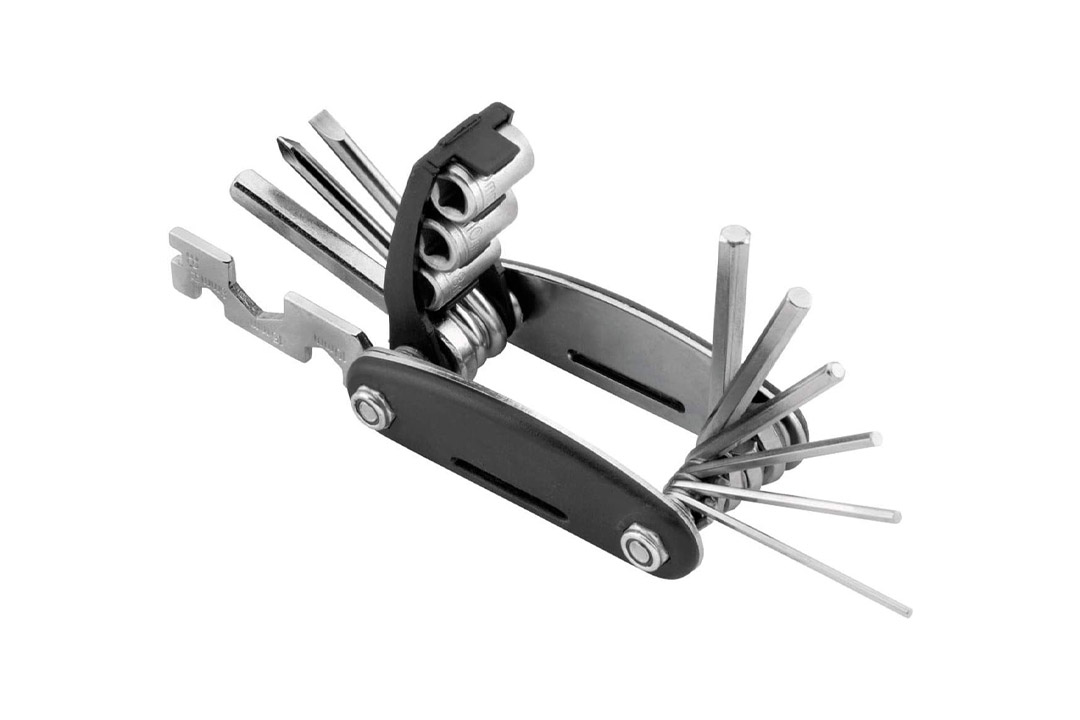 While it is possible for a bike enthusiast to have a complete motorcycle/bike toolkit in their garage, it is usually impractical to tow the entire toolbox around every time you are on the move. That's why a multi-tool kit with sockets often comes in handy any day especially if it is pocket-sized like this one from BikeMaster. This kit allows you to carry just about every little tool you will need should your bike stall unexpectedly in the middle of a highway. This includes 6 different hex wrenches and 3 sockets complemented by a socket driver.
2. Cortech Dryver Tail Bag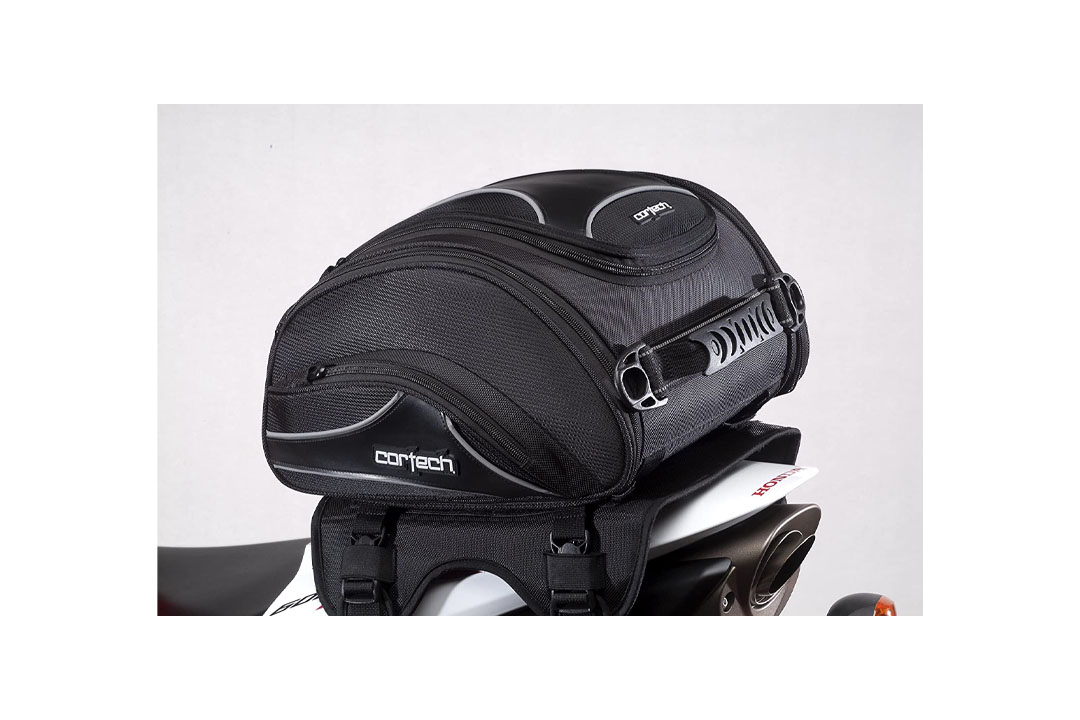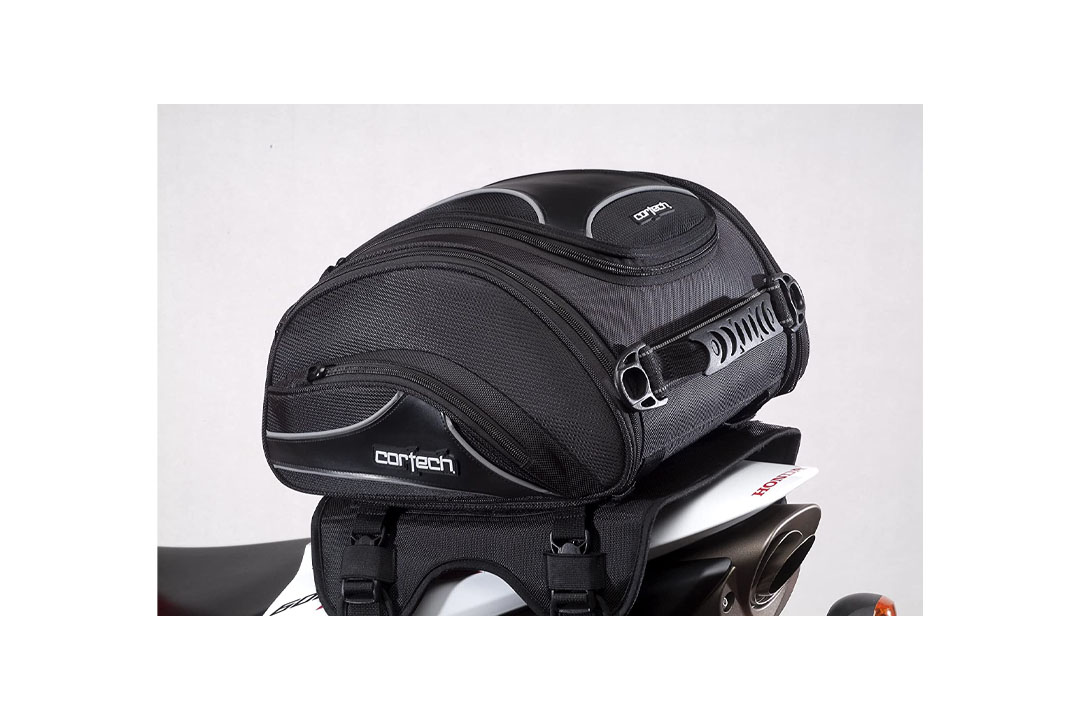 All riders- even the enthusiastic bikers- have a common need; a little bit of storage. It may be for stashing that Multi-Tool and Tire Repair kit or simply for throwing your wallet, phone and, other smaller gadgets. As far as this is concerned, the Cortech Dryver Tail Bag is an excellent option. It is not only small enough but also stylish and easy-to-attach particularly for that discerning rider who needs a bit of storage on their bike.
3. BikeMaster Tire and Tube Flat Repair Kit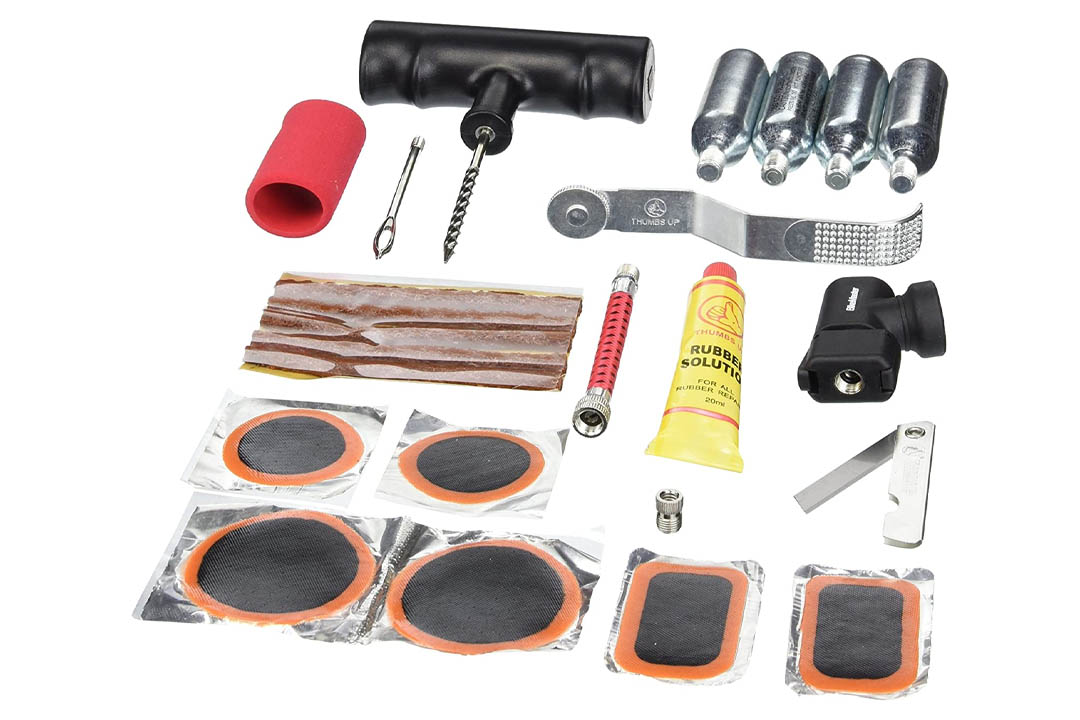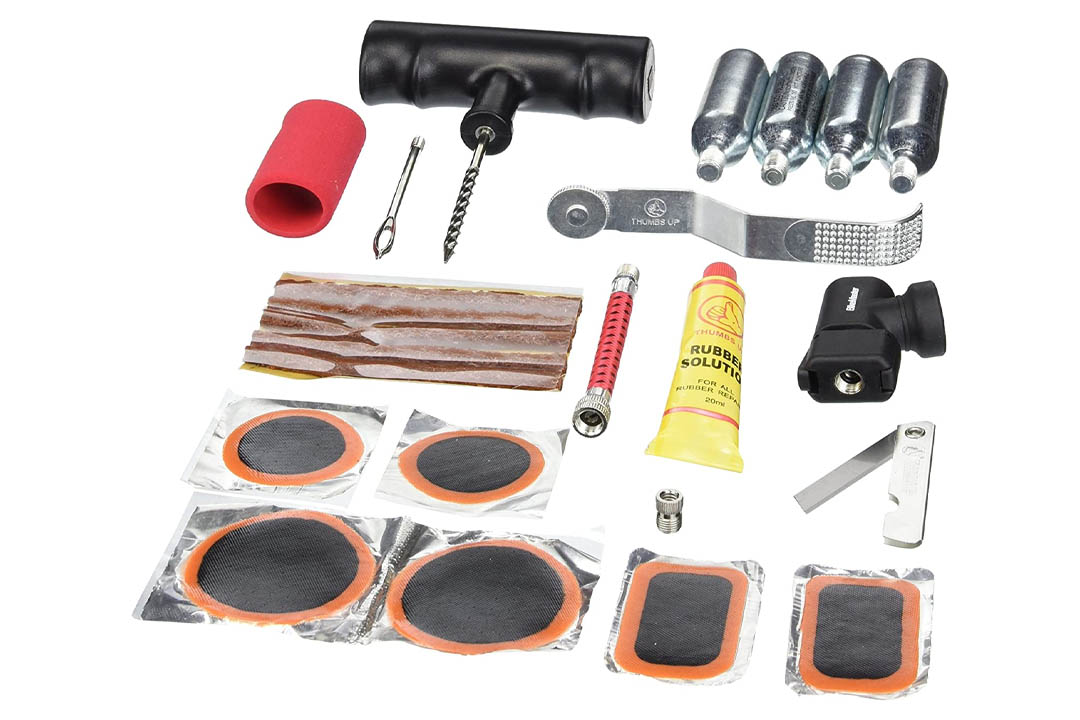 At the end of the day, all riders share a common fear; an unexpected flat when cruising a deserted country highway. Nothing is as frustrating as that one, really. However, this tire repair kit can come in handy when it comes to saving the day should you be caught up in such a situation. Together with a complete array or tube repair and tire accessories, it also comes packaged with 4 Co2 canisters for re-inflating a flat, so you don't have to worry about carrying a bulky pump. That aside, it can also be used for even tubeless tires as well.
4. Sena Bluetooth SMH-10D-11 Headset and Intercom Set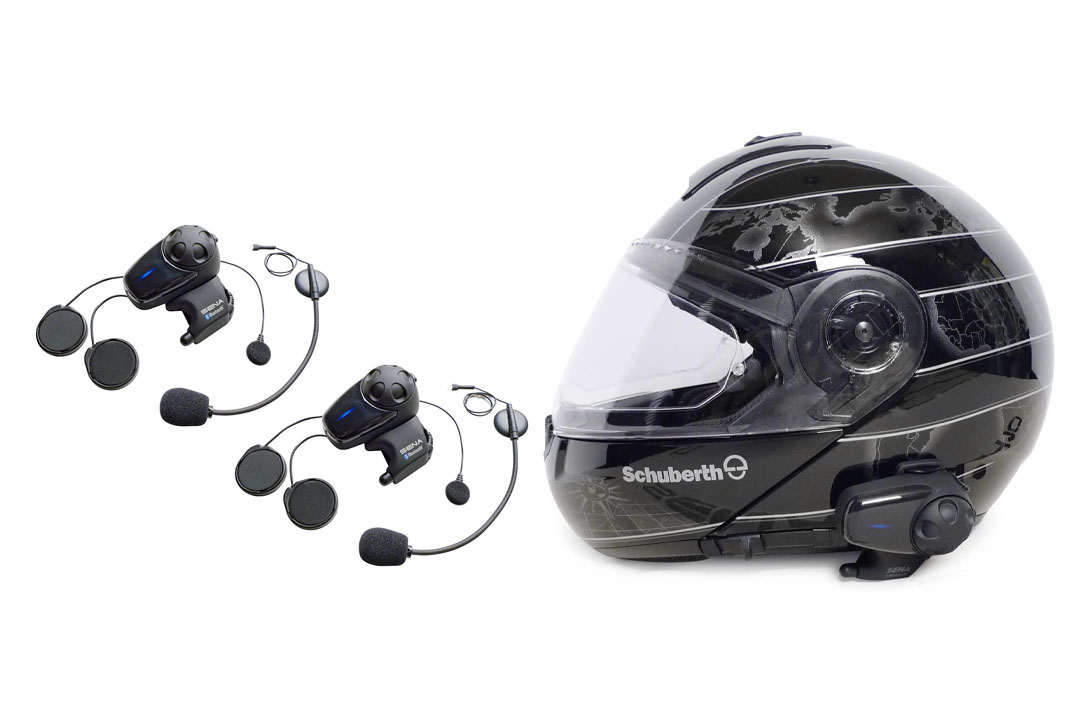 This one is a great accessory for those who ride in teams, particularly for those cross-country/inter-state biking challenges. Through this device, you will no longer have to rely on communication via hand signals to relay information to your friends. And this set offers a reasonable range of features especially considering its price. You will enjoy an uninterrupted intercom range of approximately 900m through which you can chat with your passenger/other riders in a completely hands-free control fashion. And if you are the type that loves to go solo, then you can pair the set with your phone and listen to music, receive phone calls and use voice-aided navigation without your hands ever leaving the steering bar.
5. GoPro Hero4 Camera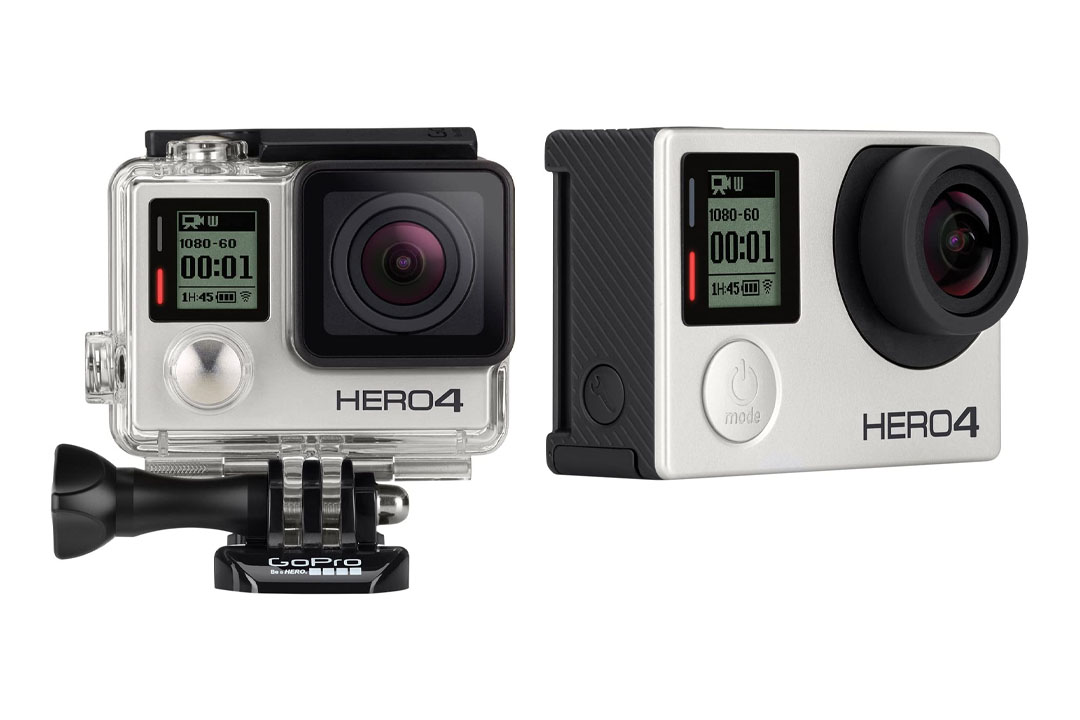 Since it is regarded as one of the best personal digital cameras on the photography market, it is also not entirely surprising that GoPro Hero4 has found its way to the motorcycling niche. Not only does it produces stunning 12MP photos, but also capable of shooting reasonably clear 720p and 1080p videos on a fast moving bike. To add on this, the new Hero4 comes with a revised audio system, a built-in highly sensitive touch display, and a powerful dynamic range. And if you are wondering, it is very easy to attach it to your helmet.
6. Garmin Zumo 350LM GPS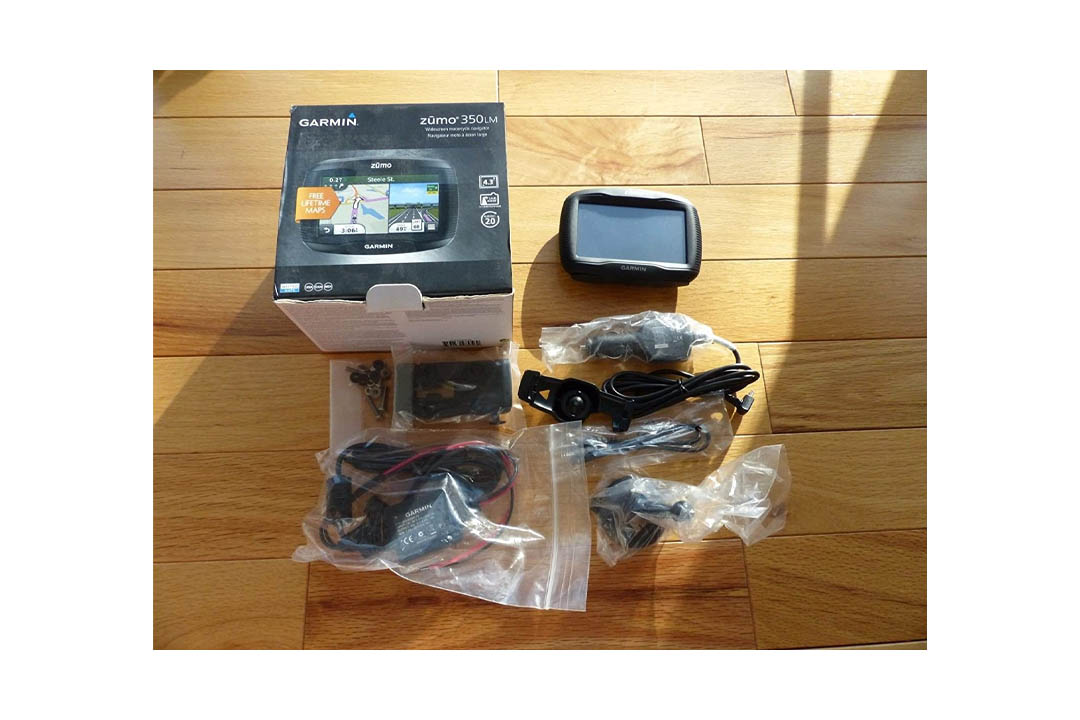 GPS devices are becoming quite common nowadays and if you are in search for a good, well-priced GPS navigation system for your new bike, then this is one of the best options to consider. It has a motorcycle-specific head mount that enables a user to release/re-connect the main unit effortlessly. The high-performance 4.3" glove-friendly touchscreen can be read even in direct sunlight if necessary. Unlike other navigation systems, the 350LM also has a handy service log feature that allows you to keep track of your maintenance schedule in an easy convenient way. Other bonus-but-useful features include a speed limit indicator and a mileage tracker for long distance riders.
7. Antigravity XP-10-HD HEAVY DUTY MICRO-START Lithium Jump-Starter Power Supply
No products found.No products found.
So far, all of the cool gadgets listed above imply that you will have to recharge them every-once-in-a-while. And that can be a challenge if you are constantly on the road. However, with such a device, you can do all that from virtually anywhere without having to stop over in motels and gas stations to recharge your phone. And should your bike stall, you can also jump start it using the stored charge. If anything, this seemingly small pack can store up enough juice to rock a V8 engine into action. Weighing only 12 ounces, it comes with a complete array of jumper cables and charging adapters making sure that you can handle any curveball that the open road can throw at you.
8. FreedConn BM2-S Bluetooth Integrated Modular Flip up Dual Visors Full Face Motorcycle Helmet
Check Price on Amazon.com
This is not your ordinary run-of-the-mill brain bucket. According to their website, the Skully also boasts of an in-visor Heads-up Display (HUD) and a rear-facing, revolving 180 degrees camera. So regardless of where you are going, you will have a 270-degree vision (or what is better known as 'on your six' in the military). As an accompaniment, the helmet's HUD is also capable of feeding you with the basic info regarding your bike's speed, RPM etc. By next year, Skully is slated to release an update that will see the helmet fitted with a fully functional turn-by-turn navigation system.
Read more at https://www.indiegogo.com/projects/skully-ar-1-the-world-s-smartest-motorcycle-helmet
9. Ogio No Drag Mach 3 Backpack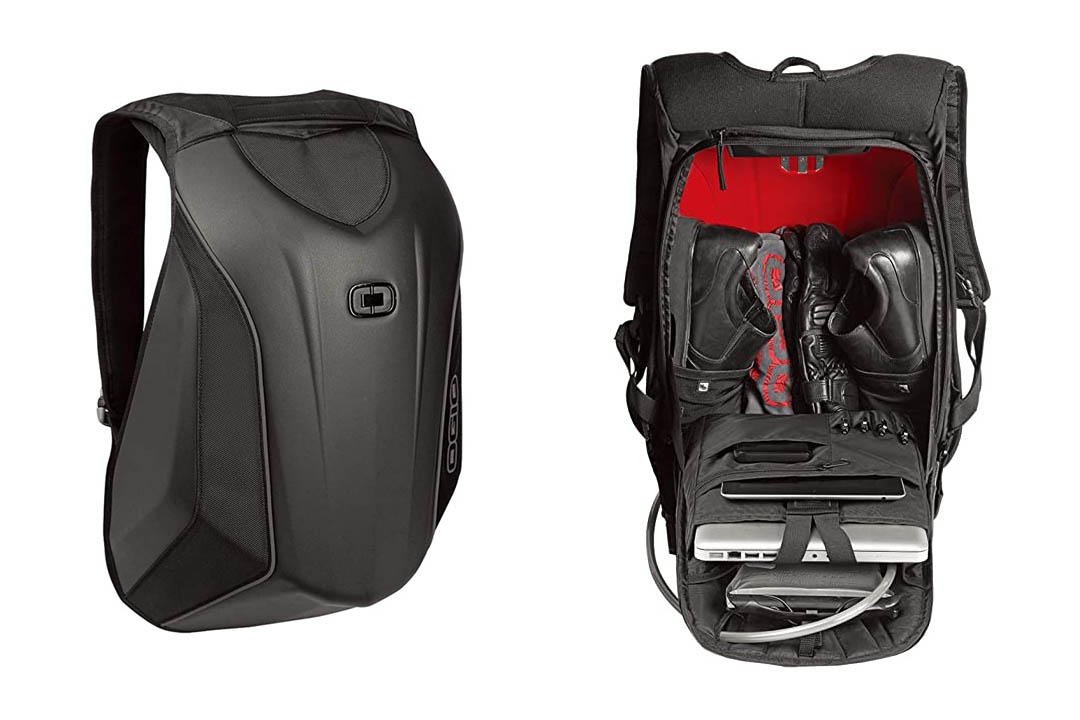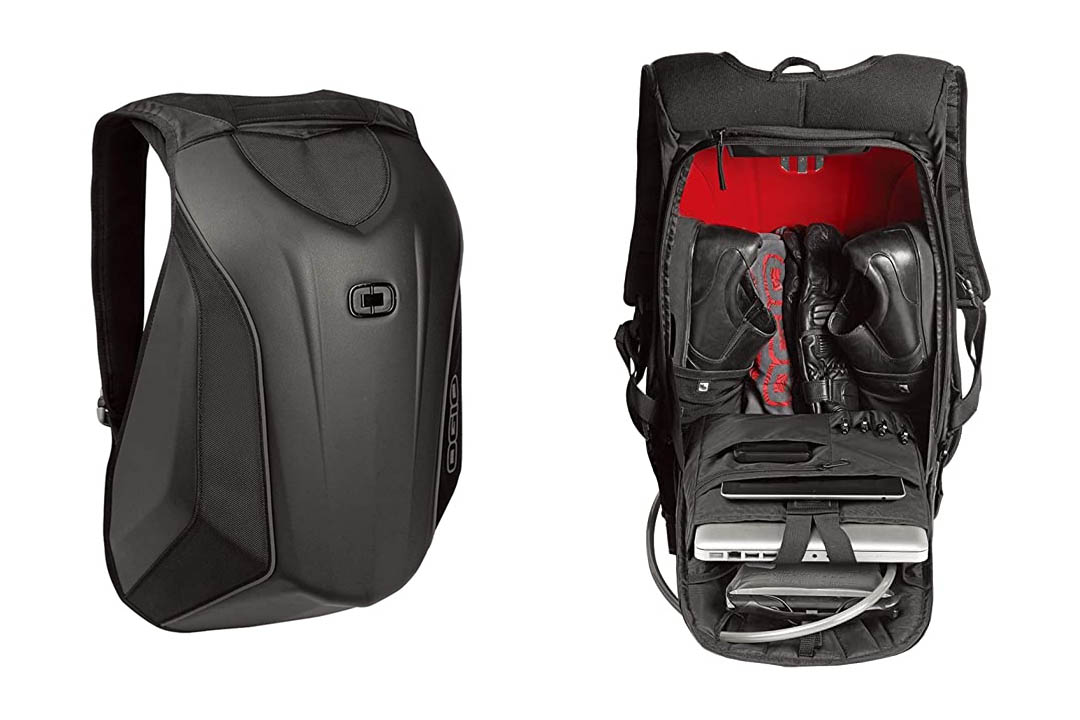 If you periodically use your bike to commute to school or work, carrying a canvas backpack can be quite a drag- which translates to unpleasant ride. But the Mach 3 Backpack is designed specifically for riders who are looking for a smooth, pleasant cruise regardless of their speed. Thus, in place of the standard nylon material, it comes with a hard aerodynamic shell that allows a streamlined flow of air. The shell is also a guarantee for additional protection for the contents carrier in the backpack.
10. Xena Alarm Disc Lock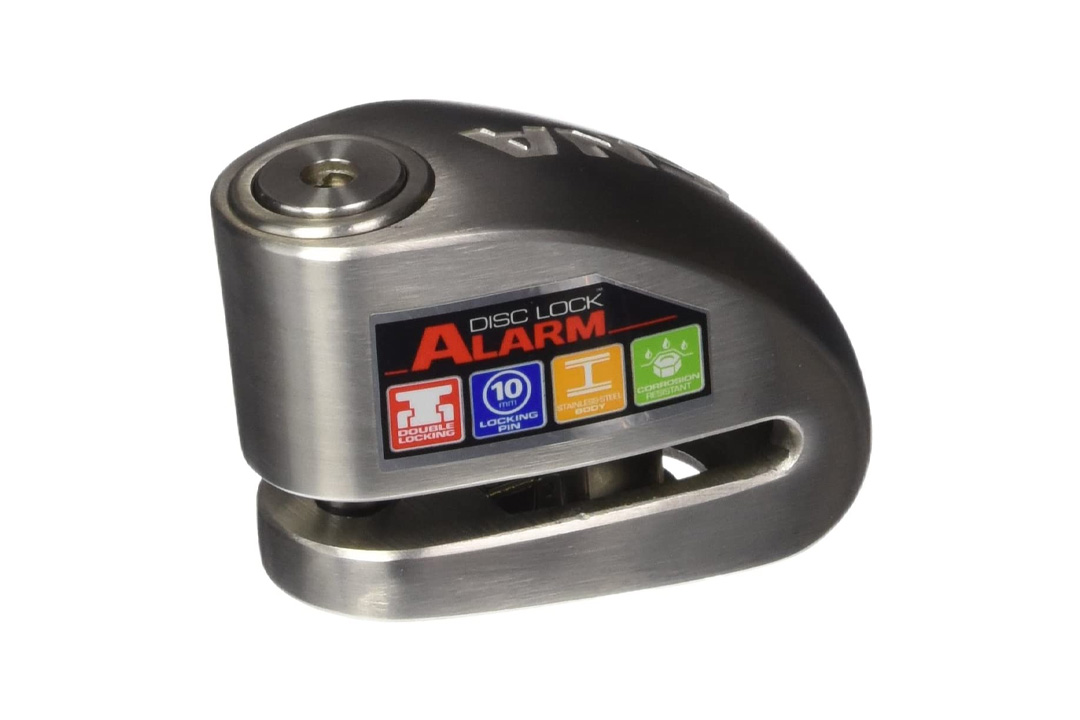 It is no secret that all riders harbor the incessant worry that there is always a thief lurking around the next corner ready to pounce on their bike. Stealing a motorcycle is not that difficult, after all. But the Xena XX15 is one of those locks that will give a potential thief a hard time. The stainless steel, high-strength disc lock plus the motion-sensitive built-in alarm system should be enough to deter even a very determined one.
Final Thoughts
This article was written by Alex who writes for Sell Motorbike. If you are looking to sell your bike make sure to visit sellmotorbike.co.uk.
Any Top 10 is a participant in the Amazon Services LLC Associates Program, and we get a commission on purchases made through our links.