Weight benches play a crucial part in any weight training program with modern benches allowing you to train at any angle, focus on almost any muscle and aid in reducing the risk of injury. Before jumping to our top ten, we will explain the different types of benches that are purpose built for use in a gym or studio.
An adjustable weight bench typically has a simple frame design with one of two different adjustment mechanisms: pop-pin or steps. A wide range of workout options is provided by the range of level adjustment as part of a basic dumbbell routine. Although not built for compound heavy lifting on their own, most models come with handles and wheels for easy movement in and out of racks.
The second type is the flat weight benches. This type of bench is more straightforward but provides a reliable and popular option for certain exercises. When performing flat bench presses and moves that don't require elevation, then a flat bench would be the ideal choice for your gym. With it's fixed position you have guaranteed stability and reduced risk of having to carry out maintenance on hinges and moving components. The predetermined height from the ground is usually lower than that of an adjustable or incline/decline bench. The flat bench also comes with a single, solid deck meaning there's no gap where the hinge on an adjustable one is located. While flat benches are fixed in height and angle, they are normally easy to transport with wheels, handles or both.
The third type if the Olympic Weight Benches. They have a built in racking system, which tends to be safer than just using a bench and squat stand together and secondly, they remove the need for people to place benches in power or half racks and designate space for the various bench press variations. However, as well as having a fixed racking system, they tend to have a fixed angle (either flat, incline or decline).
For a facility looking to add something extra to their free weights area, there are a variety of specialist bench options on the market which are less geared towards all around versatility and are instead focused on specific exercises, movement types or muscle groups. One example would be preacher curl seat or bench. This machine is great for isolating the biceps when performing curls. It removes the ability to lift with the hips, back or shoulders – all of which are common mistakes.
Now it's time for us to dive deep in our top ten beast for the adjustable bench for dumbbell workout today.
List of the Best Adjustable Bench for Dumbbell Workout of 2023:
10. XMark Adjustable FID Weight Bench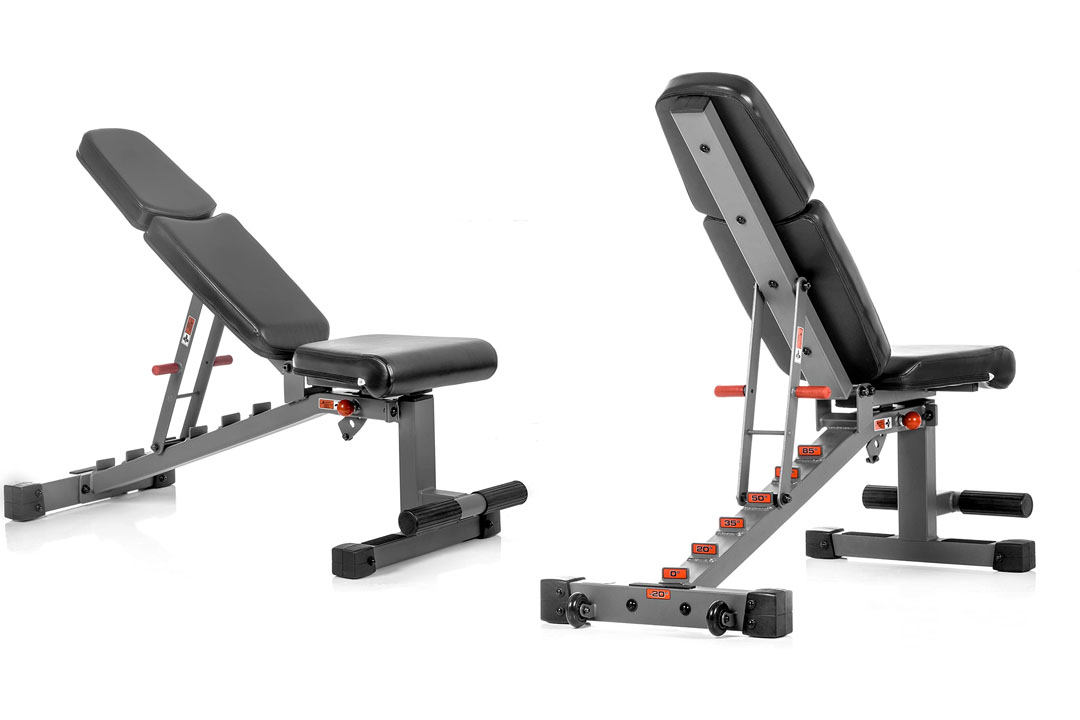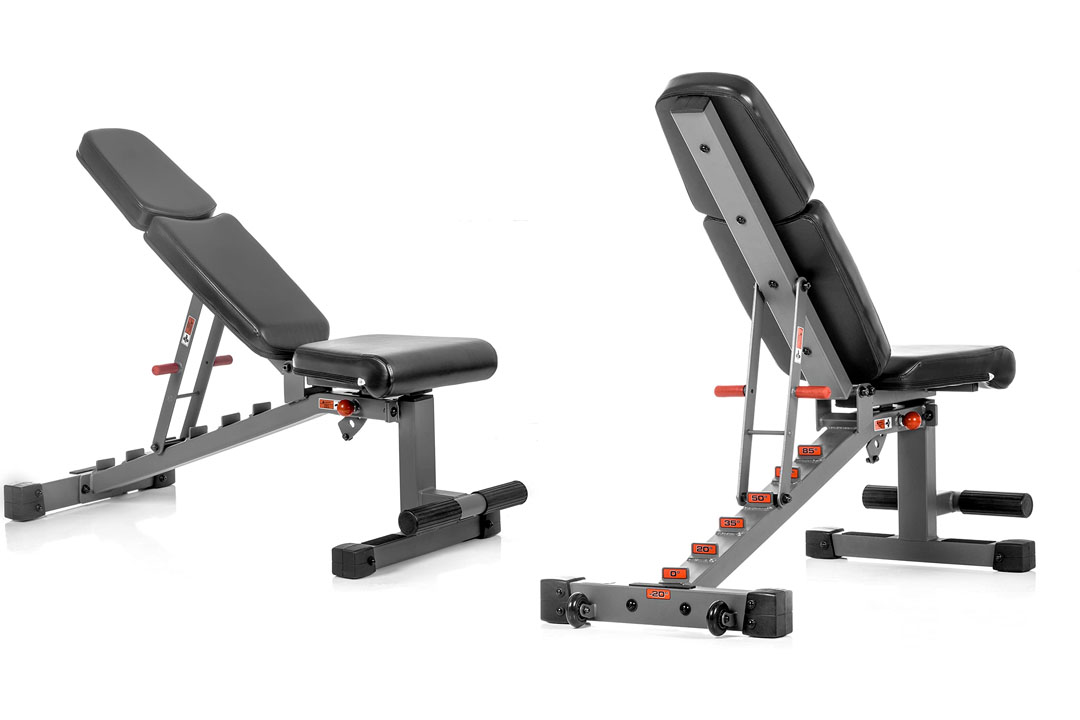 No products found.
Here comes the new, hot release, , heavy duty and adjustable, flat and incline- FI weight bench with a 1000-pound weight limit from Rep Fitness, AB-3100 V2. It has a rather sturdy heavy duty frame that is 14 to 4 gauge metal that is rated an impressive 1000-lb. weight limit. The variable thickness of both the seat and the backrest ensures the durability of the bench. As a heavy duty product, Rep AB-3100 weighs 75 pounds and measures 50 x 11.75 x 17 inches. The total pad length is 50 inches, the top of the pad is 17 inches when in the flat position and 11.75 inch is the width of the pad at its thickest point. Adjustability gives users the sense of freedom. That's why with AB-3100 V2, you can adjust the backrest to six different positions and the seat to three positions which allows you to target slightly different muscle parts at different angles. This is not an FID bench with a decline angle but offers from flat up to 85-degree incline. Same goes for the seat as well and offers flat and two incline positions, not decline. Safety comes first when you're working out on this bench. It has a very high weight capacity with an additional tube support when in a flat position for when you're lifting heavy weights. You can wipe the bench with a damp cloth whenever you need since the vinyl cover on the thick padding is solid and anti-slip.
9. Ironmaster Super Bench Adjustable weight-lifting Bench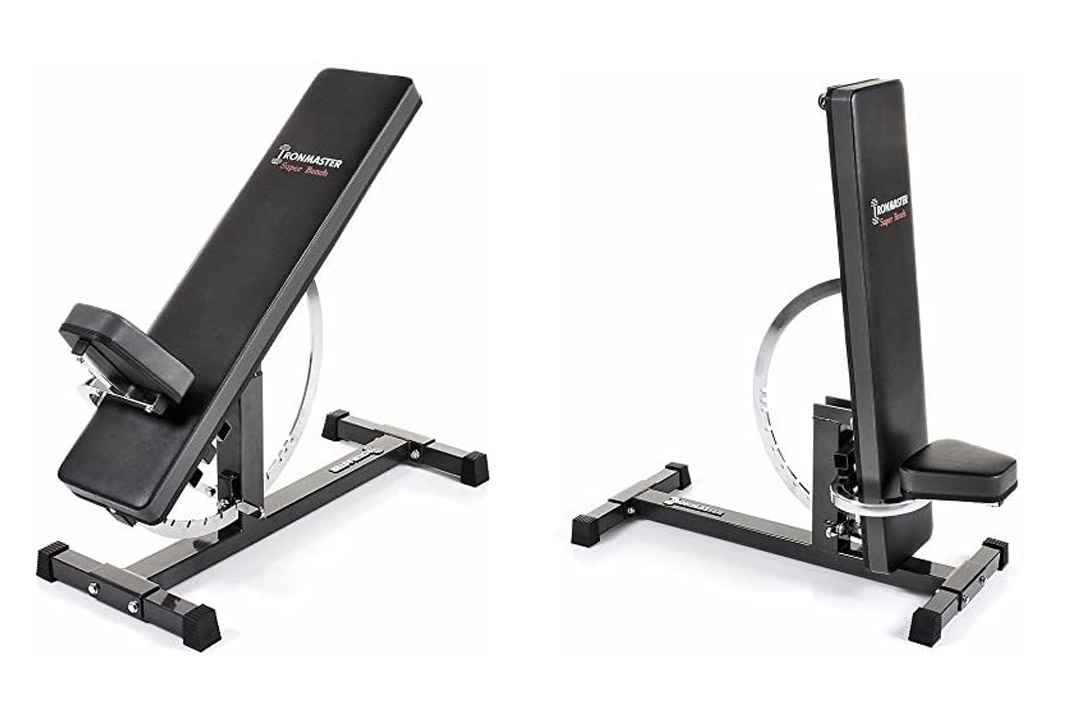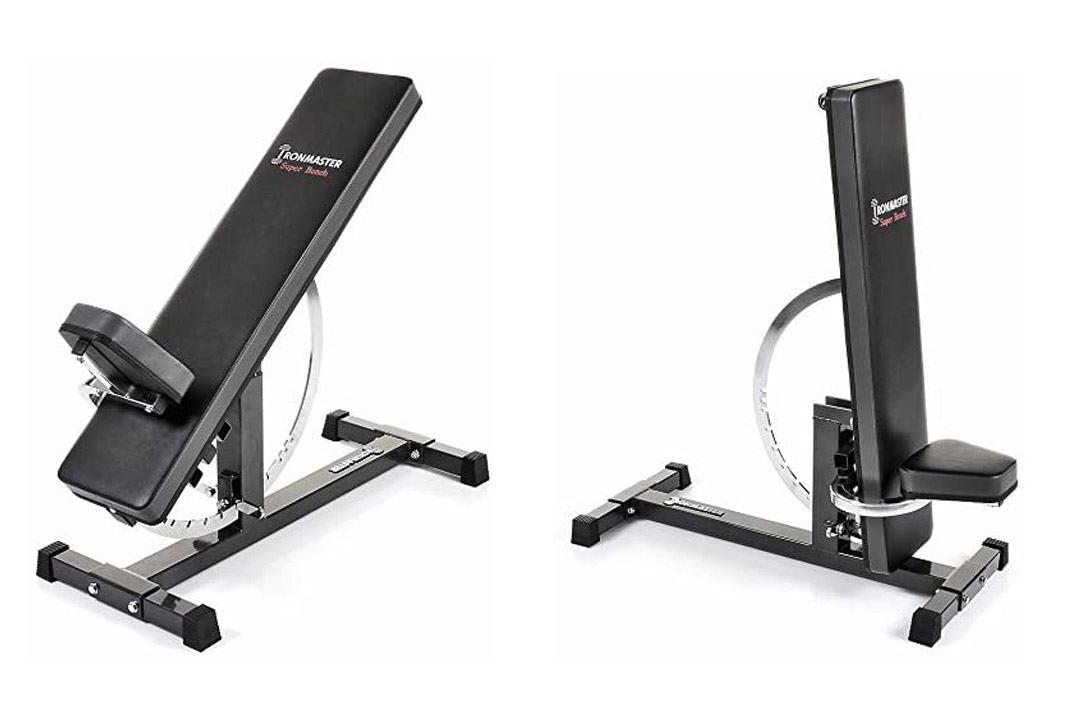 Keep yourself in shape with Bonnlo Adjustable Fitness Bench. This adjustable bench is perfect for doing dumbbell and barbell workouts in a variable of positions. The backpad and the seatpad are adjustable for different exercising position. When putting the bench together the slide adjustment hole and the seat holes could line up accurately. It does not take a rocket scientist to assemble the bench. Any component parts would be stable enough only if assembled properly and the assemble steps is just a simple work. If exercise properly, the bench helps correct posture and stabilize positioning to aid to a great extent in resistance training. Due to the concrete design, the bolts that came with it is in a proper length and the cap nuts would snug down properly. Extra thick padding covered in sweat and tear resistant material completes the package giving you the most sturdy and effective bench around. The ergonomic design integrated in this product reduces the chances of getting unnecessarily injured while you exercise. Soft, durable pads keep you comfortable during the workout sessions while the steel structure with coated finish adds to the durability of this fitness equipment. Bonnlo Adjustable Fitness Bench is a perfect equipment for indoor exercise.
8. GYMENIST Exercise Bench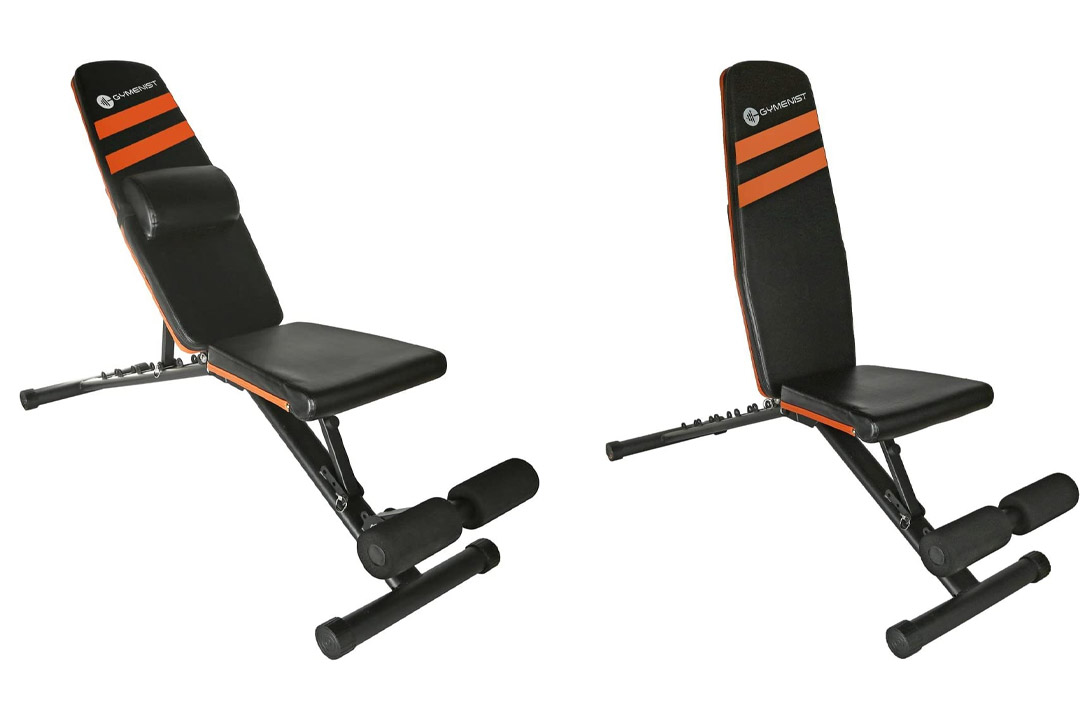 No products found.
Marcy Deluxe SB-10100 is a multi purpose gym utility bench with very dense boxed upholstery and padding, double stitched vinyl cover, reinforced back pad and foot support with contoured foam rollers for your comfort and powder coated 14 ga. steel frame for durability (stable and robust) so it will carry you and the very heavy weights you're holding comfortably. The maximum user capacity provided is 300 pounds. The bench can be stored conveniently since it weighs less than 50 pounds and has the measurements of 55 x 18 x 45.5 inches, is compact in size and has a conveniently foldable fold-flat design. This multifunctional unit allows you to target different parts of your body using barbells, dumbbells- free weights, your body weight to do ab, tricep and chest exercises with the multiple position backrest and seat angle adjustment options or you can even use it with a rack or squat stand of your choice and perform a great variety of resistance training exercises. The design of Marcy Deluxe is not specifically referred to home gym alone. Since it has the 300 pound weight capacity due to its very sturdy build quality, this bench can also perform for commercial gym. Marcy Deluxe Bench is comfortable, sturdy, versatile, functional, has modern design with great lower back support and decent range of motion of the arms, very reasonable price and is great value for money.
7. Marcy Multi-Purpose Adjustable Utility Bench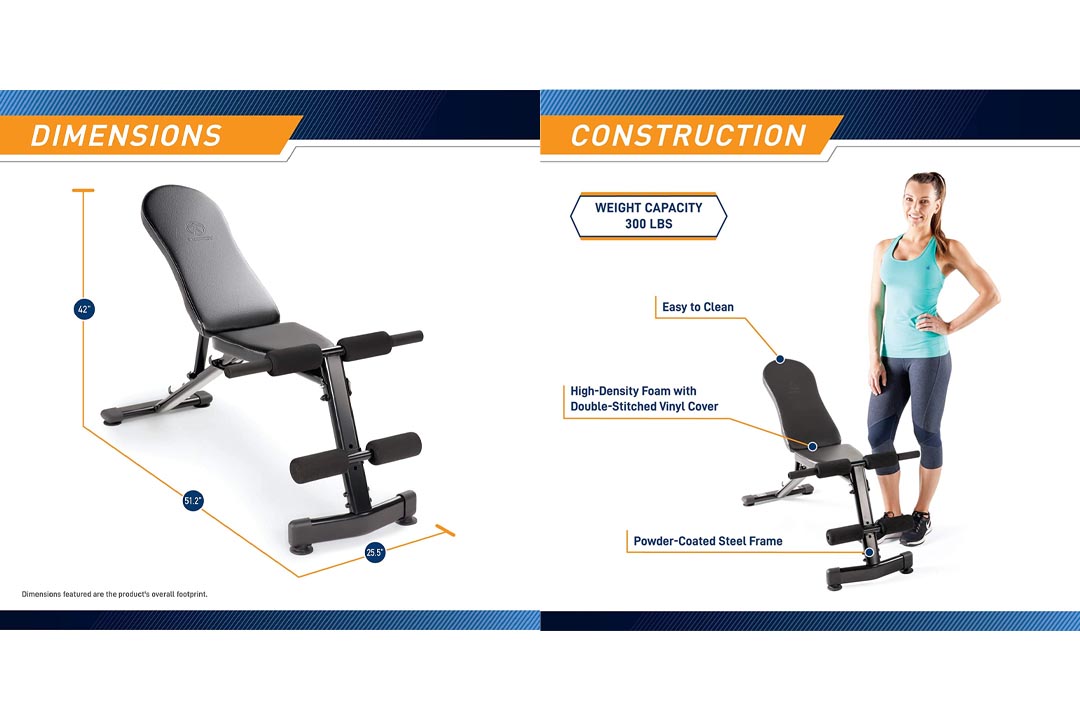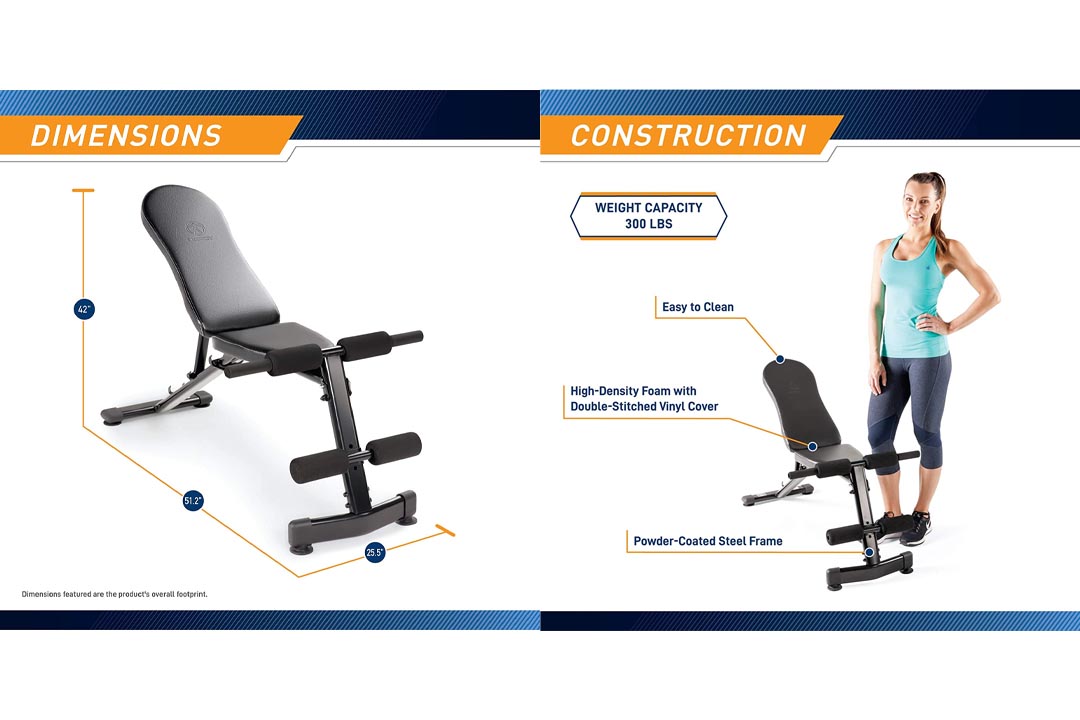 Get yourself ribbed with Fashine Adjustable Folding Bench. This adjustable ad board comes with solid and durable steel construction, and it also has a stylish thick comfortable padding provides supportive and comfortable cushioning during your workouts. You can enjoy yourself with the multifunctionality it does provide. The folded sit-up training is not only for waist exercise and abdominal strength but also lose fat on your tummy, alleviate lower back problems. The speed ball is integrated to improve your coordination and react velocity. Physical exercise and pressure reduce for four different positions for over 30 different exercises. The minimum height is 47 cm, and the maximum height 65 cm. The diameter of the ball is 16 cm while each seat measures 50.5x 28 x 4.5cm. The curve design helps support the natural curvature of your lower back, with 2 dumbbell and rope suit for sit-ups, abdominal work, and upper body workouts. It is fitted with non-slip foam padded handles that secure your ankles and legs for safe, intense workouts.Ab bench leg height is adjustable, fit for 100 cm-190 cm/3.2″-6.2″. Fashine Adjustable Folding Bench is ideal for your power training exercising at your home or in the gym.
6. Weider Pro 255 L Slant Board/Ab Bench
Lighten up your day up with the great Garain Adjustable Hyper Back Extension. It is made from the heavy-duty steel frame construction with anti-rust paints to ensure the best durability possible. The design is widely adjustable. You can work on your abs in 3 crunch positions ranging from flat to a 30-degree decline. Adjustable footrest, backrest and thigh support to adjust the height and workout intensity. Non-slip feet gloves, non-slip rubber frame caps are integrated to protect floors while a solid midsection can help you reduce the risk of injury. The bench is designed to increase your core strength leads to better balance, agility, and strength. It does target your lower back muscles with standing hyperextension exercises and You can do lots of other exercises such as incline and decline push-ups, bench dips and one legged squats or even exercise with dumbbells for bicep curls and one arm rows. The equipment provides you terrific core strength, ripped abs and powerful back muscles. The black mat measures 44 x 28cm while the lying mat measures 73 x 28cm.
5. Stamina Hyper Bench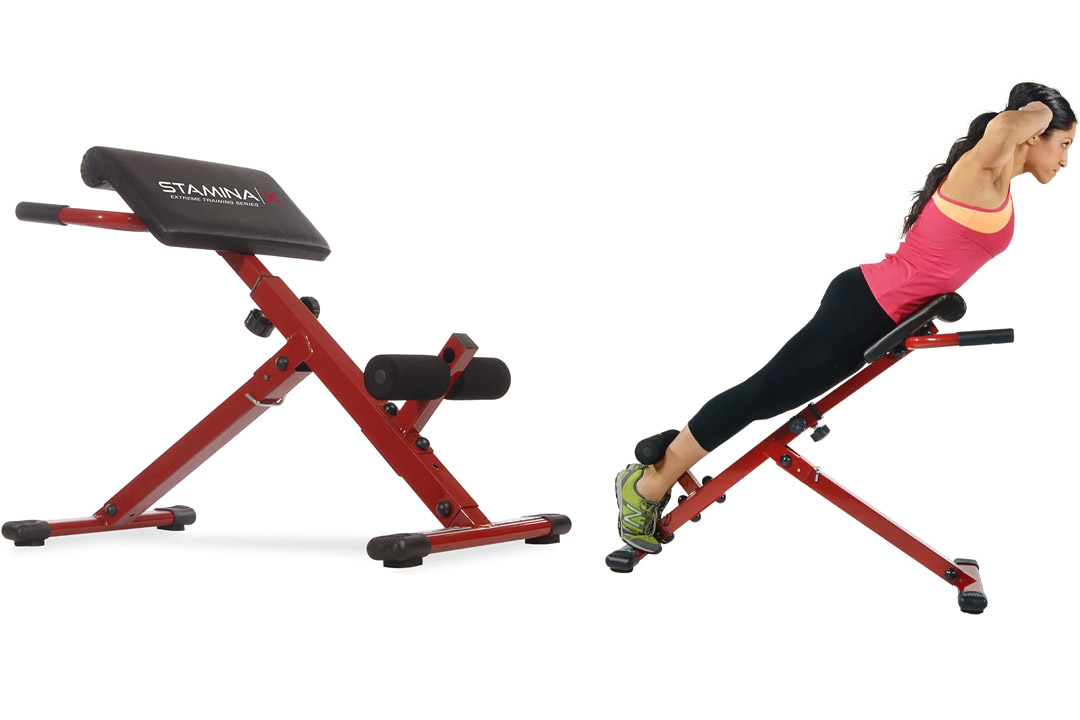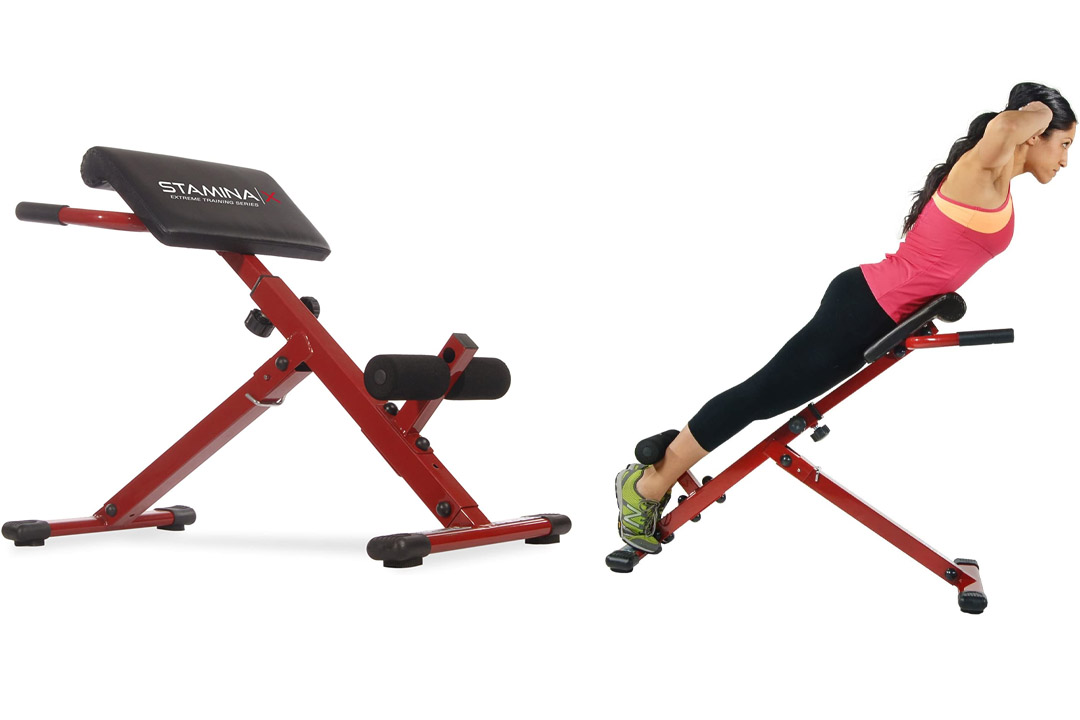 Enriching your life with Stamina Hyper Bench. The Stamina X Hyper Bench allows you to build your back and abdominal strength so that you attain better balance and reduce injury. In addition to fat burning cardio, the bench will also give you the chiseled core you desire – as long as you work for it. Since the bench can be used with or without dumbbells, you're in control of the intensity of the workout. Adjustability is one of the best features ever provided in any benches. The Hyper Bench's thigh support adjusts to fit your leg length, and the pivoting foam rollers hold your ankles securely so your body is aligned in the correct workout position. These supports and foam rollers are densely padded to make your workout more comfortable because after all, the more you want to use the bench, the more you build your core. Don't worry if you no longer have enough space to store new item. Even though the Hyper Bench takes up very little space as is, it also has a foldable frame so that you can store it against a wall or in a closet after your workout. All you have to do is pull the pin. Plus, you can keep it in any room of your house because the floor protectors prevent scratching and skidding.
Watch video:
4. Rep Adjustable Bench – AB-3000 FID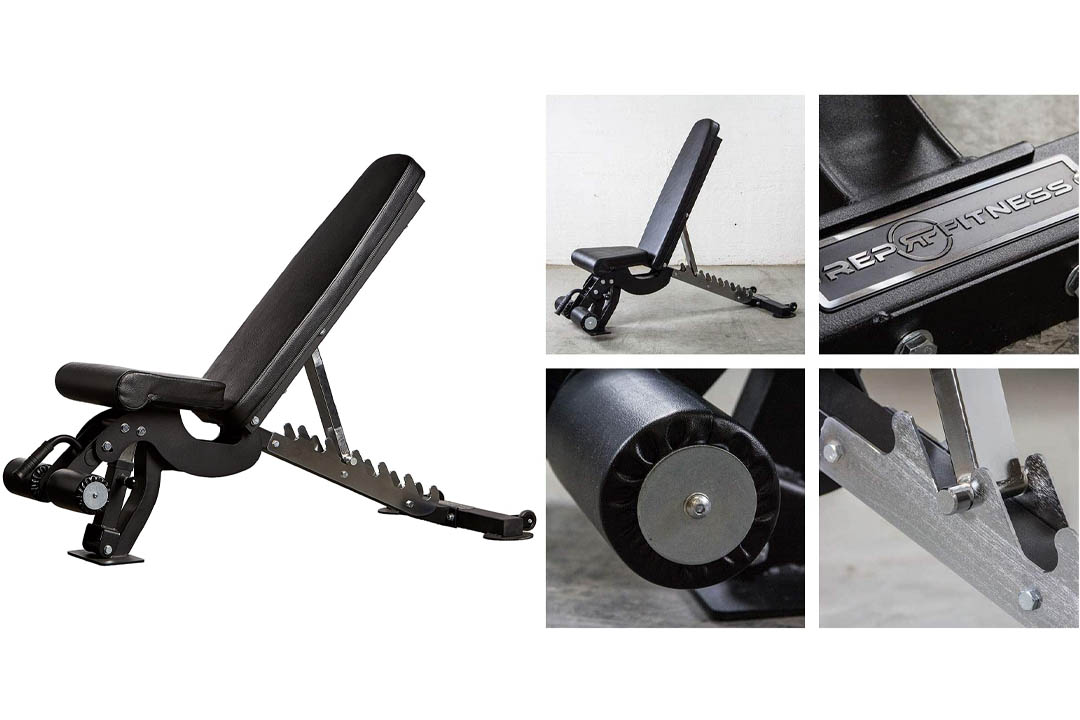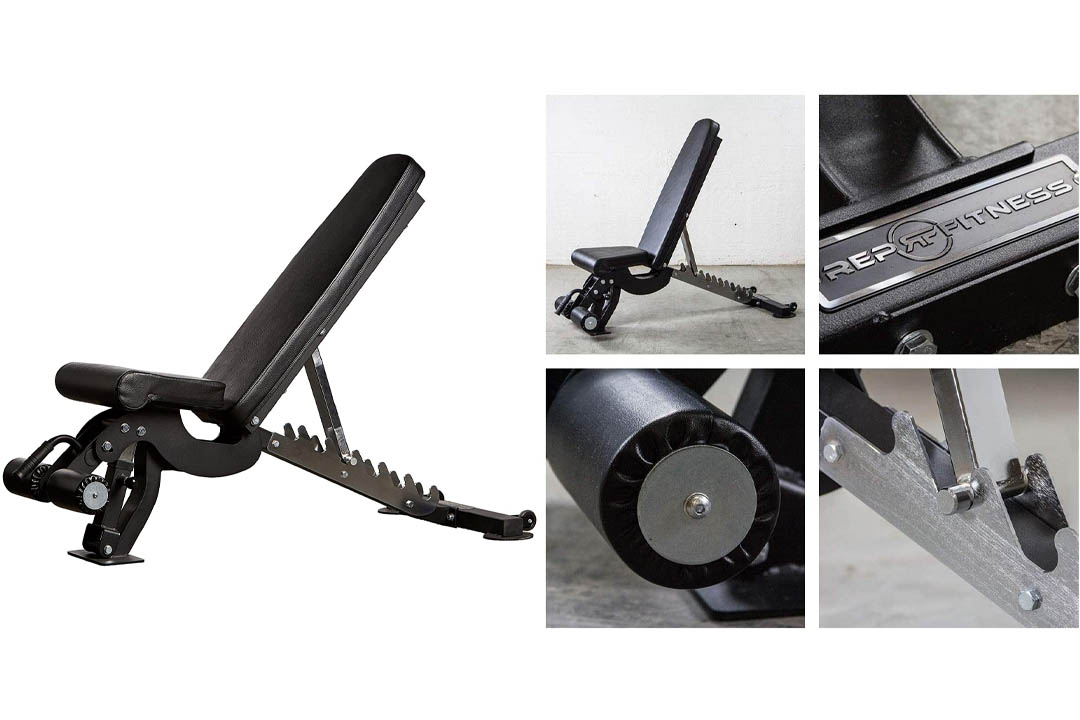 Now we come again to meet another great production from Rep Fitness. This heavy-duty 1000 lb rated adjustable weight bench is great for use with dumbbells smith machine, cage or power rack. The bench is capable of Flat, Incline, and Decline (FID) positions. It measures 54x26x17.5 inches while the pad measures 11.5 in wide at the shoulders. The minimal pad gap between seat and back. 17.5 in high from floor to top of pad while the 7 ladder positions from 85 degree incline to -20 degree decline and 4 different seat position adjustments. The bench is also perfect for commercial use since it has a thick, firm, 2.5″ pad wrapped in very durable textured vinyl for maximum comfort and support. Vinyl covered rollers to keep your legs locked in place during decline work, and vinyl cover makes it easy to keep clean. Innovative features include a bare steel back adjustment ladder to prevent the chipping and flaking of paint from metal-on-metal contact seen on other adjustable benches. Wheels on the rear make it easy to transport by lifting the handle on the front of the bench.
3. Rep Flat Bench – FB-3000
Rep Fitness never leaves you alone, and here comes another model, FB-3000. The Rep Fitness flat bench is designed to handle heavy weights being moved without worrying about the strength of the bench. Unlike others tested to 300-600 lbs, they have tested their bench to 1,000 lbs and it still holds strong. Durable vinyl padding with a grippy surface, and a matte black powder coating adds to the attractiveness of the bench. It measures 47x12x17.5 inches, 45 lbs – 12 inches is pad width, 16 inches at base which makes it ideal dimensions for back support and leg drive during bench press. The pad is thick and firm yet comfortable. It is covered with durable textured non-slip vinyl and professionally stitched and constructed with thick plywood base layer (NOT particle board like our competition), dense foam core, and soft top layer for the perfect mix of support and comfort. Unlike some other utility benches from competitors (Rogue), this one hit those specs. It is easy to put together. The tolerances are very low. The finish is outstanding (that's not a relative statement given that this is an import item, the finish is outstanding).
2. CAP Barbell Flat/Incline/Decline Bench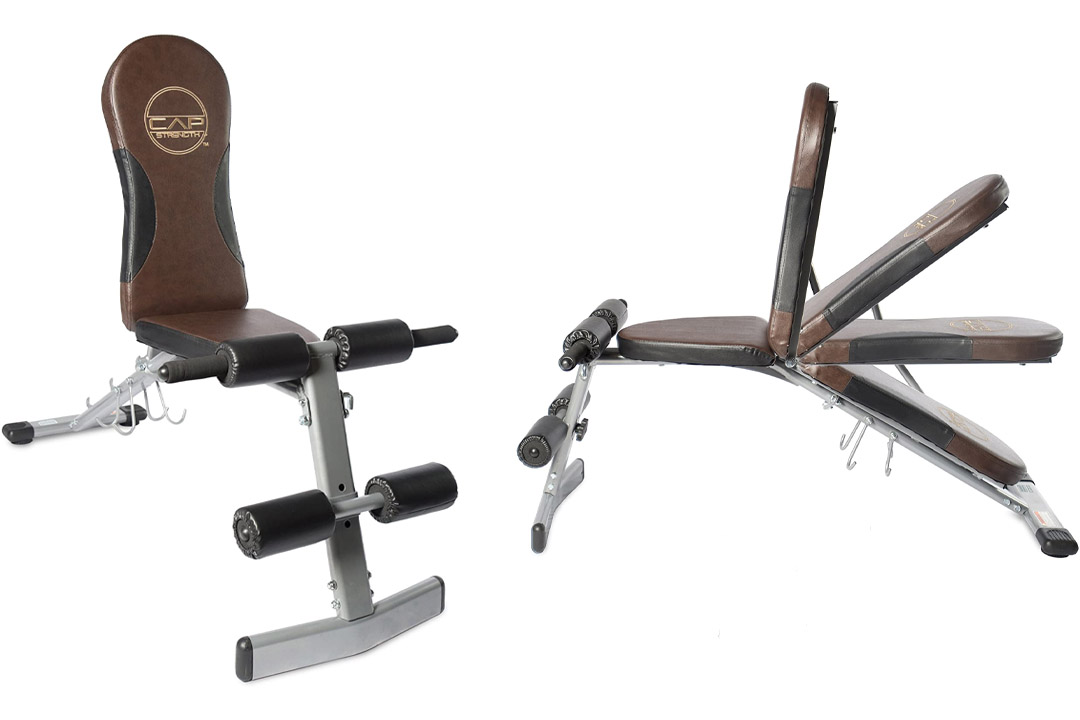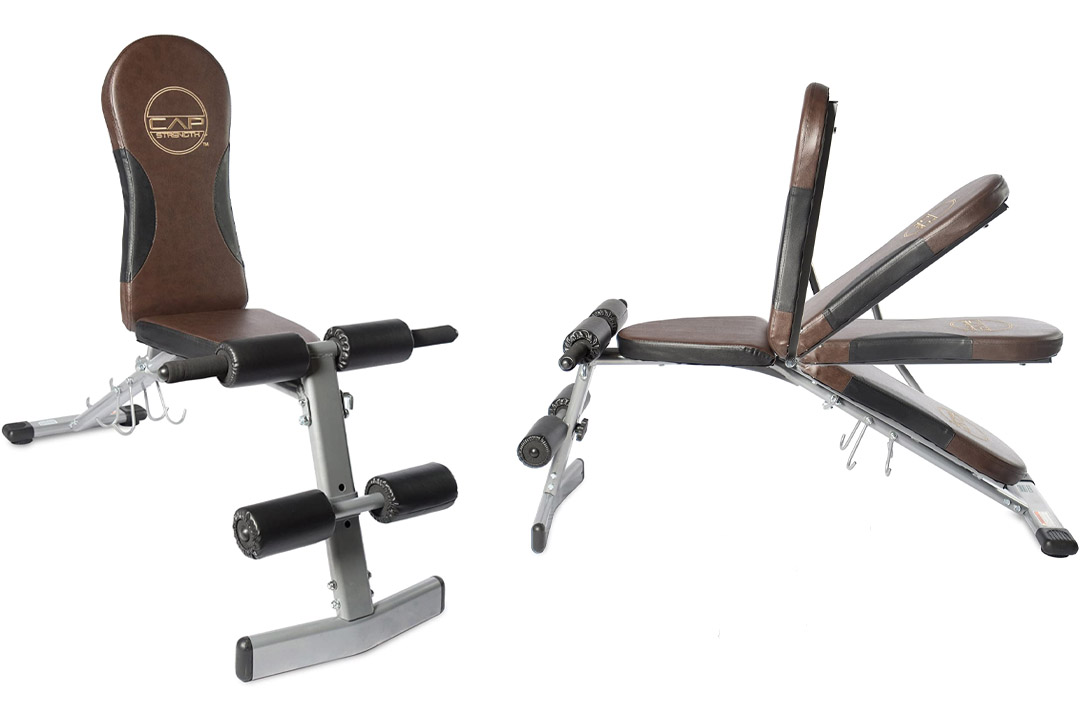 XMark FID Flat Incline Decline Weight Bench will pretty much suit anyone who is looking to, or already, lifts weights at home. The coolest feature on this bench is the ability to change the incline of the backrest and seat. This allows different muscle groups to be targeted. You can also work your core- abs and lower body with multiple 8 pop-pin adjustments in various angles and positions you want from military press to decline. It is comfortable enough with the great quality and very thick 2.5 inch extra dense cushions that are durable with dual stitched Duraguard vinyl that is resistant to tearing and sweating and the very large four contoured ankle and knee pads. The maximum it can support is up to 600 pounds. It feels quite solid and stable of a heavy duty 14-gauge steel construction and welded solid metal pieces as the base is shaped like a horse shoe and has anti-slip rubber feet. It measures 75 x 27 x 49.5 inches as assembled with a seat of 16 x 14 inches and a back of 30.5 x 12 inches. No worry about your height which should thank you the leg extension. The leg extension and preacher curl are attached by a nut and a bolt they are easily removed but if leg extension is not in your way when you're doing your bench exercises as there won't be much of a difference in the total weight. This is a great quality and very well built product at a reasonable price- not quite cheap but you get what you pay for in this case.
1. Bowflex Weight Benches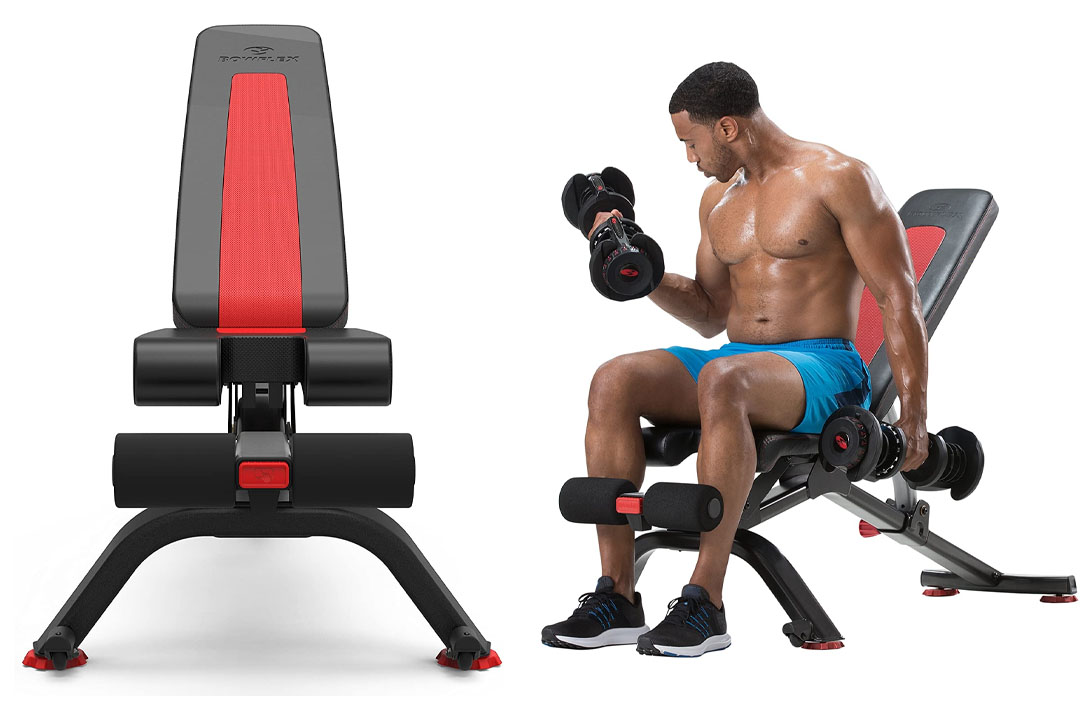 Last but not least, meet our number one beast, Body-Solid Best Fitness Folding Bench. For a variety of barbell and dumbbell exercises, the Body-Solid Best Fitness Flat Incline Decline Folding Bench has 5 starting positions: 70, 55, 45, 35, 10 and 0 degrees. Its folding capability allows it to take only the very least of your room and no assembly required. Safety pins and bolts allow for easy adjustments, disassembly or permanent set up. Designed to be used straight out of the box, on of the Best Fitness Folding Bench is functional, compact, portable and durable to offer all the flexibility you need to get all the benefits of resistance training without the high cost of a home gym. When you are finished with your workout, simply fold it up, and store it away!
Conclusion
These weight benches feature more amazing characters to assist you to tone your muscle efficiently. The most important advantage of the bench is that they bring the best of themselves to satisfy you with various sizes and materials. Another advantage of these weight bench equipment is that they are reliable for use and solid in construction. With uncomplicated maintenance and excellent workmanship, these weight benches are generally used for doing exercises frequently to enhance your health.
These are some of our favorite exercises using a weight bench. As you can see, it's possible to target all your major muscle groups with the exercises we listed. You can choose which one is best weight bench brand for your exercises.n
Any Top 10 is a participant in the Amazon Services LLC Associates Program, and we get a commission on purchases made through our links.