You might call them outdoor cleaners, power washers or pressure cleaners but they all work the same way. Water enters the washer at low pressure and then an electric motor (often is a Triplex pump) pumps water through a hose and a spray nozzle at higher pressure which delivers the efficient and effectively cleaning power you need. They can be used for many cleaning purposes such as fencing, exterior siding or brick, garage door, trash can and so many more! With pressure washer, cleaning up your house will be like going to water park. Plus it's good to get yourself moving around the house like these celebs!
When choosing the best pressure washer for your needs, there are two general terms to understand: psi (pounds per square inch) is the water pressure that gives you the power needed to penetrate dirt and grime. GPM (gallons per minute) is the water flow delivered to the spray gun, which gives you the power to break down dirt and wash it away. Overall cleaning performance is determined by psi and gpm-the higher the numbers, the faster you can clean. So what duty-level do you need?
There are possibly 4 duty-levels that are applicable to you:
Light-duty: it is perfect for smaller jobs around the house. These pressure washers typically rate between 1300-2000 PSI at 2 GPM. They are often lightweight which is ideal for cleaning patio, furniture, grills, vehicles as well as small decks.
Medium-duty: pressure between 2000-2800 PSI at 2-3 GPM, making it best for home and shop use. As it is more powerful, it is easy to clean everything from exterior siding and fences to walkways and driveways.
Heavy-duty: perfect for everyday commercial uses. Water is pumped between 2900-3000 PSI at 3-4 GPM. It is suitable for large scale cleaning jobs such as cleaning graffiti removal, paint stripping, etc
Multi-Duty: an all-in-one pressure washer which allows you to adjust your pressure flow for your desirable result.
Now, let's dive deep into our top 10 beasts for today.
List of the Best Electric Pressure Washer for Car and More:
10. Best Choice Products Home Electric Power Washer Machine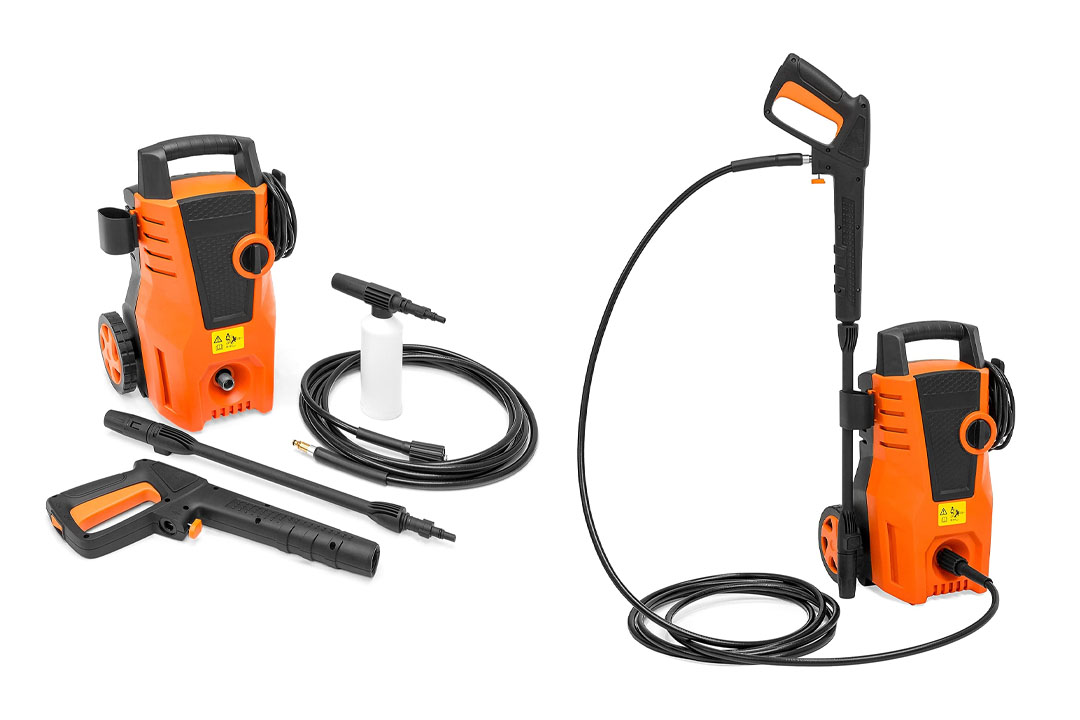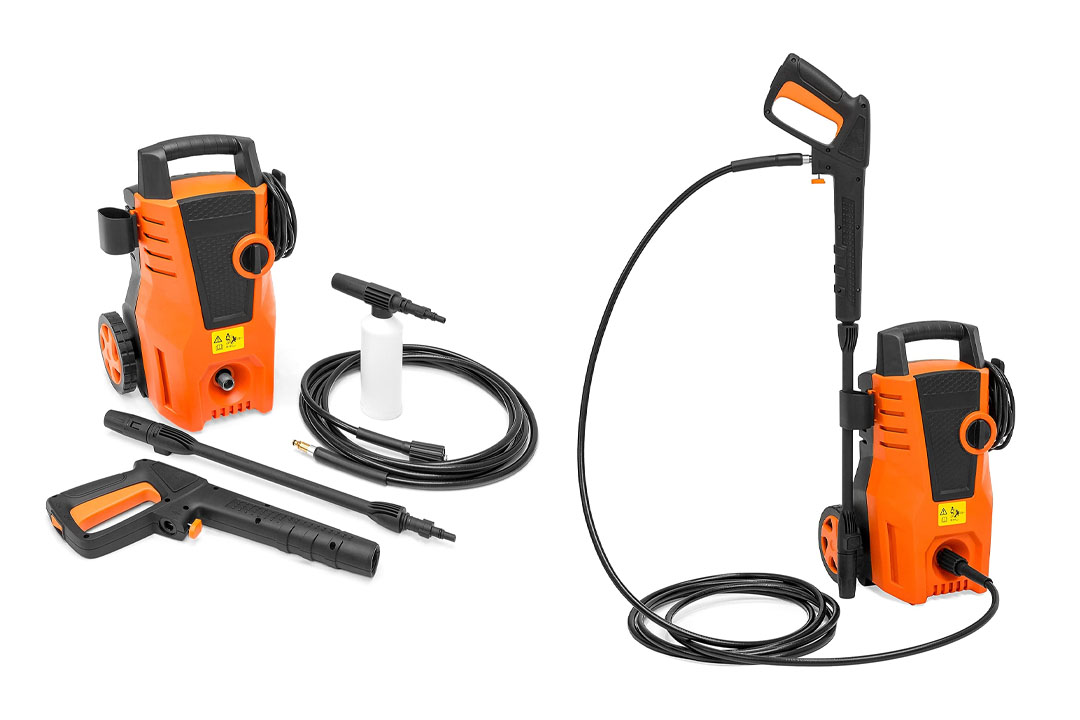 No products found.
Landing on our 10th place is Best Choice Products' Electric Power Washer Machine. Weight of only 11.4 lbs makes it very convenient to move from location to location as it is super light. You don't have to worry about rusting as it is made of plastic. But it comes with high pressure; it is designed with 1015 PSI rated pressure & 1522 PSI max permissible pressure. This orange Pressure washer has overall dimensions of 11.5″(L) x 9.5″(W) x 17″(H), Sprayer of 31.5″(L) x 2″(W) x 6.5″(H), Bottle of 2.5″(Dia) x 8.5″(H), Bottle Sprayer of 7.5″(L) and cord of 161″ in length. This durable power washer is perfect for deep-cleaning porches, sidewalks, garages, cars, and more! It comes with a built-in cord hook which helps to keep pressure washer and its tools organized for compact storage so you can have everything in place. This ETL-, CE-, GS-, EMC-, RoHS-, REACH-certified pressure washer includes detergent bottle in the package. Guide is included to assist assembling the product. Effortlessly scour your patio, driveway, boat, or grill within a matter of minutes. Turn up the pressure on all your outdoor maintenance projects with this power washer. Take deep-cleaning to the next level with Best Choice Products' Electric Power Washer Machine!
9. Realm BY02-BCOH Electric Pressure Washer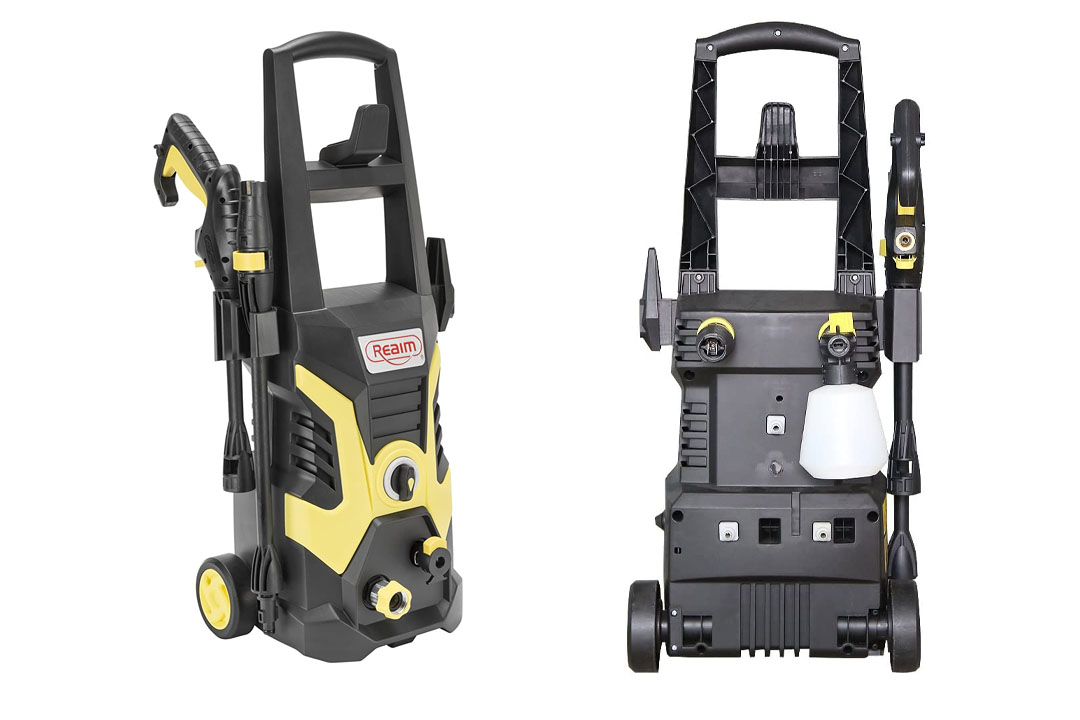 Introducing our next product: Realm electric pressure washer. It is an ideal washer to efficiently clean siding, driveways, cars, patio furniture, lawn equipment with the power of pressurized water jets. It has the most advanced pump with double sealing to ensure good quality. Maximum 2200psi and 1.75gpm gives this unit the power to spray and scrape away grit and grime with ease. This 120-volt and 13-amp universal motor is lightweight (weight of 17 lbs) and reliable. The energy-saving auto-stop function automatically shuts off the pump when the trigger gun is not engaged, prolonging the life of the pump. All of the connectors use the quick connector: Includes the connector between the hose and gun, between the gun and machine, between the gun and the different nozzles, brush and patio cleaner. So you can easily assemble the machine. It provides various sets of optional accessories for different demands, such as adjustable telescopic rod, snake hose cleaner, turbo nozzle, angle nozzle, brush, patio cleaner. This pressure washer includes a 19-foot high pressure hose, a high pressure gun with an adjustable nozzle, an adjustable high pressure detergent bottle, a 35-foot gfci-equipped power cord, all of which can be stored conveniently. Let Realm BY02-BCOH Electric Pressure Washer save your washing day!
8. Briggs & Stratton 20680 Electric Pressure Washer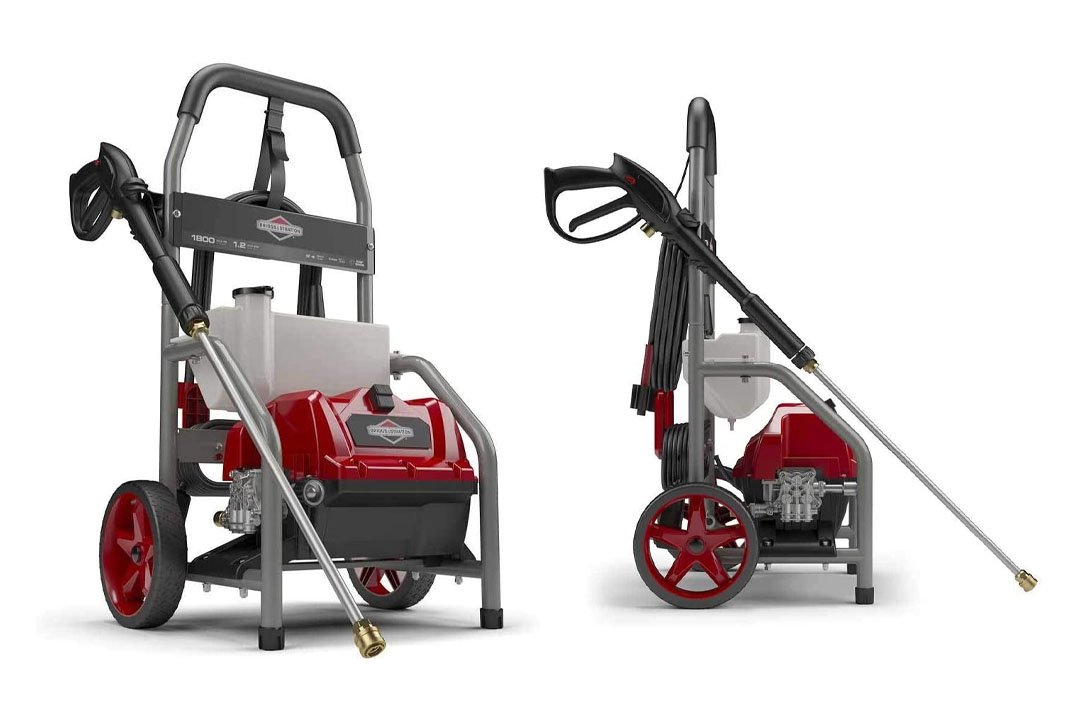 Our 8th best pressure washer is Briggs & Stratton 020508 Home Series Electric Powered Pressure Washer. Why an electric-powered pressure washer from briggs & stratton? Simply put, pressure washers make outdoor cleaning faster, easier and more fun; while Briggs & Stratton is North America's #1 manufacturer and the most trusted name in the industry for over 100 years. A pressure washer cleans everything from decks and driveways to siding, garage floors and cars. They deliver up to 75 times more power than an ordinary garden hose, giving you the power to blast away mold, mildew, dirt, and grime to restore surfaces to like-new condition in a fraction of the time it would normally take. Within minutes, you can hook it up to your garden hose and be ready to clean. With weight of 50.7 pounds, this pressure washer is rated at 1700 psi. Its Roto scrub nozzle is for up to 40-percent faster cleaning. Its easy adjustable spray nozzle can spray at an angle from 0° to 40°. Briggs & Stratton home series gas pressure washers are hard working, reliable products designed to help you around the house. Versatile and user-friendly, they're perfect for most households with small or medium projects such as vehicles, patio furniture, stairs, walkways, decks, and fences. If you need a little extra to get the job done, check out their elite series gas pressure washers, which are designed with heavy-duty components and features to perform tirelessly around the home, farm, or on the job site. The elite series can easily handle those small and medium projects, but works best for frequent cleanup, larger projects (siding, 2nd story, driveway), or heavy/tough projects (paint prep, oil stains). Whichever you choose, Briggs & Stratton's proven, advanced, reliable performance won't disappoint you! Put the power of Briggs & Stratton to work for you.
7. SIMPSON Cleaning PS3228-S 3300 PSI at 2.5 GPM Gas Pressure Washer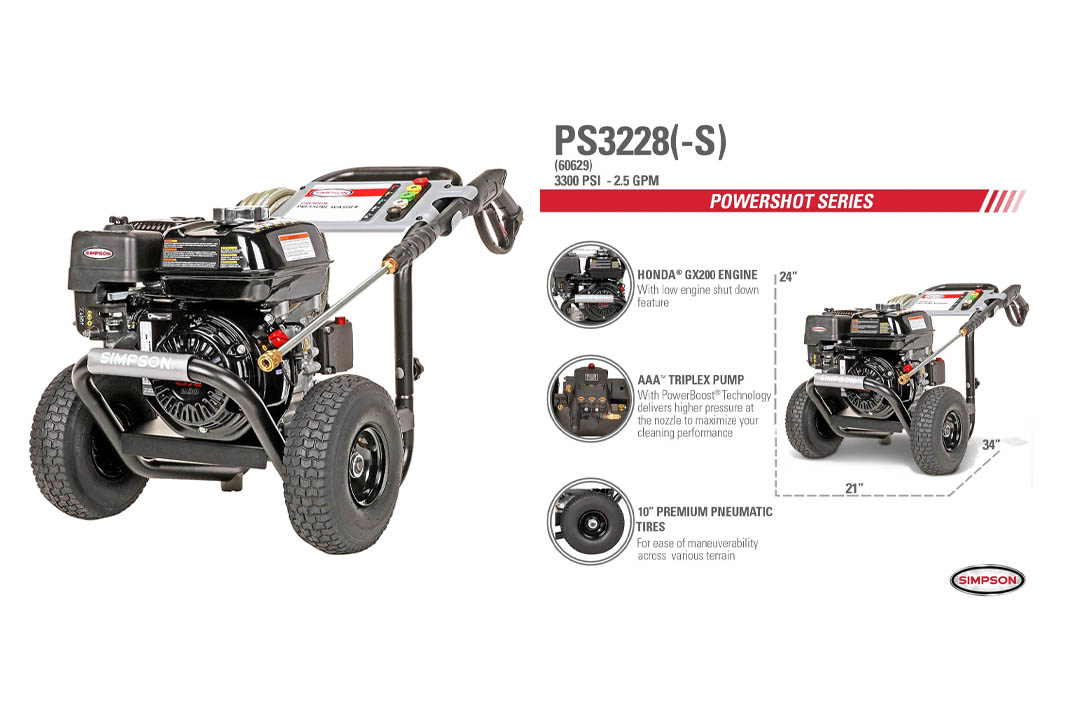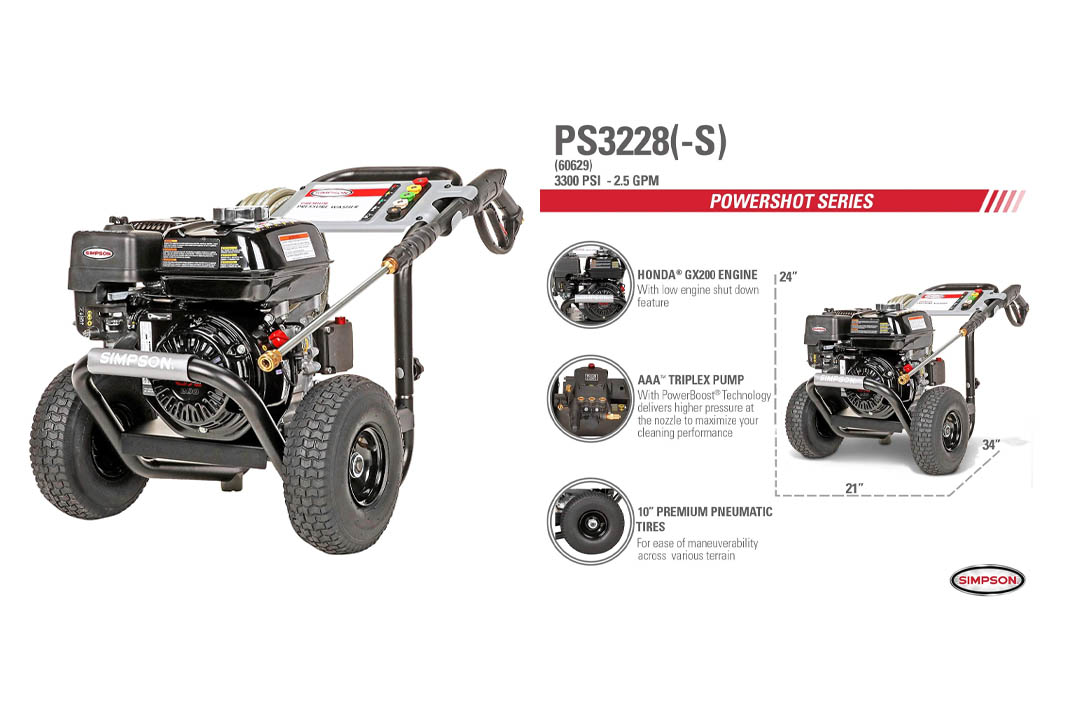 Up next is SIMPSON Cleaning PS3228-S 3300 PSI at 2.5 GPM Gas Pressure Washer Powered by HONDA with AAA Triplex Pump. A powerful Honda engine provides reliability to complete your cleaning task! Honda engines are paired with AAA industrial triplex plunger pumps, a brand with a history of over 40 years of innovation. AAA pumps are equipped with patent pending PowerBoost technology that provides higher pressure at the nozzle, resulting in greater impact and cleaning performance. The ergonomic spray gun with safety lockout is designed to provide comfort and control. Its durable, lightweight and compact construction allows easy and hassle free transportation! Perfect for contractors who specialize in deck cleaning, wood restoration, paint preparation, graffiti removal, and all other professional cleaning services. A few things that set this PowerShot PS3228-S apart: premium quality gas pressure washer with a powerful HONDA engine thus its pressure is rated at 3300 PSI at 2.5 GPM; maintenance-free AAA industrial triplex plunger pump with PowerBoost technology; heavy duty pneumatic tires to allow mobility around any terrain so you can move this 83 lbs pressure washer any locations; 5 spray tips, durable spray gun, kink & abrasion resistant hose and on-board storage for hose, spray gun/wand and nozzles. Proper use, care, and maintenance of this machine will provide a significant return on your investment. Eliminate grime and dirt, remove gum or tough stains and clean debris from rooftops, home exterior, patio & decks faster with this PowerShot pressure washer from SIMPSON!
6. Generac SpeedWash 6882 2900 PSI 2.4 GPM 196cc Gas Powered Pressure Washer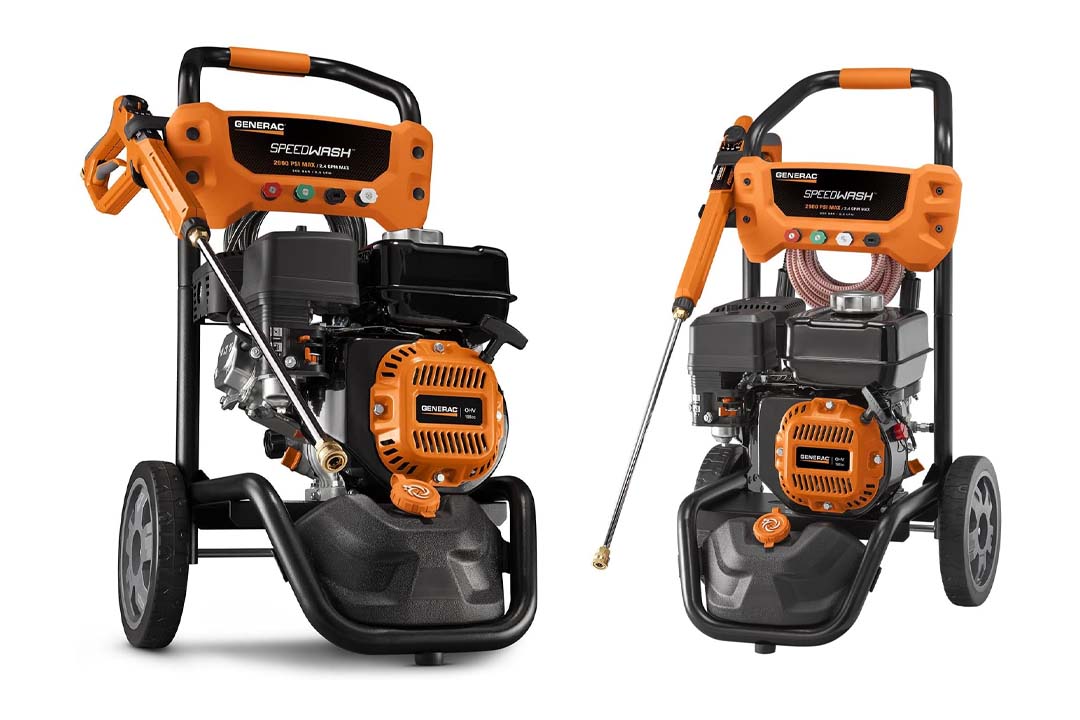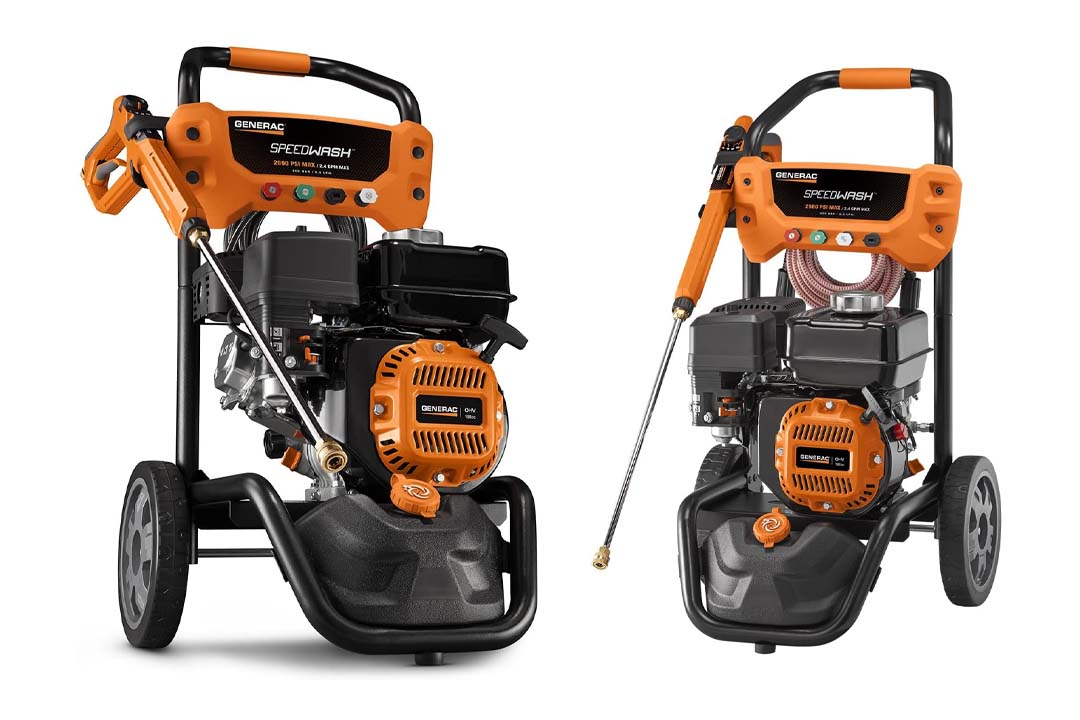 Generac's SPEEDWASH 6882 gas powered pressure washer provides you with a complete washing system featuring best-in-class cleaning power. This complete cleaning system includes a family of innovative cleaning attachments (turbo nozzle and soap blaster) to deliver better cleaning results in less time. The turbo nozzle attachment with rotating pinpoint stream is designed to remove stubborn dirt and grime off tough surfaces 30% faster than standard nozzles while the soap blaster attachment sprays soap 3X farther than a standard nozzle tip to penetrate tough stains and improve cleaning results.
57 pounds.
Watch video:
5. SIMPSON Cleaning MSH3125-S 3100 PSI at 2.5 GPM Gas Pressure Washer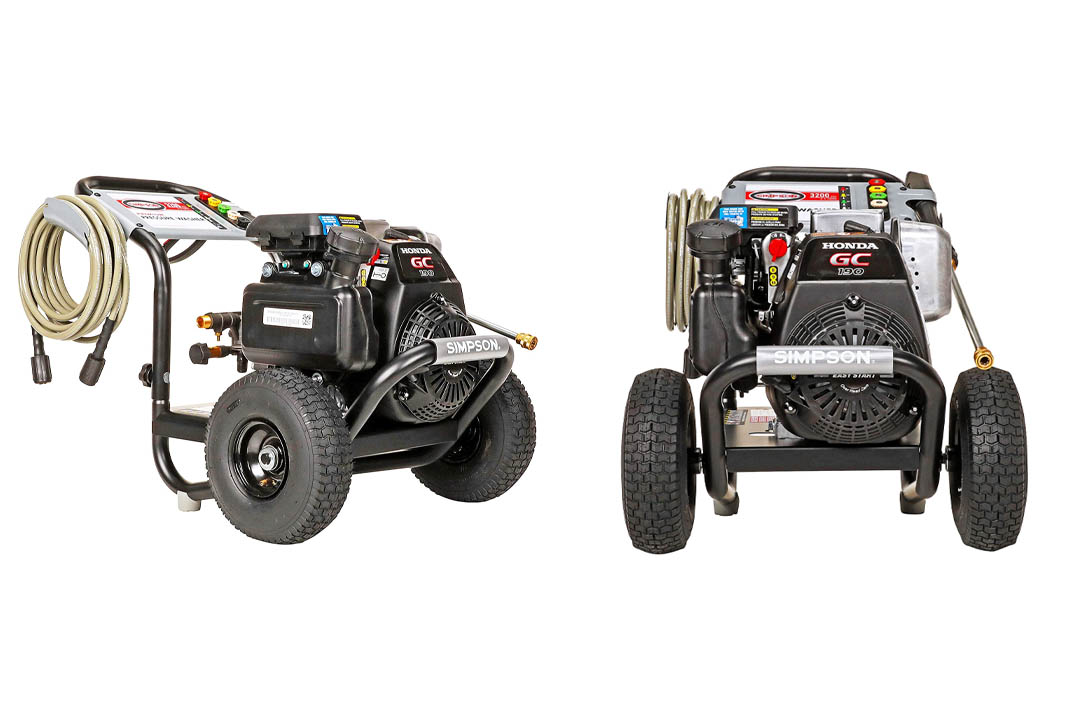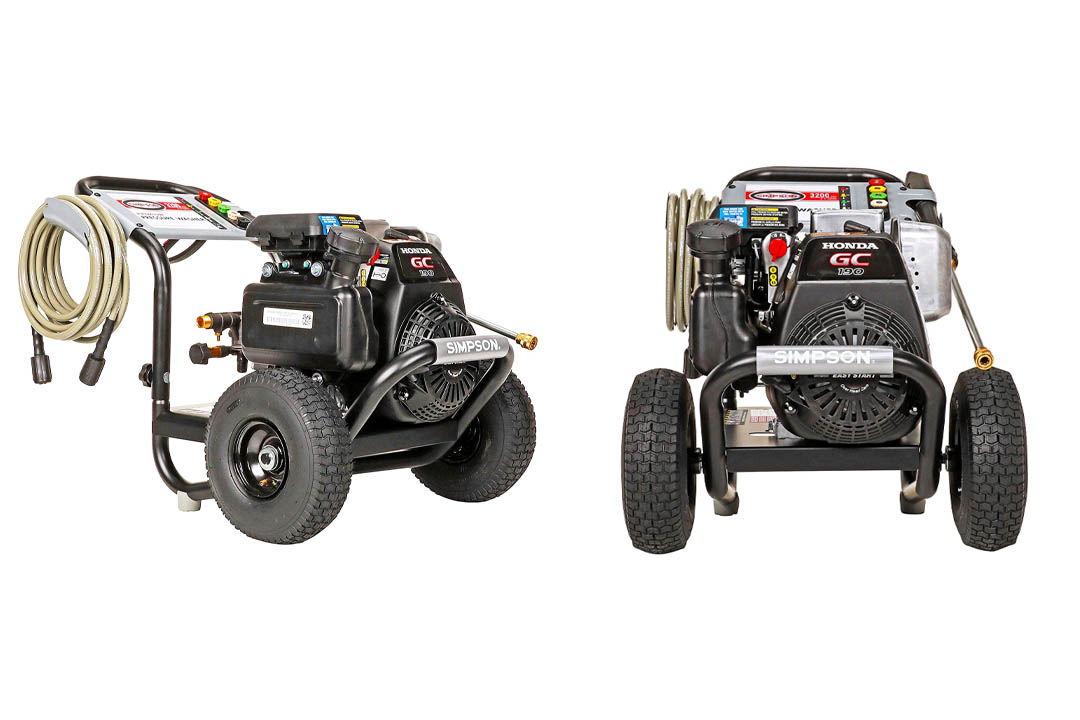 If you are looking for a powerful pressure washer with minimal investment that will accommodate even the most demanding cleaning needs, then we have got you covered. Meet the SIMPSON MSH3125 gas pressure washer powered by HONDA. At 3100 PSI at 2.5 GPM, this easy to use power washer will eliminate dirt, grime or even mildew from any hard to remove spot or area! Forget all those messy and easily destroyed water hoses. Invest in SIMPSON Cleaning MSH3125-S flexible, lightweight, 1/4-Inch x 25-Foot MorFlex high pressure hose. MorFlex hoses are non-marring, kink and abrasion resistant which means this pressure washer hose can withstand some heavy-duty use. The M22 connectors will ensure a secure and safe fit. Do not compromise with anything less than perfection when it comes to your gas pressure washer. Now with a gas-powered SIMPSON pressure washer you are the boss of water pressure! Choose among 5 different nozzle tips (0°, 15°, 25°, 40°) depending on the surface you are cleaning. SIMPSON meticulously has designed this gas pressure washer, the MSH3125-S, with your best interest at heart. That is why this professional spray gun bears a safety lock-out. The pressure washer is made from heavy gauge frame components, welded steel construction and has 10" pneumatic tires. Thanks to its powerful HONDA GC190 engine, this gas pressure washer will quickly eliminate the mess on any cleaning surface! Perfect for all floors either wooden, tiled or marble, windows, garden fences, decks, furniture, patio, prepping home exteriors for painting, rooftops and so many other uses for you to discover. It also comes with warranties: ENGINE – 2 Year Limited Consumer Warranty | PUMP – 1 Year Limited Warranty | FRAME – 5 Year Limited Warranty.
4. AR Blue Clean AR383 1,900 PSI Electric Pressure Washer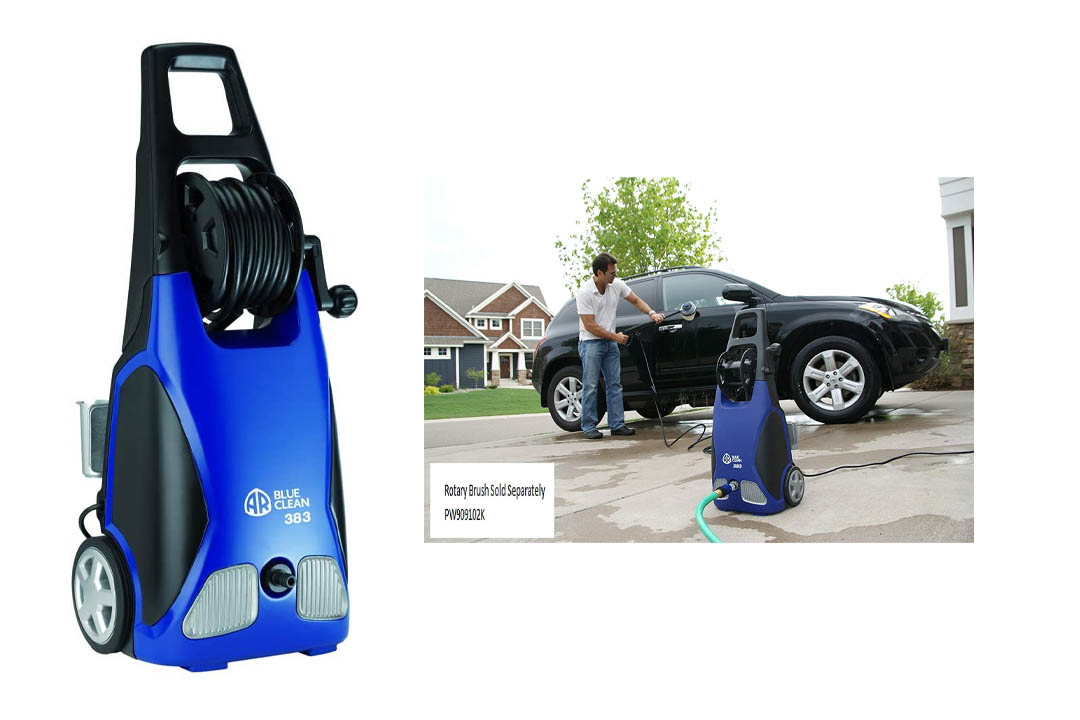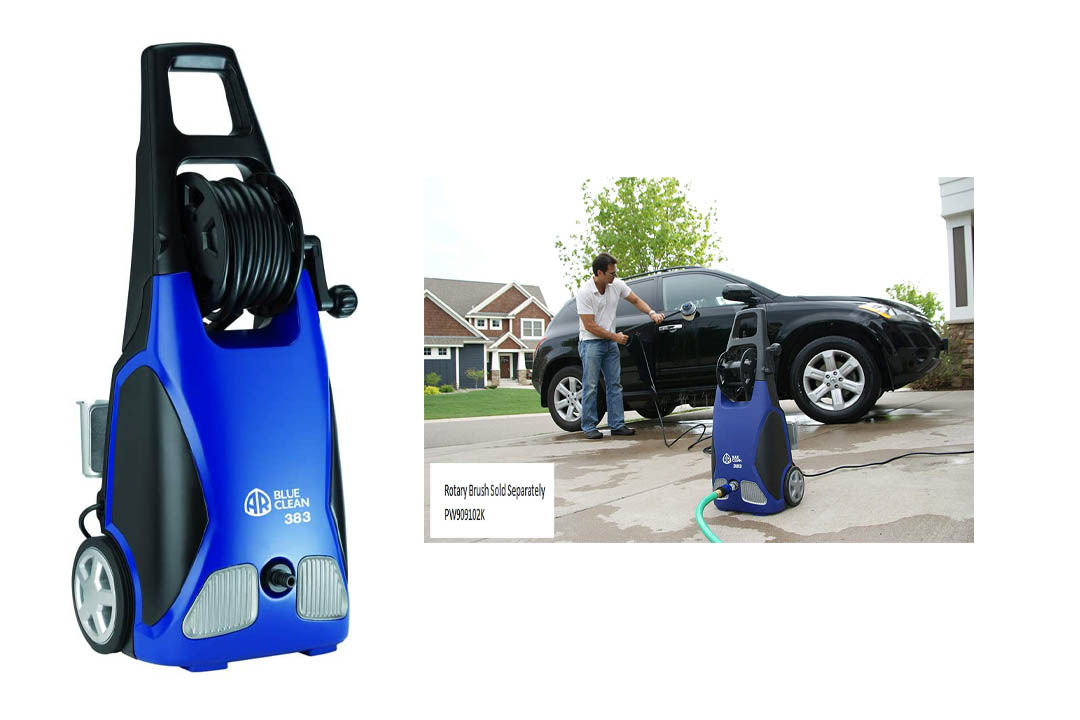 AR Blue Clean power washers have 50 years of pump building experience through the Annovi Reverberi brand! The 383 is AR Blue Clean's original, best-selling power washer model. The 383 environmentally-friendly generates an incredible 1900 PSI, up to 30 times more pressure as a typical garden hose while reducing water consumption by over 80%( 1.5 GPM)and 40% more powerful. This 27lbs-pressure washer comes with attachments which includes Professional-style pressure washer gun, 2 different pressure washer wands, 20 foot high pressure hose, 14 oz. detergent bottle and 2 high pressure quick change wands with pressure washer turbo and variable nozzles. For effective high-pressure cleaning, attach the variable spray wand. Change the HP spray pattern from a wide fan to a concentrated "pencil-point" HP spray by simply rotating the nozzle head or anywhere in between. For tougher jobs, attach the Turbo wand. The Turbo wand increases the effective cleaning power up to 50% by producing a pulsating, rotating HP spray. Detergent application is made easy with the separate detergent bottle that attaches directly to the spray gun. This power washer is much quieter, lighter and easier to use than a standard gasoline pressure washer and is certified by CSA International for safety. The AR Blue Clean 383-1900 PSI electric power washer is perfect for medium-sized residential cleaning projects and will achieve superior results. For your safety, it figures Total Stop System (TSS) – Automatically shuts off the power washer when trigger is not engaged to prolong the life of the pump. It offers 1 Year "Bumper-to-Bumper" Warranty. Experience the AR difference; you will be glad you did!
3. Händewerk 13 AMP 1.5GMP 1900 PSI Electric Pressure Washer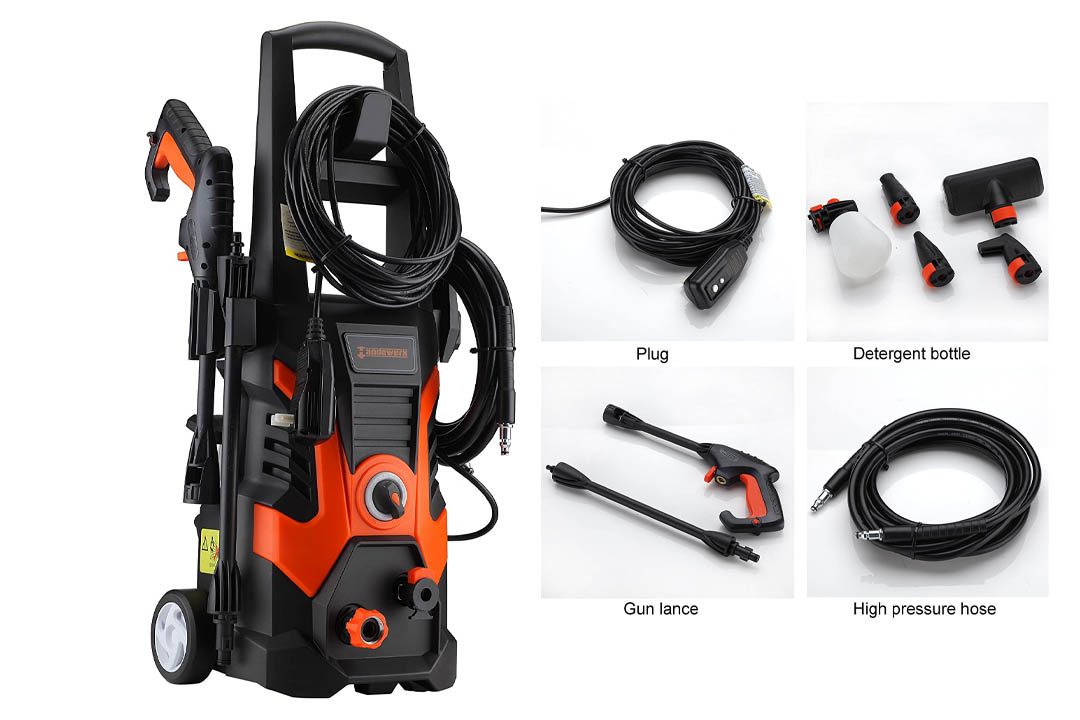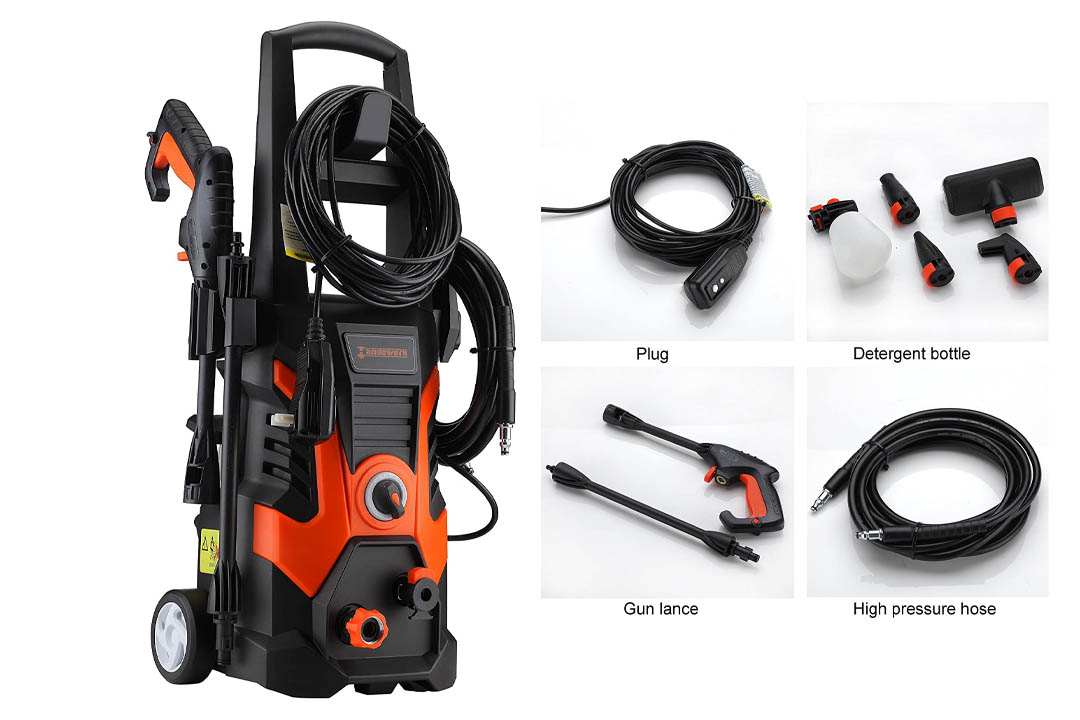 When your home starts to get a little dirty on the outside or your driveway is stained thanks to oil drippings or leaves, you need a powerful cleaning source to help you wash away the mold, grime, and buildup; that's why the Handewerk Electric Power Washer with advanced cleaning power is here for you! It has an incredible cleaning power which is generated by the 1600 Watt/13 amp Motor Outputs a Whopping 1.5 GPM and 1,900 PSI Pressure for Maximum Cleaning and Scrubbing Power. This electric sprayer comes with multiple tips, detergent tank, and a wash brush so you can clean your home, cars, driveway, sidewalks, patio furniture and so much more with your desire nuzzle. With just the right amount of adjustability and easy-to-carry design, you'll find that its power washer works great all around the house! When you need a better cleaner that's safer on surfaces, choose Händewerk Electric Power Washer and get the job done right the first time. Each high-pressure machine washer comes complete with a detergent tank to help you wash away dirt and buildup easier and efficiently. The Handewerk was designed to set up in just minutes with easy-connect systems, including the hose, gun, water intake and detergent. Get your home, patio or outdoor surface cleaner faster and more effectively with a powerful, portable electric pressure washer from Händewerk!
2. Stanley SHP2150 2150 psi Electric Pressure Washer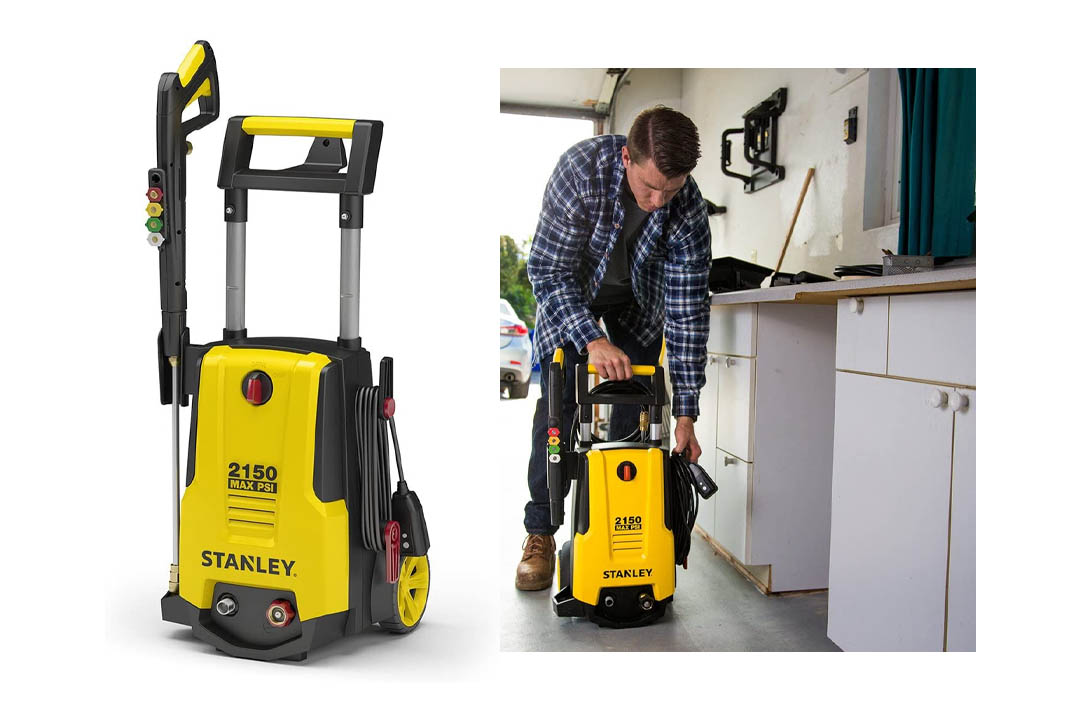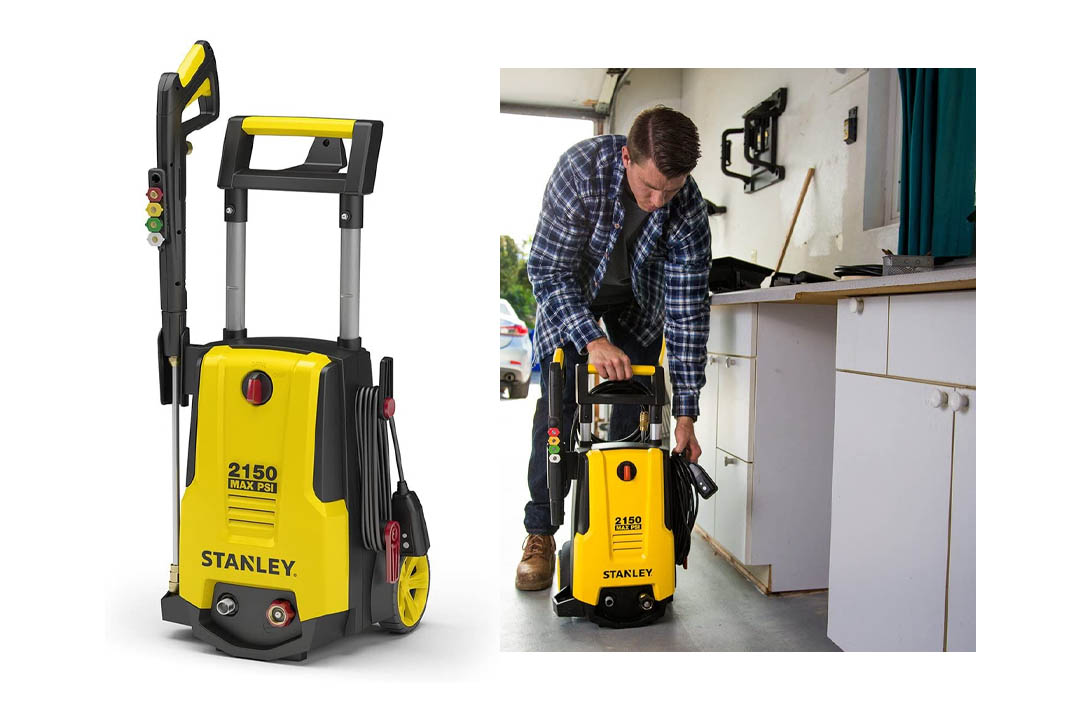 The STANLEY SHP2150 comes with the best professional-style pressure washer gun, zinc steel pressure washer wand with quick-coupler nozzle fitting, aluminium swivel garden hose adapter, 25 foot, soft flexible high pressure hose, 35' power cord featuring Auto-Reset GFCI module and 4 different Quick Change (QC) pressure washer nozzles. (1) Normal high-pressure cleaning, attach the 25 degree (Green) nozzle tip for a "fan" spray. (2) The 0 degree (Red) for a concentrated "pencil-point" high-pressure spray. (3) The Rotary/Turbo nozzle for tough jobs to increase the effective pressure spray up to 50%. (4) Use the low pressure spray Soap (Black) nozzle tip which automatically activates the detergent tank for easy detergent application while cleaning. Detergent is pulled from the onboard 48 oz. detergent tank (always use a pressure washer safe detergent). Remove the detergent take and attach the quick connect foam cannon nozzle to cover any object in thick sudsy layer of cleaning foam. The Total Stop System (TSS) which automatically shuts off the pressure washer when trigger is not engaged to prolong the life of the pump. As The STANLEY SHP2150 is certified by CSA International for safety. Like all dependable STANLEY products this pressure washer is has a 2 year warranty and easy to reach customer service available by online chat, email or phone located in the United States. It is only 25.6 lbs so purchase while they are still around!
Watch video:
1. Sun Joe SPX3000 Pressure Joe 2030 PSI 1.76 GPM 14.5-Amp Electric Pressure Washer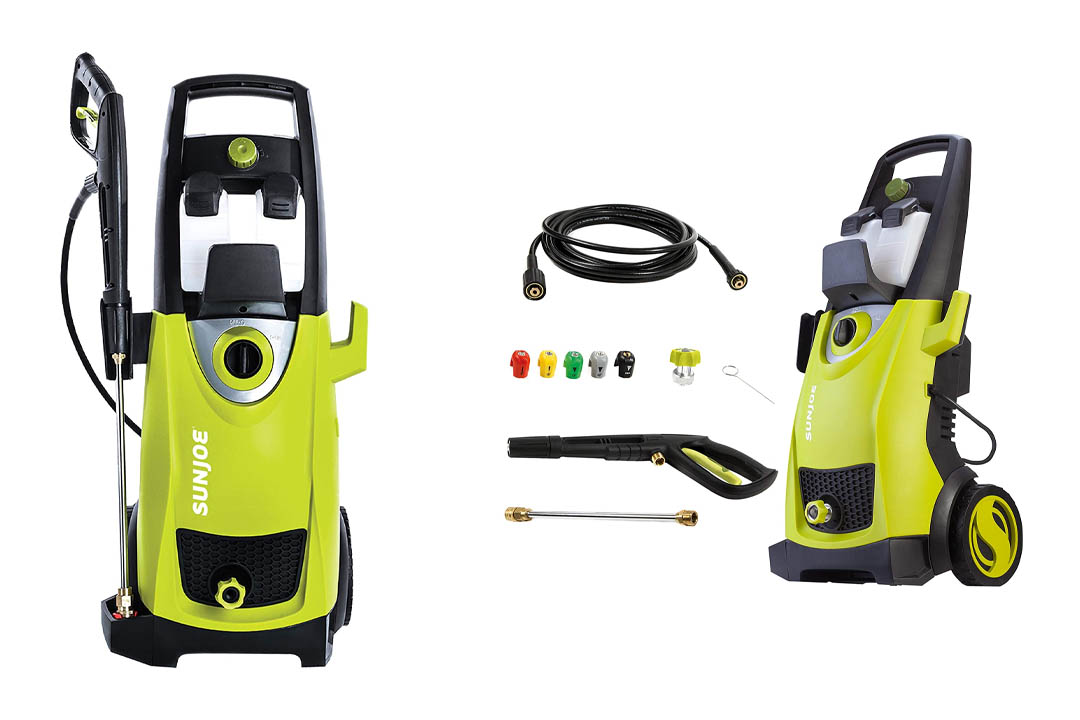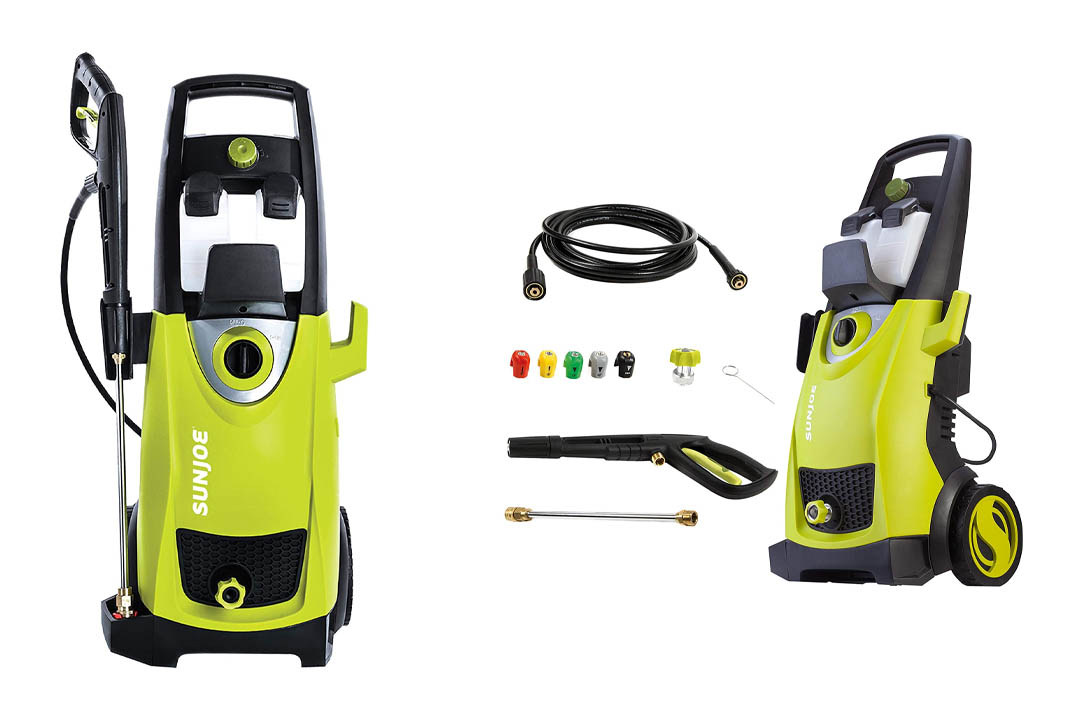 Our top #1 pressure washer is Sun Joe SPX3000 Pressure Joe 2030 PSI 1.76 GPM 14.5-Amp Electric Pressure Washer. Power. Performance. Versatility. The Pressure Joe SPX3000 electric pressure washer delivers it all to tackle a variety of cleaning tasks: homes, buildings, RV's, cars, trucks, boats, decks, driveways, patios, lawn equipment and more. Packed with an 1800-Watt/14.5-amp motor, the Pressure Joe SPX 3000 generates up to 2030 PSI of water pressure and 1.76 GPM of water flow for maximum cleaning power. Remove tar and grease from concrete, heavy mildew stains, oil stains, rust from steel, caked mud on equipment, and other stubborn gunk and grime. Equipped with a dual detergent tank system the Pressure Joe SPX3000 carries and stores two different types of detergent simultaneously in its two 0.9L onboard removable detergent tanks. Conveniently switch between different detergents with its detergent selection dial and blast away all sorts of grime. Its 34-inch extension spray wand and rear wheels provide easy maneuverability and access to hard-to-reach areas such as 2 story buildings and the undersides of the automotive vehicles and lawn equipment. Tailor the pressure output of the spray to your cleaning needs with Pressure Joe's five quick spray nozzles. Other features include: 20 foot high pressure hose, 35 foot power cord, garden hose adaptor, and a TSS (Total Stop System) trigger that automatically shuts off the pump when the trigger is not engaged. The SPX3000 comes with a full two year warranty and is CSA listed. Get this 31lbs-Sun Joe SPX3000 Pressure Joe 2030 PSI 1.76 GPM 14.5-Amp Electric Pressure Washer for a new clean treasure!
Watch video:
Conclusion
We hope our Top 10 Best Electric Pressure Washer for Car and More of 2023 Reviews has been a helpful shopping guide to you insightful tips when choosing a pressure washer. Having a pressure washer with you whether at home or outside will definitely make cleaning up more efficient and faster, saving you time and budget. They will make Thanksgiving, Christmas, etc house/garage/patio/vehicles cleanup less inconvenient and enjoyable for you. You can now purchase one or more of these electric pressure washers! They work so well that you won't get any other results beside desirable outcomes! Have fun with our Top 10 Best Electric Pressure Washer for Car and More of 2023 and they surely will be your wonderful assistant(s) in clean-up.
Any Top 10 is a participant in the Amazon Services LLC Associates Program, and we get a commission on purchases made through our links.