Swimming pools bring entertainment and fun all summer long. Whether you have an above-ground or in-ground pool, you know that along with the benefits of having a swimming pool come hard work. Pool maintenance is cumbersome and time-consuming, and it is very important. Hygiene is a must in the pool; otherwise, you easily get sick if you swim in dirty water. However, there is an appliance that cuts down on the time and effort it takes to keep your pool ready for use – a robotic pool cleaner.
As one of the three kinds of automated pool cleaners, robotic pool cleaner does not need to be hooked up to a pool's filtration system to run. Instead, you simply plug it into an electrical outlet and let the pool cleaner handle the hard work. The robotic pool cleaner will scrub and suction dirt and calcium deposits while it drives along the bottom and sides of your swimming pool. As a result, you'll notice a decrease in algae growth, and it will be easier for you to maintain the water's proper pH level.
You find two different motors inside any robotic pool cleaner. The pump motor suctions water, sending the water through the cleaner's filter and propelling it back into the swimming pool. The drive motor is responsible for turning the cleaner's tracks and brushes. Some robotic pool cleaners even have sensors and a motherboard. Cleaners that contain these components can detect walls, allowing them to move in the opposite direction or climb them. These cleaners may move in one or multiple patterns.
The size of the pool determines the cleaning duration. On average, you can expect it to take about 3 hours from start to finish. To maintain your swimming pool's cleanliness, you should run the robotic cleaner once per week at a minimum. However. two or three run-throughs a week may be needed.
Before you buy a pool cleaner, make sure it is the correct style for your type of pool. Some cleaners have vacuum heads designed specifically for concrete, vinyl or fiberglass pool surfaces. If you buy the wrong type it may not be efficient or may even damage the pool surface.
List of the Best Robotic Pool Cleaner of 2023:
10. POOL ROVER S2 40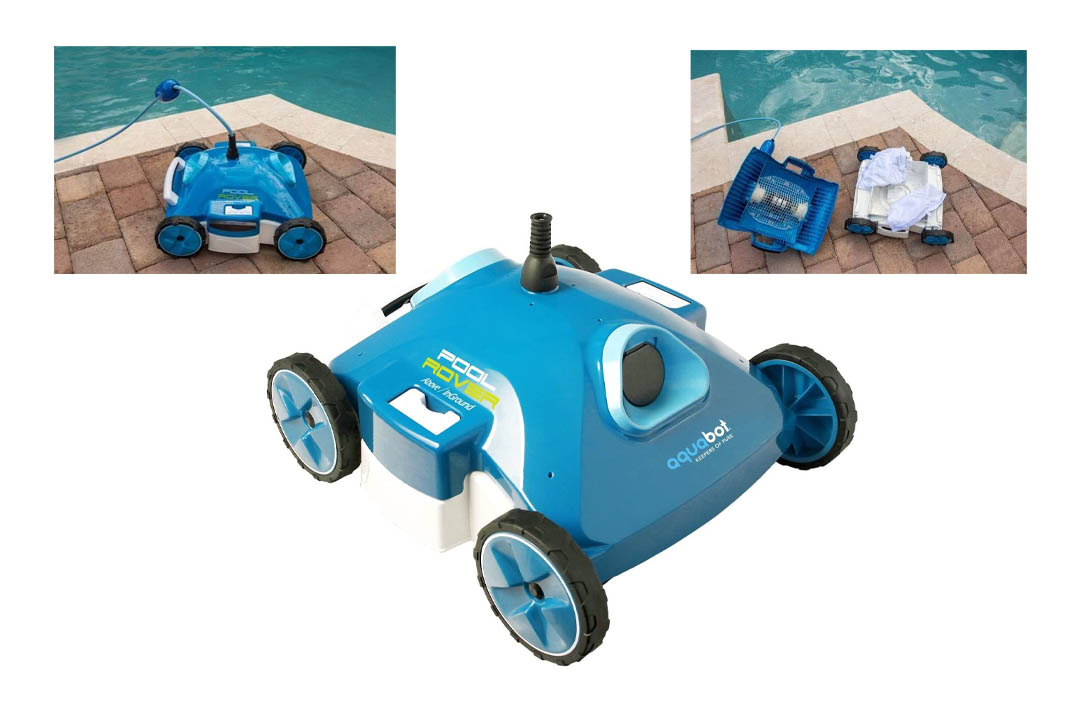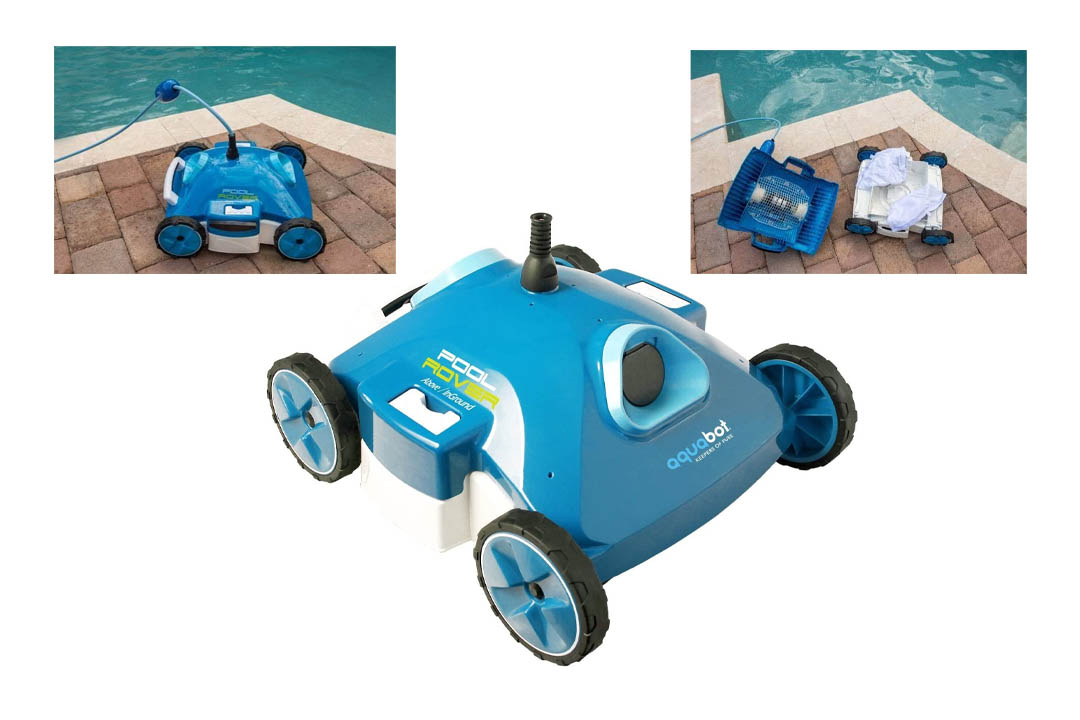 The Aquabot Pool Rover S2-40 is an affordable robotic pool cleaner made for cleaning above ground pools of various shapes and various pool surfaces. It does not need a booster pump or the pool pump to function because it has its own internal pump motor and filter bags. There are no feed hoses to worry about. This Aquabot robotic pool cleaner has its own power supply that plugs into a GFCI outlet. The GFCI outlet (ground-fault circuit interrupter) might prevent someone from getting a shock if the cable is ever damaged. The floating power cable is 40 feet long and can be untangled with the E-Z swivel attachment. This above ground pool robot cleans the floor and part of the walls, but it does not clean the waterline of the swimming pool. It mixes the water in the swimming pool at a rate of 80 gallons per minute to make it cleaner and clearer. Daily maintenance is limited to cleaning the filter bags. The Aquabot Pool Rover S2-40 can vacuum up algae, but you probably need to treat the pool with chemicals for killing the algae first. When the algae are dead, you can put the robotic pool cleaner to work. It will not remove all the algae, but very few pool cleaners are able to perform that miracle.
9. Aquabot ABREEZ4 X-Large Breeze with Scrubbers Robotic Pool Cleaner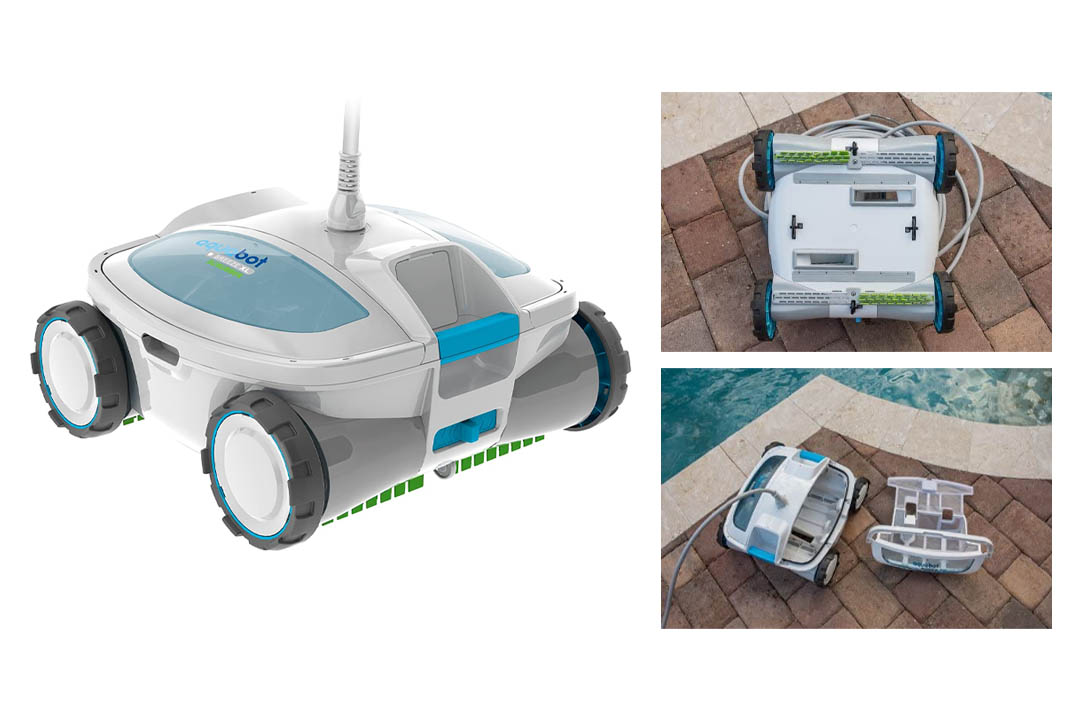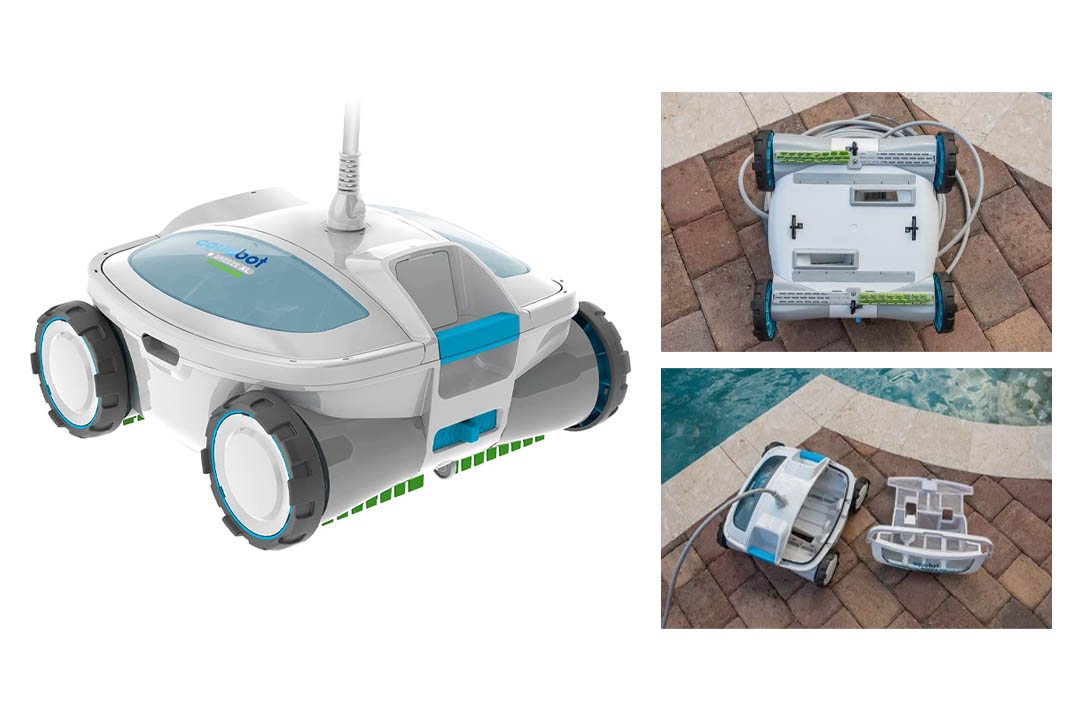 The Aquabot ABREEZ4 has almost everything you will want from a robotic pool cleaner. It works on both in-ground and above-ground pools on any type of surface. There are also two filter baskets for enhanced capacity accessible from the top. In terms of technology, it has power washing jets and scrubbing brushes to get the job done quicker than usual. This robotic cleaner is designed to work in residential pool whether it is an above-ground or in-ground type. The pool shapes does not really matter as well since it can perform in rectangle, oval, round, L-shape, and kidney models. Its tires will move on almost all types of surfaces as well including tile, vinyl, fiberglass, concrete, and gunite. Two filter baskets are all accessible from the top. Filter baskets use nylon mesh materials, and debris is self-contained inside the robot, so it does not add any strain to the existing pool filter. Maximum suction capacity is 85 gallons per minutes or 6800 square feet area of coverage within only one hour of operation. Another good thing is that the debris container has clear cover so you can easily notice whether or not it is full. To increase cleaning efficiency, Aquabot ABREEZ4 is attached with two fixed scrubbing brushes underneath the main body to loosen dirt and debris before the vacuum mechanism kicks in. Additionally, it has swivel cable to prevent tangling while cleaning and adjustable cleaning cycles with automatic shut-off feature. In terms of usability, the robotic cleaner brings simple plug and play mechanism, requiring no additional device. All you have to do is plug the cord into power outlet and put the robot into the pool to do its job.
8. Hayward RC9990CUB TigerShark Robotic Pool Cleaner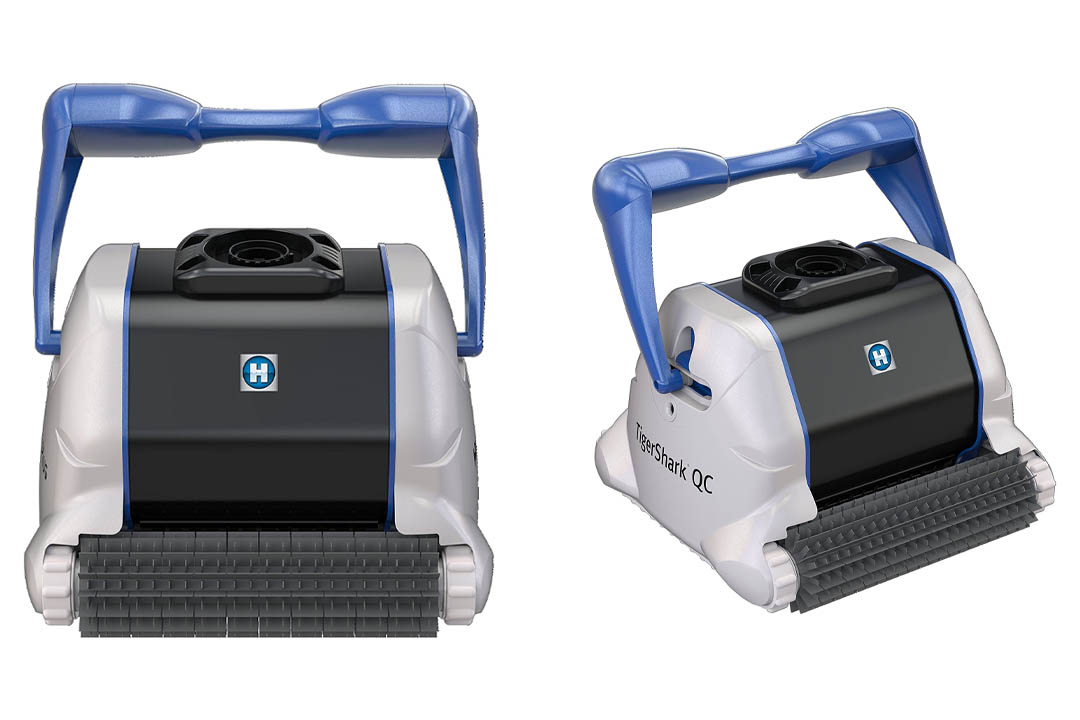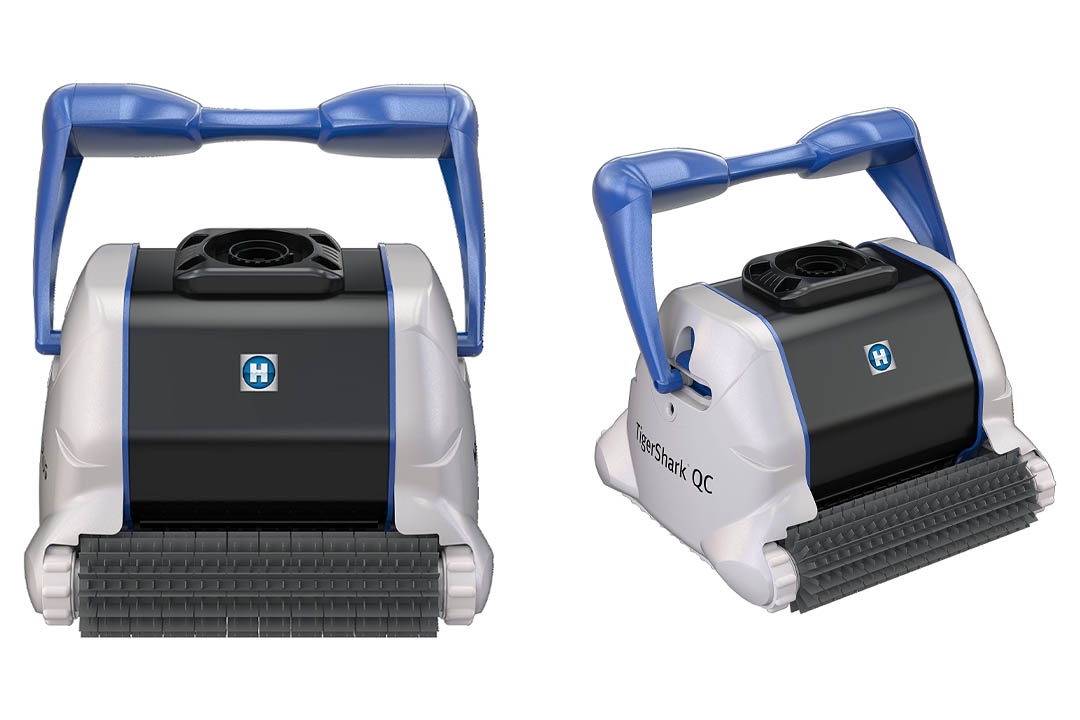 Hayward TigerShark Quick Clean (RC9990CUB) is one of the most reputable names in robotic pool cleaner market. As of 2016, all pool cleaner models listed under the series have been renewed with more modern design. There are 3 variants available including Standard, Quick Clean, and Plus. If you can do without a remote control, the Quick Clean version is ideal for its quick 90-minute cleaning cycle, which is missing from the Standard option. Apart from the 90-minutes cycle, all models offer the same features. Similar to its siblings, the Hayward TigerShark Quick Clean also has the longer 3-hour complete cleaning that covers all areas in the pool including floor, walls, waterline, and coves. Designed to work in a maximum pool size of 20' X 40', this robot comes with powerful suction rate of up to 75 gallons per minute and approximate ground speed of 55 feet per minute. A 24-Volt motor is on board to deliver quick cleaning performance but without consuming too much electricity power to help you save the bill. It does not come with a caddy on which a power supply is usually attached. Despite the omission, the Hayward RC9990CUB TigerShark still operates in simple plug-and-play, and you don't need to connect it to pool filtration system. The rubber wheels double as brushes, allowing it travel on any pool surface with ease. They can tackle vinyl, fiberglass, concrete, and tiles. There is a microprocessor-powered pool cleaning technology that analyzes area and shape of your pool. Based on the scanning data, the Hayward RC9990CUB creates a pattern for efficient cleaning. Debris container is accessible from the bottom of the unit. It is a large container with 2 microns porosity filter elements. You can clean it using any regular garden hose.
7. Dolphin Nautilus with CleverClean Robotic Pool Cleaner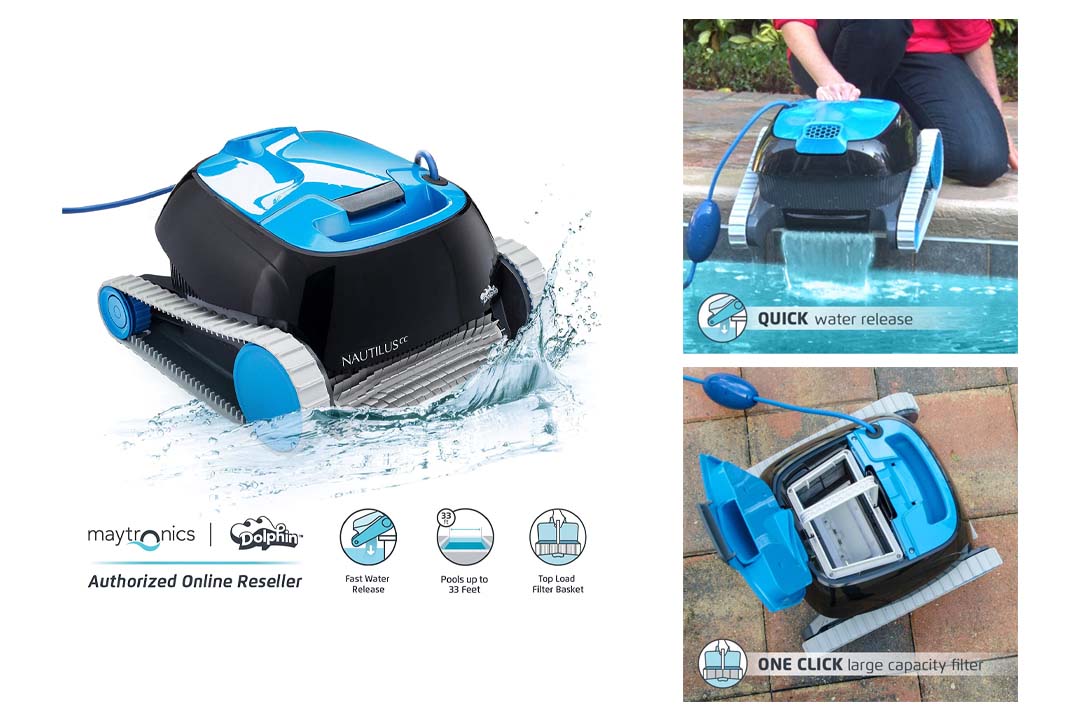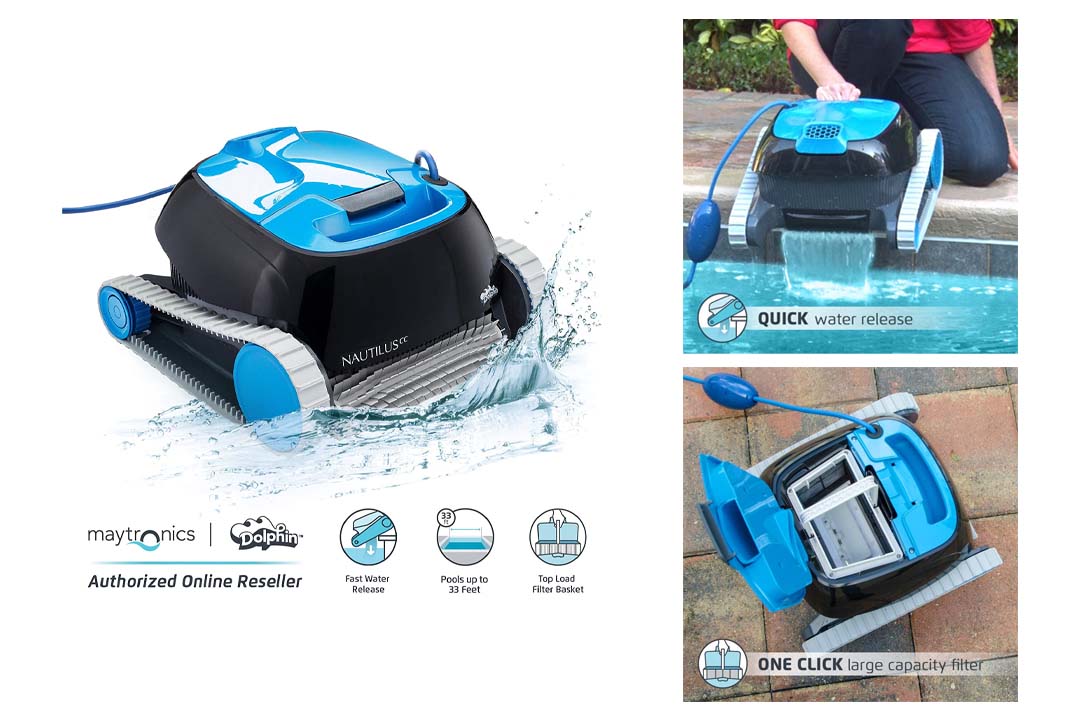 The Dolphin Nautilus is a robotic pool cleaner designed for scrubbing and vacuuming the floor, walls and waterline of most inground pools. This robotic pool cleaner cleans on its own and does not need a booster pump or the swimming pool pump. It does not have filter bags, but instead uses a cartridge filter that is easy to clean. The Nautilus has its own 60-foot floating power cable with a swivel device that keeps the cable from twisting and coiling. Its power supply plugs into a GFCI outlet. It seems to be a very popular robotic cleaner at a good price. The Dolphin Nautilus is designed to clean the pool walls. However, if the pool floor and walls come together at a sharp right angle instead of a gentle curved angle, then the pool cleaner might not make it onto the wall. A dirty filter might also prevent it from getting up the sides. Sometimes it cleans right up to the waterline with its nose in the air before it goes back down to the bottom. Other times it does not reach so high up the walls. The Nautilus Plus (model number 99996403-PC) is not only an updated version, but it is also slightly bigger and has extra large filter cartridges. The biggest difference between these two pool cleaners might be the filter access point. The Nautilus has bottom access filters while the Nautilus Plus has top access filters. Another difference is the cleaning coverage. The Nautilus Plus has pool scanning technology. It uses software to adapt its cleaning route to the specific size and shape of the swimming pool. This leads to better coverage of the pool floor and walls. The Nautilus Plus also has a handle which might make it easier to reach, grab and remove from the swimming pool. The older Nautilus does not have a handle: it has two grips to the left and right side of the pool cleaner body.
6. Dolphin Triton Plus Robotic Pool Cleaner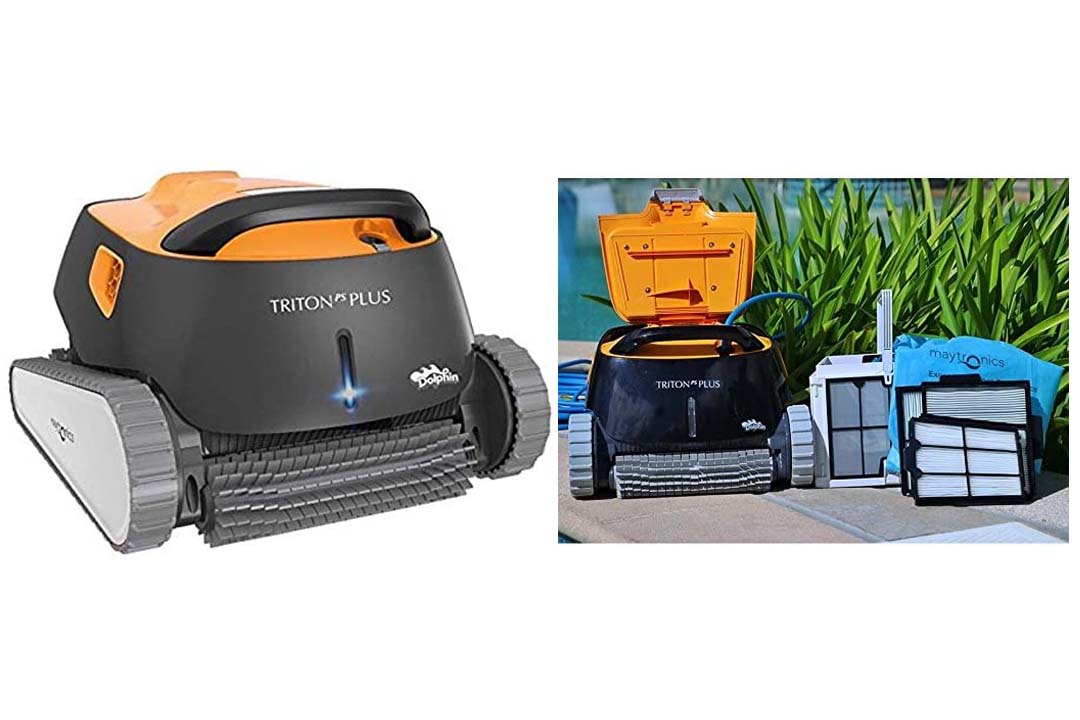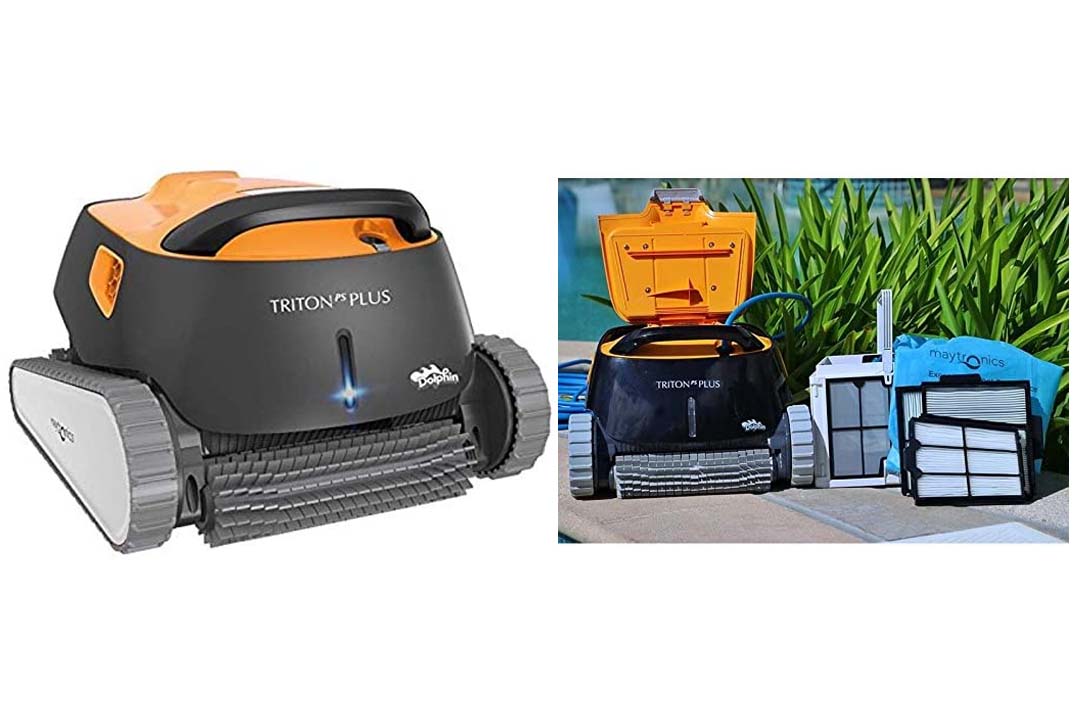 The Triton is equipped with a full complement of cleaning features. After you put the machine in the pool, it's going to clean, scrub and vacuum the floor, walls and steps. The Triton also has filters that capture the debris and remove them from the pool. This is possible because of its cartridge mechanism which has been specifically designed for this task. A caddy is bundled with the Triton, essential for portability. If your pool needs frequent cleaning, you'll find the caddy useful as far as carrying the cleaner around is concerned. The Triton shares many features found in other Dolphin robotic pool cleaners and the most important of these is the plug and play mechanism. Since you don't have to link it up to your pool, the Triton is more energy efficient.
The Triton is self-programmed. What this means is you don't have to adjust any complicated features to make it work. Once the Triton is in the pool, it's going to start cleaning and turn off automatically after three hours. Optimal scanning is built in. This feature enables the Triton to choose the best approach for your pool. Because pools come in different shapes and sizes, it's easy to understand how the Triton is able to clean different pools. 3 hour cleaning cycle means the Triton can run for 3 hours before shutting down automatically. This is a convenient feature if you've got a large pool, as 1 hour is too short. At three hours, it is more than enough to remove the dirt on even large pools. The suction rate is 4233 gallons per hour. A 60 ft. cable is included, and it is long enough for use on large pools. The length might seem like overkill if you have a medium size pool, but there's no need to use the entire cable.
5. Dolphin 99996323 Dolphin Nautilus Robotic Pool Cleaner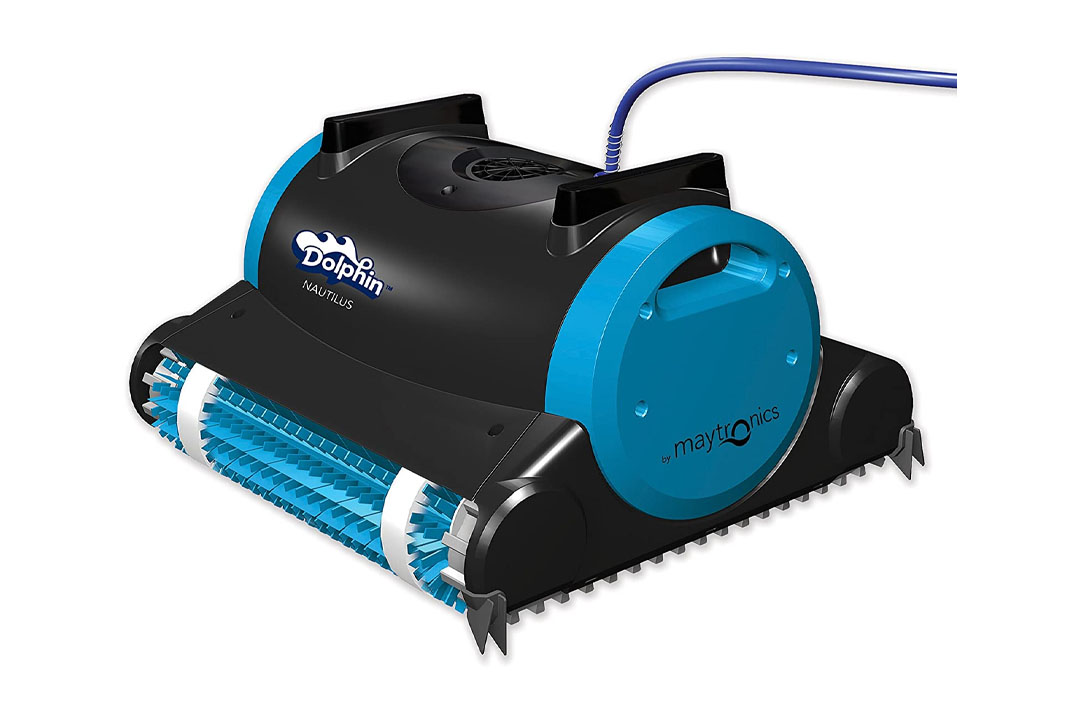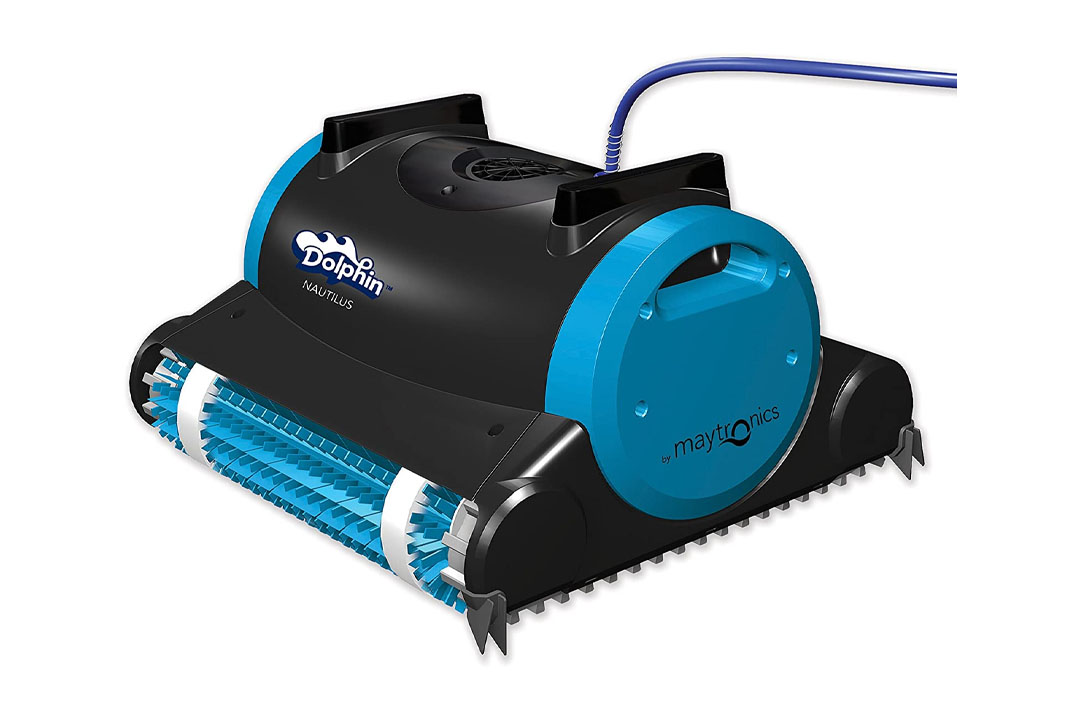 The Dolphin 99996323 Nautilus Robot immediately catches consumers' eyes for the fact that it is a top seller in that category and there are important phrases in the specification like "plug and play" and "lightweight" that raise the appeal further. This device comes with the recommendation to be used in in ground pools that are no more than 50 ft in length and a great rating so the aim of this Dolphin 99996323 Dolphin Nautilus robotic pool cleaner review is to see why it has earned so many stars and if it is an effective tool in these large pools. Many people buy robotic vacuums because they have a better sense of direction and drive than some of the random pressure and suction based pool cleaners and this particular model seems to fulfill this need pretty well. The promise is that it will cover the floor, coves and walls for an all-over clean and buyers are impressed with the way it scales walls up to the waterline. There is some criticism over its confusion on stairs but, to be fair to Dolphin, stairs were not part of the deal. This freedom of movement is greatly aided by the simple inclusion of the swivel cable that ensures that the power lead does not get tangled. The idea of this being a "plug and play" model has been verified by many users and it seems that if you turn it on and let it go, it will provide a thorough clean – that's scrub, vacuum and filter – in just three hours, just as promised. The downside here is that 3 hours does mean 3 hours and it can repeat areas already cleaned. The only real issue here is with the bits you have to do yourself. The true joy of an automated robotic pool cleaner such as this is the way that it can do things by itself and take out all need for manual labor, which therefore makes any required effort a bit of a let down. In this case of this Dolphin robotic cleaner, there are complaints about the job of fishing it back out the pool once the cleaning is finished. Not only is there the risk of getting wet, some say that lifting it out the wrong way can make the collected debris spill into the pool again. Thankfully, if it is retrieved successfully, it is said to be very easy to empty out.
4. Polaris F9550 Sport Robotic In-Ground Pool Cleaner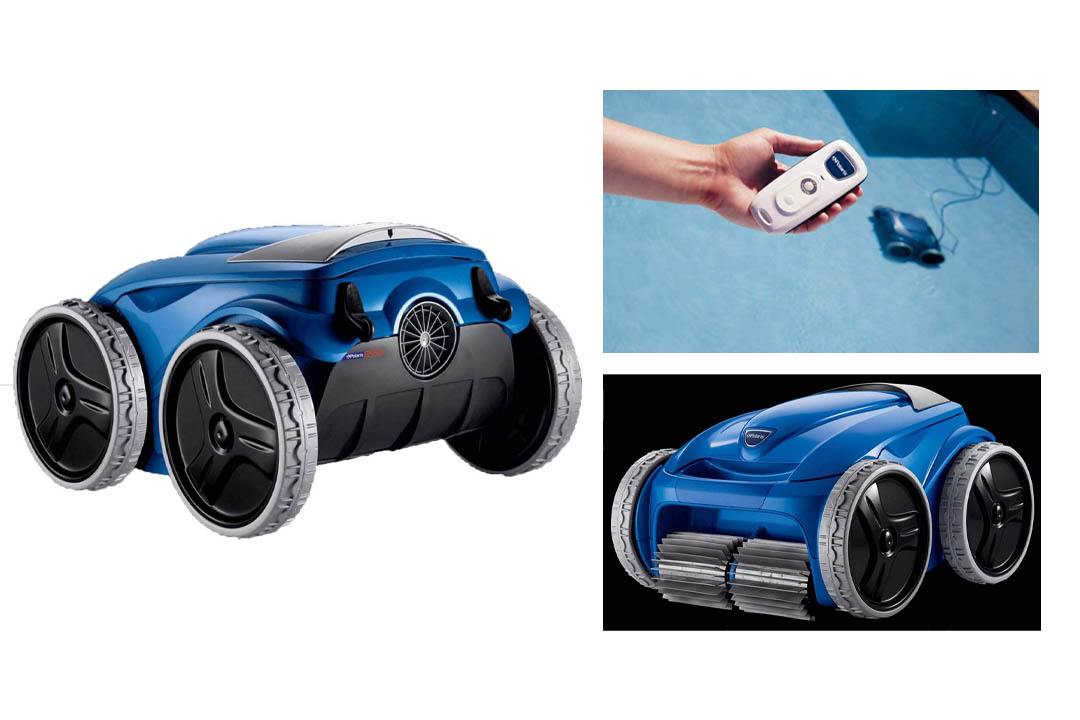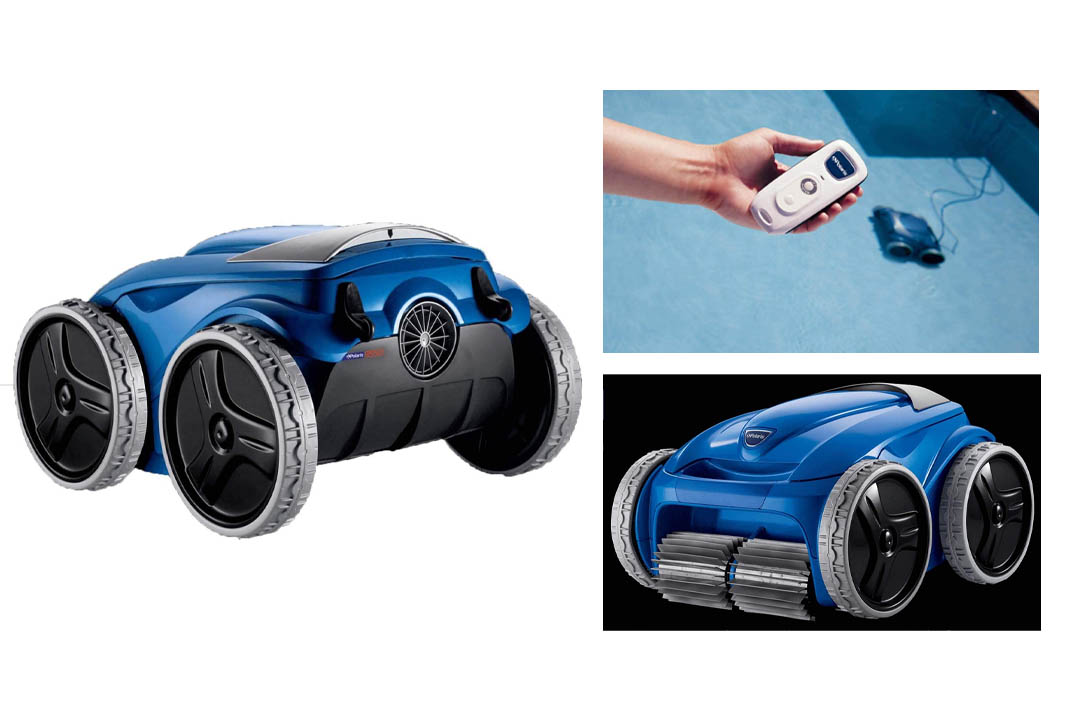 The P955/9550 is one of the most expensive robotic pool cleaners in the market, so there is a lot to expect from this top-of-the-line four-wheel drive unit. And it does not disappoint. The P955/9550 is decked out with several features that make it one of the most thorough cleaning units on the market. It never gets stuck in corners, and can pick up every kind of debris reliably. From the revolutionary 4WD system to the 7-day programmable timer, the Polaris P955/9550 is a seriously powerful and flexible cleaning device. The four-wheel drive feature gives the P955 and extra boost when it comes to navigating the floor of the pool. It is especially important when it comes to time to scrub the walls. The cleaner has an easy time with vertical navigation. This is one of the unique features of the Polaris P955. The automatic timer allows you to set a variety of schedules within a 7-day period. If your pool gets dirty often, then set the P955 to automatically clean the pool every day. You can also set the timer for every other day. This feature allows users to relax and let the P955 clean as often as they wish. You never have to worry that your pool is not clean enough in time for a party, etc. You can choose different cycles for cleaning specific areas of the pool, as well. There is one for the waterline, for the bottom only and another for the bottom and sides. You can also select the pool shape (rectangular or freeform) for better cleaning.
3. Smartpool NC72RC Direct Command Plus Remote Control Robotic Pool Cleaner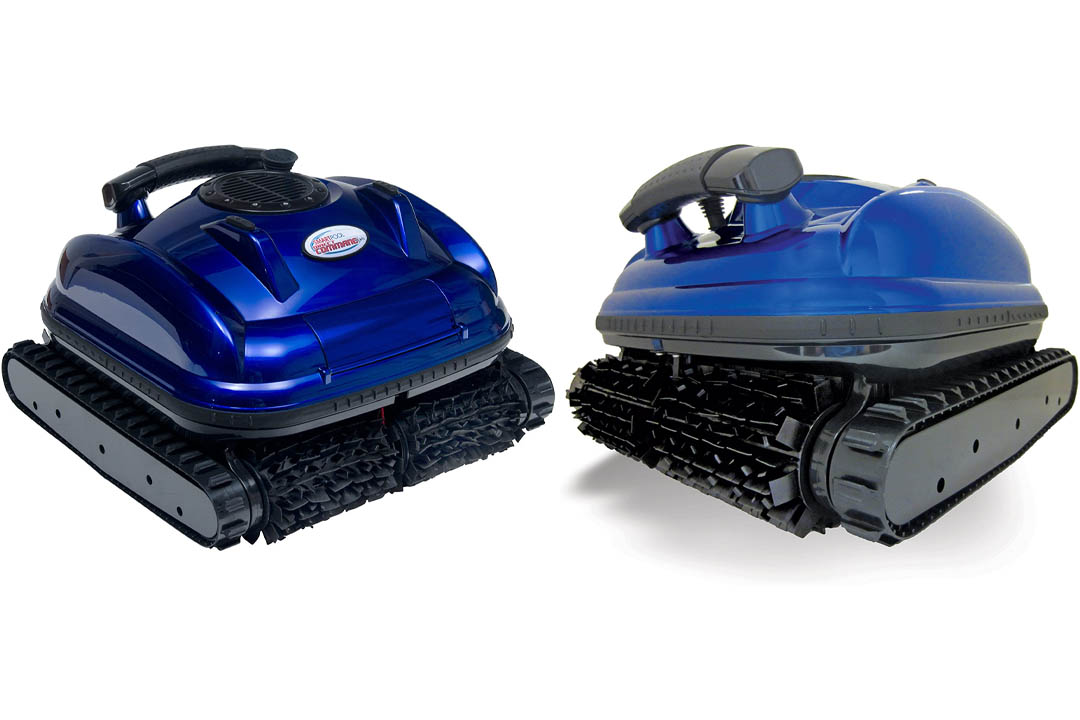 This pool cleaner comes with a remote control that lets you control where it goes so you can clean spots it missed or areas that need particular care. This vacuum has several modes. The fast one hour track can clean the pool quickly before the kids get in or before you have company. It has a three hour cleaning cycle that is more thorough. And the remote control mode that lets you clean things as you see fit. Or switch to remote control mode to get the spots the other modes missed. This vacuum has a longer cord than the Dolphin Nautilus, a sixty foot cord. This unit has a longer warranty than many of its competitors. One of the challenges buyers face is the hassle of lowering it into pool. The cord periodically tangles up, and you have to take it out of the pool to fix this.
2. Dolphin Premier Robotic Pool Cleaner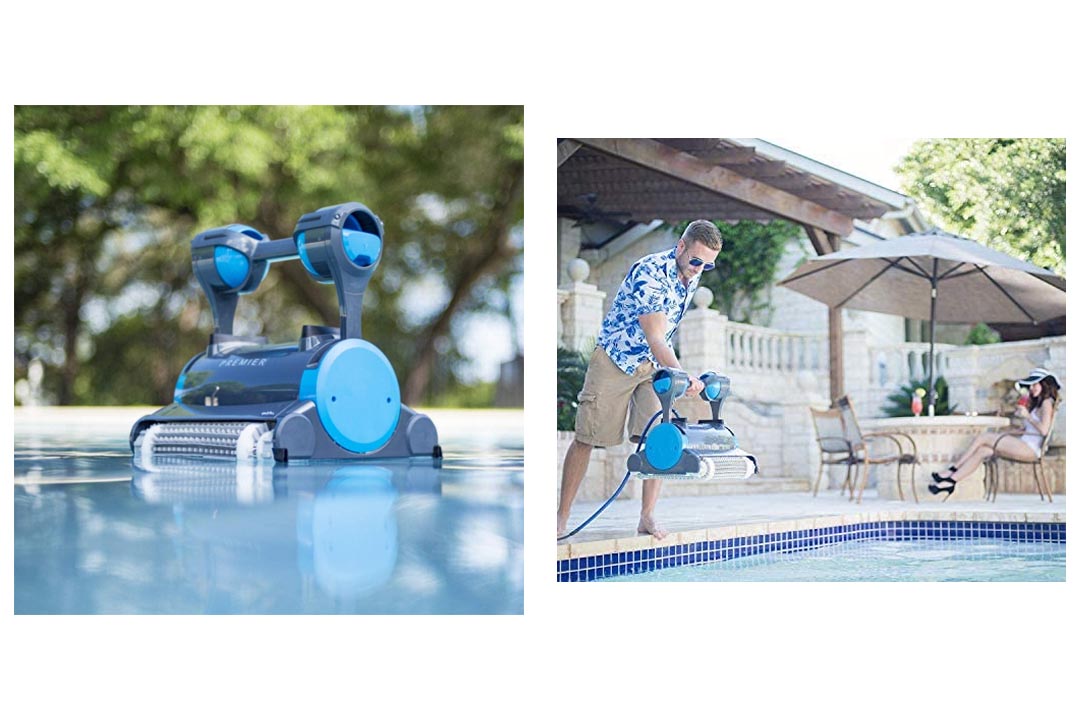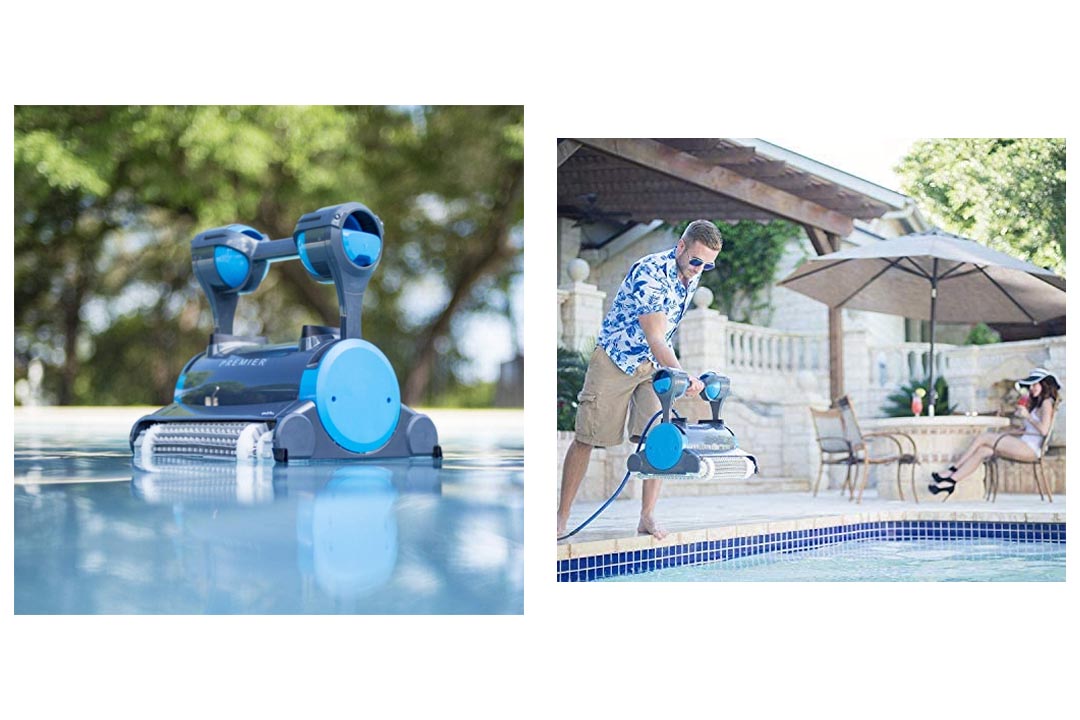 The Dolphin Premier automatic pool vacuum cleaner is one of the top products in this niche. This is an expensive pool cleaner. It can be found new on sale or refurbished for around a thousand dollars, and this cost doesn't include a pool caddy or extra filter bags. One of the strengths of this product is the modular design that lets many people swap out filter bags and media, replace treads and make other repairs themselves. Another benefit is the ability to get replacement filters or larger debris bags from the manufacturer online. This vacuum does a decent job navigating every inch of the pool bottom, making its way out of the deep end and up onto the steps. However, it will only make half the way up the average pool wall and rarely makes the tile line. Put in the high grade filters and bags, and this vacuum can contain the mold and algae it picks up. These items do come at an extra cost, but the pool vacuum does come with a basic filter and debris bag. Perhaps the greatest draw of this robotic pool vacuum cleaner is the versatility and flexibility in controlling it. It comes with several different programs for cleaning the pool, and you can set one schedule for the weekend and a different one for the week. And you can buy a remote that lets you send it back for spot cleaning.
1. Dolphin 99996403-PC Dolphin Nautilus Plus Robotic Pool Cleaner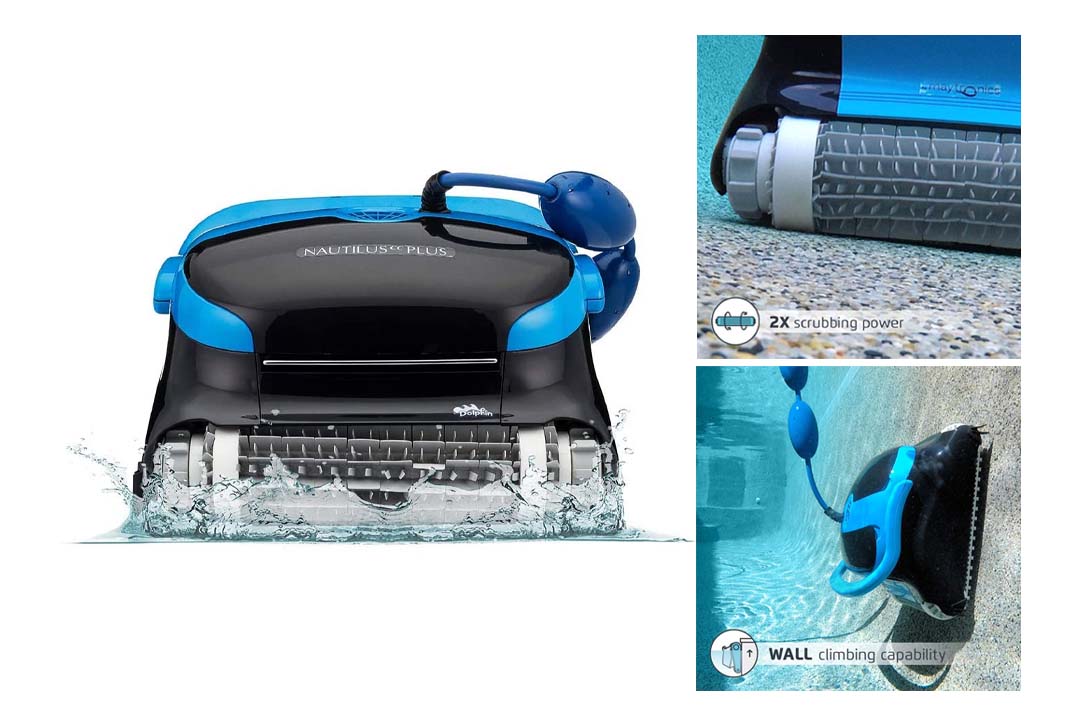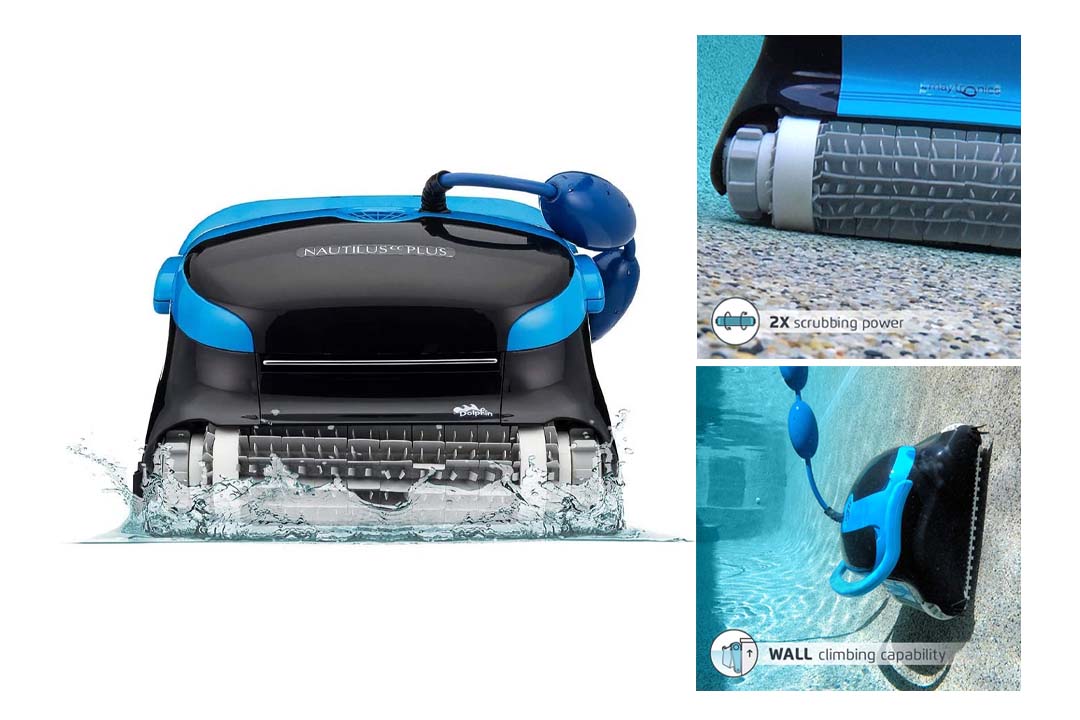 Dolphin 9996403-PC, or more commonly referred to as the Nautilus Plus, is designed for up to 50 feet long in-ground pool. It meets nearly all requirements you want including its ability to climb walls, cove, and of course floor. Equipped with two large cartridge filters accessible from the top and fine filters, this robotic pool cleaner is easy to use and effective at the same time. To start with, Nautilus Plus is an easy to use robotic cleaner with its plug and play system. All you have to do is connect the wire to the robot and power outlet at the other end, and it is ready to go. It is not necessary to install anything or use any additional connector. As you submerge it in the water, the IntelliScan technology analyzes the overall dimension of your pool to determine the fastest and most effective path for the robot to do the entire cleaning job. It also puts pool shape into account to maximize its cleaning coverage. In terms of filtration, Nautilus Plus uses two different cartridges to separate fine debris and the coarser ones. Fine filtration uses pleated polyester, while the coarse filtration is done through mesh screen. With a suction rate of 4,233 gallons per hour, the robotic cleaner can complete a cleaning job in a 50 feet long pool within 3 hours or less. Another good thing from Dolphin Nautilus Plus is the use of Easy-Fix modular technology, this means almost all parts in the robotic cleaner are standardized for you to easily find replacements and install them. There is no need for professional repair service in most cases.
Conclusion
We hope with our buying guide and top ten, you are more confident in choosing the robotic pool cleaner that fits your requirement. Each cleaner above shares similar features, but they do have their own specific potentials. Think wisely and feel free to go over each item again. Then click order now to present yourself with the cleanest pool ever in your neighborhood.
Any Top 10 is a participant in the Amazon Services LLC Associates Program, and we get a commission on purchases made through our links.