One of the most essential pieces in any home kitchen is having a high-quality cookware set. Many people believe that you have to spend a lot of money to get a great cookware set. However, there are many great cookware options out there.
When it comes to picking out cookware there are several factors that you should take into consideration. Your budget will help you narrow your options. However, you can find a decent quality full set of cookware for under 100 bucks. Keep in mind that the more you spend will get you better quality sets with more features. Some of these features can include heat distribution, stay-cool handles, and multi-ply construction. Make sure that you are buying a set that has the right type of pans that will match up to your cooking needs. For instance, there are some sets that have specific uses like induction cooking while other are better for wide range cooking. Here are the top ten best kitchen cookware sets.
List of the Best Kitchen Cookware Sets of 2023:
10. Tramontina Porcelain Enamel Aluminum Gourmet Nonstick Cookware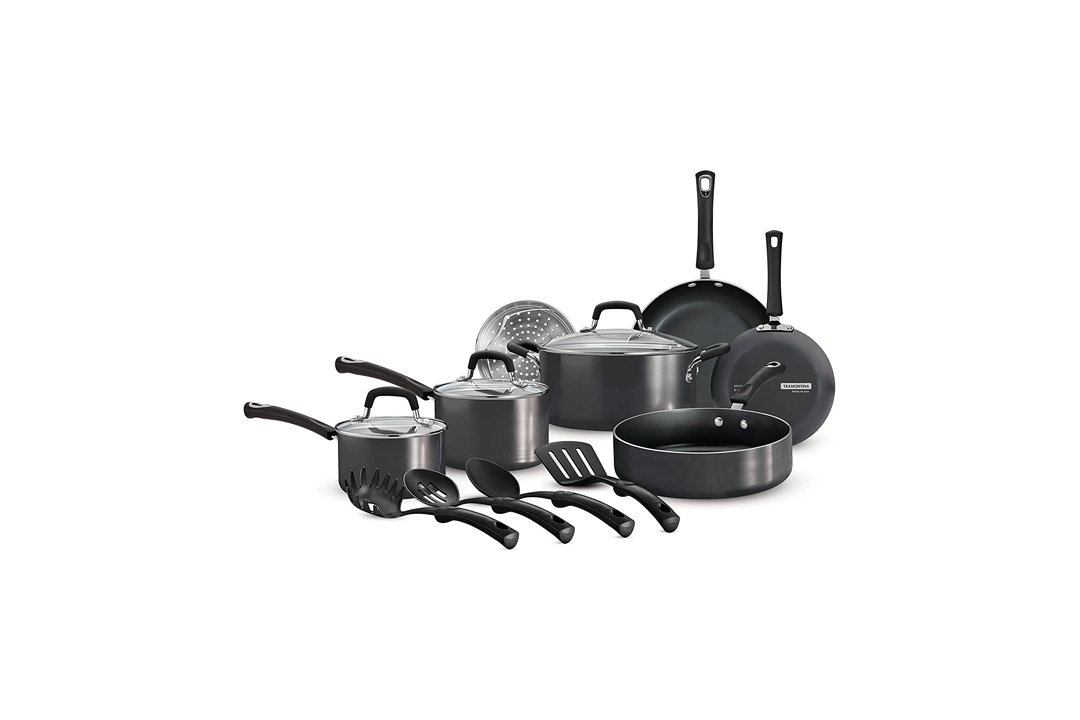 This 14 piece set is made out of heavy-gauge aluminum and has a durable porcelain enamel exterior. The enamel layer works to limit the number of chips and scratches that appear can appear on your pans. The Teflon nonstick layer means that you are able to cook without having to worry about food getting stuck to the pan. Soft-grip silicone handles have been ergonomically designed for comfort and the rivets add some stability to the handle.
9. Rachael Ray Cucina Hard Porcelain Enamel Nonstick Cookware Set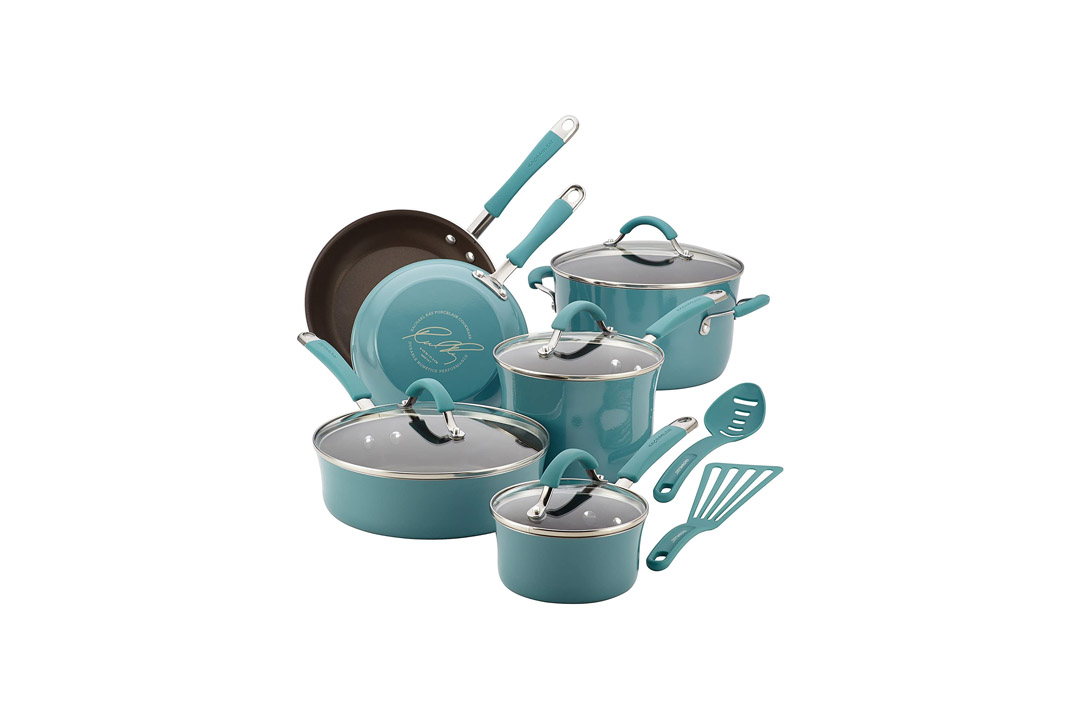 Rachael Ray cookware is made up of rustic yet modern colors and works to bring design and functionality together. The pots are made out of durable aluminum and feature a hard enamel porcelain exterior. The 12 piece set has dual-riveted rubberized stainless steel handles, and come with shatter-resistant glass lids. Pots and pans are ovens safe up to 400° Fahrenheit, making them suitable for stovetops, except for induction ovens.
8. T-fal C921SE Initiatives Nonstick Cookware Set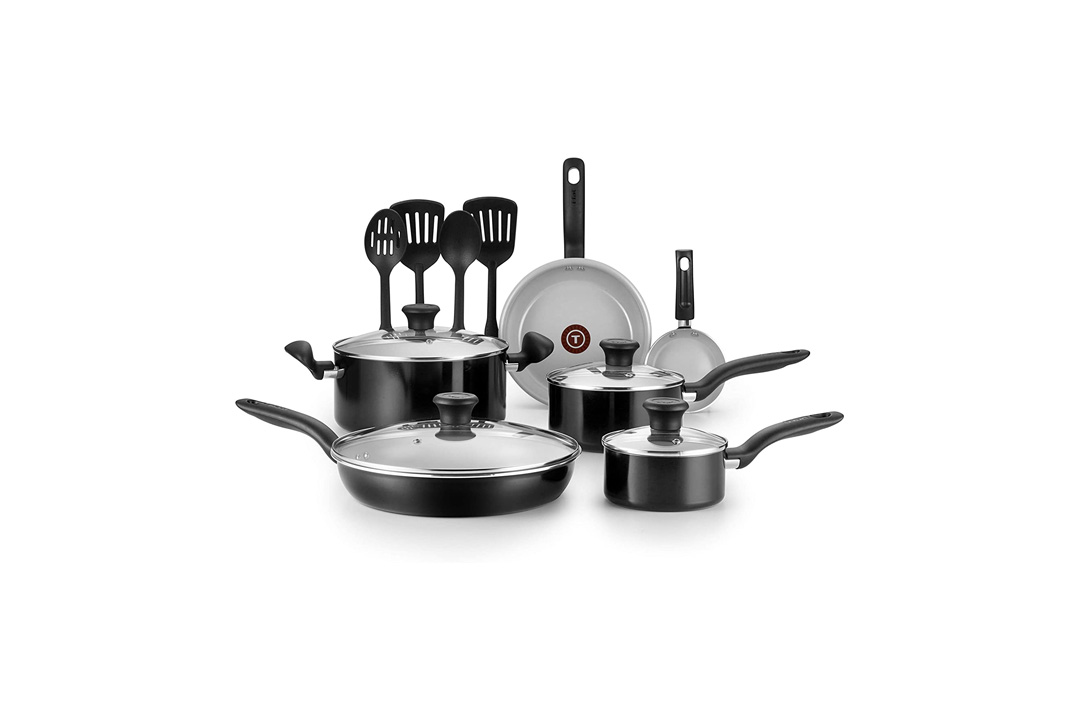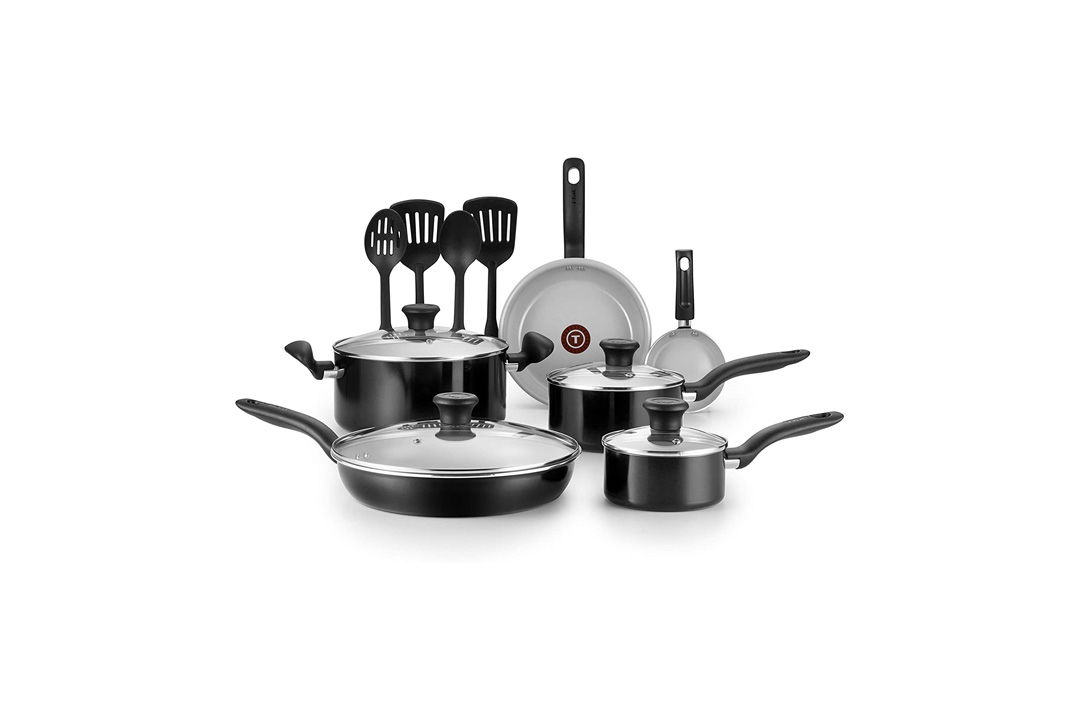 The T-fal cookware set brings healthy cooking to your kitchen. The set is PRFE, PFOA, and Cadmium Free. It is made out of heavy-gauge aluminum, which makes the ceramic cookware durable and high-temperature resistant. The ceramic cooking surface is able to resist temperatures up to 570° Fahrenheit. The pans in this set are oven safe up to 350° Fahrenheit. This ceramic cookware set can work with all cooktops, but induction ones.
7. Vremi 15 Piece Nonstick Cookware Set with Cooking Utensils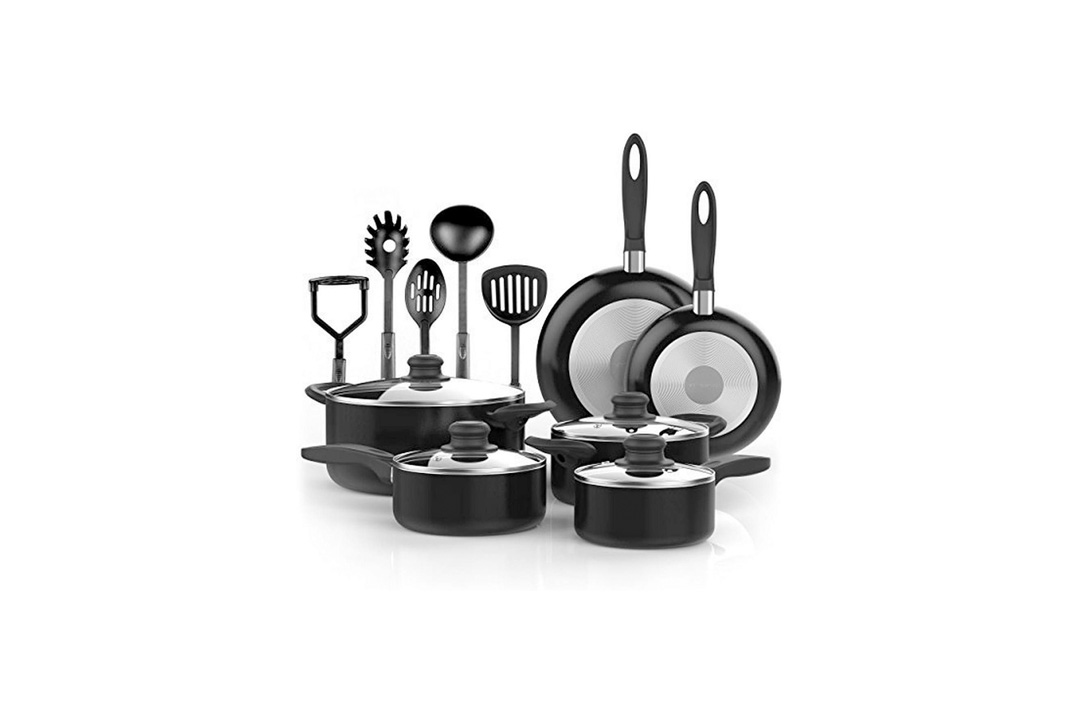 This cookware set is the perfect kitchen starter kit. It comes with 6 non-stick pots and pans, as well as 5 non-stick cooking utensils. The non-stick material is easy to wipe clean with a soapy cloth, so dishwashing has never been easier. Dutch ovens and saucepans all come with glass lids. They are oven safe, PTFE, PFOA-free, and come with cool-touch ergonomic handles.
6. T-fal E765SE Ultimate Hard Anodized Scratch Resistant Titanium Cookware Set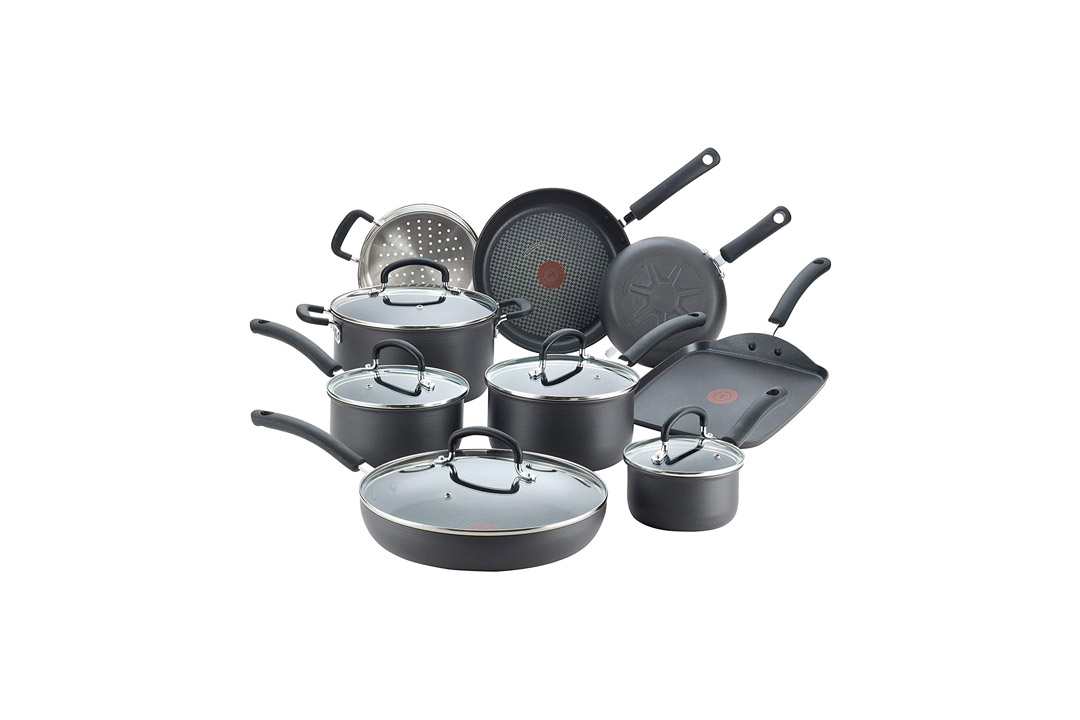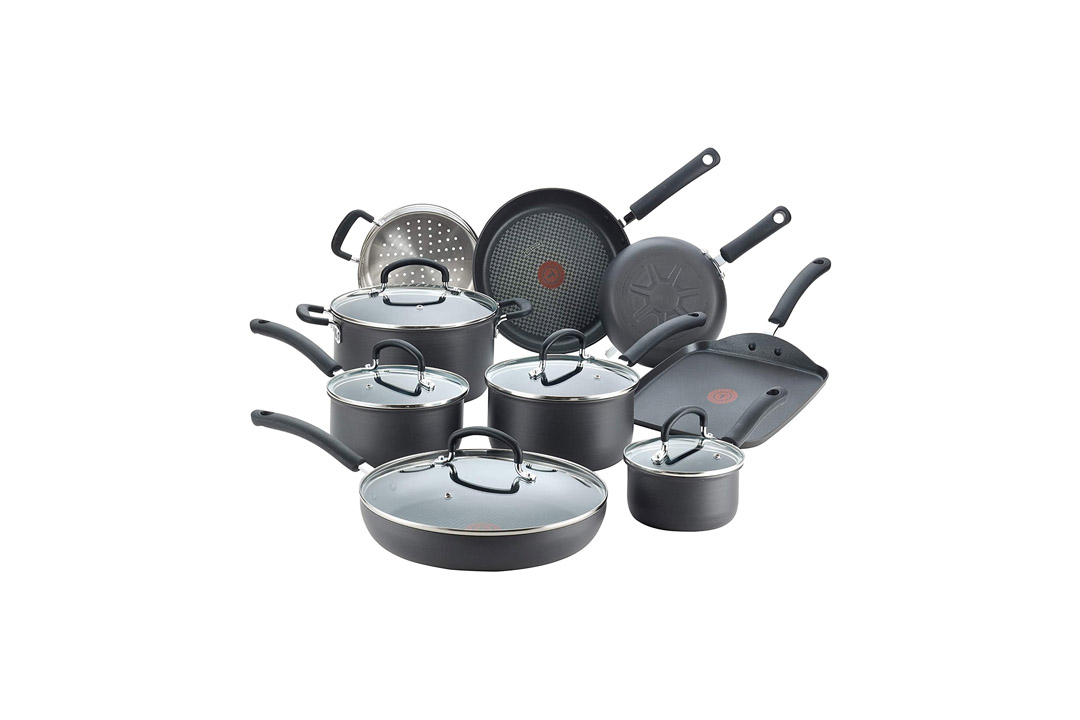 Being made out of hard anodized aluminum means that this cookware set is very durable. It also features Thermo-Spot technology, which is T-fal's unique heat indicator system. This technology will show you when your pan has been preheated properly. Cooking with a well-preheated pan will seal in the natural juices of the meat, chicken, and fish. This result is moist and delicious food.
5. T-fal E765SH Ultimate Hard Anodized Scratch Resistant Titanium Cookware Set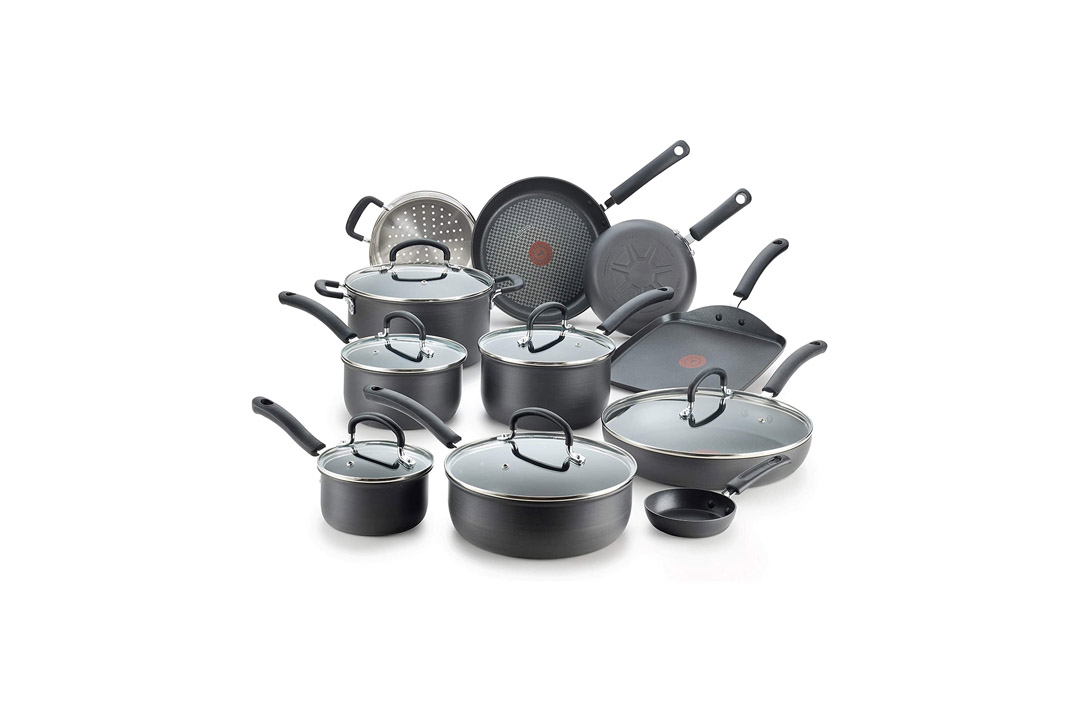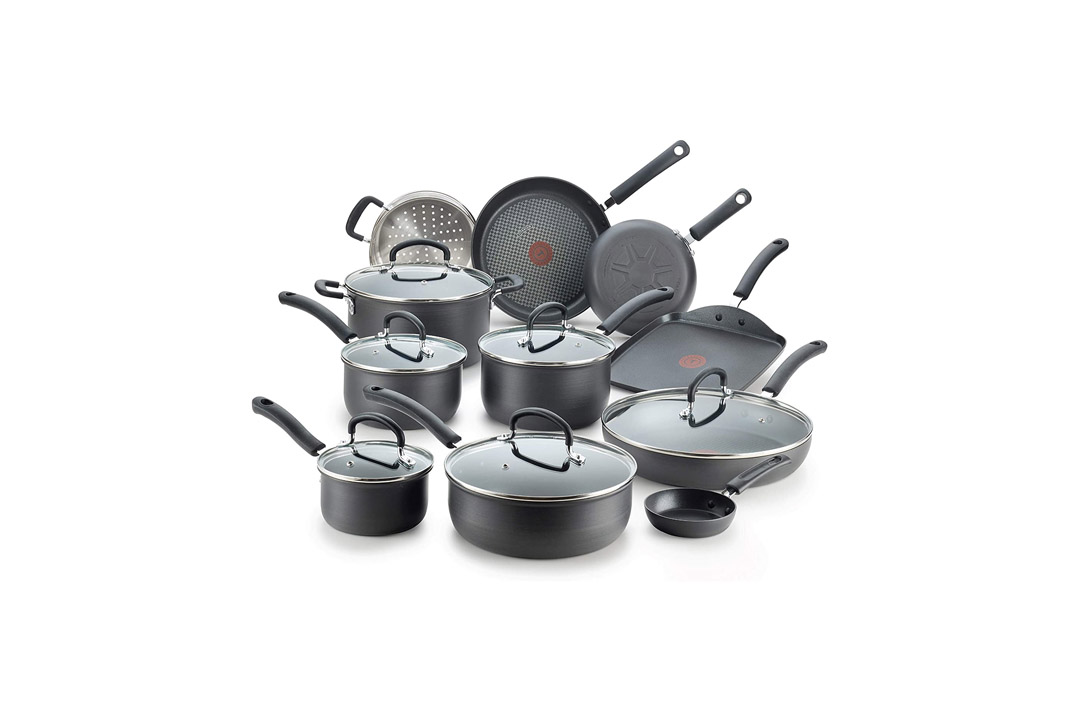 This 17-piece set has everything you need for day to day cooking. The hard titanium non-stick interior is able to create a long lasting performance. This interior is very durable and scratch resistant, which means that it is safe for you to use metal utensils on these pans. The riveted silicone handles are ergonomically designed to be comfortable when gripping the handles. The T-fal cookware works to distribute heat evenly and prevent hot spots.
4. T-fal E765SC Ultimate Cookware Set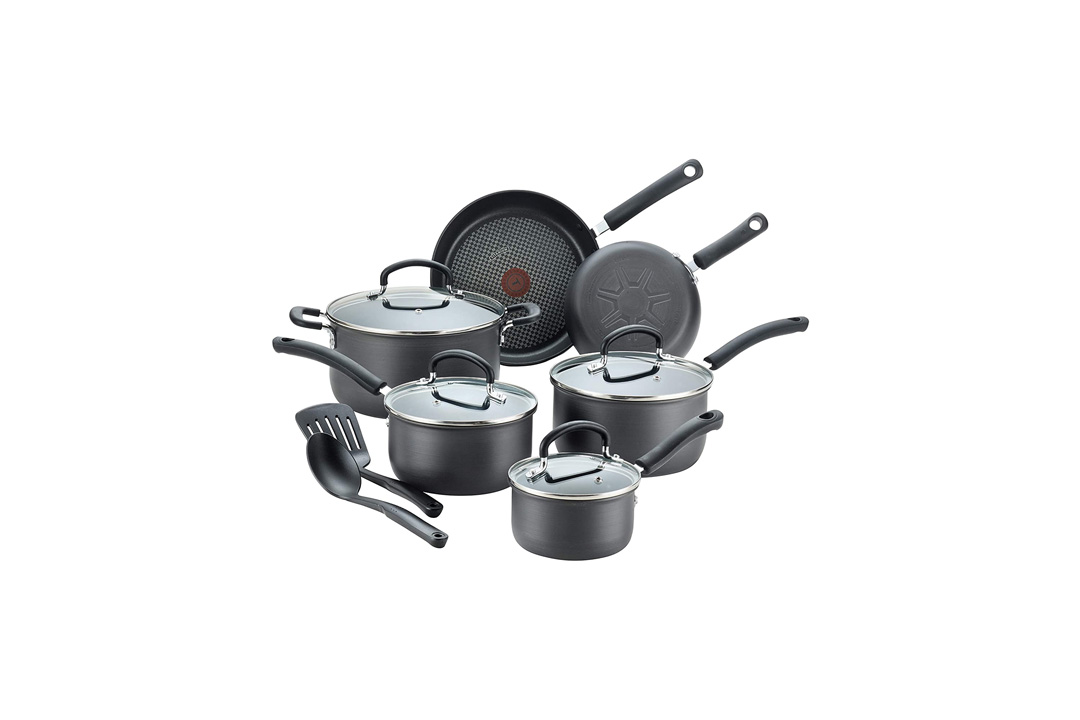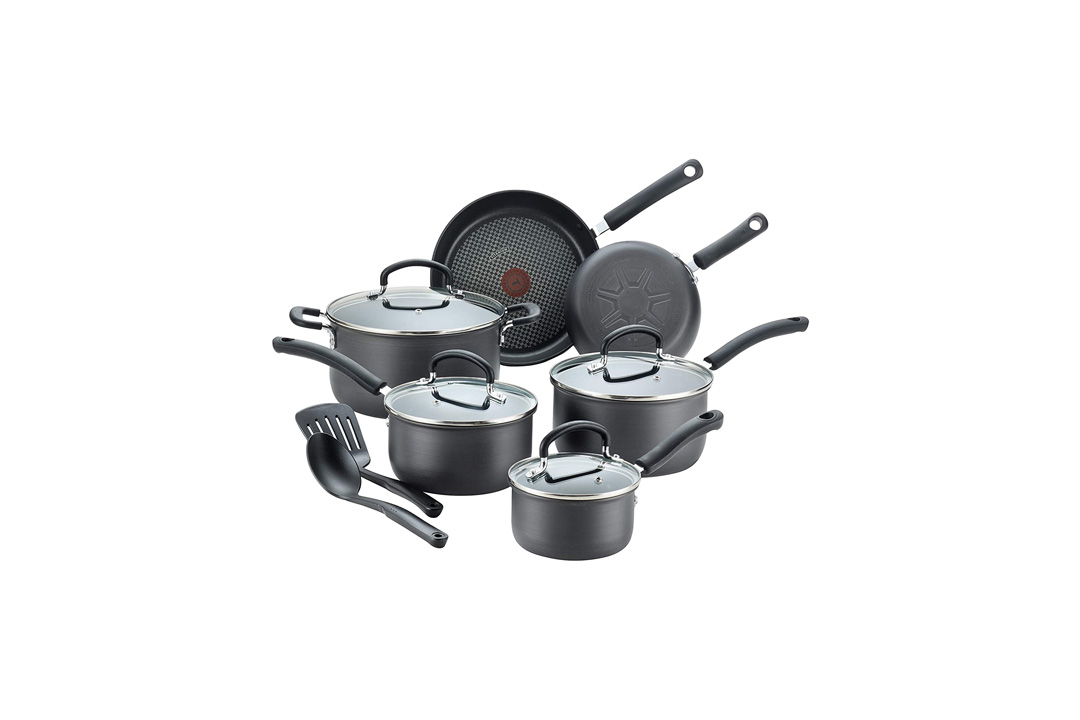 The T-fal cookware set is a reliable cooking set that has many one-of-a-kind features. The Thermo-Spot heat indicator will let you know when the pans are pre-heated, once the center has turned red the pan is ready for you to cook in. Having pans that have been correctly preheated is important to seal in moisture and flavor in many foods. All the pans in this set are PFOA, Lead, and Cadmium-free.
3. Cuisinart MCP-12N Multiclad Pro Stainless Steel Cookware Set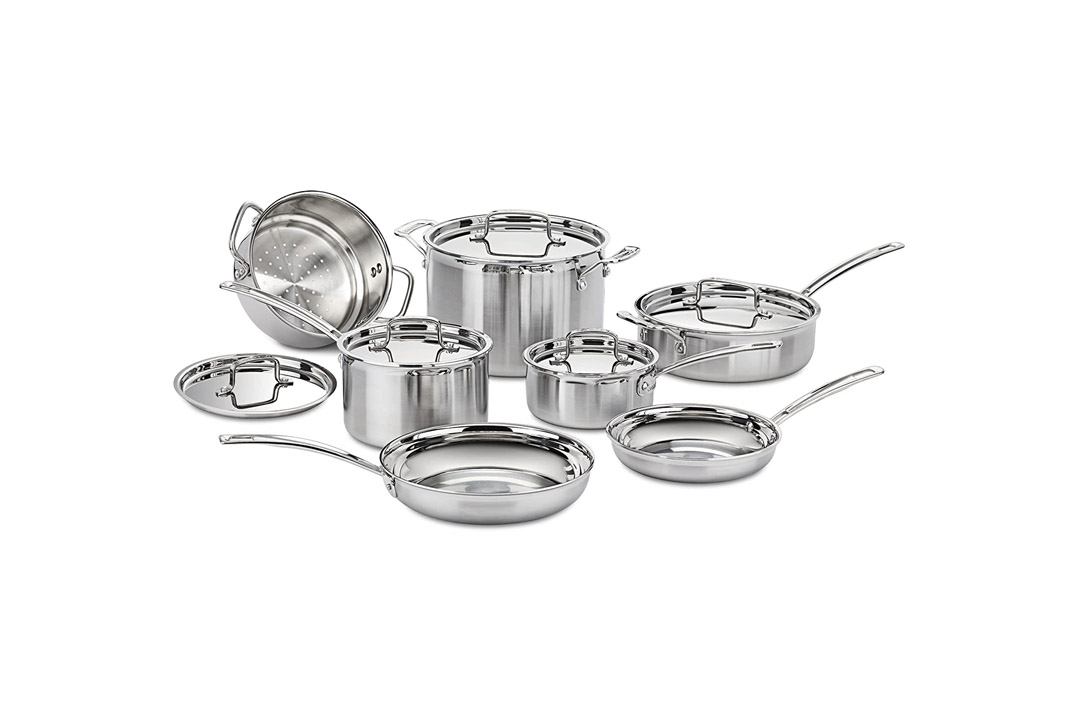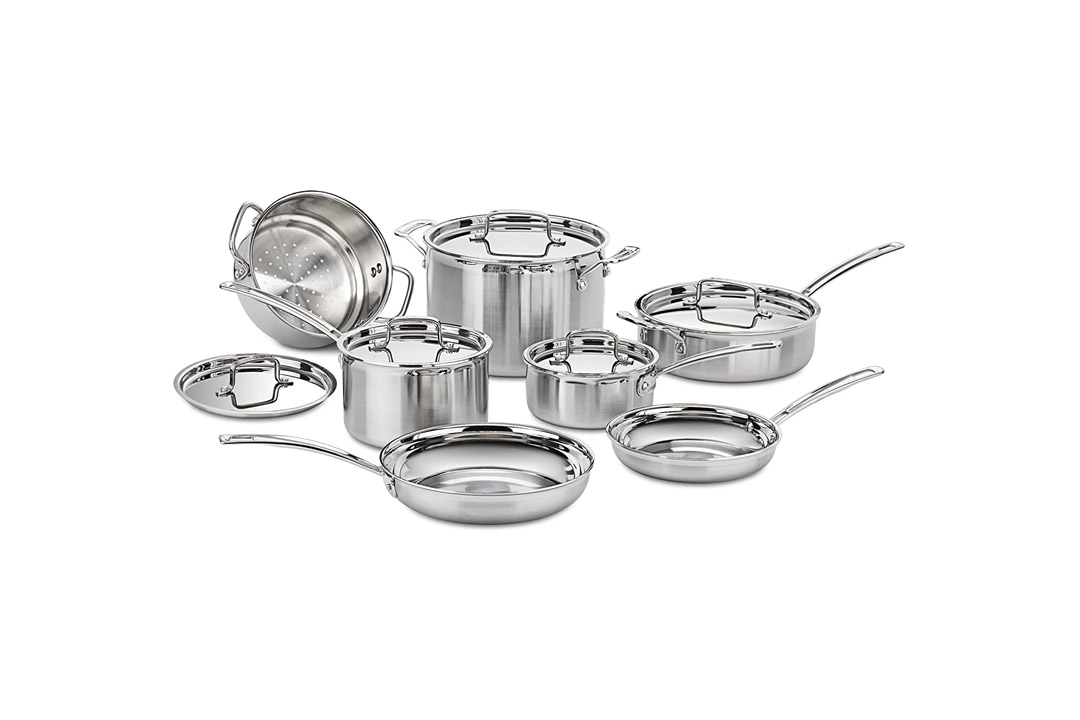 This cookware set was inspired by the great French kitchens. They are made up of the finest materials that allow you to perfect your cooking techniques. The unique triple-ply construction is made up of a brushed stainless steel exterior, pure aluminum core, and a stainless steel interior. Heat surround technology works to maintain even heat distribution on the bottom and sides of the pans.
2. Simply Calphalon Nonstick Cookware Set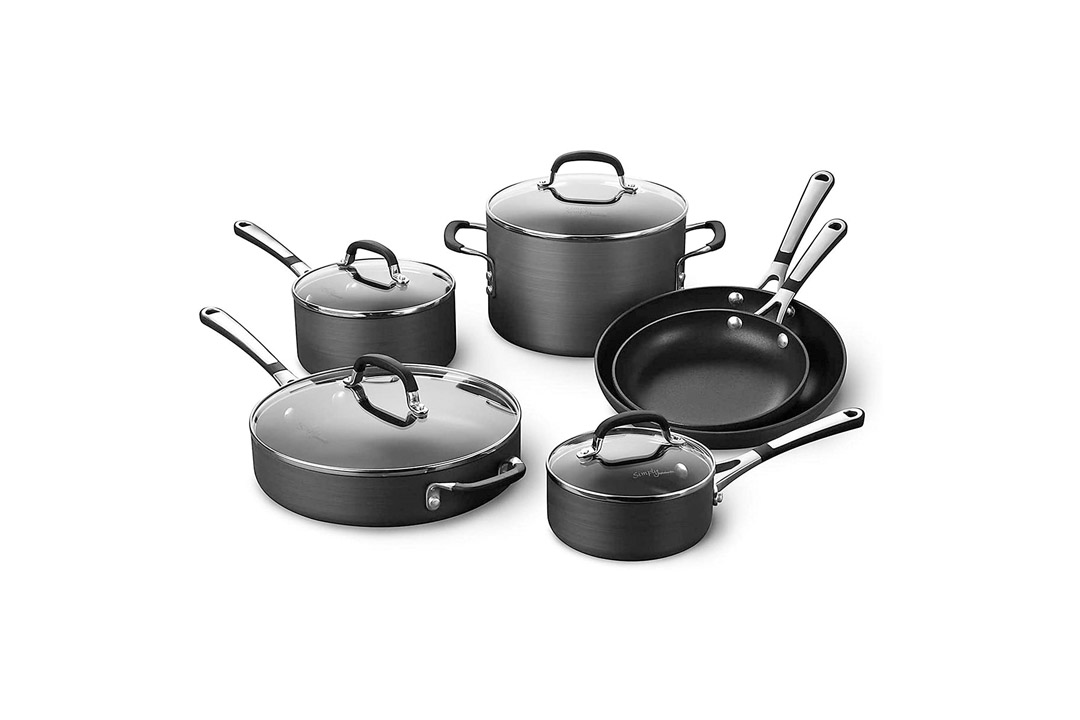 This cookware is made out of Calphalon's signature hard-anodized aluminum. It works to provide even heating and provides great conductivity. The interior of the pots is double-coated with the sturdy reliable non-stick coating. This non-stick coating makes it easy to clean with soap and water.
1. T-fal A857S3 Specialty Nonstick Cookware Set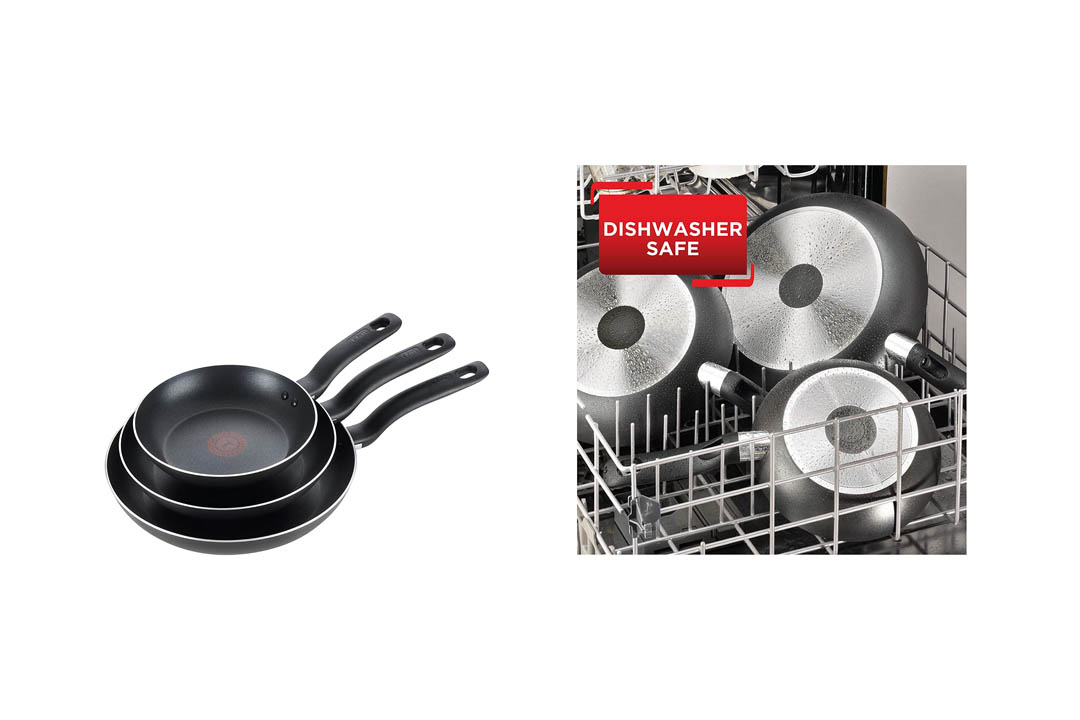 The three piece set is made out of durable aluminum. This allows the pans to be able to heat evenly and prevents hot spots. Non-stick interior and exterior layers make for easy cooking and quick cleanups. They are PFOA, Lead, and Cadmium-free. The pans are dishwasher safe and are oven safe up to 350 degrees.
Final Verdicts
No matter which cookware set you decides to go with, make sure you pick the set that will fit the best into your kitchen.
Any Top 10 is a participant in the Amazon Services LLC Associates Program, and we get a commission on purchases made through our links.