This appliance provides a level of luxury and convenience few American kitchens have been equipped with. A warming drawer provides a temperature controlled storage place to hold food, plated or otherwise until it is ready to be served. This allows you to prepare an entire meal, then serve course by course without having to keep running back to the stove or oven to keep everything going. It also provides the very practical benefit of allowing you to hold a meal hot until the entire family arrives at the dinner table. Also, some models offer a "proof" mode; a low temperature setting to assist with the raising of yeast-based dough.
Instead of plating food and holding it, some warming drawers can accommodate standard sized food service pans used throughout the professional food industry. This enables you to prepare dishes and keep them in convenient steam table type pans until they are needed. This is convenient for large meals, parties and a benefit if you hire caterers to serve in your home.
Installation is straightforward; the drawer is designed to fit in standard under-counter cabinetry. A warming drawer can also be installed like a wall oven, either in a deep, oven cabinet or in a wall with adequate depth behind it. Since warming drawers are electric, they require no special venting. Their electrical requirements are simple, most are equipped with a standard 3-prong plug. Most models use a 400-500 watt heating element, so a standard 15 amp, 115V outlet can be wired into the cabinetry much in the way it would be for a dishwasher. Besides the kitchen, a warming drawer could be installed in a butler's pantry or even the dining room. Models for outdoor use are also available.
Warming drawers are available in several widths, 24″, 27″, 30″ and 36″ inches. Depths and heights of drawers vary by model. When selecting a warming drawer, be sure to consider the exact interior dimensions of the model you plan to buy. Average dinner plate sizes are 10″ to 11″ inches in diameter. In order to place two plates front to back you will need 20″ to 22″ inches of interior depth and the same applies to the interior width. A drawer with interior dimensions of 22″ x 22″ should be able to hold four dinner plates. With a second level rack, another four plates can stack for a total of 8 plates. If the drawer you select isn't deep enough for two plates front to back, round plates can be offset by a few inches to fit but then will require additional drawer width. In to order to plan your needs, arrange several of your plates on a table and then measure the dimensions of the rectangle that would be needed to surround them.
The temperature range of warming drawers is 80° to 90°(F) for a "proof" mode and 140° to 250°(F) for general warming. The lower range is suitable for plated foods while the higher temperatures are ideal for keeping sauces and soups piping hot.
Other features which vary by the model include the ability to stack items in the drawer, an automatic shut-off timer and most models have a "moist" or "dry" setting to provide the proper conditions for the food being held. As mentioned before, some models accommodate standard sized pans used in the foodservice industry. Most models feature hidden controls, while a very few have exposed controls.
We know with such guide, you still have hard times choosing the best since there are thousands of brand out there claiming they are the best. Hence, we took the liberty to pick out the best of the best for you and let you decide yourself later.
List of the Best Warming Drawers of 2023:
10. Antunes 9400130 WD-20 Warming Drawer, 18.75″ Length, 22″ Width, 10.25″ Height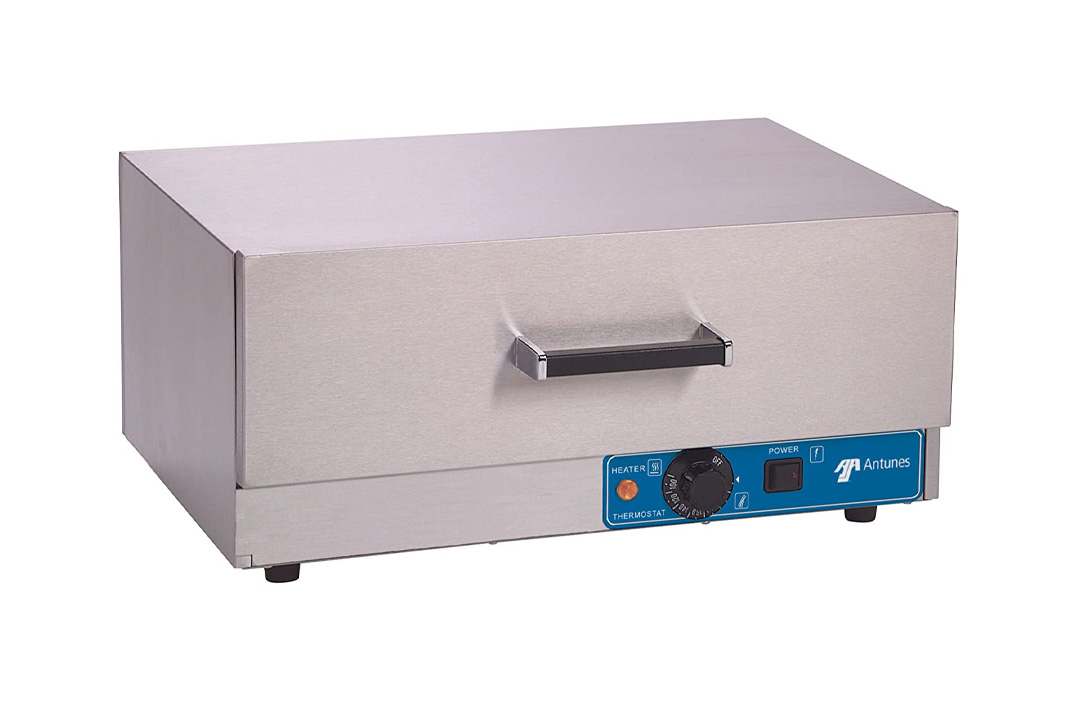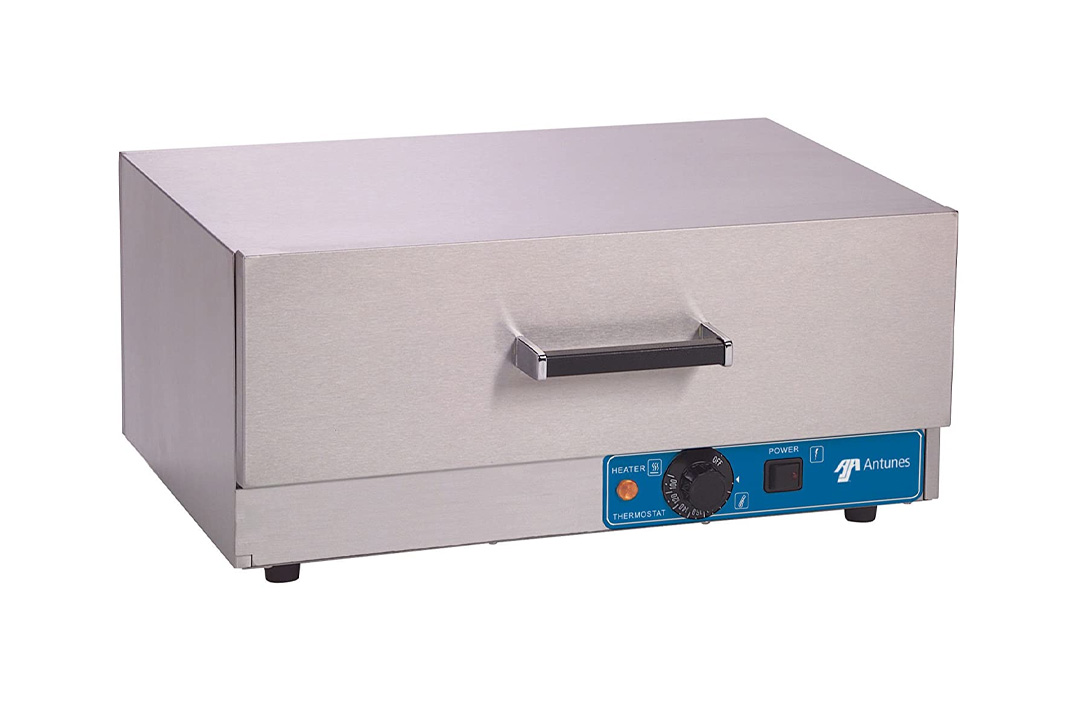 Viking introduced professional cooking to the home when their first range shipped in 1987. Now that same exceptional performance extends into every corner of the kitchen – even the backyard, refrigerators, wine cellars, dishwashers, grills, cookware, cutlery, and small appliances. It's enough to turn any cook into a chef. Viking Range Corporation has become an icon. As the creator of professional performance for the home, their brand identity is tied to the ultra-premium market. When consumers imagine their dream kitchen, they undoubtedly picture the bold, heavy-duty Professional appliances. That is brand identity. And that is the brand strength.
The new Viking Designer Series creates the opportunity to effectively compete in the premium market, with the freedom to adapt their brand identity to suit the premium consumer: slightly younger, slightly less affluent but still appreciates the aura and performance of Viking. Viking Designer offers Viking performance with subtle, contemporary styling and standard sizes. More importantly, it presents lower price points without diluting the premier image of the Viking brand.
With the DEWD's versatile moisture control and temperature settings from 90 to 250 degrees F, you can keep a plate warm, proof bread, or serve piping-hot soup. Dinner will always be the perfect temperature – no matter when you serve it.
9. Electrolux EW30WD55QS 30″ Warming Drawer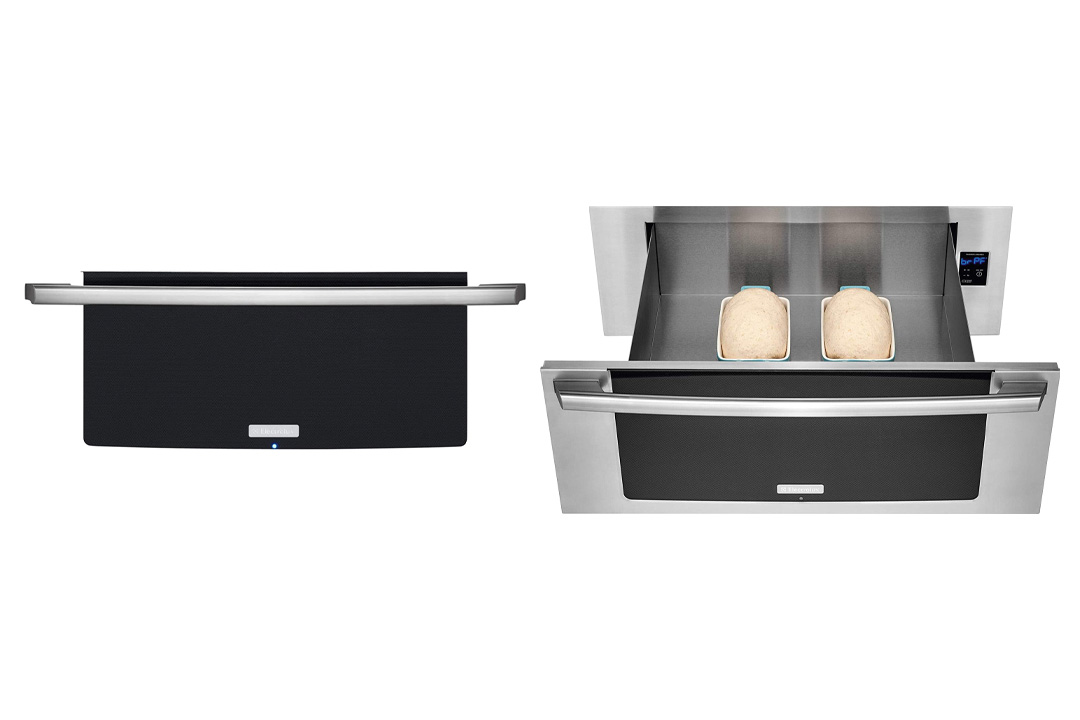 No products found.
Based on extensive consumer insight to meet the real needs of consumers and professionals, Electrolux focuses on innovations that are thoughtfully designed. Electrolux is the only appliance manufacturer in the world to offer complete solutions for both consumers and professional users. The focus is on developing innovative solutions that are thoughtfully designed, based on deep and extensive consumer insight, to meet the needs of consumers and professionals. Electrolux is a leader in kitchen appliances, and new functions are continually being developed that facilitate food preparation, food storage, and dishwashing. Convenient and efficient, the Electrolux warming drawer features a 1.6 cu. ft. capacity, and is ideal for foods ranging from proofing bread to entrees you need to keep at the perfect serving temperature. The keep-warm setting ensures food remains ready to serve without being overcooked, so you can easily put perfectly timed meals on the table. The integrated humidity controls keep foods from drying out so your meals taste their very best. Perfect Set® electronic controls help keep your food at the ideal serving temperature with a warmer drawer that maintains a precise temperature between 80°F and 210°F. This machine is ideal for foods ranging from proofing bread to keeping your entree at the perfect serving temperature. The keep-warm setting ensures food remains ready to serve without being overcooked. Humidity controls keep food from drying out before serving, while also maintaining the Keep Warm temperature. Moreover, Electrolux EW30WD55QS 30″ Warming Drawer is great for bread-proofing, featuring an ideal temperature setting for a dough to rise. The versatile half-width rack allows for more usable capacity. 4-hour auto power-off and blue LED on/off indicator light make for safe use.
8. Bosch HWD5751UC 500 27″ Stainless Steel Electric Warming Drawer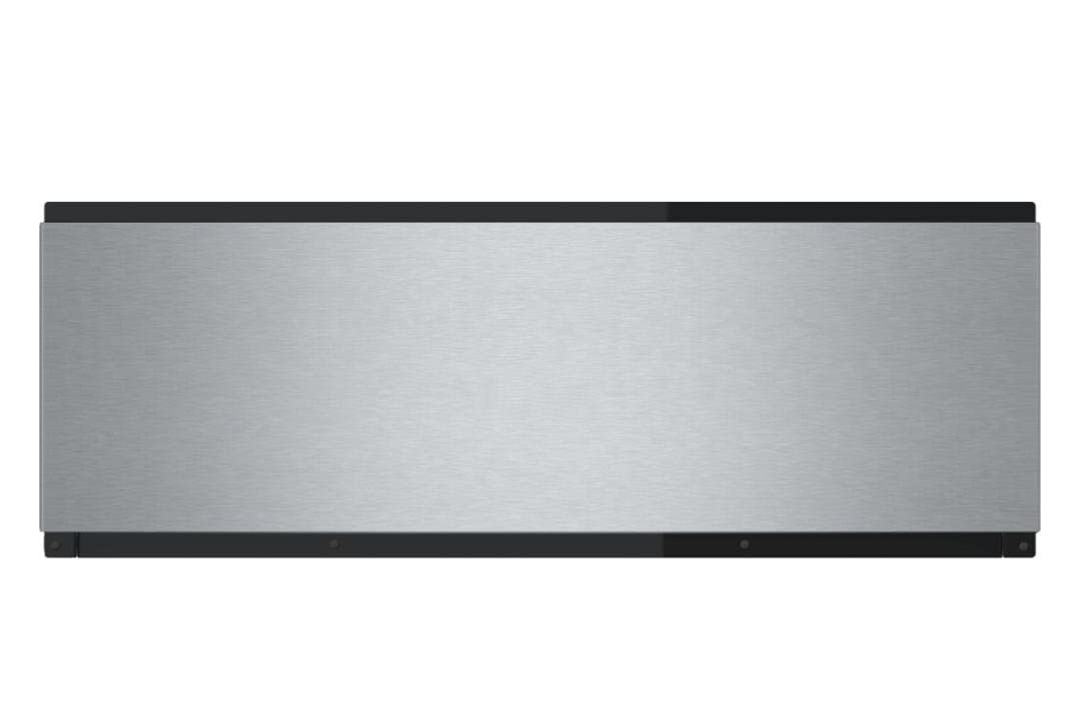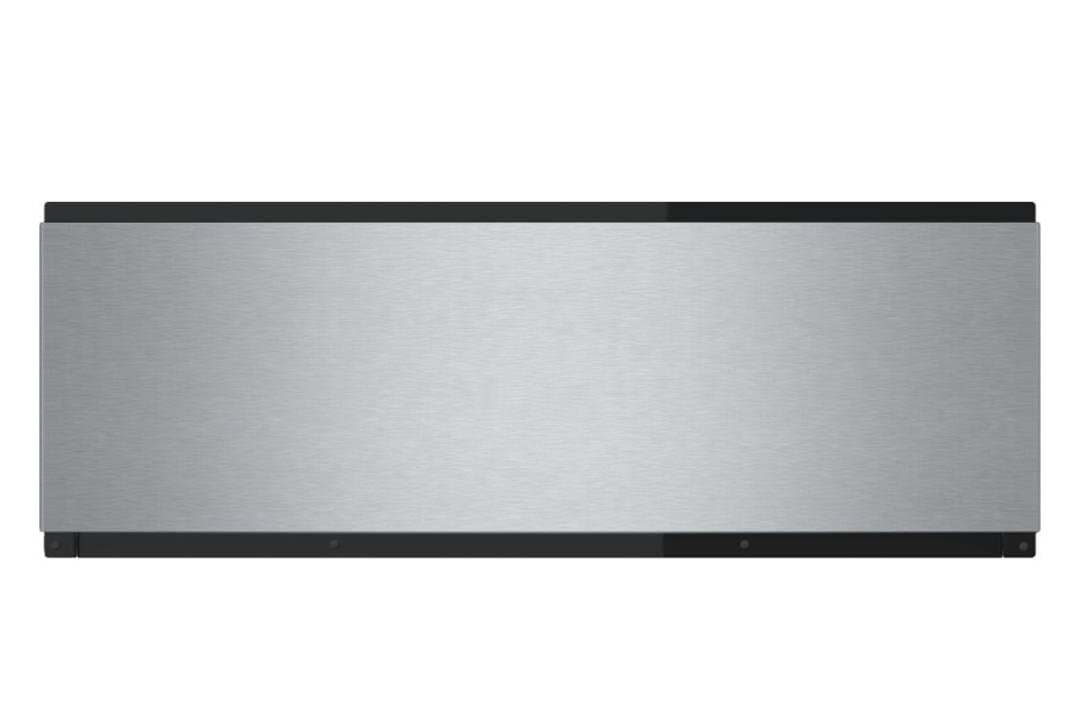 Imagine a kitchen full of thoughtful, ingeniously appointed products that give your kitchen a seamlessly integrated look and provide consistently superior performance. A Bosch kitchen can be flexible or custom fit. It can be for luxurious dinner parties or busy weeknight dinners. What it will never be, is anything less than tasteful. With three different heat settings, the Bosch 500 Series 27″ Oven Warming Drawer (HWD5751UC) arrives equipped and ready for you to keep dishes hot while preparing the rest of a meal. Its stainless steel exterior matches pre-existing Bosch products such as built-in wall ovens and can be installed flush into walls. A concealed 450-watt heating element will make sure that whatever you put into the drawer never goes cold. Additionally, the drawer also features a special dough proofing mode for when you're baking delicious homemade baked goods. Hidden heating element makes sure that your food always stays warm with three different heat settings. Stainless steel exterior designed to match other Bosch ovens and appliances. Telescopic rails are equipped with ball bearings for smooth opening and closing.
7. Bosch HWD5051UC 500 30″ Stainless Steel Electric Warming Drawer
The Bosch 500 Oven Warming Drawer (HWD5751UC) ensures that every part of your meal Is piping hot and well cooked. Some food takes more time and care to prepare, which means the quicker products end up getting finished early on and going cold. With this warming drawer, you can put your cooked food inside to help maintain its temperature for long periods of time while you prepare the other aspects of your meal. Powered by a 450-watt heating element that doesn't cook your food any more than it already has been, and also prevents it from going cold. Get the best tasting meals with no disappointing aspects with this convenient warmer drawer from Bosch. Food is kept warm and without cooking it more or letting it get cold with a well-serving 450-watt heating element. The width of this drawer is just under 30″, and the cavity is 2.2 cubic feet, making it great for holding a wide range of oven trays. You can easily place your baking trays and other food items into this drawer because the walls are much shorter than the front, making loading easy without making the drawer insecure. Ball bearing loaded telescopic opening makes this drawer open smoothly every time. Tough material that doesn't tarnish easily, and deters mess in the event of any accidental spills, making it easier to clean. This lovely machine comes with an adjustable timer for the 1 hour automatic shutdown feature, plus a special dough proofing mode.
6. Frigidaire FGWD3065PF 30″ Stainless Steel Warming Drawer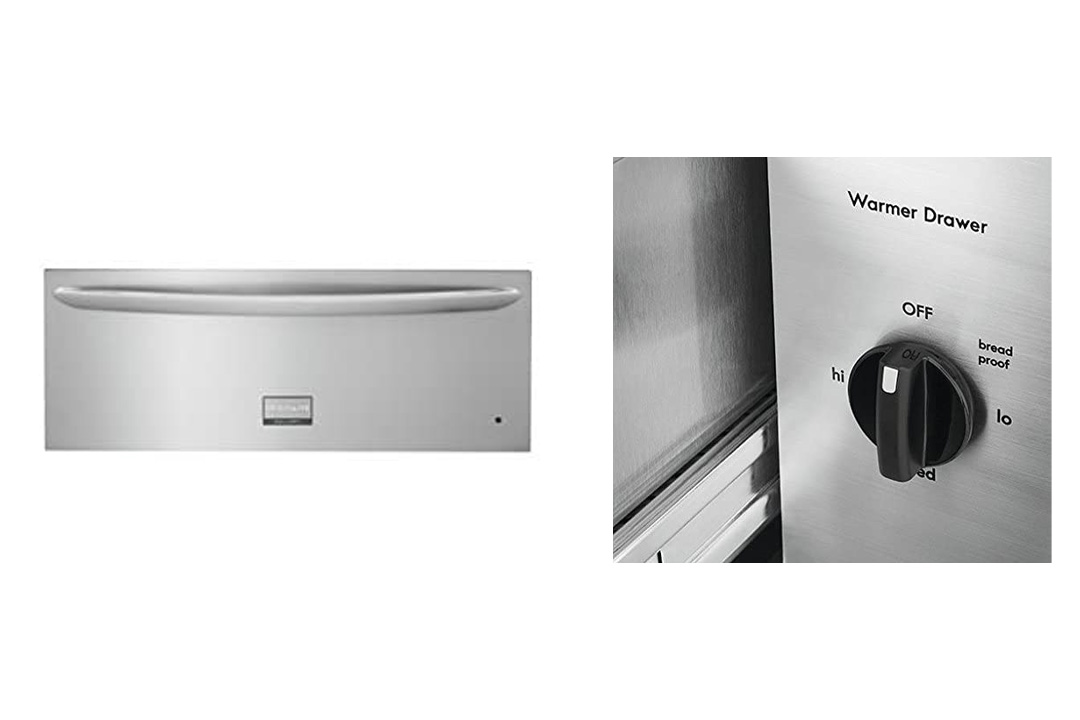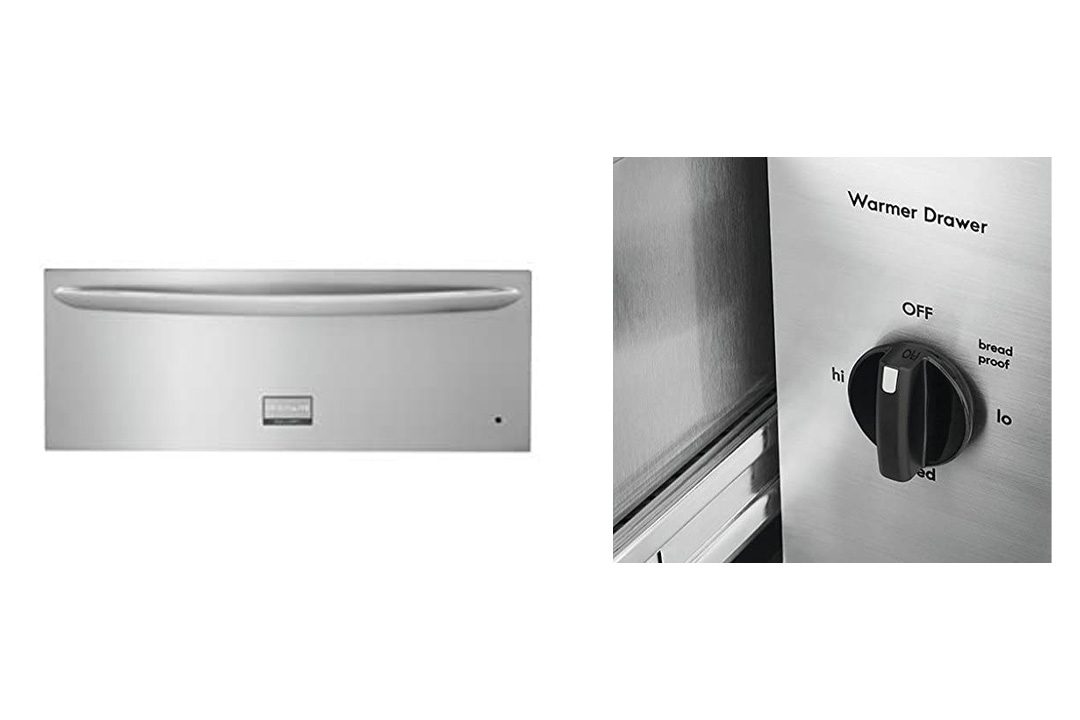 When you select a home appliance from Frigidaire, you've chosen a product of exceptional performance, convenience and style; an appliance that has been designed to work in harmony with the way you live. Frigidaire, one of the leaders in home appliances; offers superior products and service to rival many other companies. Through meaningful innovations, they've humanized their technology to create appliance design that's uncluttered, controls that are intuitive, and features that are as sensitive as they are smart. The Frigidaire Professional 30″ Warmer Drawer is large enough to keep several dishes warm until dinner is ready. You can also adjust the humidity to keep food moist and delicious until you are ready to serve it. Timing dinner has never been simpler. It is large enough to keep several dishes warm until dinner is ready while adjustable humidity control helps you keep food moist and delicious until it's time to eat. Pro-Select® Controls means precise control at your fingertips. Indicator light signals when the warmer drawer is on. Express-Select controls make it easy to select the desired temperature level or the bread proofing option. The power-on indicator light alerts you when the drawer is ready for use. SpaceWise half rack enables you to keep multiple items warm simultaneously. Auto shut off turns the warming drawer off after 4 hours for safety.
5. GE PW9000SFSS Profile 30″ Stainless Steel Electric Warming Drawer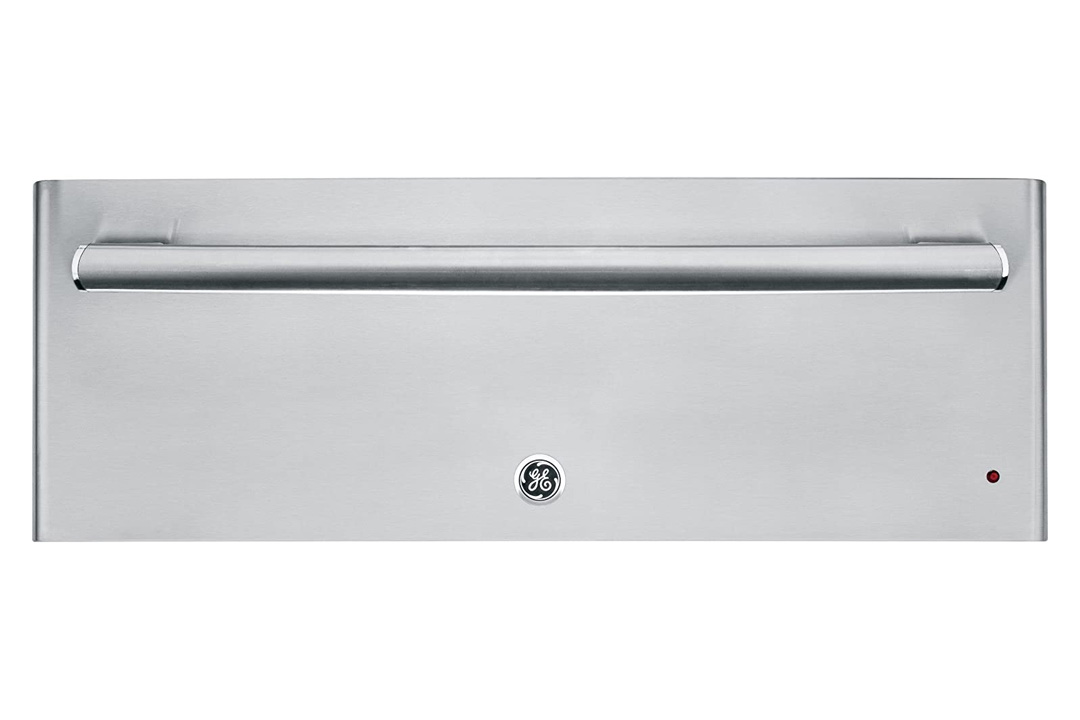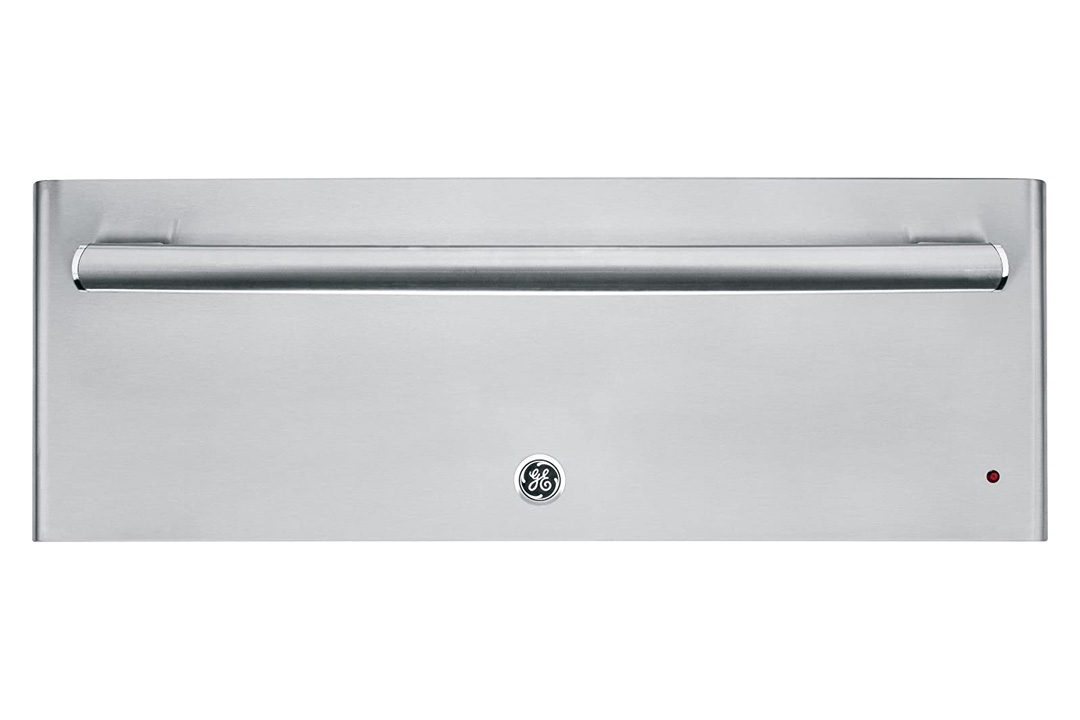 GE Consumer and Industrial spans the globe as an industry leader in major appliance, lighting and integrated industrial equipment systems and services. They provide solutions for commercial, industrial and residential use in more than 100 countries which uses innovative technologies and "ecomagination." It's a GE initiative to aggressively bring to market new technologies that help customers and consumers meet pressing environmental challenges to deliver comfort, convenience and electrical protection and control. Variable Temperature Control provides temperature settings from 80° to 210° to deliver flexible warming performance for a variety of needs. Variable Humidity Control gives cooks the ability to customize warming conditions for results from crisp to moist. Frameless Drawer Front achieves a smooth appearance for an attractive, modern presentation that is easy to wipe clean. "On" Indicator Light illuminates when the warming drawer is operating for cooking convenience and kitchen safety. Half Rack delivers a versatile option to help maximize drawer space for warming multiple foods at once. With variable temperature and humidity control, this 30″ GE Profile Series PW9000SFSS warming drawer helps you keep food hot until you're ready to serve. The frameless front offers a sleek, stylish appearance.
4. Bosch HWD5051UC 500 30″ Stainless Steel Electric Warming Drawer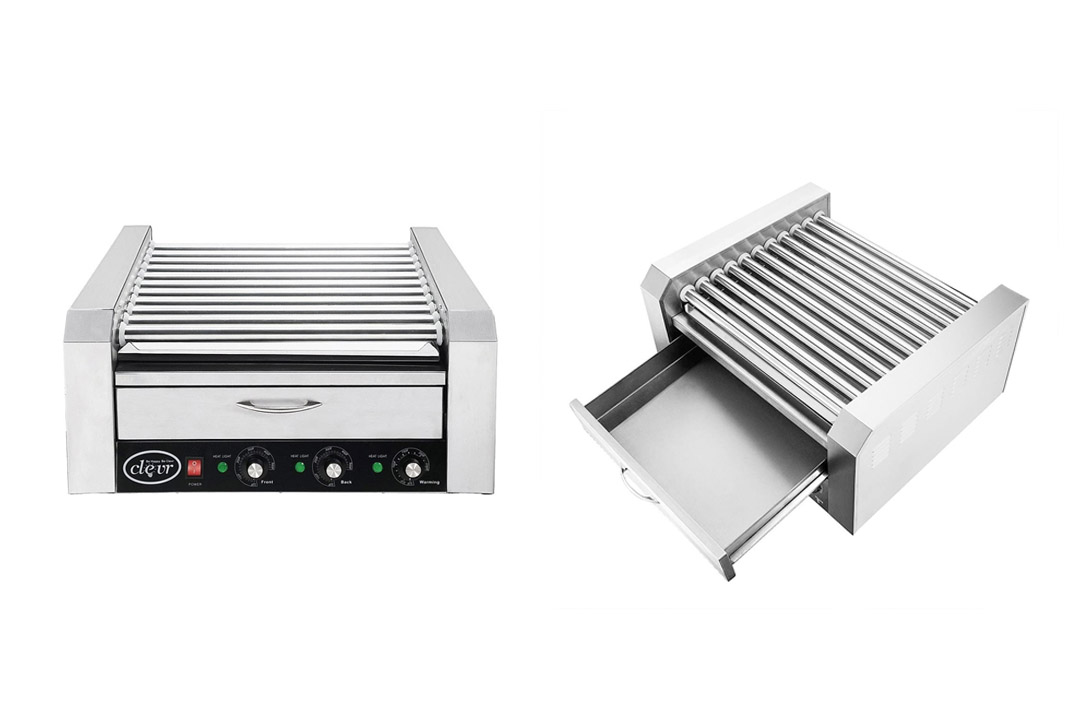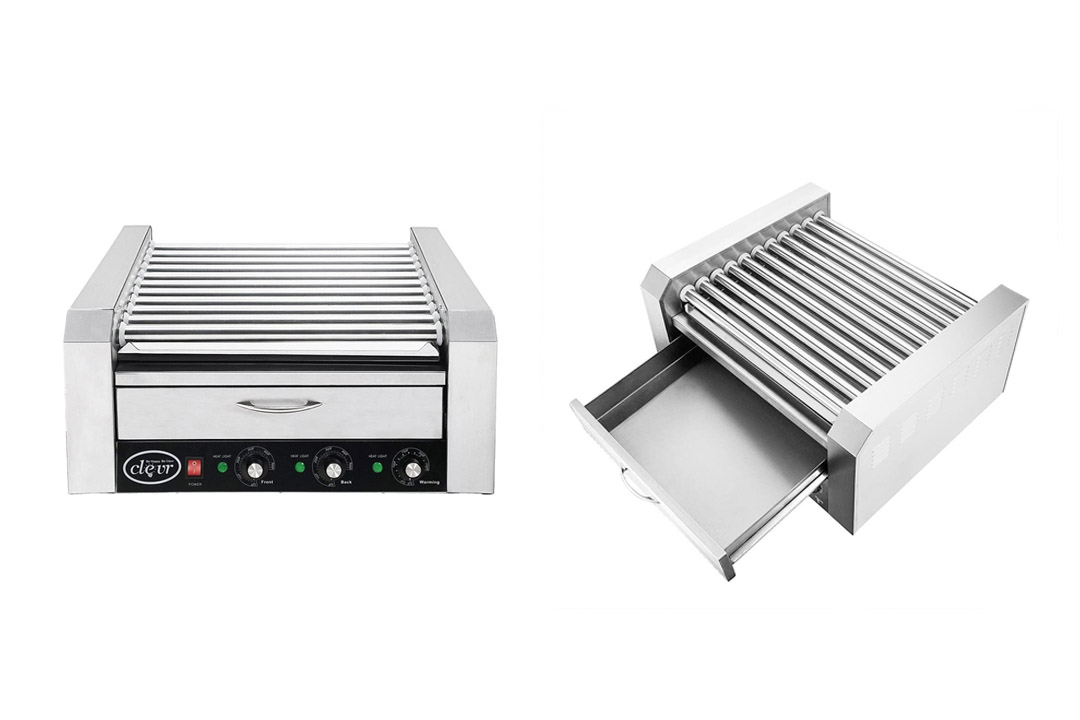 No products found.
Distinctive 30″ Warming Drawer – DWD30S keeps dinner warm for the kids after practice or side-dishes at the right temperature while you wait for the main course with the essential Distinctive 30″ Warming Drawer. Simple to operate and featuring Dacor's distinctive styling, this Warming Drawer is ideal as a stand-alone appliance and is also a beautiful complement to the full line of Distinctive appliances. The DWD30S 30″ warming drawer uses a 500 Watt heating element to make sure your food stays warm until it is ready to eat. The moist crisp slide gives you control over how moist or crisp you want your food. It is illuminated Electronic Control Panel with LED Light Indicators for precise control There are four Temperature Levels for you to adjust: Proof, Low, Medium, High for precise warming levels along with the four Timer Settings – 1, 2, 3, and 4 hours, plus an Infinite Mode. Moist Crisp Slide allows you to precisely control the moistness or crispness of food. For quality verification, this machine is Sabbath Mode and Star-K Certified. Large Capacity for those oversized dishes with 500 Watt Heating Element. You have versatile installation options: Stack Under Dacor Wall Ovens, Microwaves or Cooktops.
3. GE CW9000SJSS Cafe 30″ Stainless Steel Electric Warming Drawer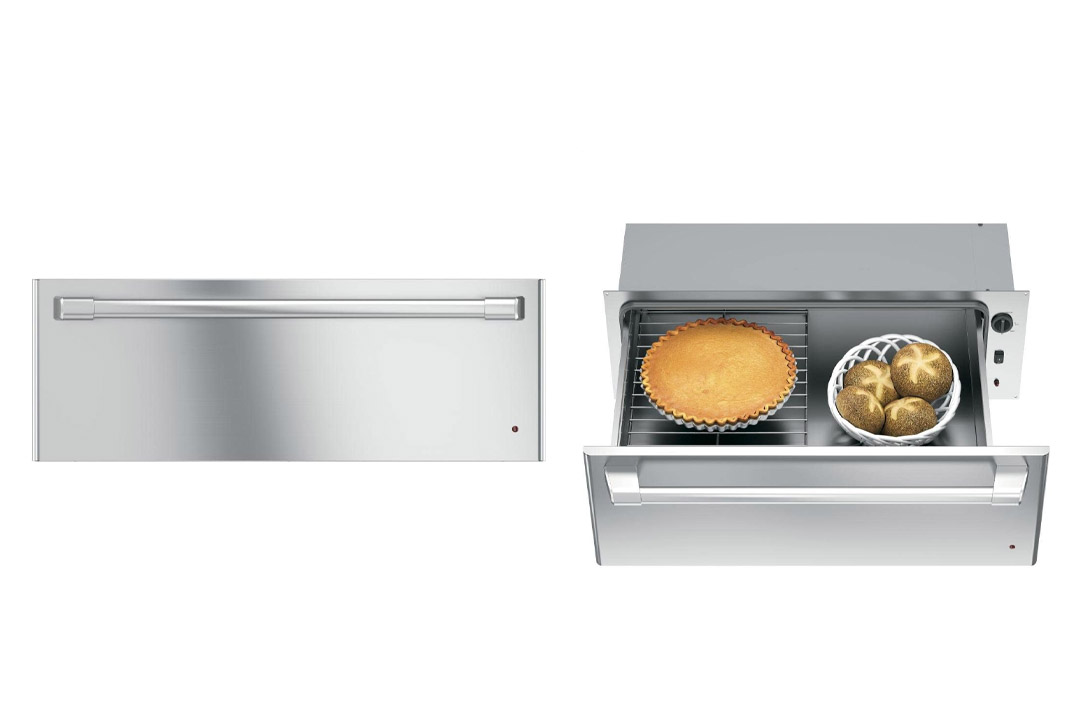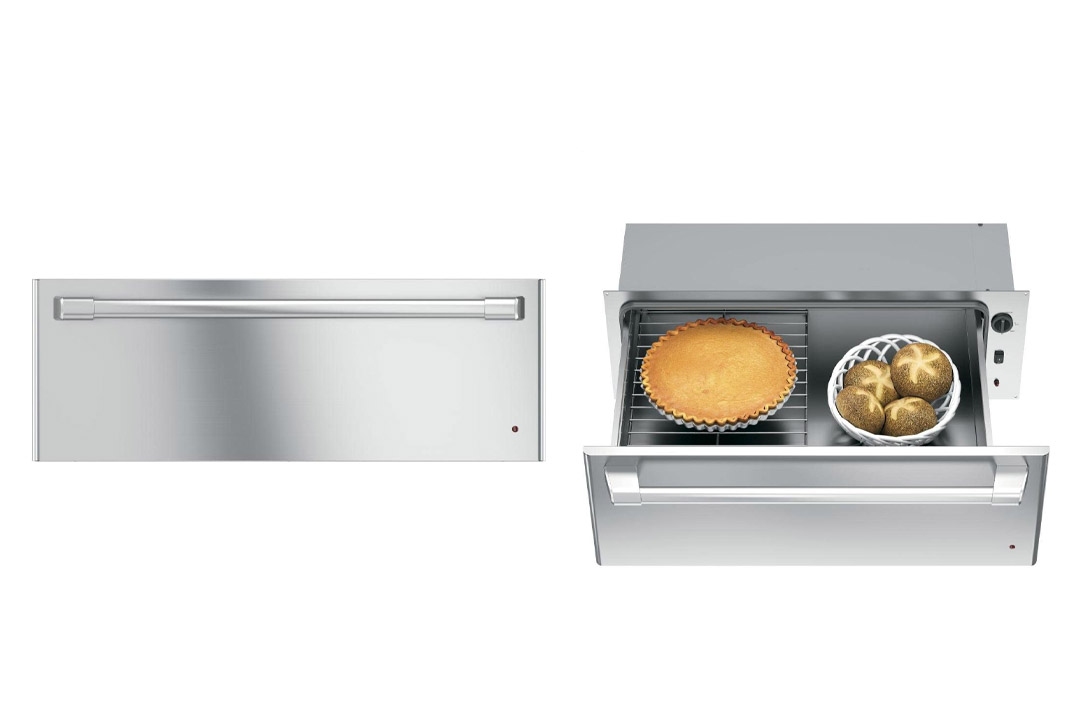 This sleek warming drawer will be the ultimate host or hostess's best friend. Its control panel is so simple to use. Just turn the knob to one of four temperature settings: Proof (80°F); Low (140°F); Med (170°F); High (210°F); all powered on or off with an easy rocker switch. A half-rack allows for multi-level versatility. You can customize humidity levels with the moisture selector behind the front panel. You can even customize the appearance of the front panel with the optional wood panel installation kit. Variable degree control provides temperature settings from 80°F to 210°F to deliver flexible warming performance for a variety of needs. Variable humidity control customizes warming from crisp to moist. Frameless drawer front offers a smooth appearance. "On" indicator light illuminates when warming drawer is operating while the half rack maximizes drawer space.
2. Dacor EWD24SCH Renaissance 24″ Epicure Warming Drawer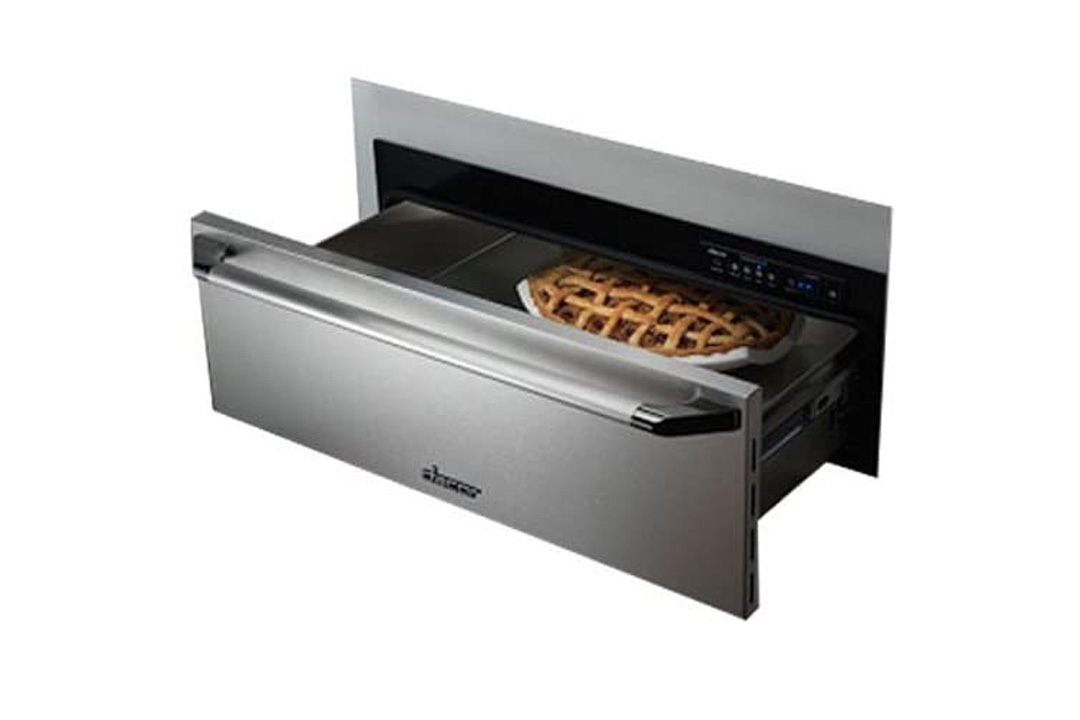 Cooking is an important part of family tradition at Dacor. Dacor has been a family operation committed to designing and building exceptional appliances. Dacor family has produced an impressive array of industry firsts. Patented features abound throughout our full line of cooking appliances. They'll bring life into your kitchen and warmth into your home. Dacor knows you're passionate about cooking. And they doubt you overlook a single detail. From the precise temperature of your souffle to the best moment to serve a warm apple pie. At Dacor, they share your passion for perfection. It's why they've engineered their warming drawers with unique touches you'll only find in the world's finest professional-grade kitchens. Like electronic touch controls that put precision at your fingertips, and let you decide exactly how warm (or hot) you want your food to be. So a five-course meal comes out smoothly and deliciously-even with the unexpected preparation pause. And, of course, you'll find their legendary Dacor styling that coordinates with the rest of your Dacor kitchen. So you can be as passionate about the look as the performance. Featuring Electronic Control Panel, Dacor IWD30 has four temperature levels with other four timer settings. Blue LED Light Indicators come with moist/crisp slide control. The drawer is installed with Customer Supplied Integrated Drawer Front along with optional Warming Drawer Handle Assemblies available.
1. Twin Eagles Warming Drawer (TEWD30-C), 30-Inch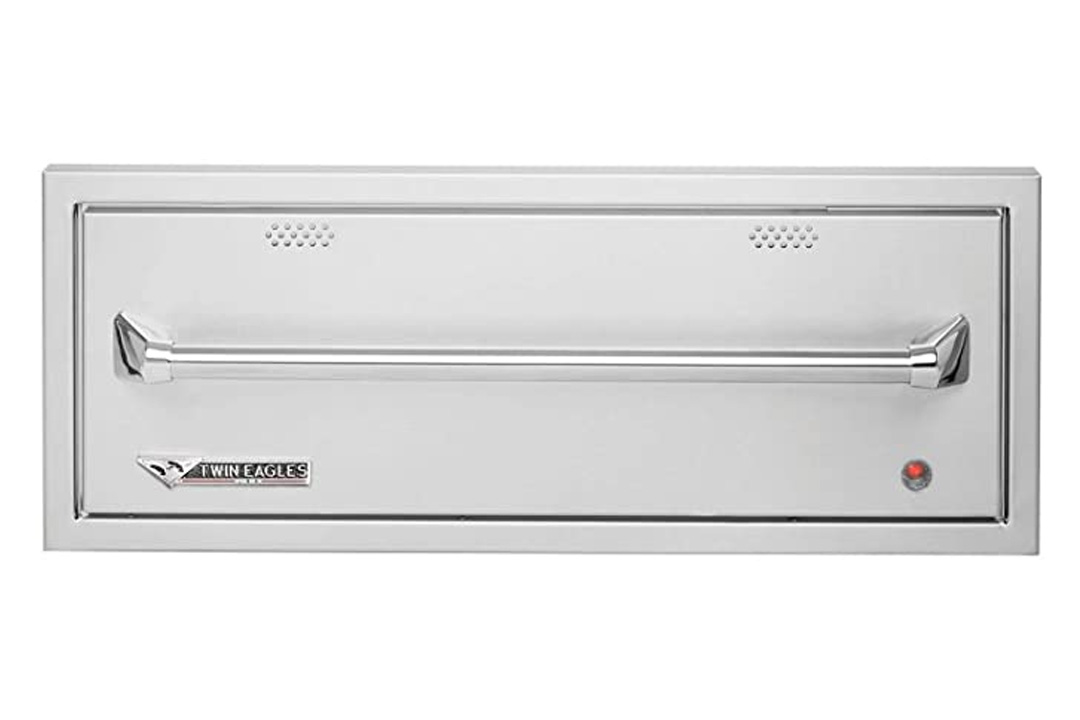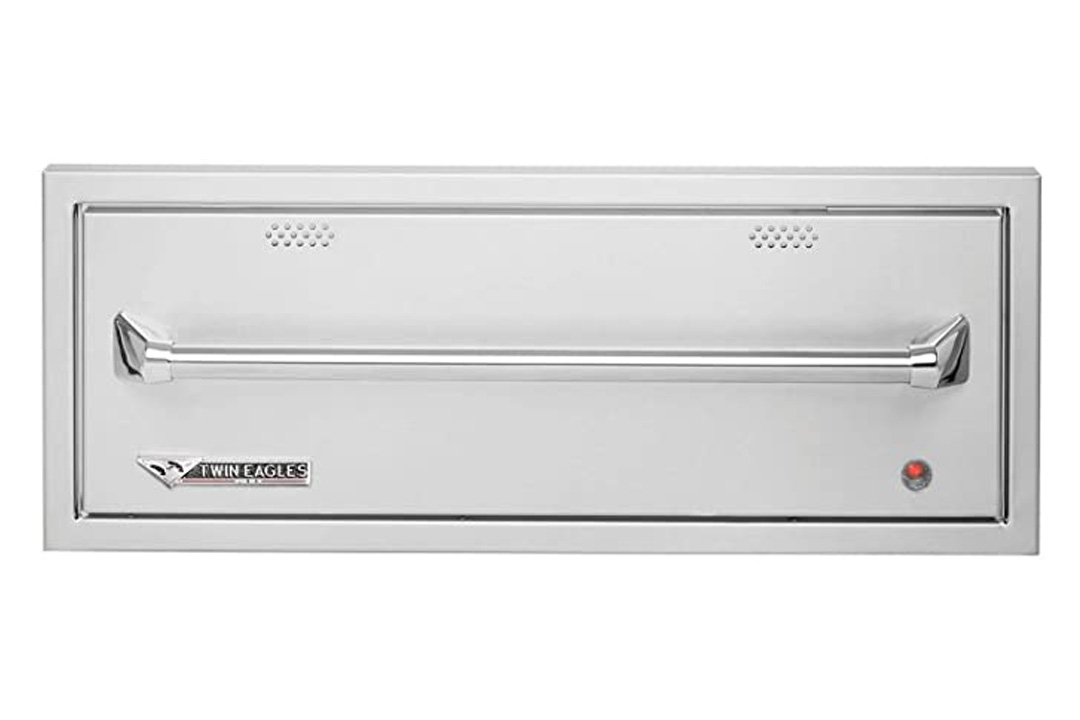 Extraordinary quality and design innovation can be yours with Twin Eagles kitchen accessories. The Twin Eagles Warming Drawer features quality stainless steel construction and is equipped with two removable steam pans, lids and steam racks. Temperature settings from 15° to 104° offer the flexibility to keep bread warm or poultry piping hot. Equipped with two removable steam pans, lids and steam racks. Moist and crisp settings allow you to keep food at the desired texture. "On" indicator light reminds you when the drawer is on and covered heating element enables use as a towel or robe warmer. Weather-resistant stainless steel. Twin Eagles began as the vision of a group of people with almost a century of collective experience, who for 35 years were manufacturing top-of-the-line stainless steel products for the commercial food service industry. Twin Eagles has taken that same quality, workmanship, service and innovation and incorporated it into the Twin Eagles Professional Grills line of products. The combination of the best materials, fine craftsmanship and original ideas is why Twin Eagles Products are in a class of their own.
Final Thoughts
After going through each of our beasts today, we believe you have a clearer picture in mind of what you want in your kitchen. Each product shares similar and different features, but they do serve only one purpose: bringing the best for you. Now the choice is yours. Make up your mind and click order to present yourself with one of the best warming drawers.
Any Top 10 is a participant in the Amazon Services LLC Associates Program, and we get a commission on purchases made through our links.