When choosing hunting boots, prices can range from as low as $50 to as high as $800. We acknowledge that sometimes the budget dictates the product; however, there are a few key things one should keep in mind when purchasing hunting boots.
Safety: Ensure they are strong and can take impact from rocks, thorns and animal contact.
Temperature: You want to ensure that your feet will be cool in warm temperatures and warm in cold temperatures
Insulation: This is usually advertised as a 'must have' however, first take a look at the material used and ensure that your feeling will not sweat as a result.
Waterproof: You definitely want 100% waterproof boots, creeks, rivers, rain are a usual occurrence when hunting
Look: Above all, ensure the colors chosen blend with nature. The last thing you need is to stand out in the wild.
The following section describes the 10 most purchased hunting boots to date and their features. For detailed descriptions on the boots, click the links that follow.
List of the Best Men's Hunting Shoes for Cold Weather of 2023:
10. Baffin Men's Hunter Waterproof Boot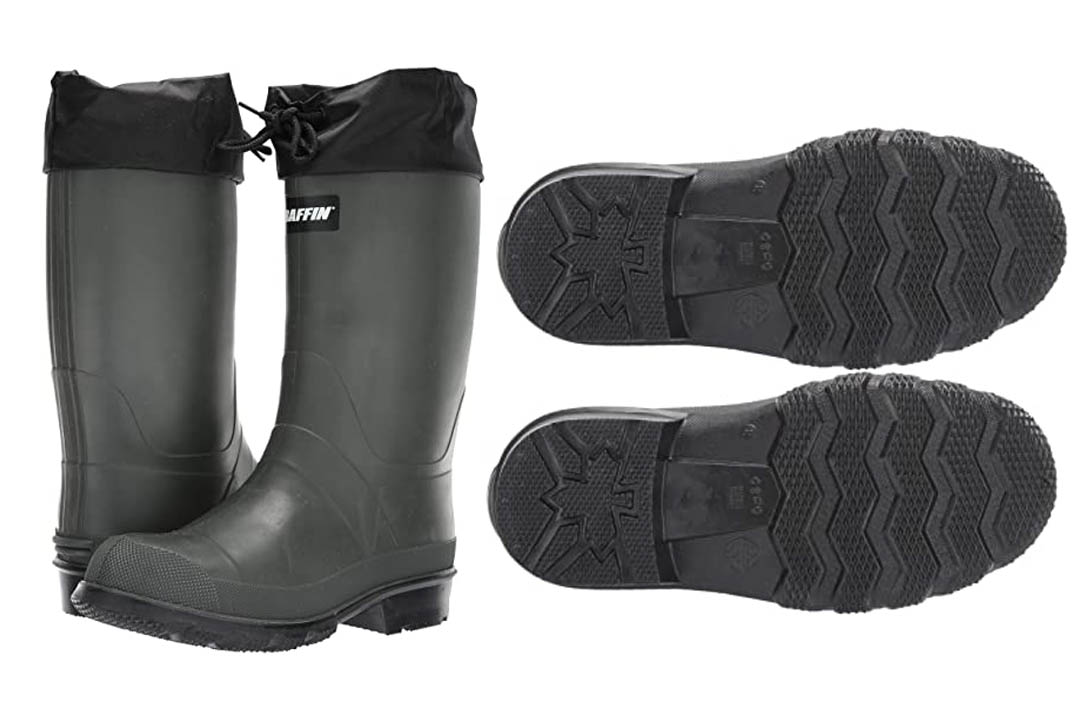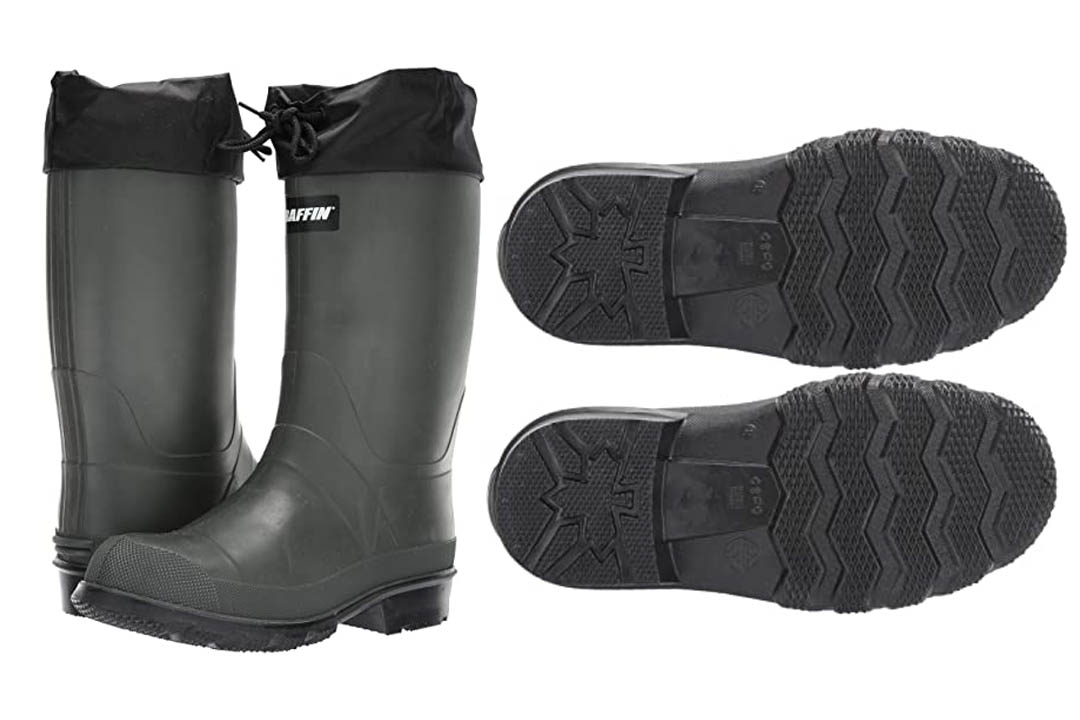 This Canadian boot is made up of high quality pure rubber which makes it 100% waterproof and keeps the cold away in extreme conditions. It has a felt lining that ensures breathability and is removable in layers depending on the outdoor temperature. This boot also has a loop at the back for installing snowshoes and is built to endure temperatures of up to -40 °F – therefore it will keep you warm. It has been made larger than the standard sizing and therefore one may need to get a smaller size than usual to ensure a true fit. It can be worn in both hunting and fishing trips.
9. Irish Setter Men's 838 Wingshooter WP 6″ Upland Hunting Boot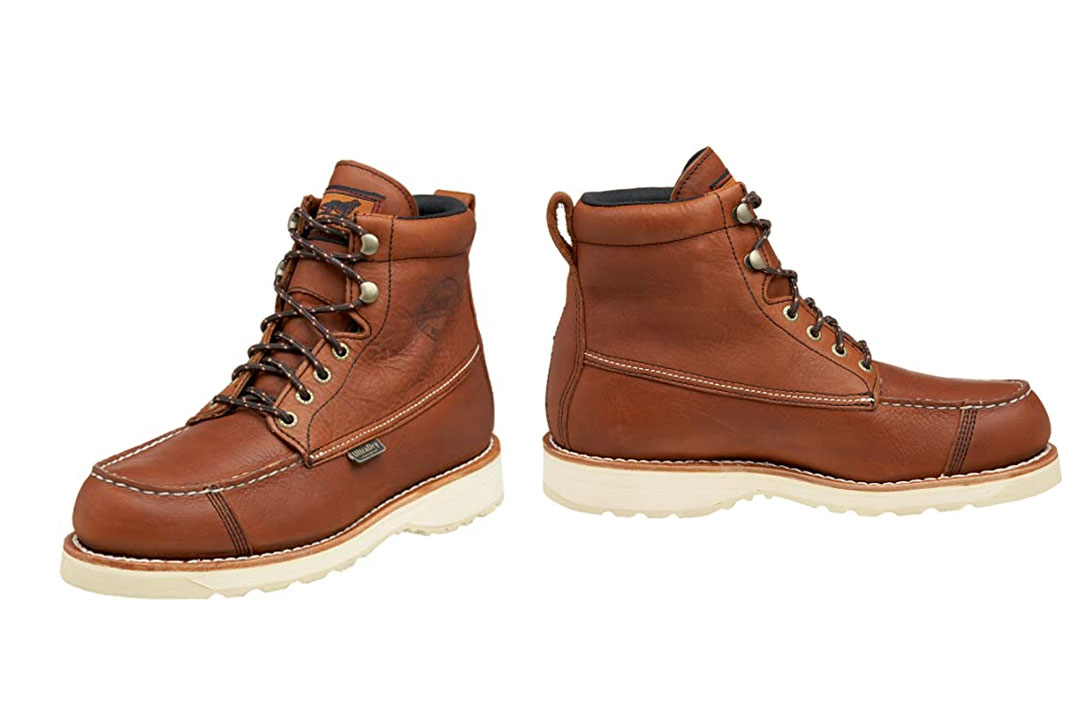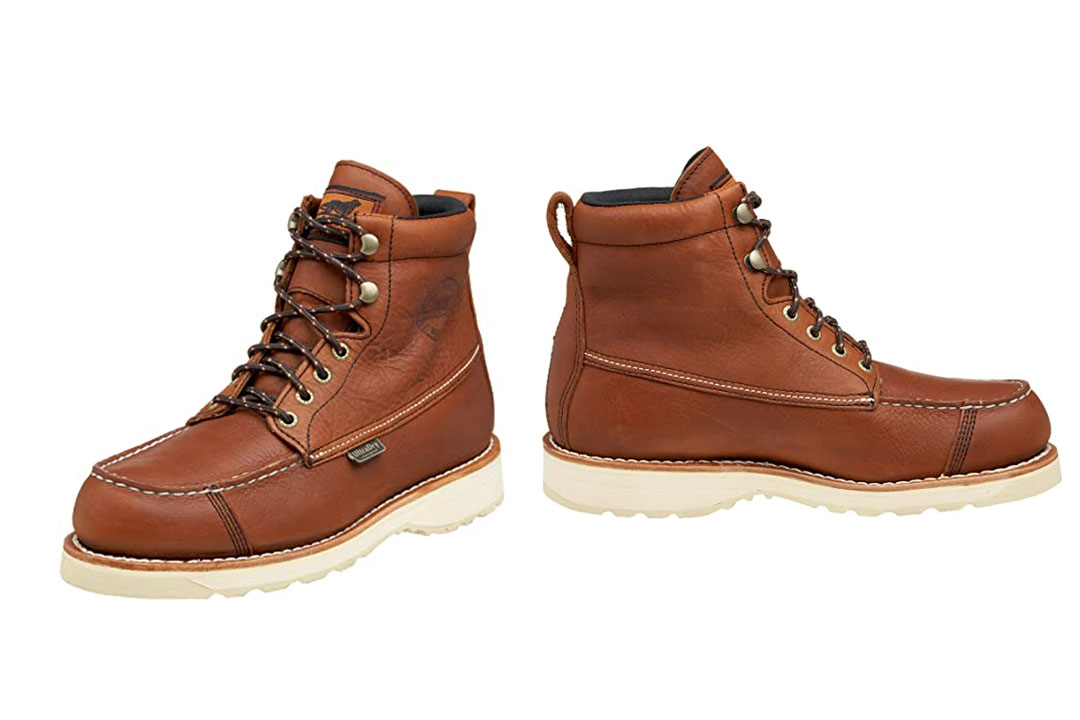 This Irish setter is both waterproof and breathable. It, however, has no lining or insulation and encompasses a composite toe. Its fabric-covered EVA footbed makes this boot extremely comfortable. It is a true-fit boot and therefore one should purchase their normal foot size. The finish is simple for those who may want a high end quality finish, but if comfort is all you seek, and then this boot is well rounded feature boot.
8. Bogs Men's Classic High Camo Winter Snow Boot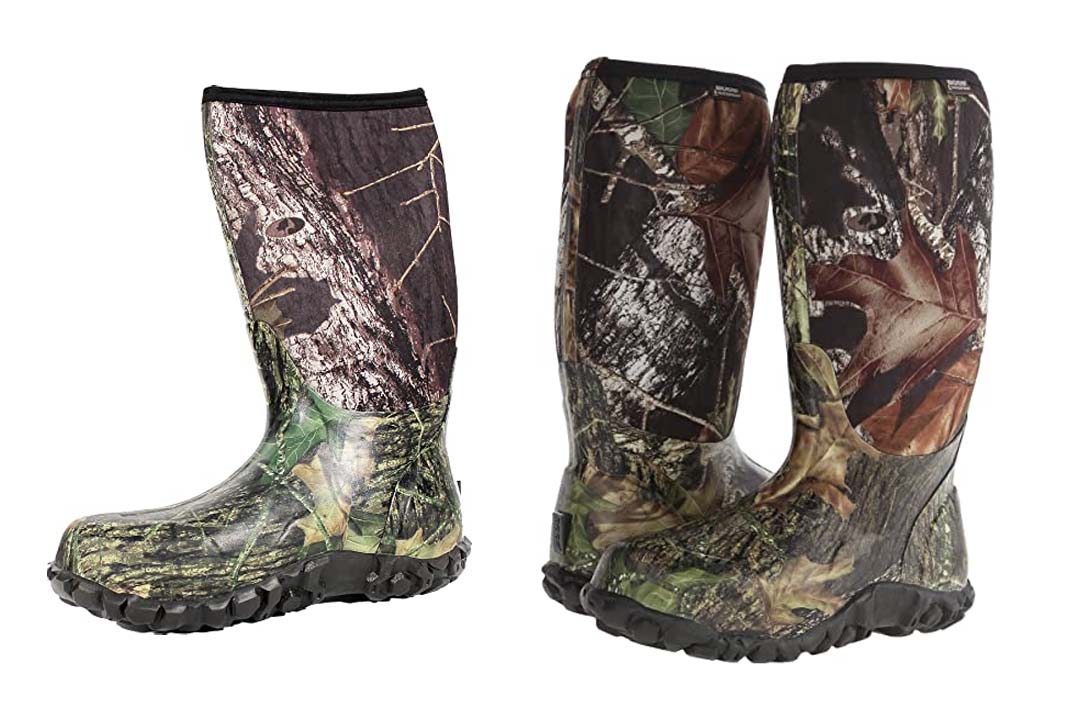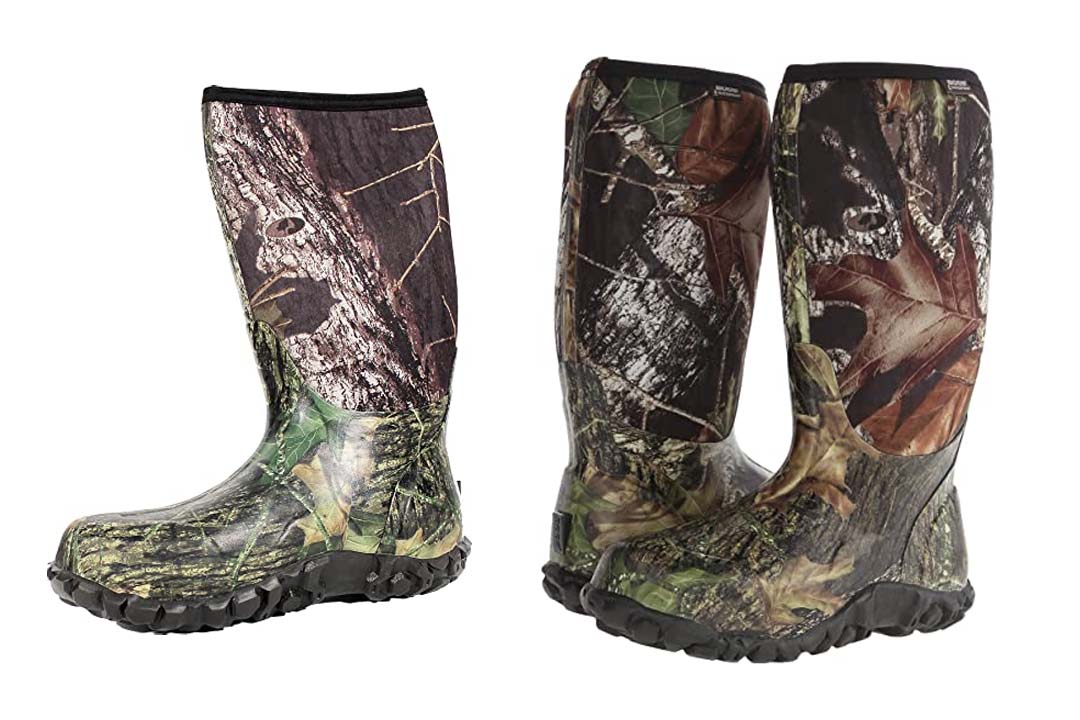 These boots are made for comfort and are also waterproof. The 4 way stretch bootie ensures wiggle room and the insulating rubber gives a degree of warmth. There have been reports that the insulation, causes sweating which may nullify the waterproof aspect of the boot. It is rated as -40 °F boot, however, many have said that it cannot be used for a long period of time in the cold and may be best suited for summer, spring or fall like temperatures. The insole is removable and can be cleaned at will. The traction is also under question, it has been suggested that they do not fare well in muddy, slippery conditions.
7. The Original MuckBoots Adult FieldBlazer Hunting Boot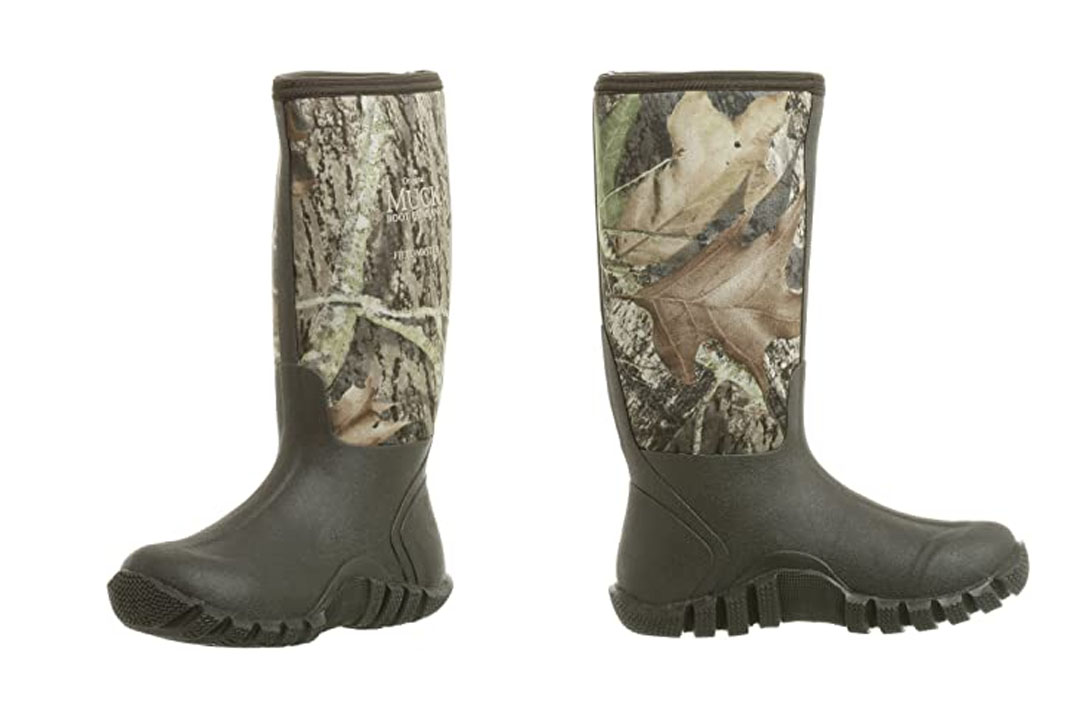 This is multi seasonal boot. The Air mesh liner ensures the boot stays cool in hot temperatures and the binding snugs keep the warmth in during the cold temperatures. It is a true fit boot and one can use their regular boot size while purchasing. They have substantial cushion on the insole and flexible side walls for added comfort. They are also 100% waterproof throughout the boot.
6. Danner Men's Pronghorn Snake Side-Zip Hunting Boot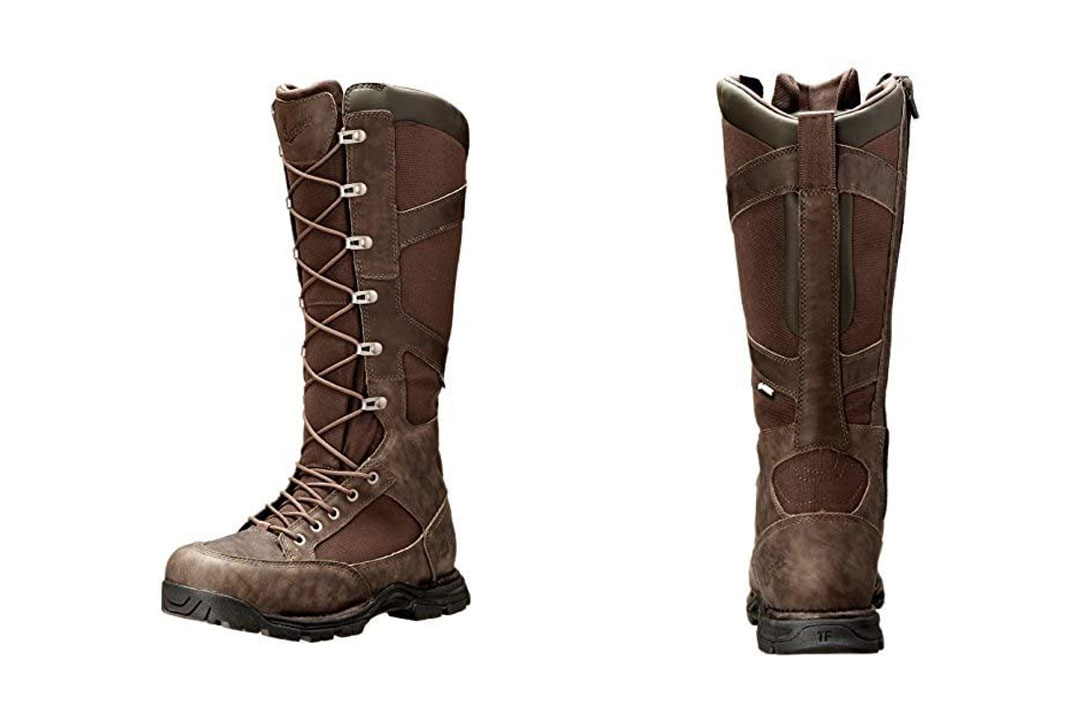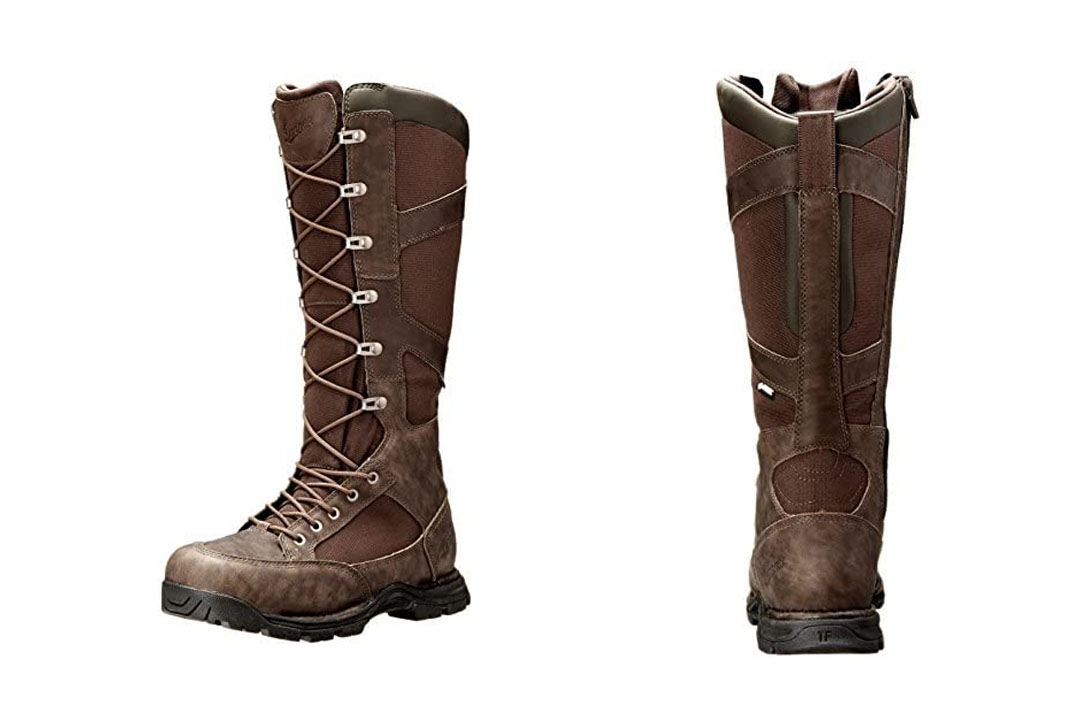 Danner is well known for their and high quality boots. This boot has an all-leather toe and heel caps. It also has snake proof protection, which usually compromises on breathability; however, this boot has a breathable lining and is also 100% waterproof intended to keep feet dry in any condition. It is somewhat pricier than its other components. Some complaints have rendered it slippery in wet conditions. It also does not come in steel toe and therefore may not be the best option in areas such as construction sites.
5. MuckBoots Men's Excursion Pro Mid Boot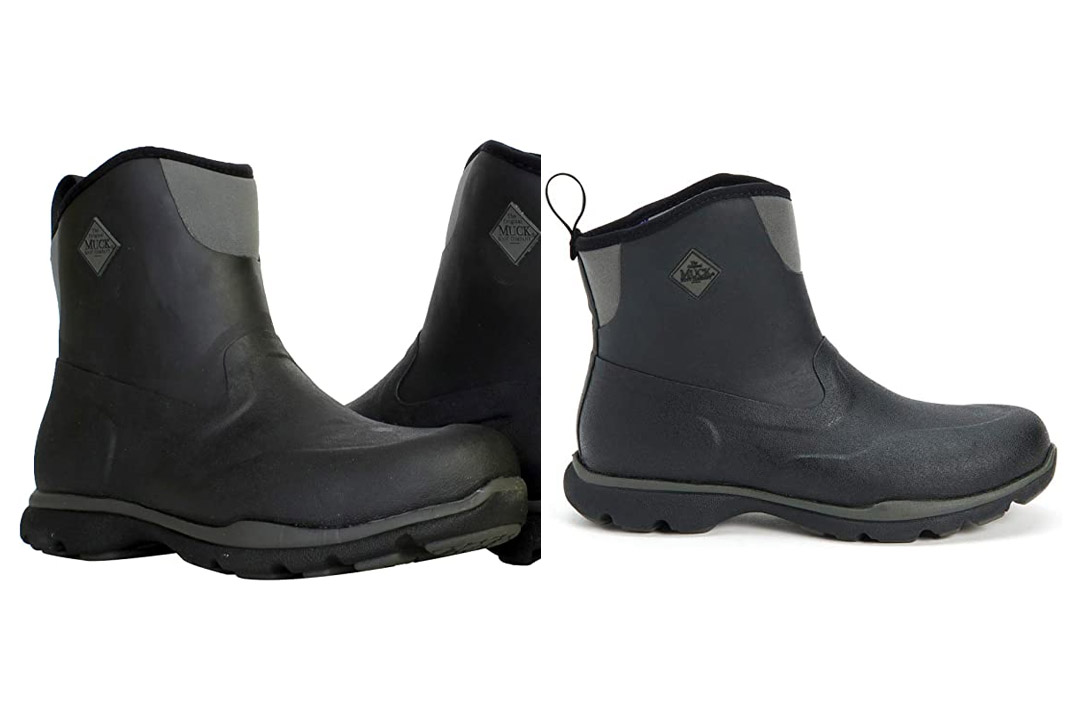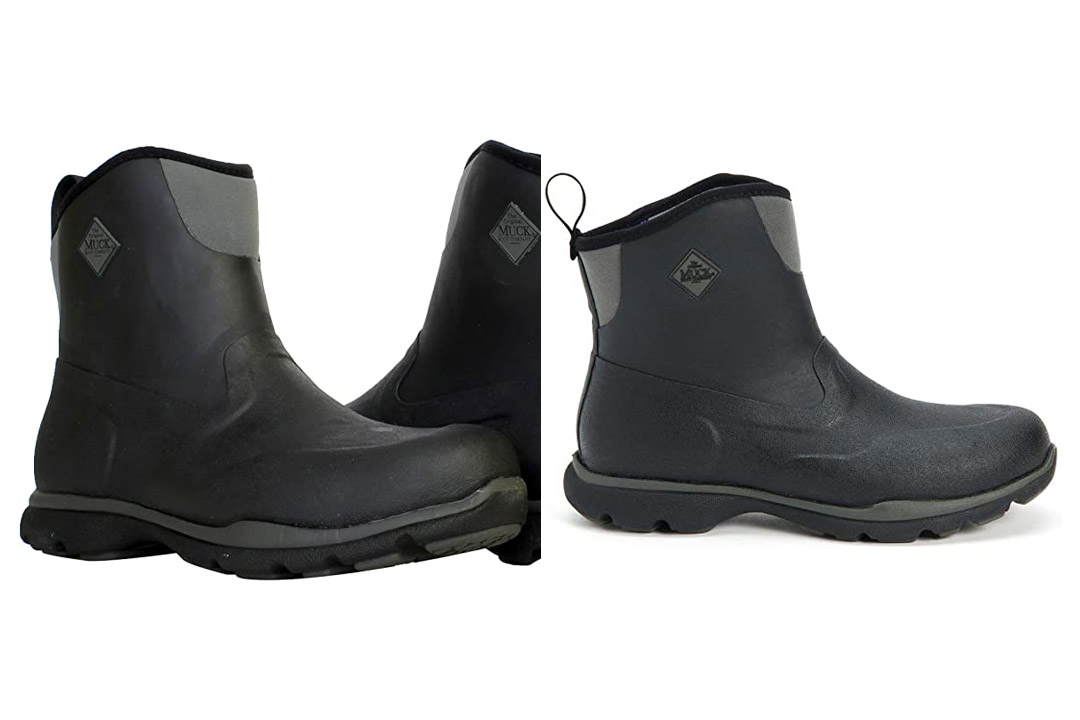 This boot carries a nice casual look and can, therefore, work in a casual setting as well as hunting and camping. They have a lining made with an antimicrobial technology and an anti friction sock liner that ensures your feet remain cool and dry. They too are 100% waterproof and lightweight. The snug ankle ensures a good fit and therefore also good for trail walking and hiking.
4. LaCrosse Men's 18″ Grange Hunting Boot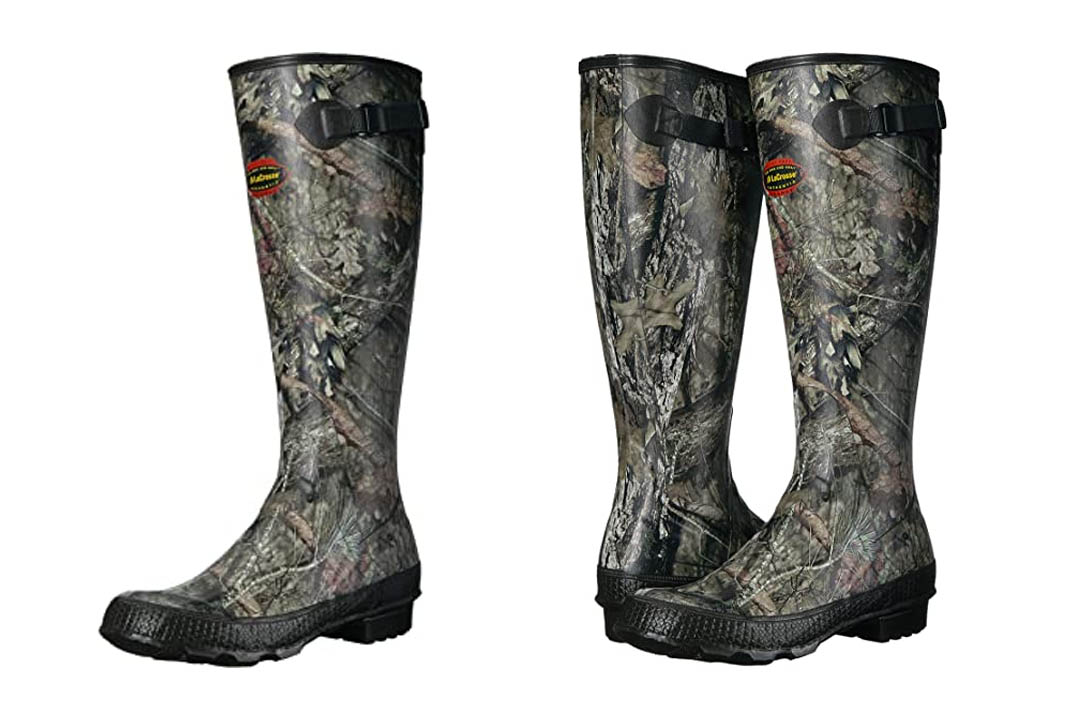 These boots go below the knee and are a true fit; therefore one should get their normal size when purchasing. Thanks to the Chevron-cleated outsoles one can wear them for extended periods and be sure that their feet won't hurt. The soles also do not retain mud, which makes it an easy clean and a firm grip and traction. They are also 100% waterproof and they're removable footbed ensures comfort.
3. Irish Setter Men's 894 Wingshooter Waterproof 9″ Upland Hunting Boot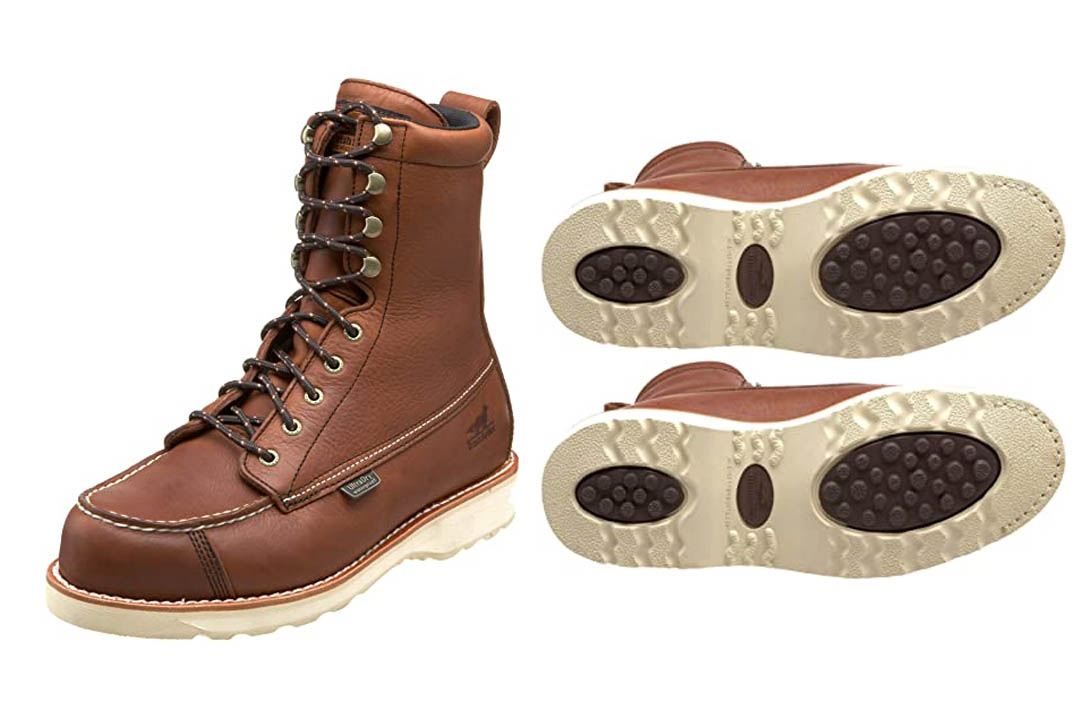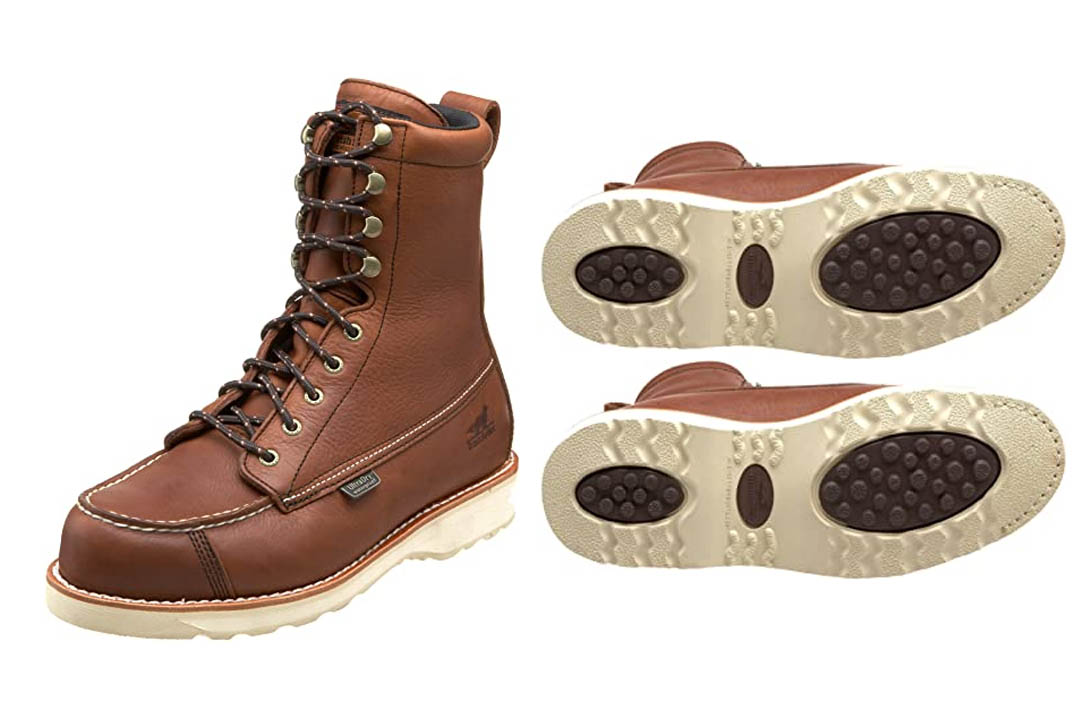 These boots are not only made for regular hunting, they were made with the bird hunter in mind. This boot is made with soft and durable leather; it has a multi-density sole with a leather heel that ensures a more 'natural' walk. It also has a soft sole that may wear out quickly if used on hard surfaces. This boot has a sock liner and a padded collar to ensure support and comfort. This Irish setter uses the UltraDry™ waterproof which keeps you dry even in deep waters. One aspect to note is that it is neither insulated nor steel toe and therefore cannot be used in severe cold or high risk areas such as construction sites where items could fall on you.
2. Danner Men's Jackal II 45764 Hunting Boot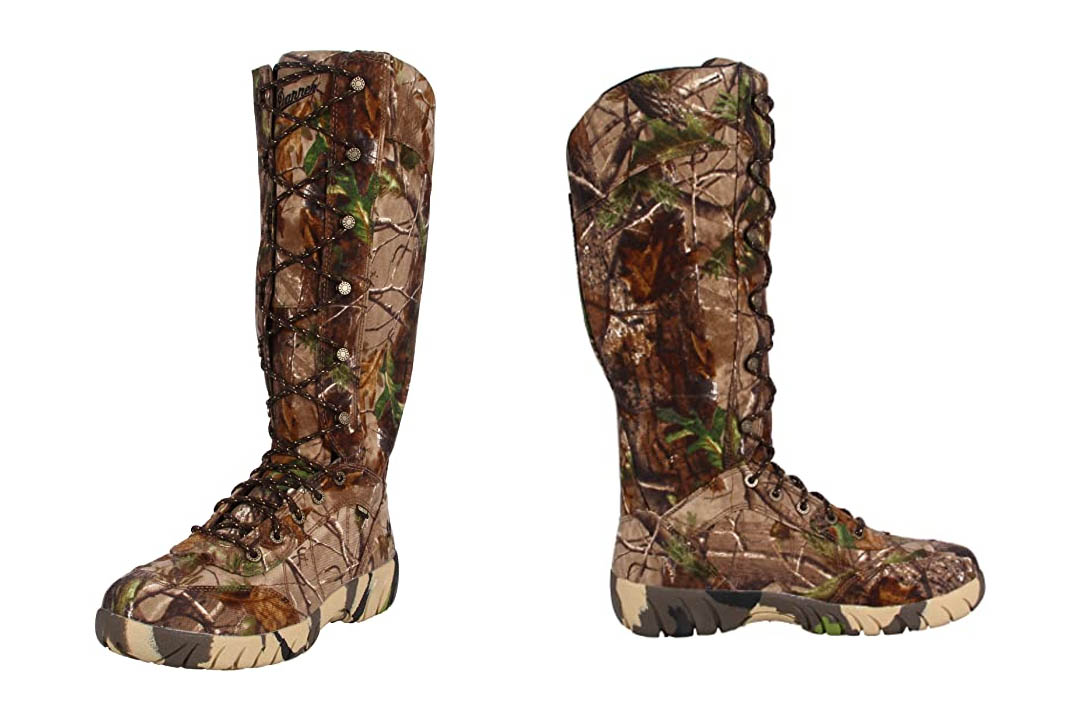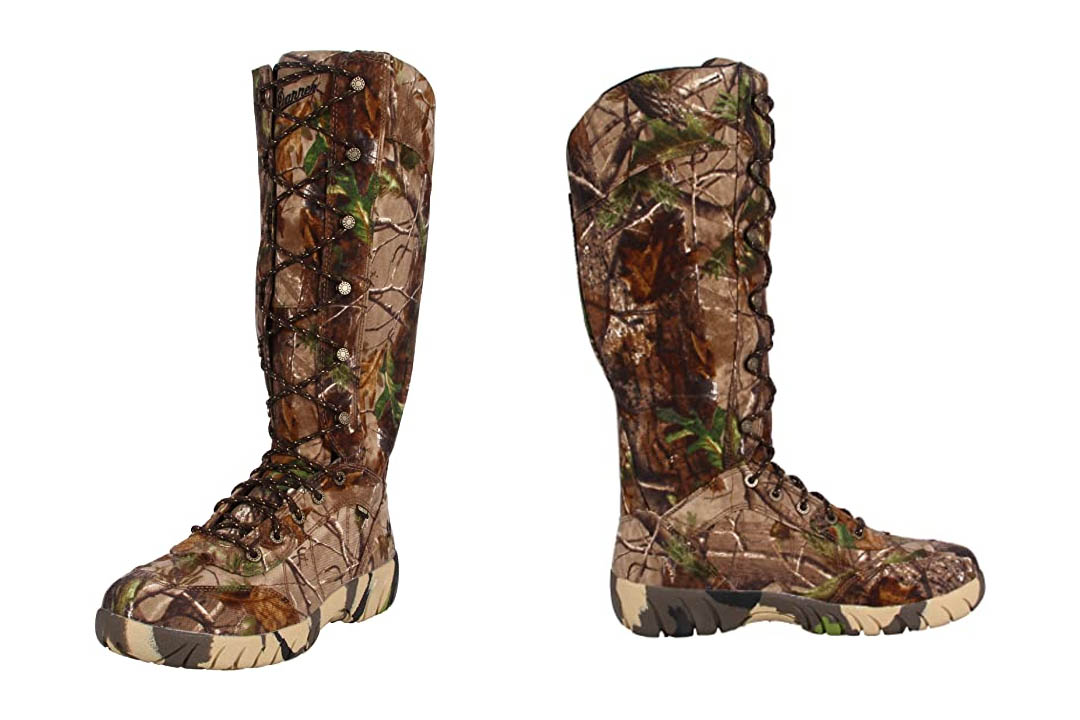 The Jackal II from Danner has both style and quality in its design with a very modern look. It encompasses safety with the snake proof protection, comfort with the EVA footbeds and its breathable extended lining. These boots are also lightweight and therefore good for trail walking and 100% waterproof. They are also tactile in their ability to walk quietly in dry noisy areas giving the ultimate hunter the element of surprise. The rubber is durable in its wear and tear.
1. Irish Setter Men's 2870 Vaprtrek Waterproof 8″ Hunting Boot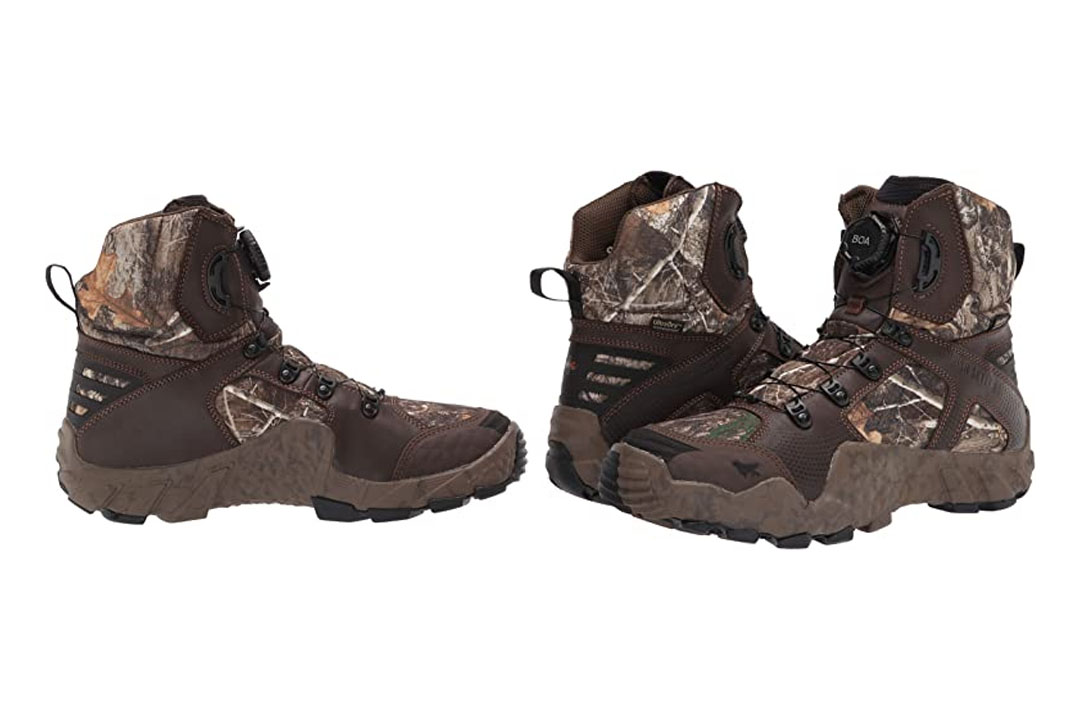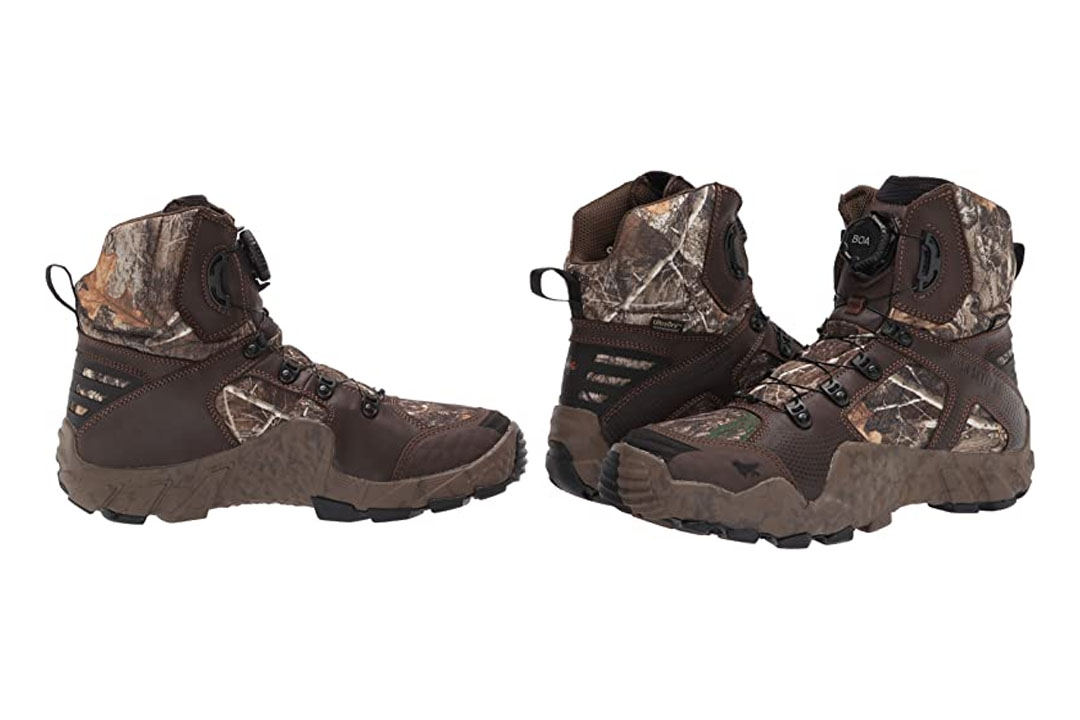 This Irish Setter is the ultimate boot with features lacking from its counterparts. It is 100% waterproof, has a scent control process with a footbed designed to kill bacteria, uses a composite material specifically to ensure that the boot is lightweight and durable. It has added technology to prolong the life of the boot and a four-way stretch nylon that ensures comfort while walking. The colors on the boots are designed for contrast in hunting situations. The only complaint surrounding this boot is that it can get extremely slippery in wet encounters.
Final Thoughts
It is clear that there is an array of hunting boots available in the market today that will work in most situations. However, the Irish Setter Men's 2870 Vaprtrek Waterproof 8″ Hunting Boot seemed by far the ultimate hunting boot with modern features in terms of look and technology. However, a common complaint across the boots was the slippery effect, especially on wet rocks. It seems the manufacturers have their work cut out for them.
Any Top 10 is a participant in the Amazon Services LLC Associates Program, and we get a commission on purchases made through our links.