The common and general slings you mostly encountered are mostly made from a piece of triangular cotton bandage, the type of bandage you can find in most first aid kits. If you are in the emergency when someone has faced an accident that causes arm injury, the quickest material you can find to make a sling is a belt or a piece of clothing. Slings can be used to temporarily immobilize the arm to prevent worsening the injury and to offer some relief from discomfort in case the injuries have not been yet well examined by the doctors. Applying the sling is as important as the sling itself since it ensures there is proper circulation in the supporting arm. Checking the pulse at the wrist or squeezing a fingernail to look for the color change in the nail bed will let you know if the sling should be altered.
The first and standard arm sling is designed for injuries to the forearm such as fractures or sprains. It provides support to the forearm, so that it rests roughly parallel to the ground, with the wrist higher than the elbow. It is slung over the shoulder on the uninjured side of the body and tied to secure it in place.
Besides arm, slings are made to also use to support the shoulder when injured. The arm is placed over it so that the top point of the triangle is at the elbow and the wrist rests between the other two points, which are then brought up and tied behind the neck. Variations to the shoulder sling exist, and that depends on the amount of immobility required, but all are designed to limit shoulder movement while the injury heals.
Proper wearing prevents the blood and fluid accumulation in your hand or wrist. Along with that, wearing it properly can increase your comfort level too. First, you need to pull the sling over your elbow and arm, and you must be sure it is well-fitted and comfortable in and around your arms. Check that whether your hand is coming to the sling's end or not. Wear it carefully so that its end doesn't cut into your hand or wrist. Next, grab the strap attached to the arm sling that is behind your elbow, and try to pull to tighten it, so that your hand will be close to your chest, above your elbow level. This will help in proper blood circulation in your wrist and hand. Good slings do come with an elastic thumb loop providing added support to your hand and preventing fatigue.
Spotting a good sling can be quite challenging. A good sling can provide a much faster process of healing your injuries while providing you great comfort. Hence, always check the fabric of the sling pouch while buying. Breathability is very important since it increases the airflow and diminishes building up of moisture. The fabrics of an ergonomic arm sling are of the best quality which is very light and comfortable. A good sling with good fabric is also pretty light in weight which makes the experience very light and comfortable.
List of the Best Arm Sling for Shoulder Pain in 2023:
10. Arm Sling Shoulder Immobilizer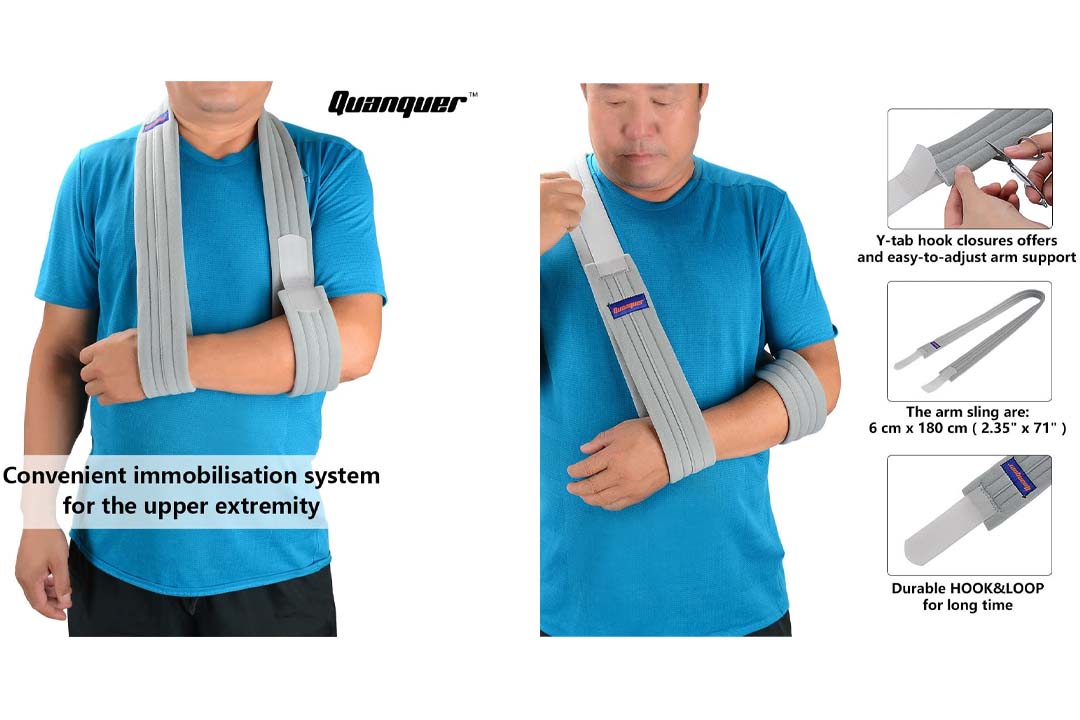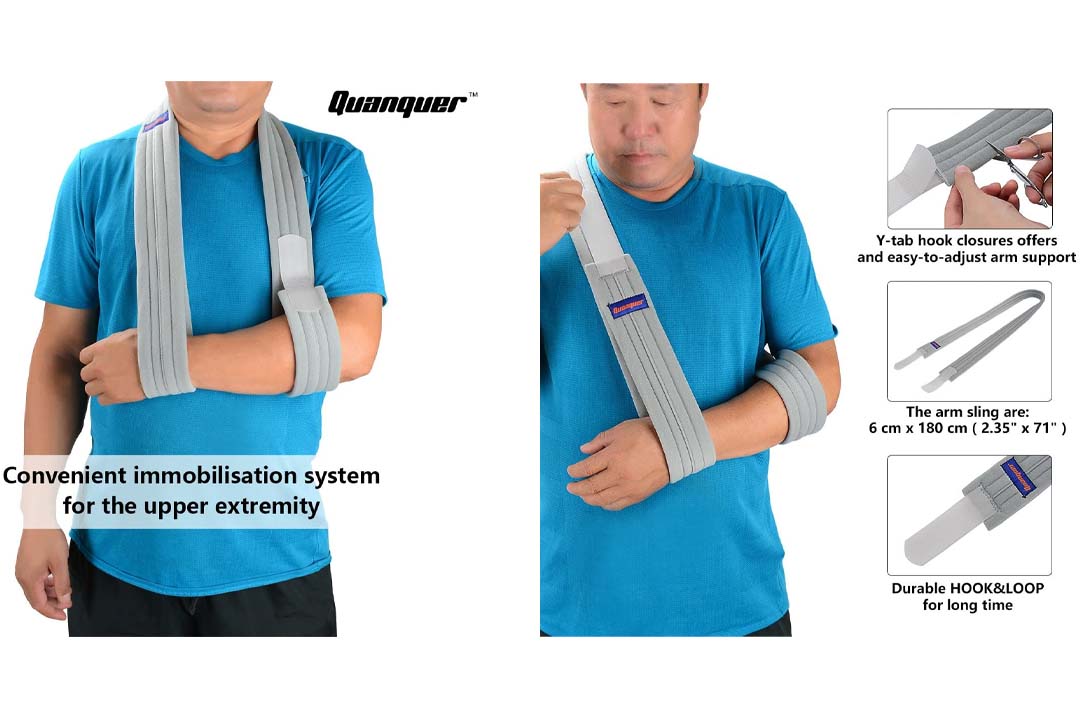 You no longer have to go all the pain on your shoulder with the presence of Arm Sling Shoulder Immobilizer. The design is made widely for the feeling of pain with injuries like shoulder, elbow, and wrist. People with such pain will enjoy due to its effective relief and recuperate from an injury, recovering from surgery, or seeking to alleviate shoulder, arm or wrist pain. What makes this arm sling so special and awesome? The innovation of QUANQUER brought to this arm sling is made of brushed cotton padded with soft pressure-reducing materials is very light, flexible, and comfortable to wear. The design is seriously innovated to support the arm for recuperation from subluxation, dislocation, fractures, sprains or surgery of arm or hand. If you feel uncomfortable, the strap can be cut to meet the personal needs which makes it perfect for both adults and youths fitting either arm. Only one-handed adjustment is needed with the front-facing magic tape. Velcro fastening allows you to alter the size, and it doesn't need to be twisted. Simply undo the Velcro and attach to the other side. Its design and innovation differentiate it from the traditional sling made from a triangular bandage, and it does slip on and off easily without much energ
9. Shoulder Sling by Vive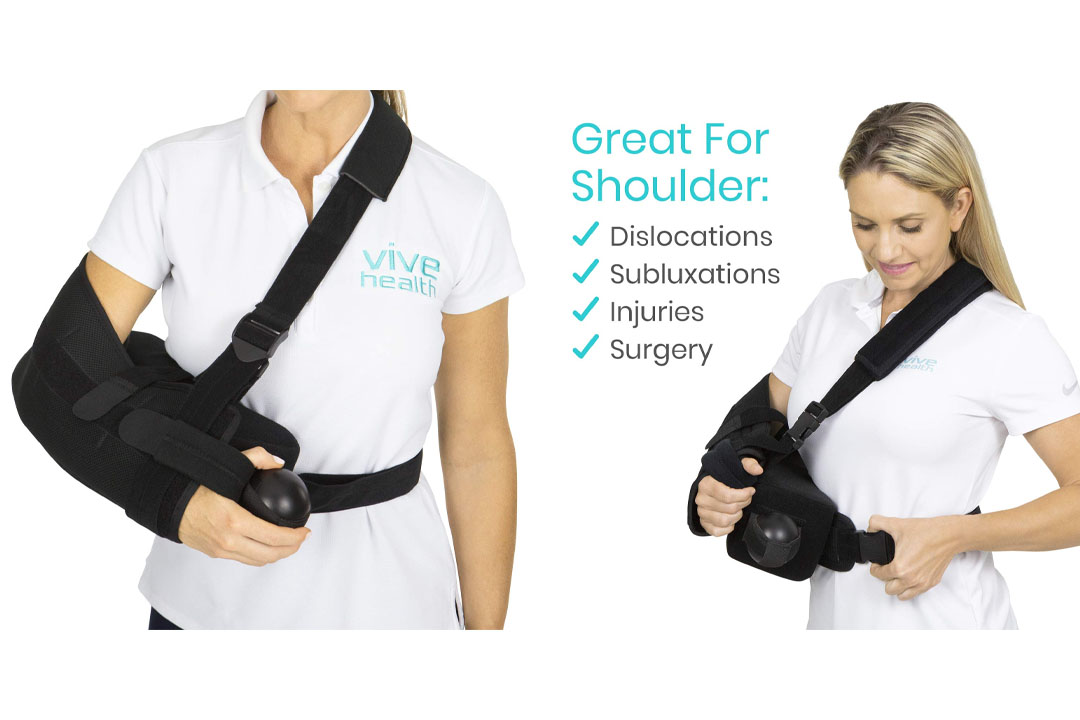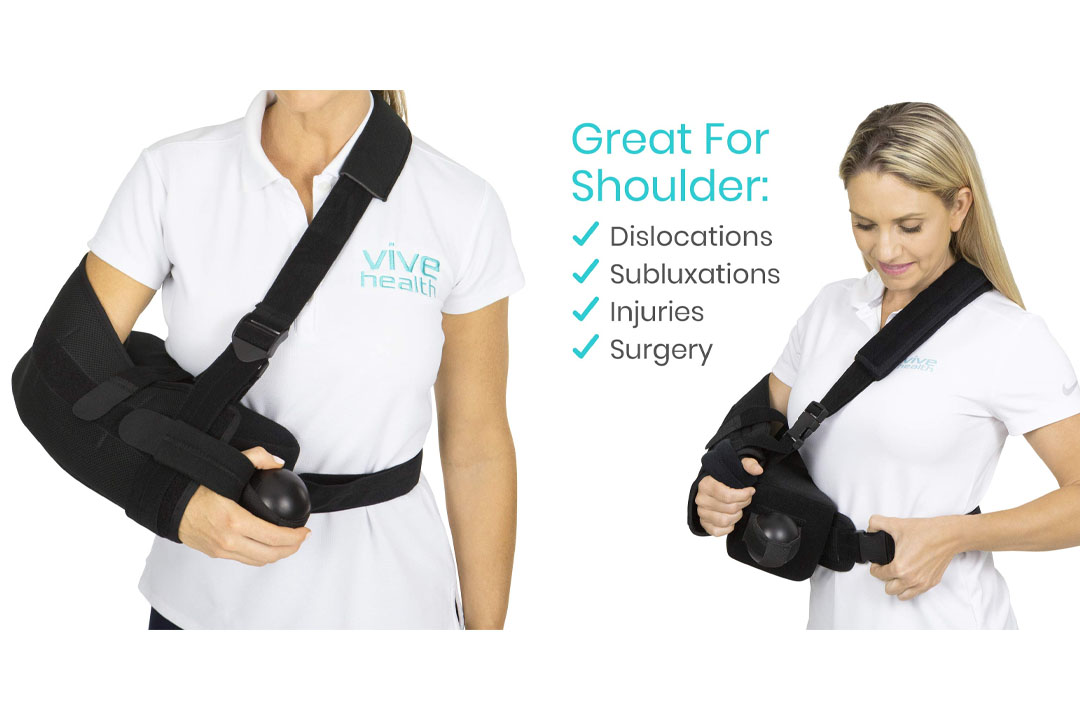 Vive brings the best shoulder sling that provides comfort while immobilizing the shoulder following surgery or injury, including shoulder dislocations, subluxations, and rotator cuff repair. Two additional straps and integrated thumb loops come along with this fully adjustable shoulder sling secure the arm in an abducted position to promote healing while reducing hand fatigue. With removable dense foam cushion, 15 degrees of abduction for optimal support is provided. For extra convenience, the waist strap is adjustable to accommodate waist sizes up to 45" while contouring the abduction pillow to fit the body for all-day comfort. A foam exercise ball is also attached to the abduction pillow to help stimulate blood circulation through the arm and shoulder, promoting faster recovery times. Design to fit, you can use this versatile sling with or without the abduction pillow on either the left or right arm. A customized fit and optimal positioning are followed by the cushioned shoulder strap and waist belt. Individuals who are 5'2" and taller are looked after nicely by the comfortable, soft foam, shoulder strap. Designed to last, this sling retains the perfect level of comfort and support for extensive wearability with the contoured pillow cover removable for cleaning. Two interior pockets are provided to conveniently carry electronic devices, ID cards, and cash.
8. Think Ergo Arm Sling Sport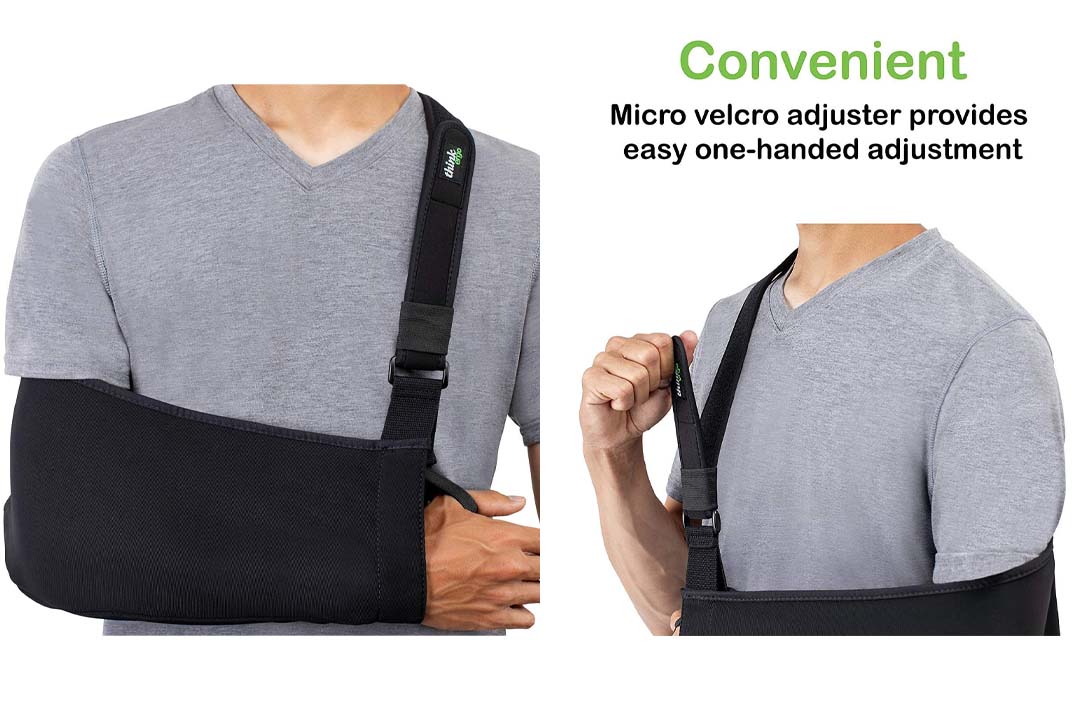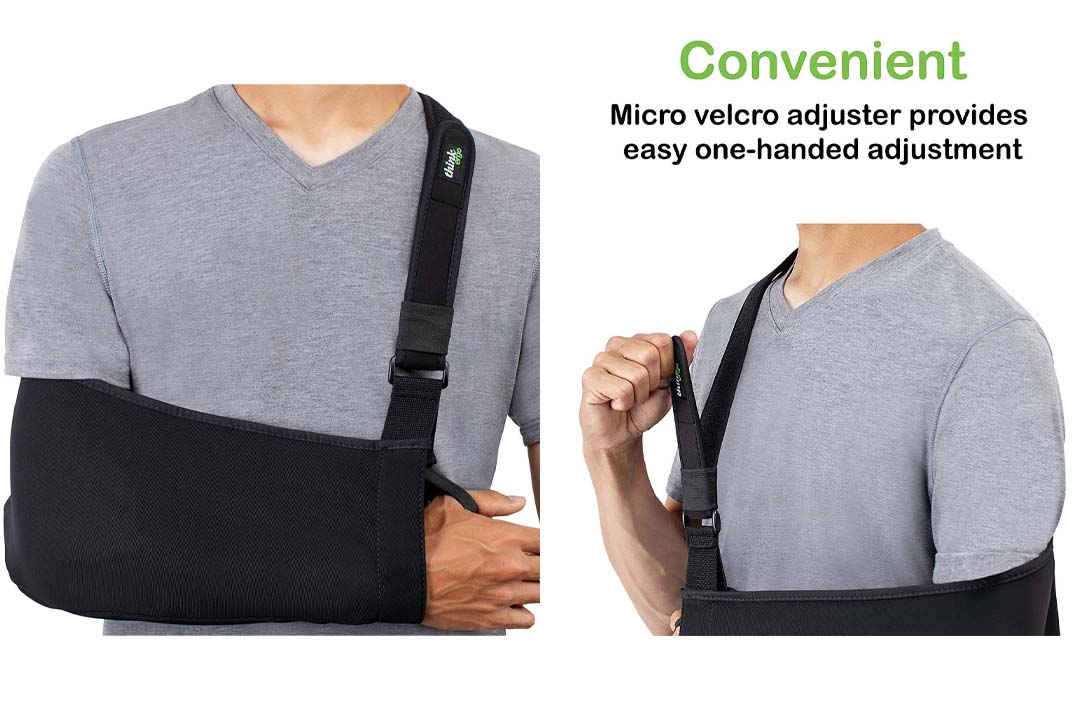 The next beast coming up in the list is Think Ergo Arm Sling Sport. This cushy neoprene strap padding provides all-day comfort while the arm pouch is knitted mesh to increase airflow and reduce moisture buildup. Extra support comes with the elastic thumb loops that prevent your hand from getting tired. A front-facing micro Velcro adjuster allows you to easily adjust the length with one hand. Its padded neoprene strap won't dig into your neck and shoulder and is made for all-day comfort. The mesh is cooler and the strap is soft and nice design with material lapped over the edges to avoid velcro digging into your neck. The question you might want to ask is whether this arm sling fits you personally. This particular Think Ergo Arm Sling Sport is designed for adults 5 feet-6 feet tall, 90-250 pounds. For smaller arm pouch, you can try Think Ergo Arm Sling Sport Extra Small whose pouch length is 11.5 inches while those who prefer a longer pouch should try Think Ergo Arm Sling Fit XL whose size is 14-17 inches.
7. Arm Sling Shoulder Immobilizer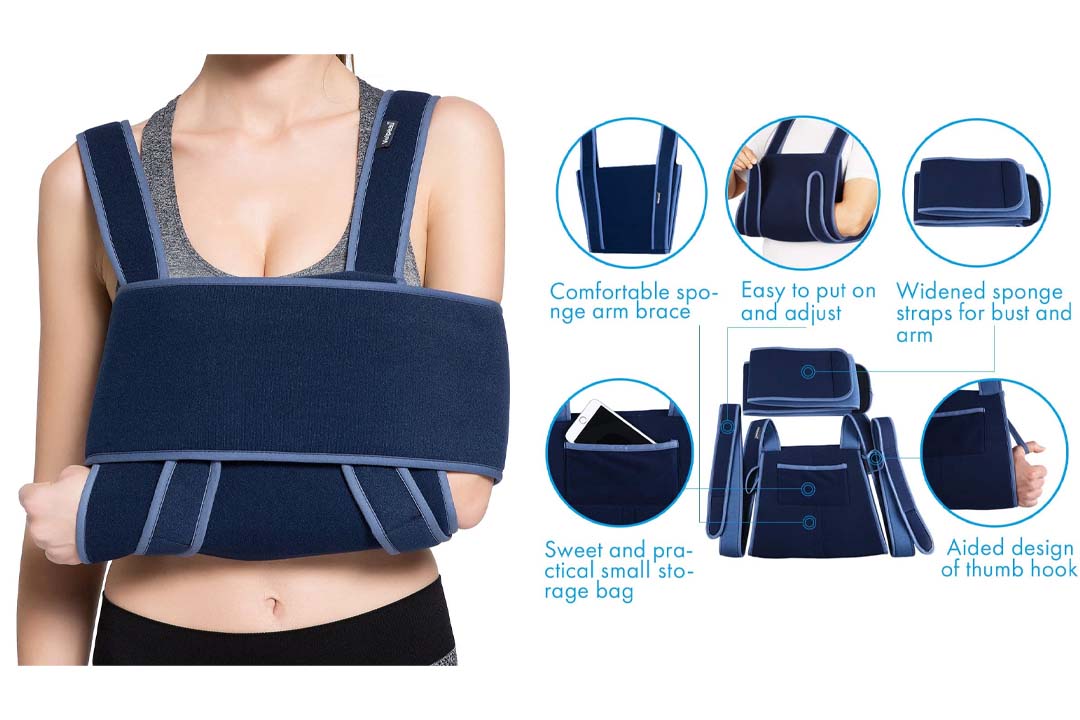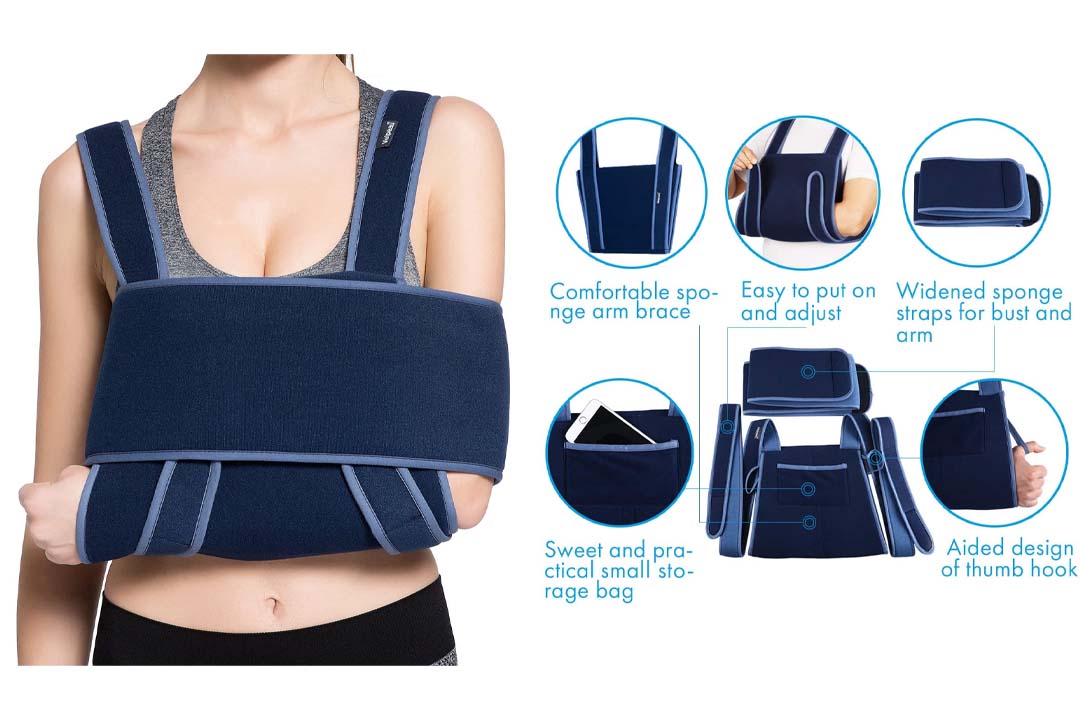 Constructed from the high quality materials and exquisite workmanship, Velpeau Arm Sling provides excellent ventilation and is also very breathable. Even if the weather is hot, you don't feel hot while the skin-friendliness brings you comfort in continuous use. Its unique design allows it to allocate weight over both your shoulders, which makes you more comfortable than a traditional one. It helps to relieve your pain better and provides the perfect fit aftercare and treatment for your Shoulder Injury, Dislocation of Elbow Joint, Muscle Strain, Sprain or Fracture or Clavicle, Humerus, Ulna and Radius issues. The same ergonomic effect to avoid added injury is still available for either arm, left or right, while you are in the process of recovery. Another feature that differentiates this sling from the traditional sling with the wide Velcro strips that make your adjustment easy. Not only does it provide the comfort to your arm and shoulder, this Medical Rotator Cuff Sling exquisitely designed in blue makes you look fashionable but in a low profile anywhere, which is suitable for Men & Women, Youth & Elderly, Boys & Girls. You feel free wearing it at home or work, which is for household use.
6. Mueller Arm Sling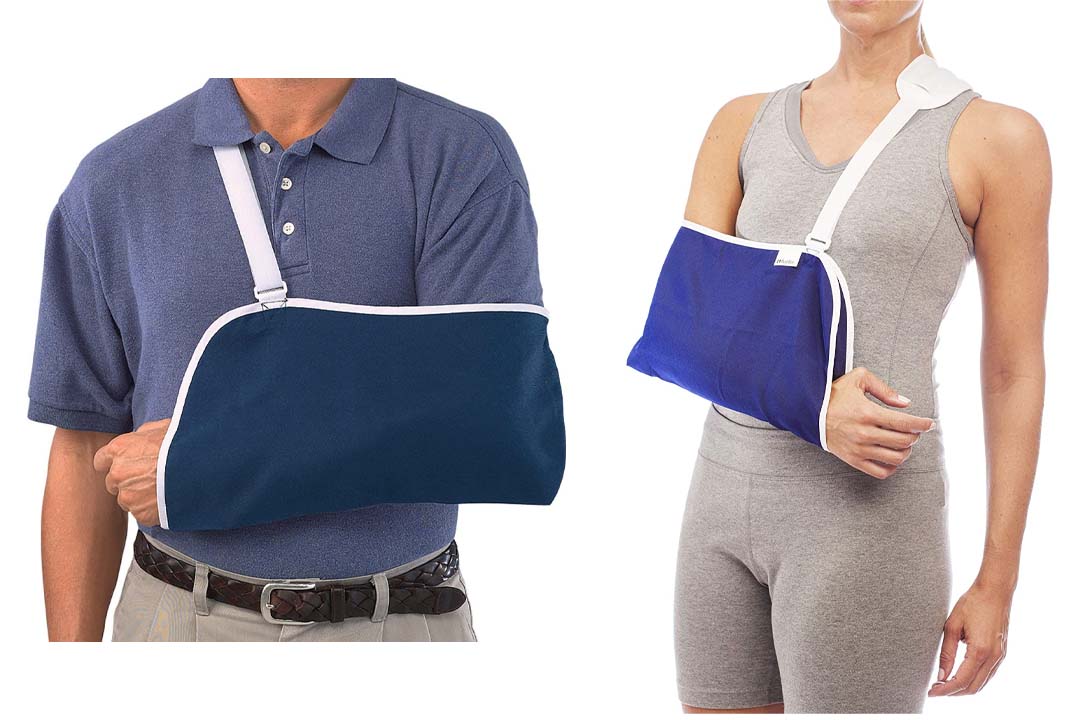 Been serving people for 50 years, Mueller is seen to be committed to providing the best quality sports medicine products to consumers around the world. Their core element is the importance of integrity, pride, and excellence. And now, Mueller brings you another best of the best, securing that you get the comfort you deserve. This Mueller Arm provides general arm support and restricts movement to assist in healing sore or injured arms and elbows while stabilizing arm to relieve pain and prevent re-injury. Neoprene free, it is light and breathable for comfortable all-day wear since it's made from latex free materials. Designed to support both arms, this sling is ideal for sprains, broken bones, or general arm support. To properly use it, place the elbow in the corner of the sling pouch then slide the shoulder strap over the head. Finally, position the shoulder pad and adjust to your need, so that the arm can rest horizontally.
5. Yosoo Arm Sling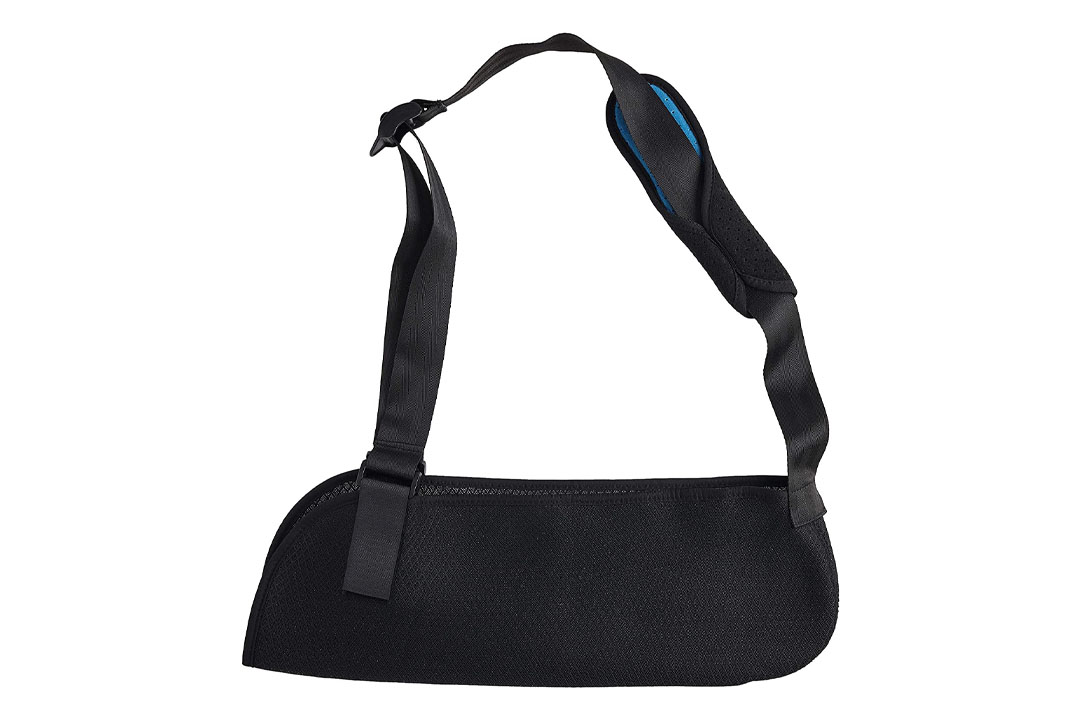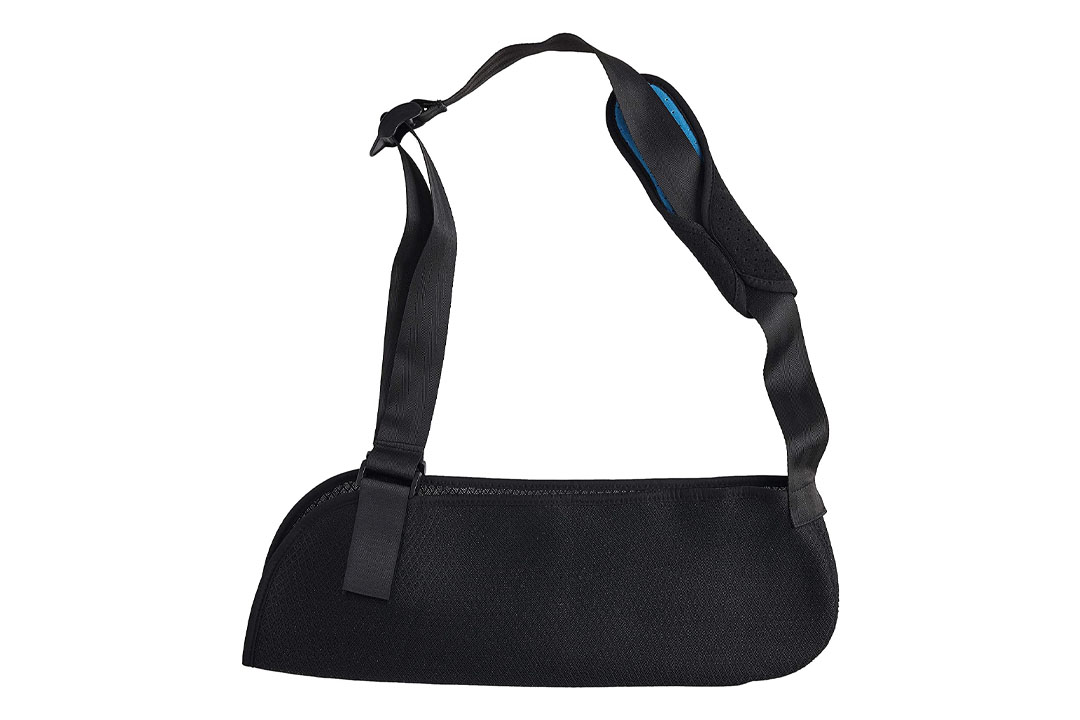 Design to conform to the contours of your neck and shoulder, Yosoo Arm Sling gives you the maximum comfort while relieving pressure and healing. With the front-facing micro hook and loop adjuster, you are provided with the easy one-handed adjustment while the built-in thumb loops your hand to prevent fatigue. Arm pouch is knitted mesh fiber to provide superior airflow. Due to its flexible neoprene material, this sling is pretty light in weight which delivers all-day comfort. The pain is reduced to support the healing process while helping the cushion and protecting injured areas. If your shoulder, elbow, or wrist get hurt, arm sling will play an significant role in your healing to protect your arm. Wearing a sling keeps your arm against your body and prevents you from moving your arm too much while healing. If you happen to have a rotator cuff surgery, a forceful contraction of your muscles can tear the repaired muscle. Fortunately, this sling can stop that happening. This also helps to support your arm and prevent it from pulling uncomfortably at your shoulder since a stroke is a serious injury, which may cause paralysis in your arm, leg, or both. Widely used, this sling can be worn on the right or left arm, perfect for adult who are between 5′ 3″ – 6′ 2″ tall, and 90-220 pounds.
4. FlexGuard Arm Sling Shoulder Immobilizer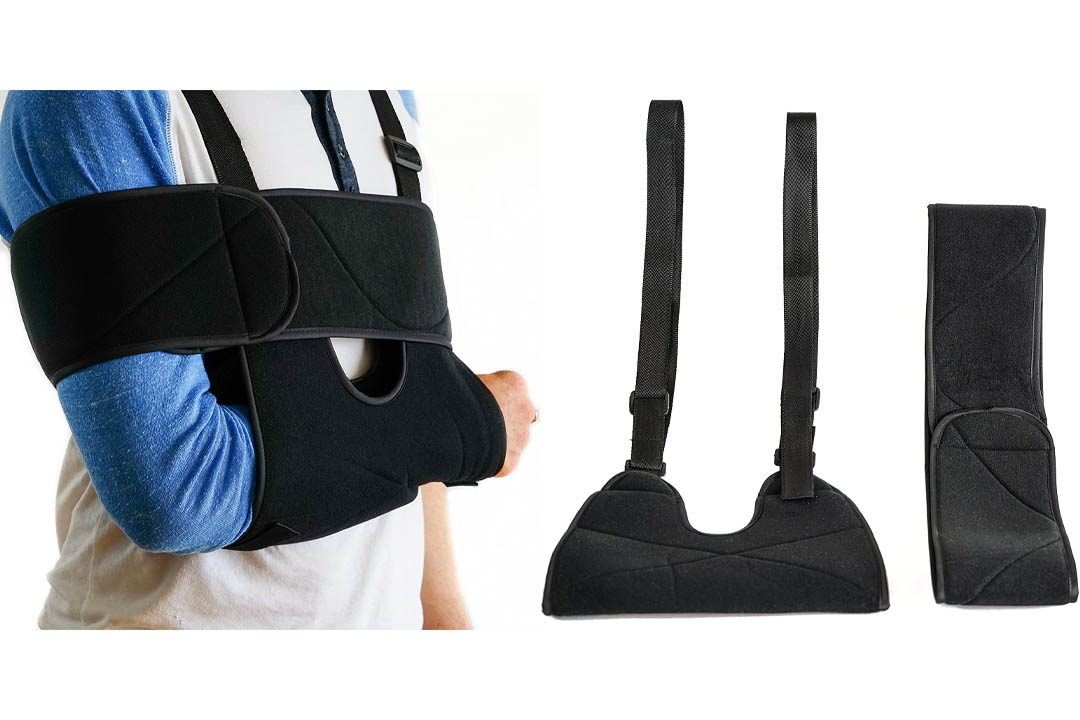 Give your arm and shoulder their days with FlexGuard Arm Sling Shoulder Immobilizer. Designed to treat any joint dislocation in your entire arm, shoulder injury, or humerus issue, this sling holds arm securely in place and provide the perfect aftercare and treatment for your injury. Move to any position as you wish since the band already holds the arm securely to your body strongly yet comfortably. Additional support to the arm is there since the protection and stability are doubled. Flexible and light-weight material is the core of this product which provides excellent ventilation to reduce unpleasant odors as well as providing comfort, reducing itchiness and irritation. Constant movement throughout the day is standing in the way of a full recovery. You no longer have to waste the time and feel free to proceed doing what you're always doing. Let your body be its own doctor by keeping your arm snug and secure while the comfortable arm sleeve combined with the immobilizer band, guarantees a quicker recovery. For extra specification, the regular size is for those whose height is from 5ft to 5ft 8 inches and weight is from 110lbs to 165lbs. The large size is for those whose height is 5ft 6 inches to 6ft 4 inches and weight is 150lbs to 230lbs.
3. UMITOM Adjustable Arm Sling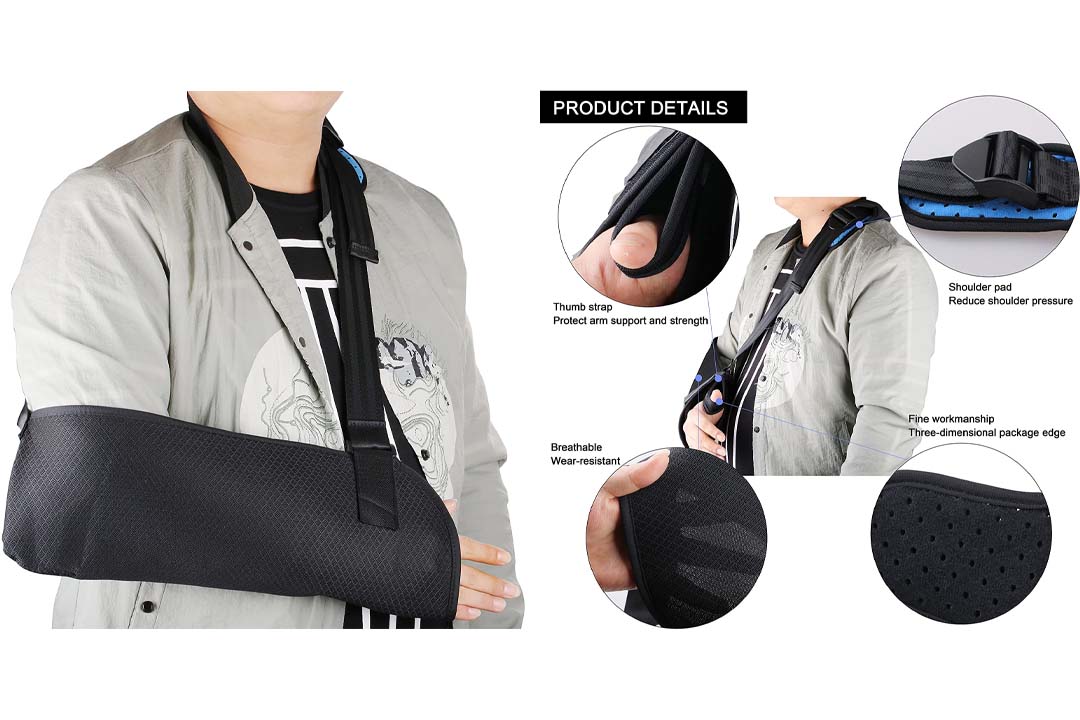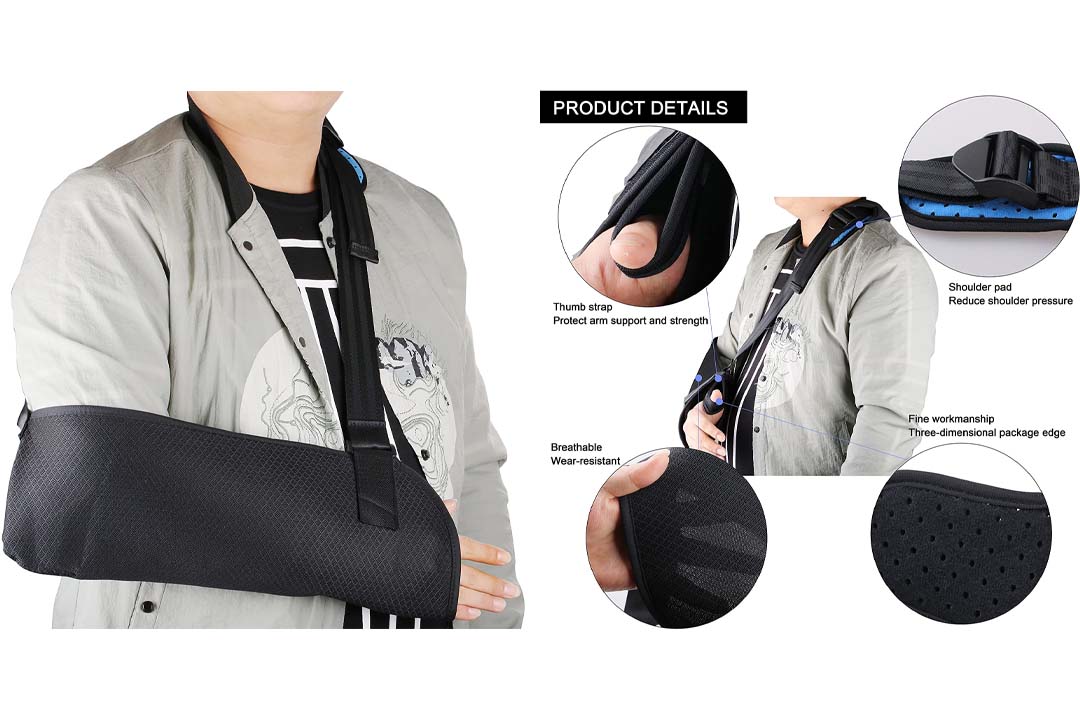 Made in breathable mesh fabric, UMITOM Adjustable Arm Sling keeps your arm cool and comfortable for all day wear. Extra comfort comes along with the foam while providing balanced support and stability to minimize movement and reduce pain. Weight of the arm is evenly distributed to reduce pain and eliminate pressure points and built-in thumb loops support your hand to prevent fatigue. Forward-facing, the reversible sling and strap slide can be used on the left or right shoulder and is easily adjusted with one-handed. UMITOM thinks about you. If you happen to have arm or shoulder surgery, those two parts must be kept inactive for the surgical repair to be effective. The UMITOM was devised by a patient to protect the arm while showering. We prescribe it to all of our patients because it is protective, easy to put on/off, economical and dries quickly. Built for everyone, this sling is fit to people from 5'3"-6'2" tall and 90-220 pounds. Extendable pouch is integrated for easy adjustment.
2. Custom SLR Medical Arm Sling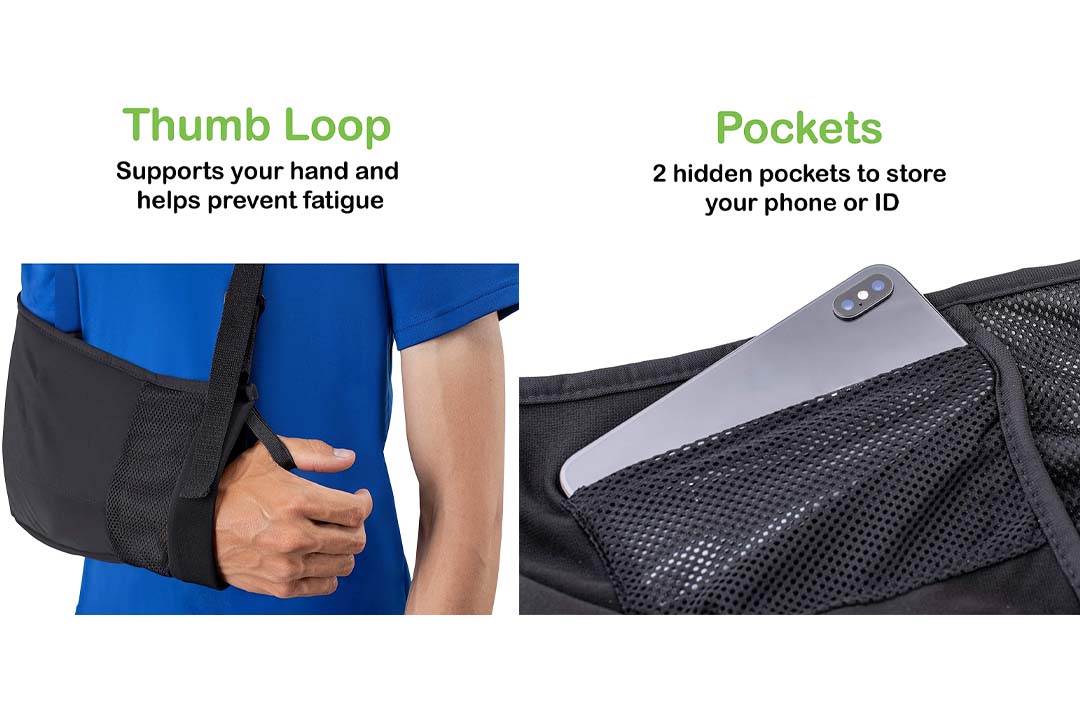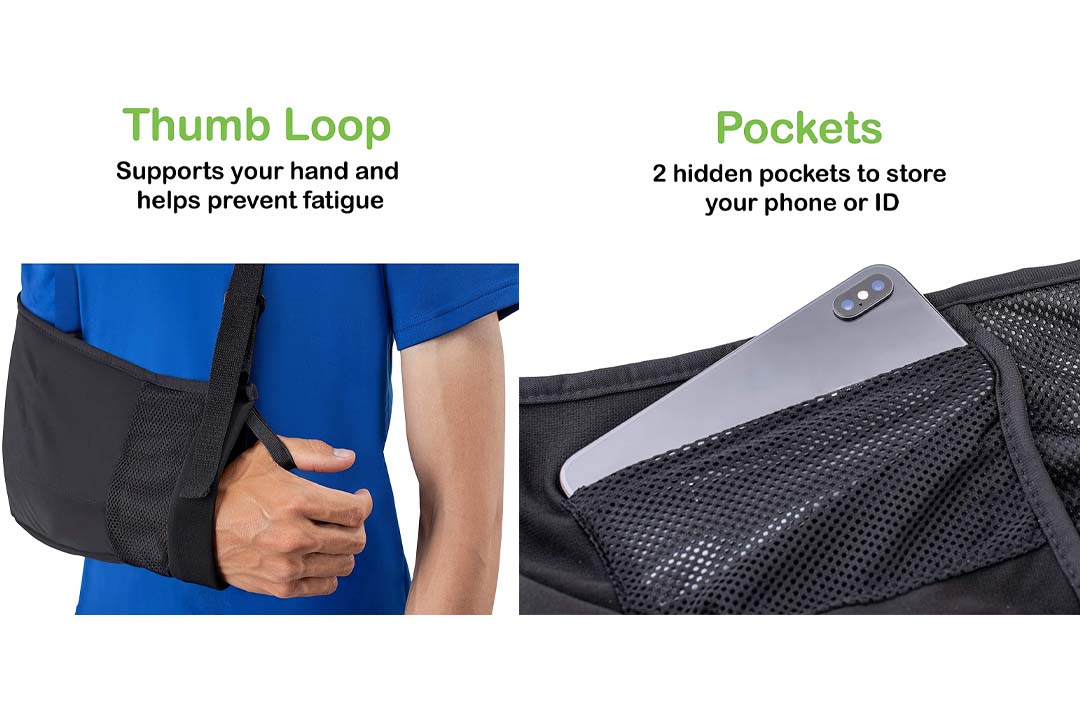 Built in Split Strap Technology, Custom SLR Medical Arm Sling perfectly distributes weight to reduce pain/fatigue and provides superior ventilation. Its unique ergonomic design conforms to shoulder for unparalleled comfort providing maximum comfort. It's ideal for anyone who needs well-balanced, comfortable support during recuperation from sprain, fracture, or other injury. You can easily tighten it from the front with your other hand by simply pulling on the strap. Hidden pockets are also featured to store your cash or IDs, and thumb loops to secure your arm in the sling and support your hand, so it doesn't get tired. Such a plus, this sling allows you to tighten from the front with our hand by simply pulling on the strap easily. Perfect for warm weather, it is widely breathable. You can easily put it on by yourself once you get the straps where you want them. It has the thumb hook which you need so that your hand doesn't hang lumpy and cause other discomfort. This certain size sling is perfect for adults who are adults 5'2″-6'2″ tall, 90-250 pounds.
1. Arm Sling by Vive – Medical Sling for Broken & Fractured Bones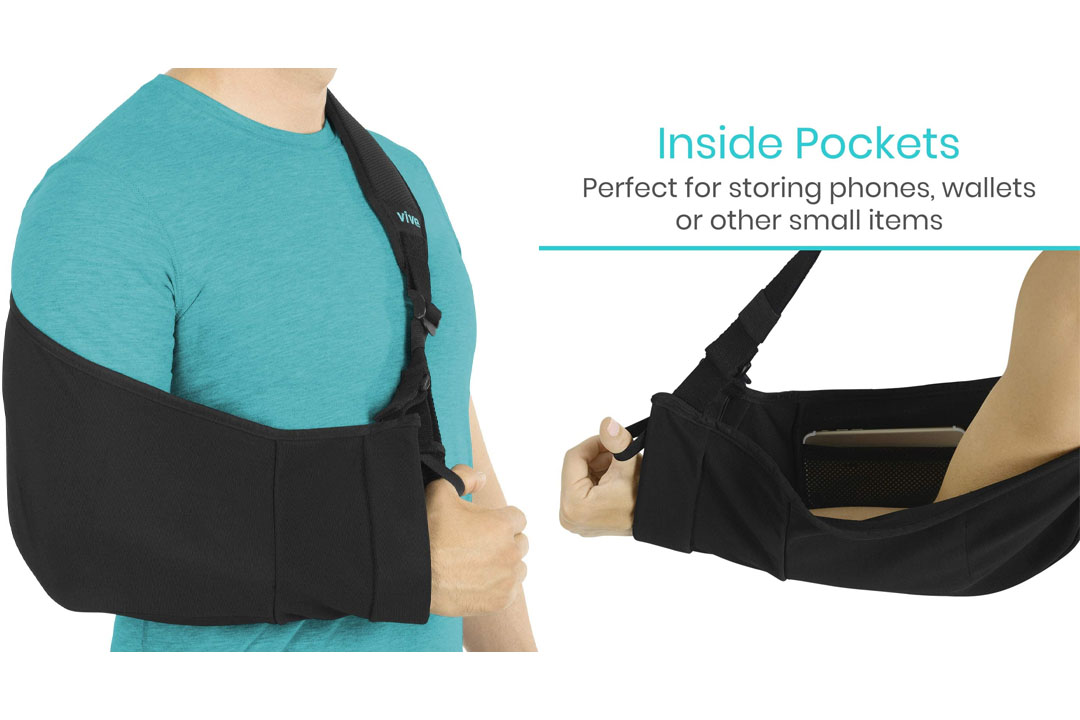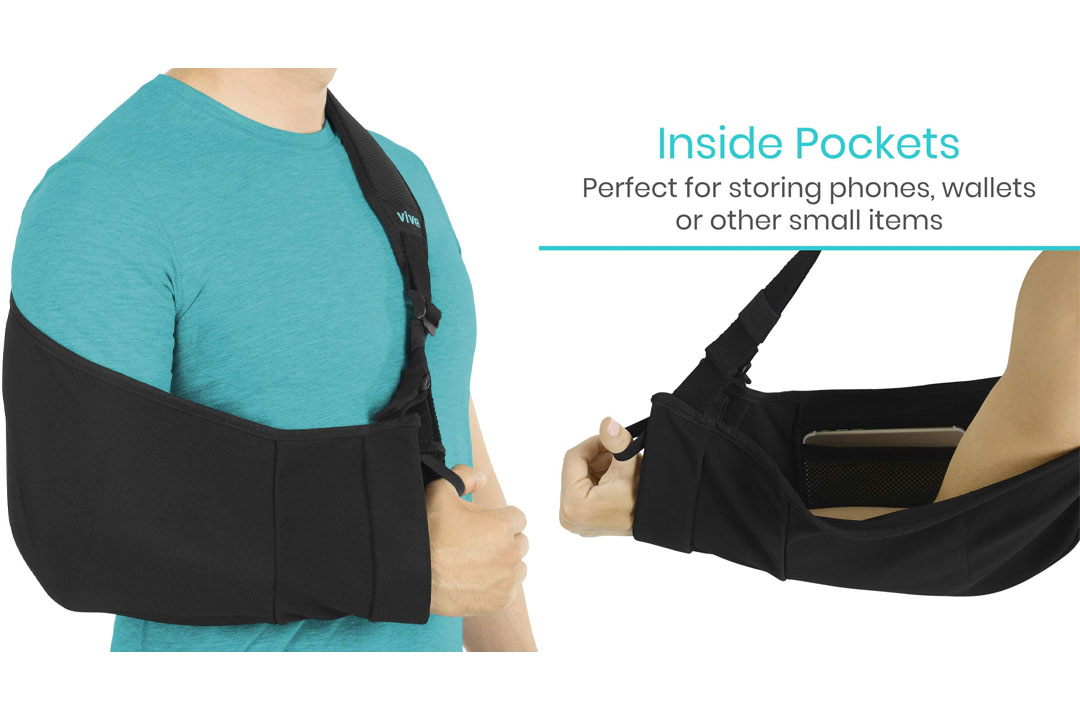 With Vive's arm sling, you are ensured with the faster healing process for your broken arm and shoulder. Providing balanced support and stability to minimize movement and reduce pain, this sling is made of a lightweight, breathable fabric and features an integrated thumb loop to reduce hand fatigue and a generously padded strap for comfortable extended wear. The materials used for this sling make it pretty light in weight and very breathable. You can wear it all day without feeling anything. Such a plus, extra durability comes with the machine washable. Adjustability even makes it greater. Shoulder strap is generously padded to comfortably contour to the body, adjustable for a customizable fit. The strap slide buckle is forward-facing for easy one-handed adjustments. Moreover, feel free to carry your little essentials like mobile devices, ID cards and other small items in the two interior mesh pockets.
Conclusion
Here they are, the best of the best arm sling in 2023. In the introduction, you've read on how to spot a good arm sling; hence, I guess you have some ideas on what you want to find in each item. We can be pretty sure that each item shares all the points mentioned in the introduction with extra features. Thus, it's your turn now. Make up your mind while you are only one click away from giving your arm or shoulder the best day after getting injured.
Any Top 10 is a participant in the Amazon Services LLC Associates Program, and we get a commission on purchases made through our links.