Prenatal vitamins are extremely essential to a growing fetus. The processed foods in the environment today make it more and more difficult to obtain essential nutrients that the body needs, let alone one that is housing a precious little growing baby. Prenatal vitamins help to narrow the nutritional gap by providing the body with vitamins and essential minerals such as folic acid and iron. Another important essential nutrient is DHA, which ensures proper brain and eye growth.
It is very important to take the time to determine the right prenatal. The market today offers an array of choice making it a somewhat overwhelming task for many expecting mothers or mothers to be. The perfect prenatal would be one that only needs to be taken once a day, especially if you are constantly nauseous, one that contains at least 200 mg of mercury tested DHA and EPA, free of preservatives, artificial colors and non GMO and let's not forget, reasonably priced for the duration of time they can be taken.
List of the Best Prenatal Vitamins with DHA of 2023:
10. Nature Made Prenatal Multi + DHA 200 Mg Softgels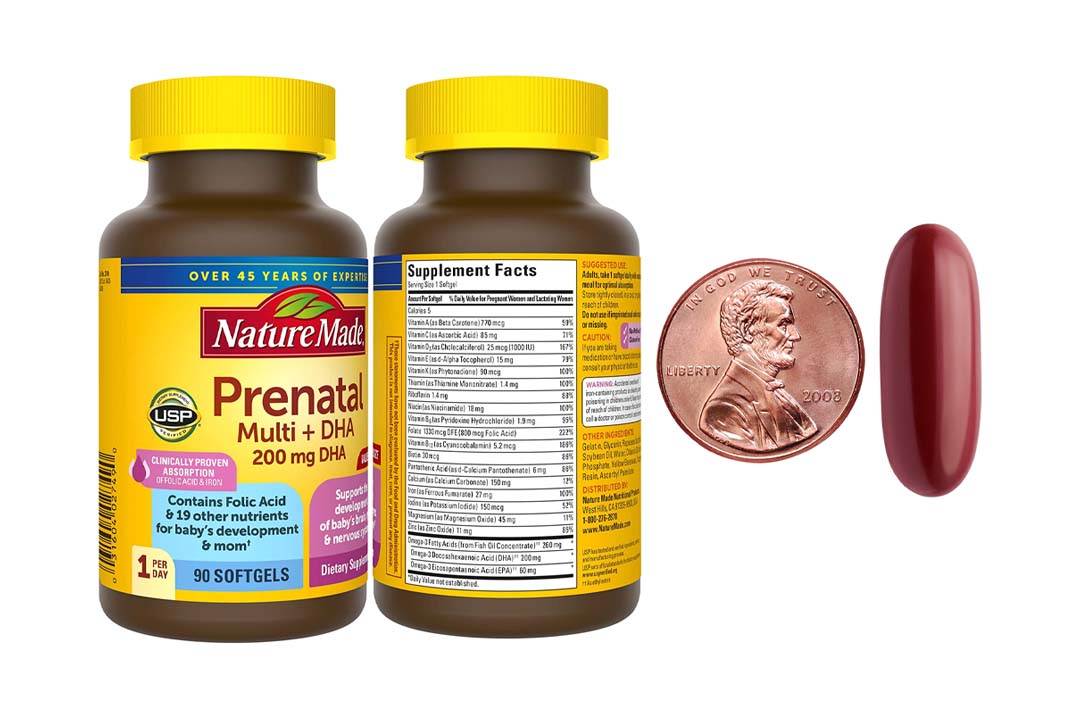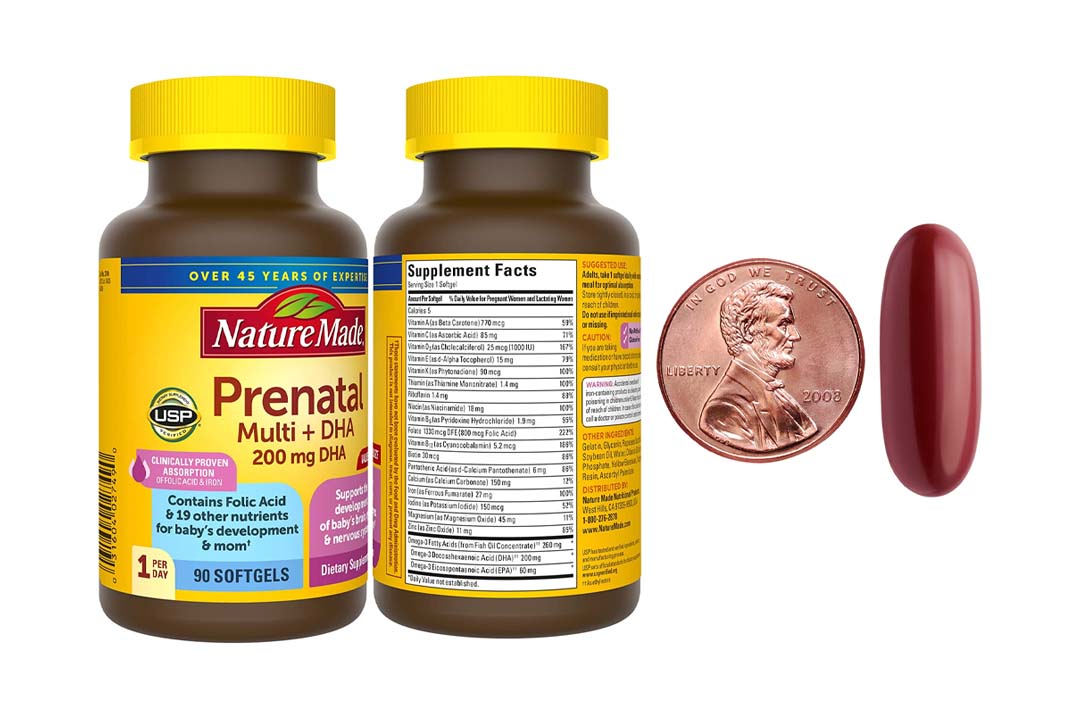 These prenatal vitamins by Nature Made are preservative, yeast, and gluten free. It contains 90 softgels making them economical and long lasting as they are to be taken once a day. Because they are soft gels in capsule form, they are easy to swallow and digest. An added bonus is there are no artificial colors; they are all from natural sources.
9. Nordic Naturals – Prenatal DHA – 180ct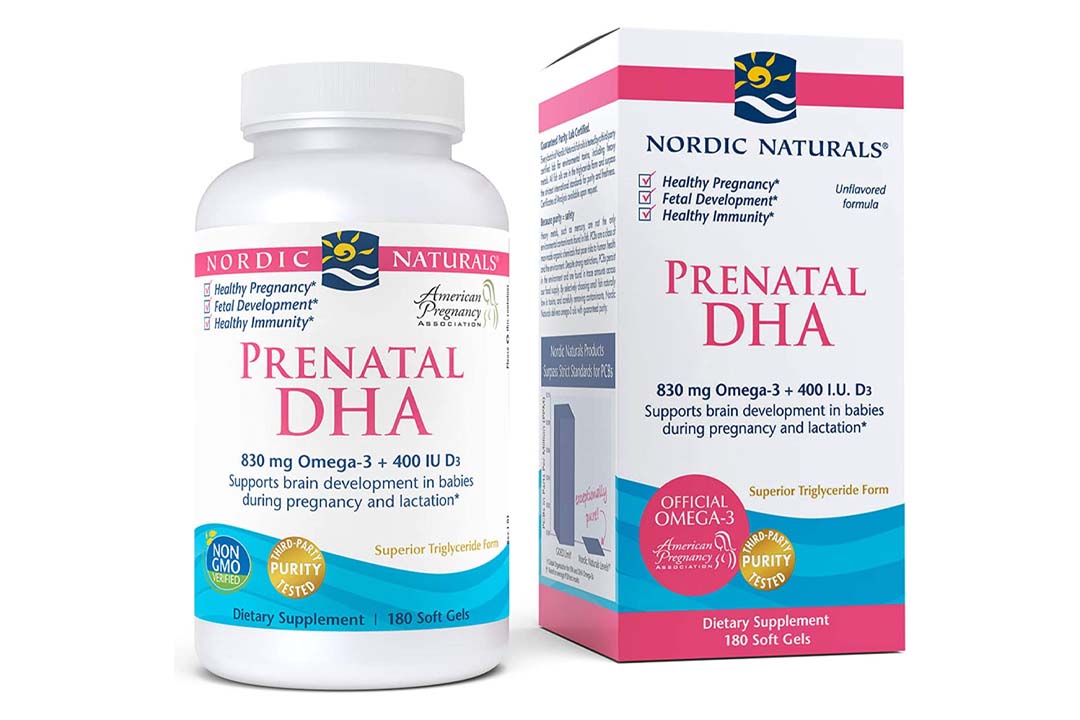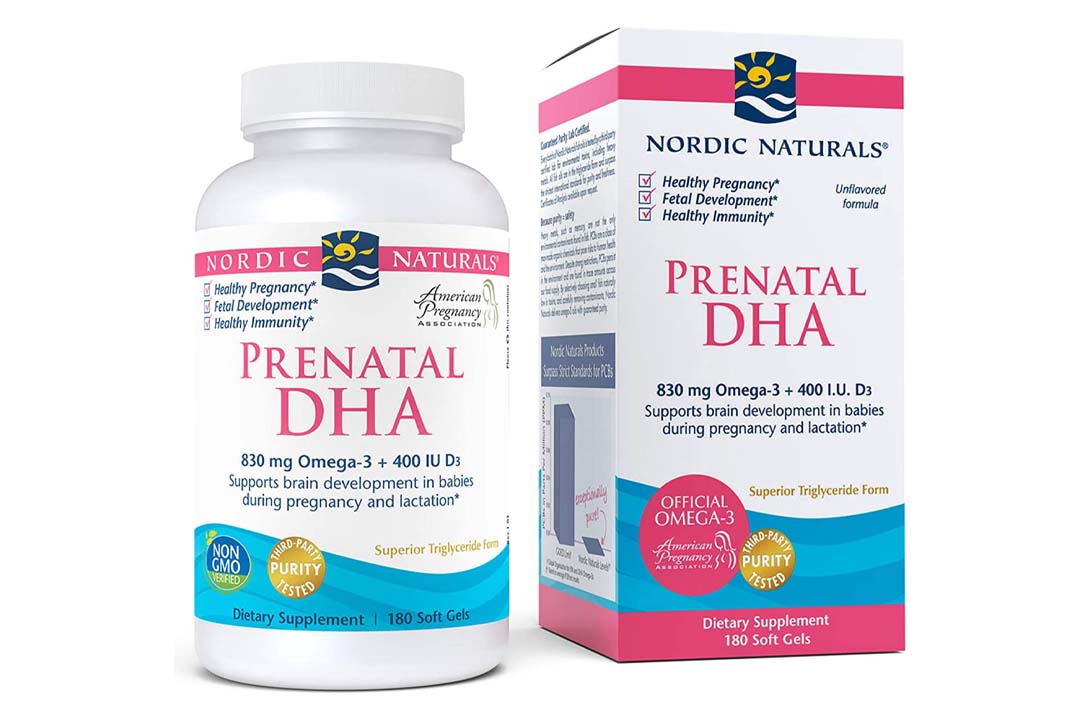 The Nordic Naturals prenatal vitamin contains 180 capsules in one container. They contain natural fish oils, are free of artificial colors and are gluten and dairy free. These capsules also do not contain genetically modified products. Nordic suggests 2 capsules to be taken daily which may be a tad difficult to keep track of.
8. Nordic Naturals – Prenatal DHA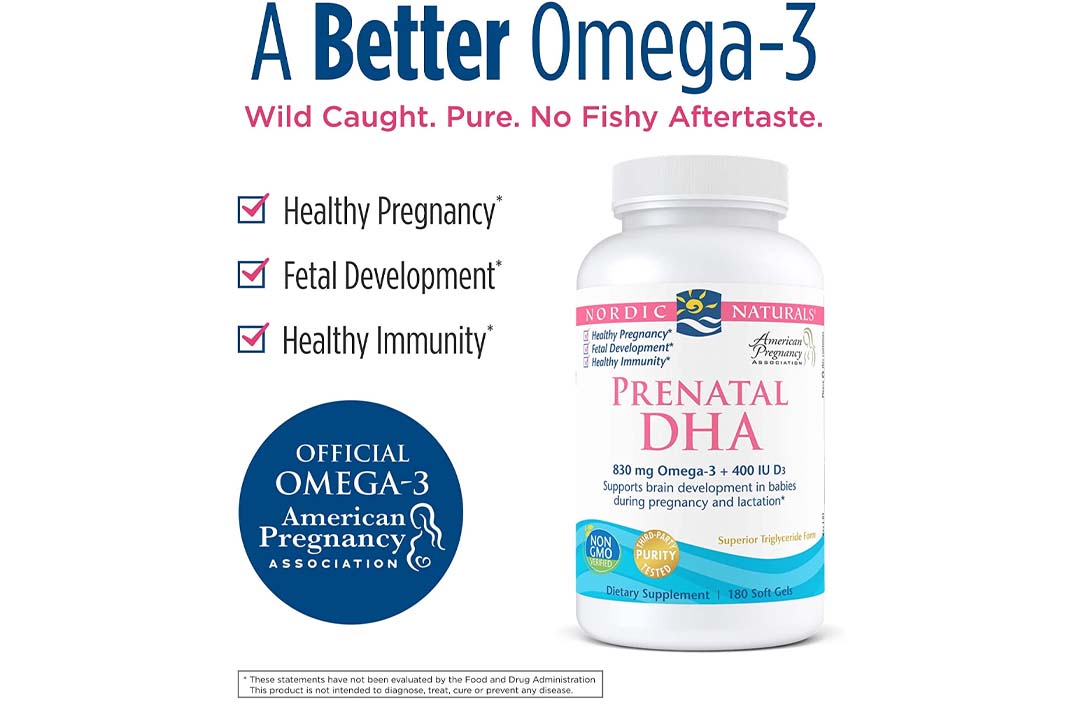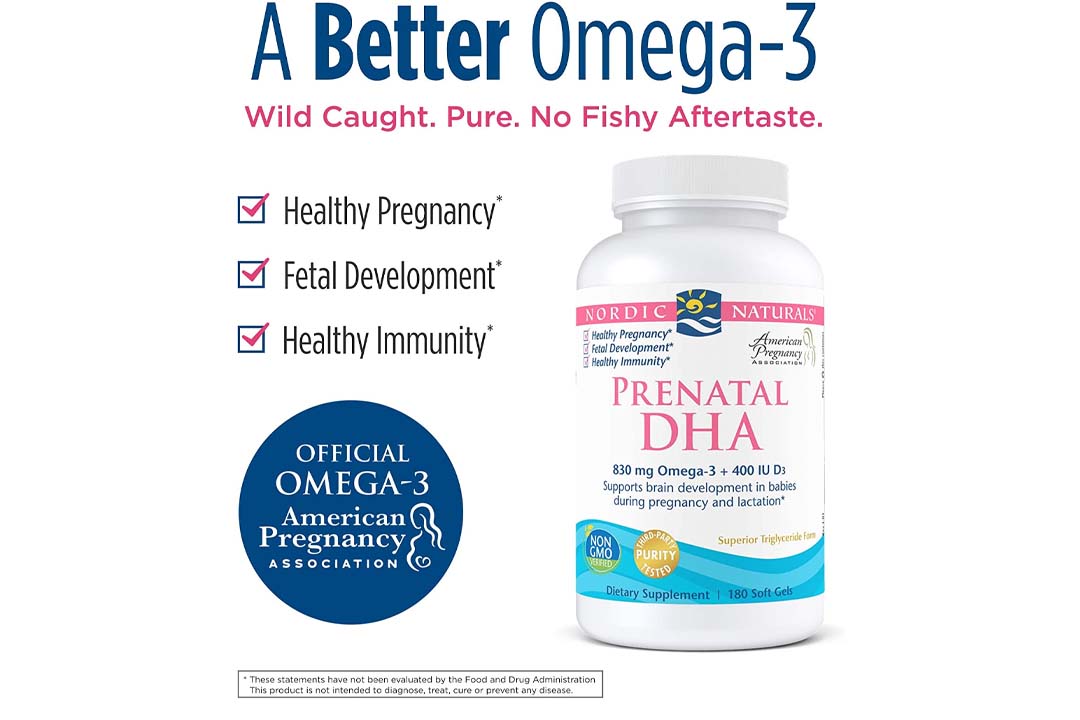 Nordic Naturals have yet another great product with easy to swallow softgels. These prenatal supplements are smaller in size than the original prenatal from Nordic, making them easier to swallow; an added bonus for mothers who may be experiencing a lot of nausea in the early stages of pregnancy. It is suggested to take two capsules daily as with most prenatal supplements by Nordic.
7. Vitafusion Prenatal, Gummy Vitamins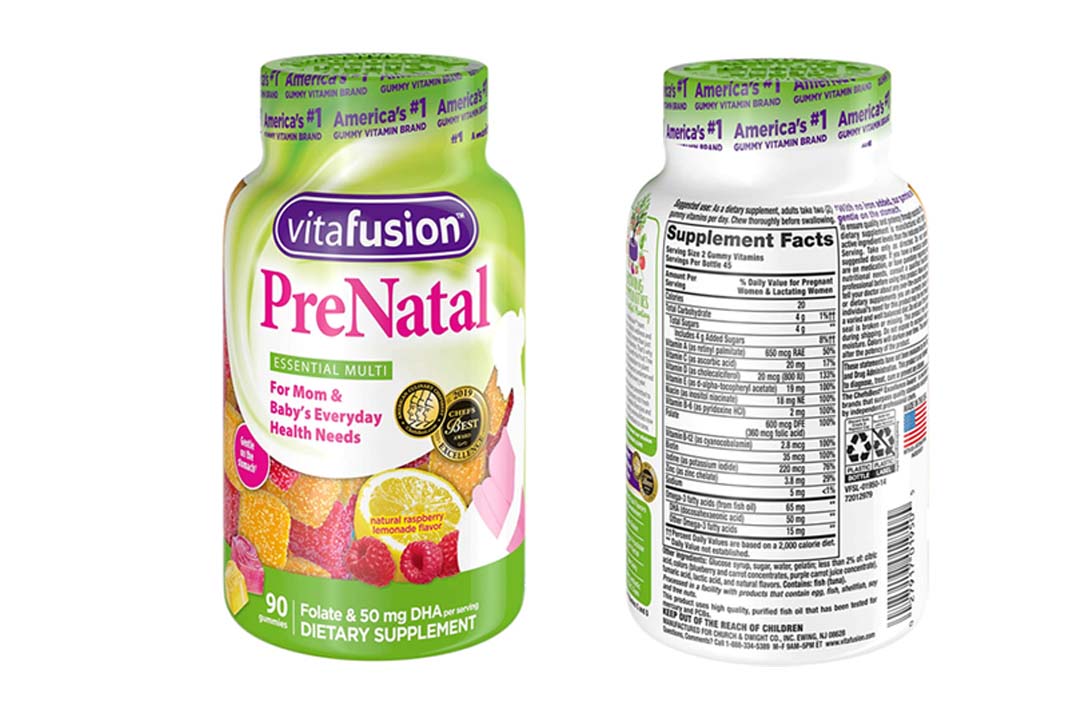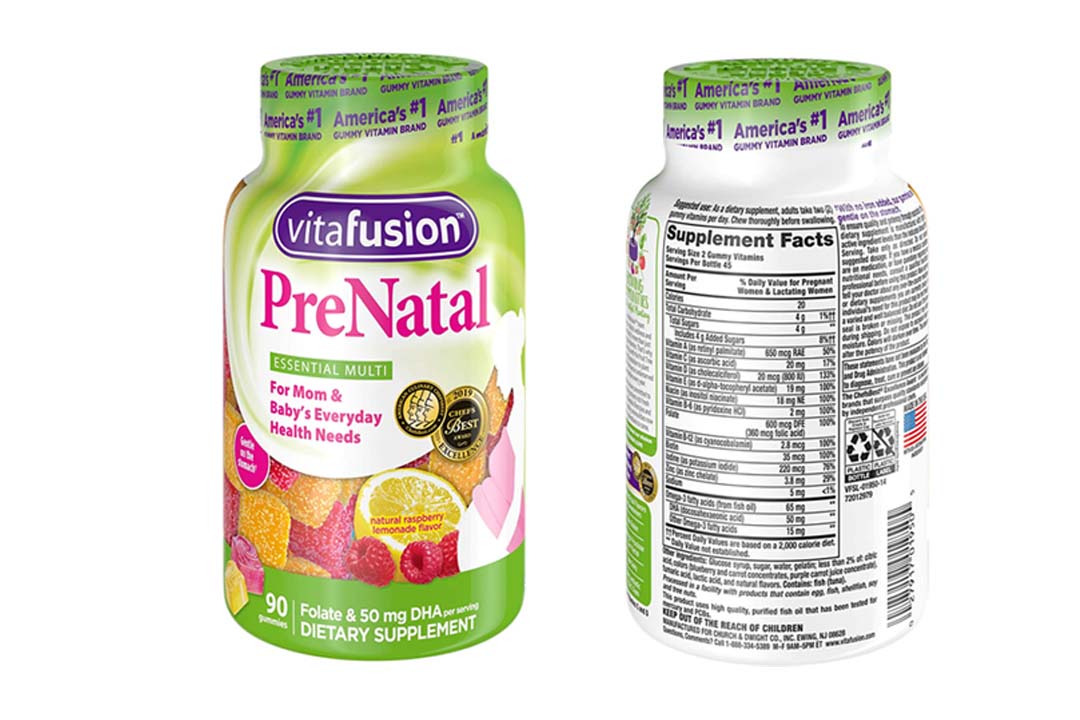 Vitafusion prenatal comes in a gummy form with a fruity flavor and added vitamin C with naturally derived colors. They are gluten, dairy, egg, peanut, and shellfish free. It contains tuna that has been tested for mercury levels and soy. Due to its appeal to children i.e. gummy candy form, it does not contain iron, therefore, an added iron supplement will be needed. Having to take two capsules may be difficult for some expecting mothers who may be nauseated and have trouble keeping food items down. It is suggested that two gummies be taken per day.
6. Zenwise Labs Prenatal DHA Vitamins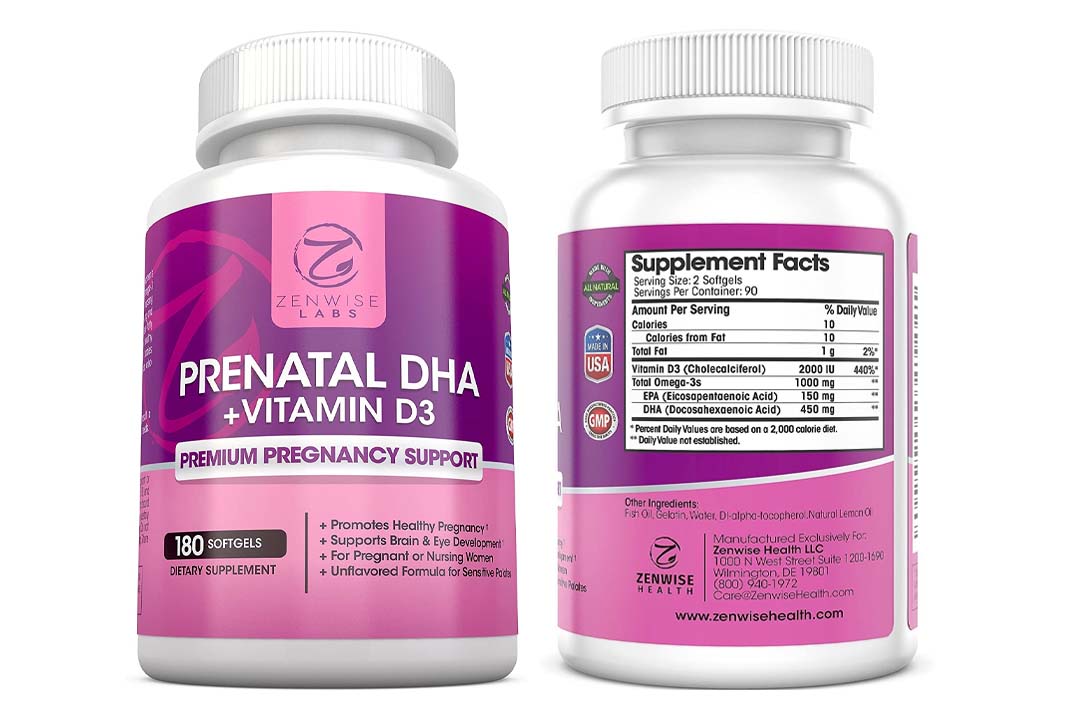 No products found.
These prenatal vitamins are made with all natural products. There are 180 softgel capsules making them easier to swallow and long lasting. The tasteless feature on these prenatal supplements is an added bonus as many DHA prenatal supplements are reported to have a fishy odor and taste. These capsules contain gelatin, DHA, EPA and Vitamin D3.
5. Rainbow Light Prenatal DHA
Check Price on Amazon.com
The Rainbow light prenatal is 1425 mg which makes it a quite large pill to swallow. It is mercury, gluten, and cholesterol free. The recommended dosage is one capsule daily, which makes it an easier task to remember compares to others that recommend two capsules daily. For the environment conscious mother, these prenatal supplements come in a BPA free bottle. The fish oil is from Sardines, Mackerel or Tuna. This bottle contains 60 softgels.
4. New Chapter Wholemega for Moms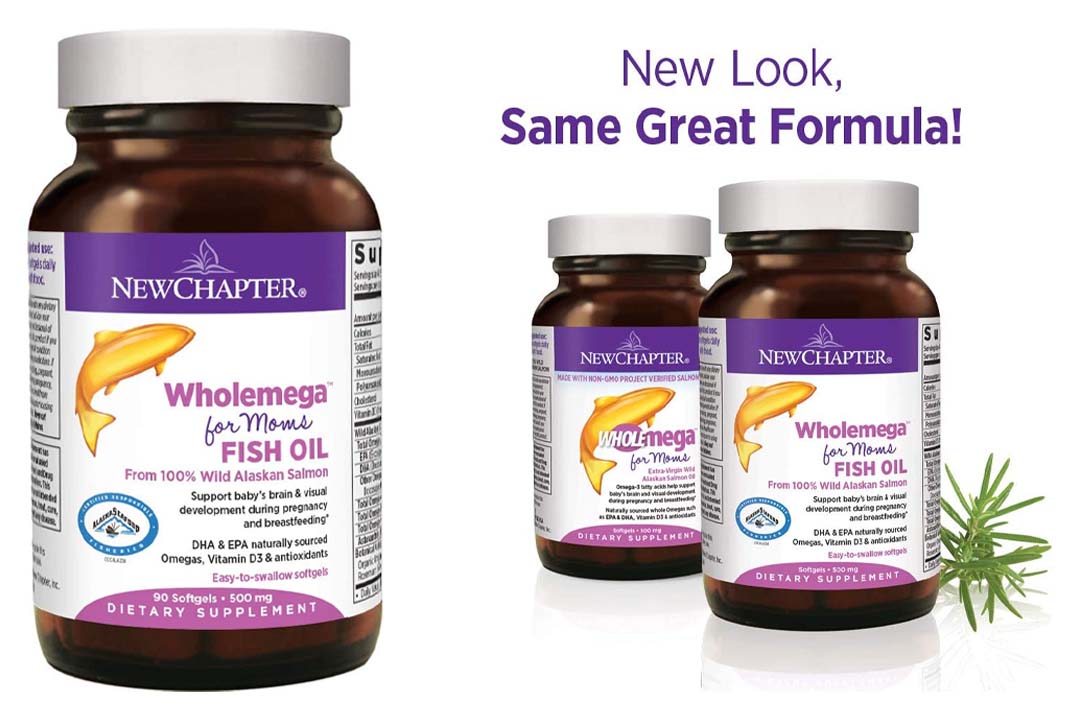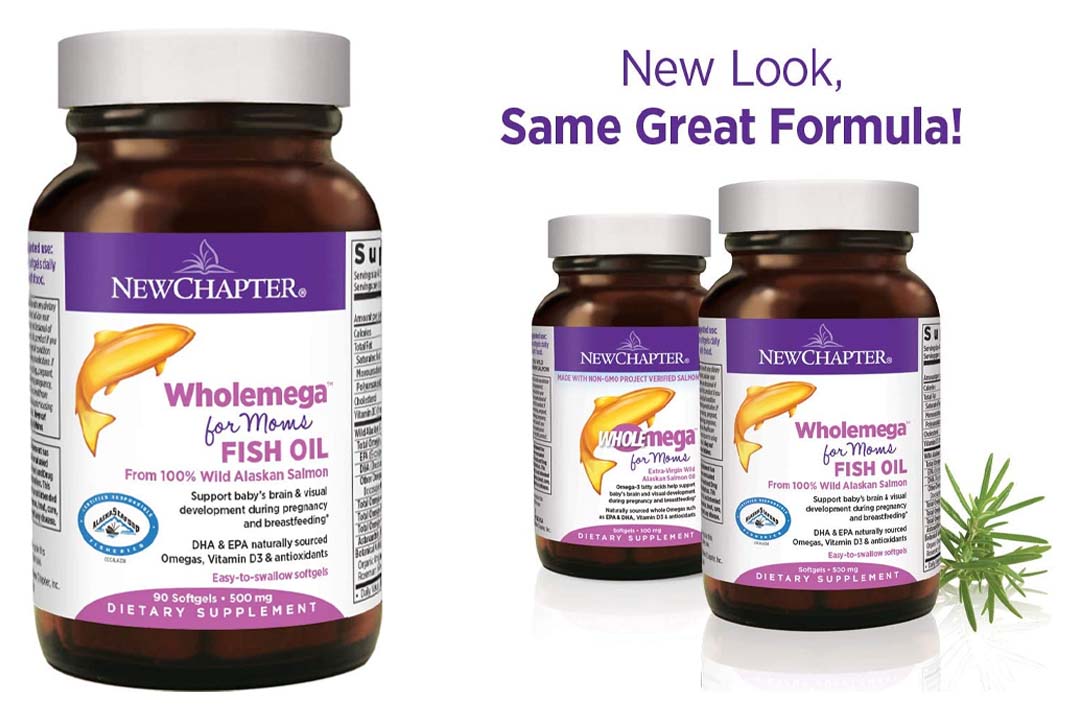 The Wholemega supplement contains pure Wild Alaskan Salmon Oil essential for brain and eye development. They are surprisingly small at 500 mg, and therefore very easy to swallow. They are mercury, gluten, soy, GMO and artificial sweetener free with no artificial flavors. The amount of DHA is only 55 mg which is significantly less than the recommended dosage.
3. One A Day Women's Prenatal Vitamins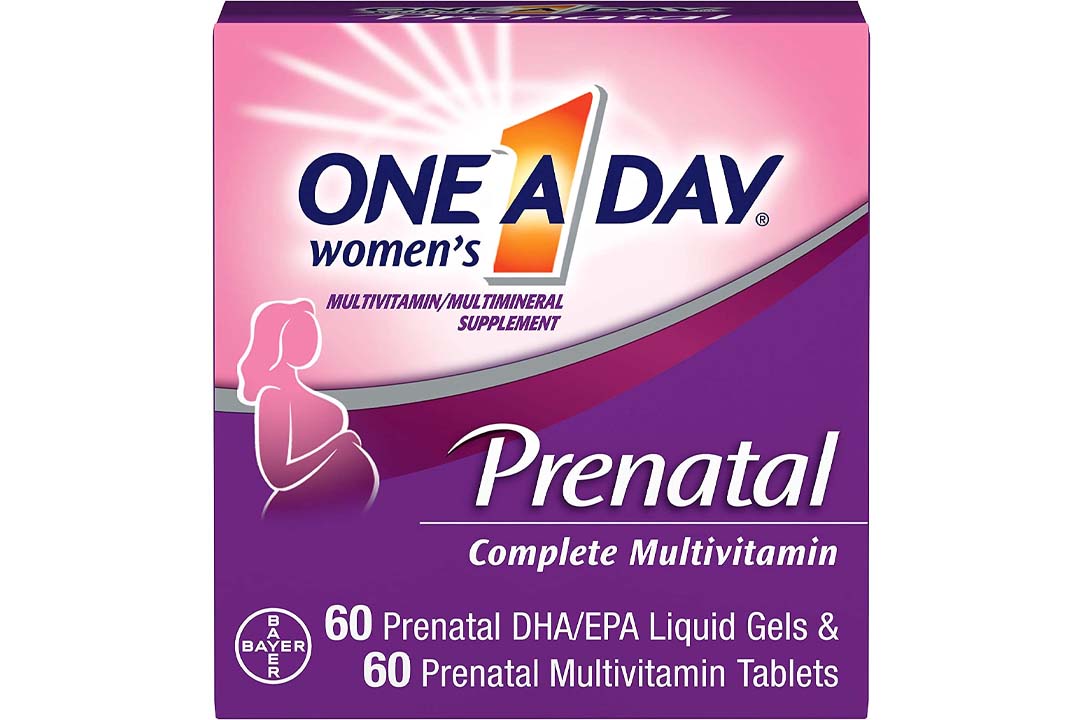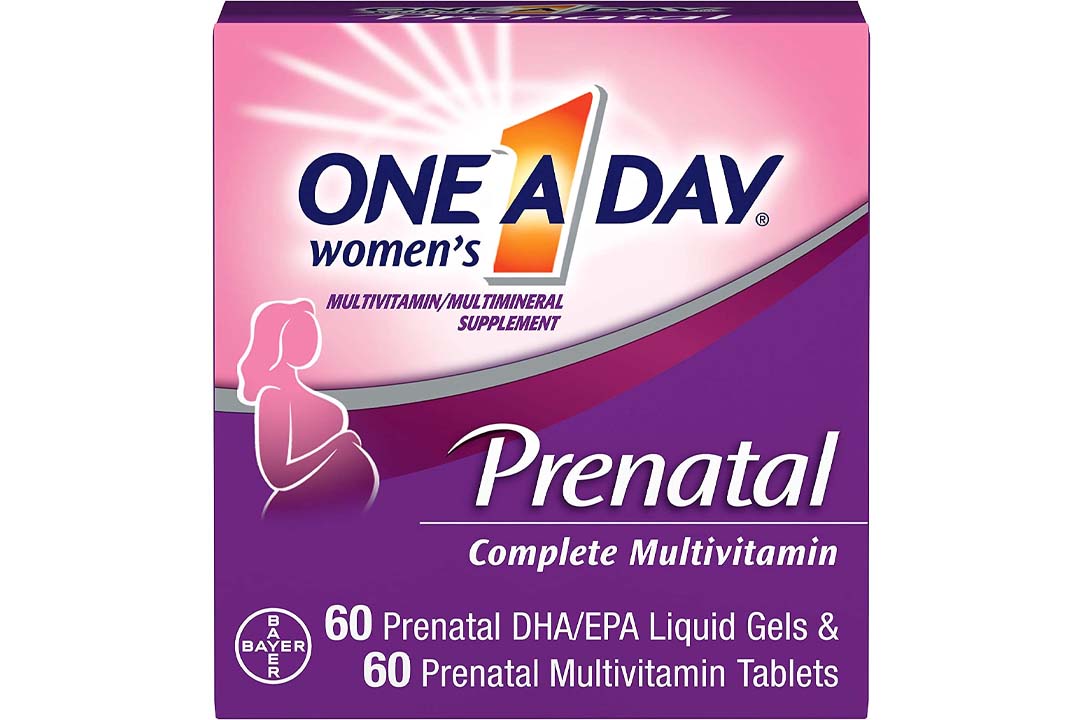 As the name suggests, only one capsule is required daily. These prenatal supplements are surprisingly easy to swallow with 200 mg DHA. The package gives the illusion that there are 120 pills enclosed however, there are vitamins and DHA capsules enough for 60 days and not 120. The EPA is surprisingly low at only 23 mg making these prenatal supplements insufficient based on the recommended daily allowance of 200 mg.
2. SmartyPants PreNatal Complete Gummy Vitamins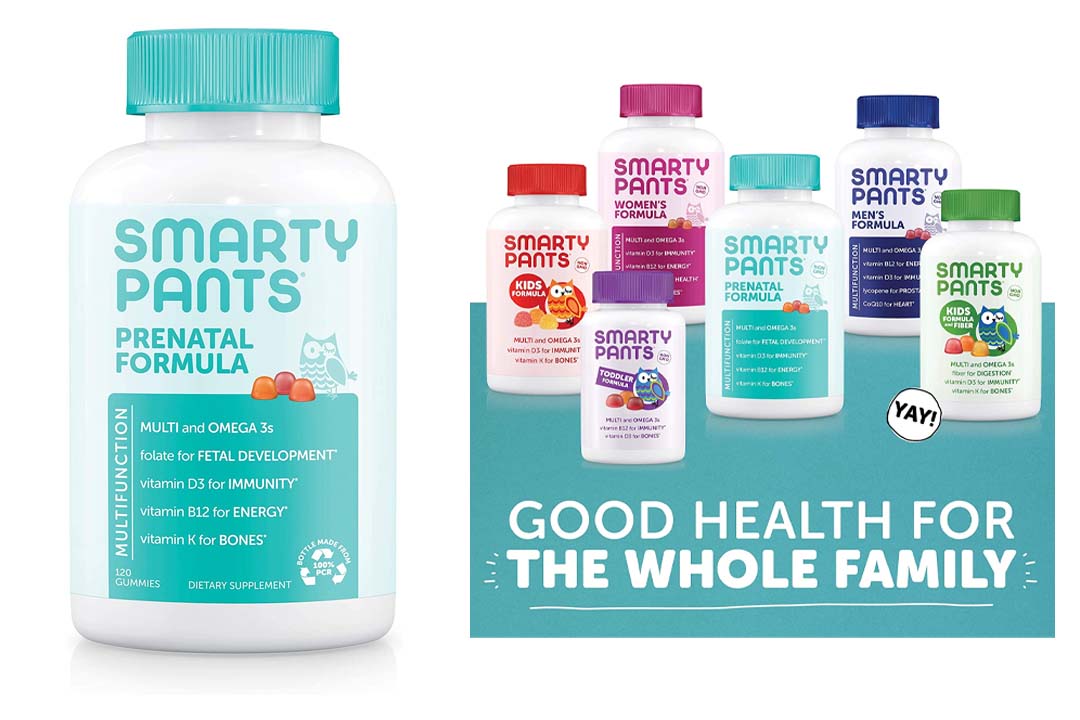 These yummy gummy prenatal comes with 15 essential vitamins and DHA all in one. It is completely free of allergens such as peanuts, dairy, gluten, egg and soy. It is also non GMO, has no artificial colors and is preservative free. It contains only 60 mg of DHA, however, pregnant and lactating mothers can take up to six gummies daily. This product also contains zero iron due to its kid friendly form.
1. Nature Made Prenatal Multi+DHA 200mg, 150 Softgel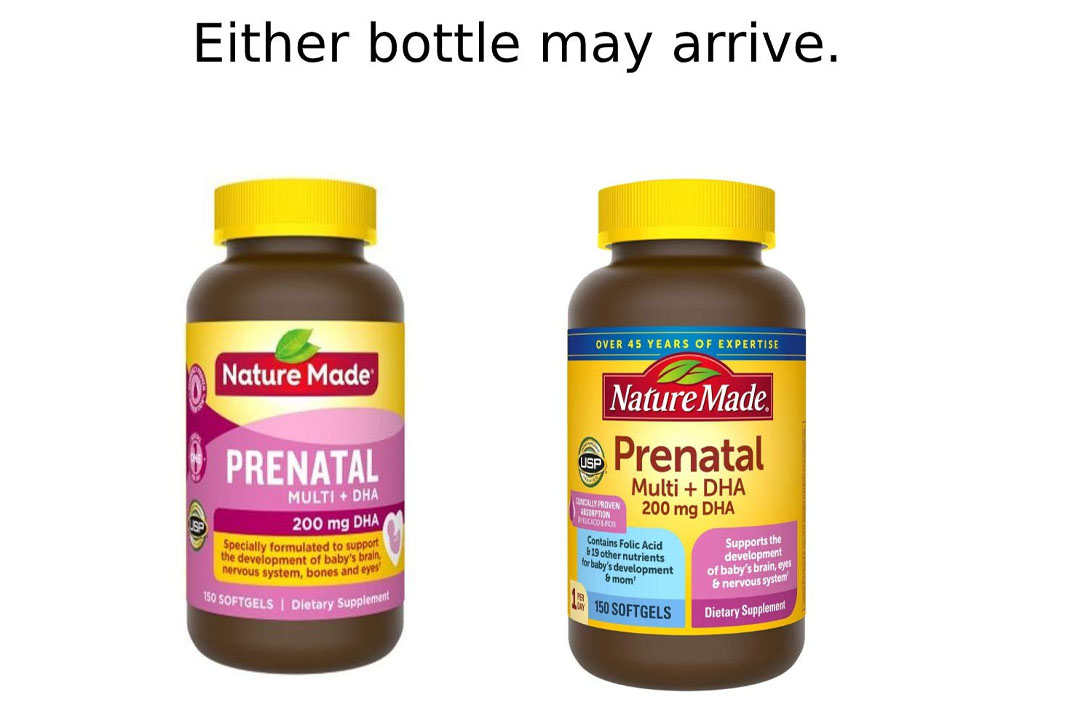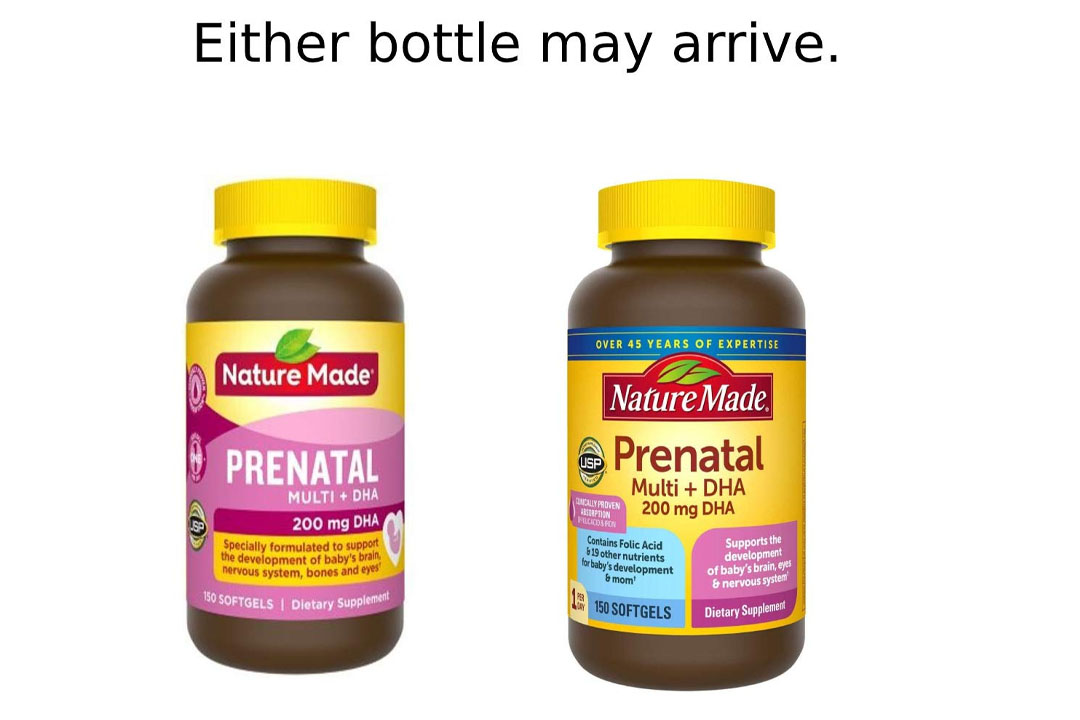 This Nature Made PreNatal is fully loaded with both required vitamins and DHA all in one capsule. This means that only one capsule, once a day will be required to meet the recommended allowance with DHA at 200 mg and the very essential folic acid. These softgels are yeast, gluten and preservative free. They have no artificial flavors and are an easy to swallow softgel.
Conclusion
As seen, choosing a prenatal vitamin entails a lot of research to find the one that most suits your circumstance. While the SmartyPants Prenatal Complete Gummy Vitamins would be an easy choice due to taste, ease of edibility and its all in one form, one would require to ingest up to 6 to reach the recommended amount of DHA. It also wouldn't be an easy task to remember throughout the day.
I, therefore, would recommend the Nature Made Prenatal Multi+DHA which is also an all in one softgel but only needs to be ingested once daily. It has 200 mg DHA, 6 essential vitamins, EPA, Iron, Zinc, and Calcium; the perfect combo for the expectant mother and her growing baby.
Any Top 10 is a participant in the Amazon Services LLC Associates Program, and we get a commission on purchases made through our links.