When it comes to sport, it is really important to ensure that you have prepared the right outerwear and equipment. This also applies to skiing as well. You will always have to make sure that you possess the best gear in order to protect yourself from the freezing weather on the mountain slopes and to perform your best to ski as well. Ski socks and leggings are one of the essential clothing that you have to carefully consider because one wrong choice could lead you to have one of the worse holidays you will regret. Skiing demands a lot of complex and consistent interactions between your upper- and lower-body muscles and your central nervous system to reflex at all times. According to this article, your foot and ankle muscles are one of the body systems that you will use when you ski. This muscle group has the important role for the edging, pressure and rotational movements used in skiing. Therefore, you should really consider choosing the right ski socks that will fit you the most. However, you may wonder how to choose the correct ski socks for yourselves. Before purchasing those socks, you should first understand all the aspects and qualities that you want in your ski socks first.
First of all, you may have been wondering, why are ski socks different from those normal socks. Why can't we pick our thick normal socks that you usually wear every day to ski? Unlike the normal cotton socks, ski socks are made with a defined heel and toe with elastomers equipped in all of the right places to prevent the ski socks from getting tangled up and falling down in your boots while you ski, which can cause a great amount of discomfort and annoyance to your mood. Ski socks are also made from special material and ingredients such as polyester, nylon, lycra, acrylics or double-spun merino wool which helps to wick moisture and sweat away from your feet and ankles. Most ski socks also have padding in specific areas to improve comfort when you descend down the mountain slopes and to prevent bruising in the shin area as well. Ski socks will also have a special thinner material across the top of the foot which allows blood to flow towards your toes easier and provides more warmth to your feet. If you want to read more on the difference between ski socks and normal ski socks, consider reading this.
Choosing the right ski socks can be based on several qualities. Firstly, you obviously choose the socks with the right size to fit your feet. A sock that is too small can make you feel tight, restrictive and uncomfortable whereas a sock that is too large can bunch up, pinch and cause painful pressure points to your feet. You may also have to decide which type of socks you want to buy as well. If you want to become a professional skier, it is best for you to choose ergonomic socks which are technically advanced than other types of ski socks, but that comes at a price. If you just ski for fun, then you would prefer tube socks which are the most basic, simple and affordable type of ski socks. You should also choose ski socks that have the right fabric types and wight as well. Different fabrics offer different degrees of comfort and moisture wicking properties. On the other hand, the fabric weight plays a big role in providing comfort and better performance and mobility for skiing. There are also some additional features that you would want to check as well. Read the absolute guide to buying ski socks for more information.
After you have decided which types and features you want for your ski socks, we will next introduce you to the top ten Best Men Ski Socks that are all Amazon best-sellers in March 2023. We guarantee that these socks absolutely contain all the finest qualities that you have been looking for.
List of the Best Men Ski Socks of 2023:
10. Seirus Innovation Windproof NeoSock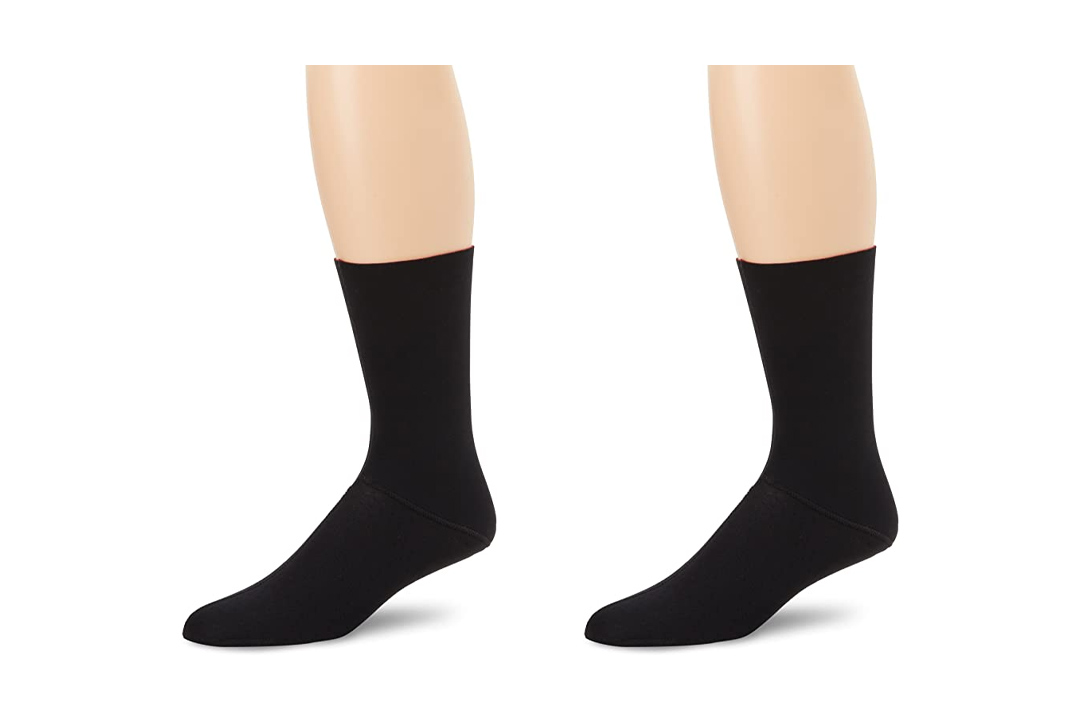 The tenth best ski socks on our list is Seirus Windproof NeoSock. These NeoSocks are exquisitely crafted with the great combination of waterproof, windproof and breathable qualities. The sock is ultra warm, comfortable, breathable and durable without excessive bulk. It is crafted with patented technology that offer the comfort of 4 -way stretch and warmth of neoprene. It is also made with breathable Macro-porous technology which seals in the heat and provides dryness and warmth without a damp, clammy feeling to your feet. However, this sock is constructed with seams, so it is not fully waterproof but it guarantees to outlast ordinary socks 3 to 1!
9. Thermal Compression Ski Socks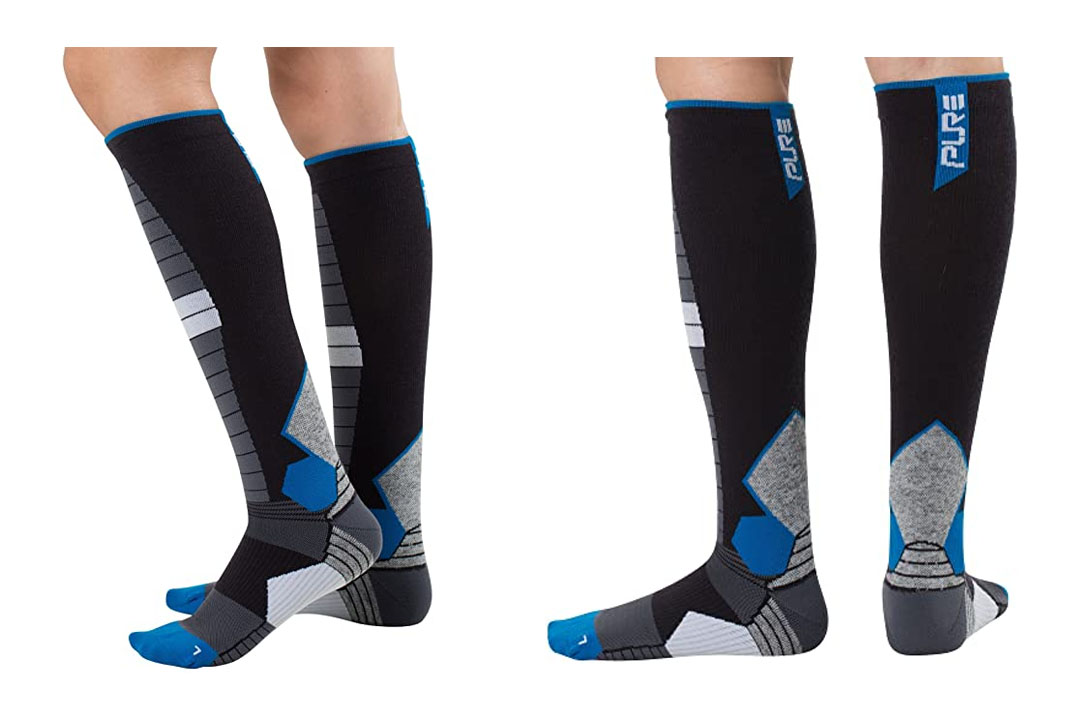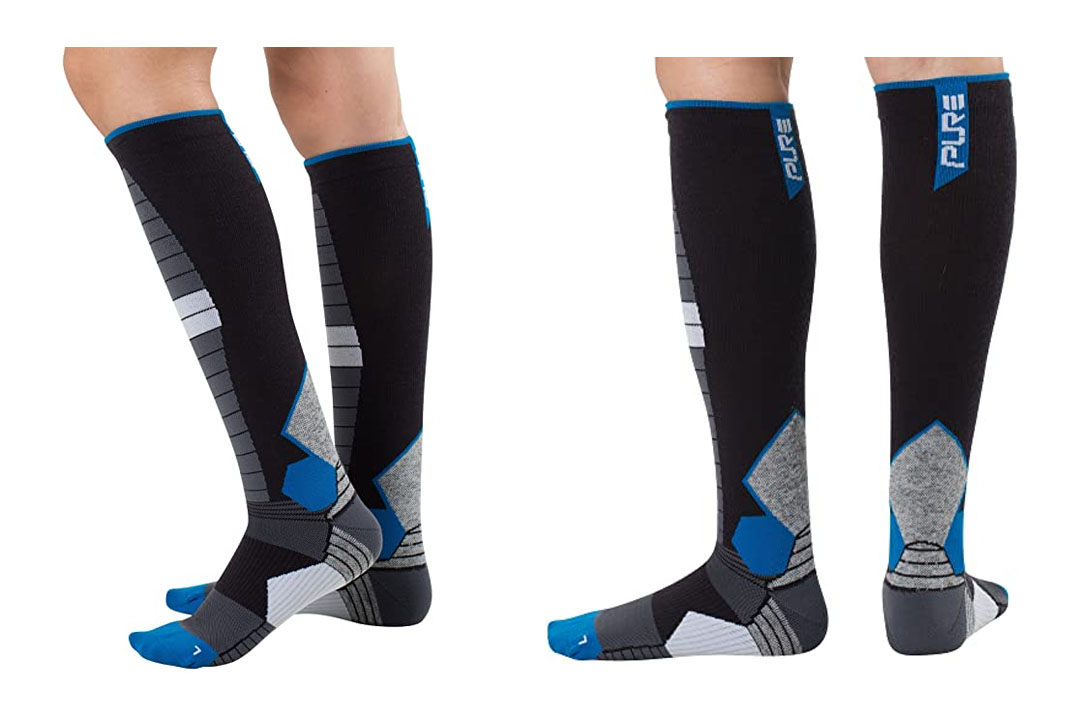 Each pair of these compression ski socks feature an innovative compression technology to help improve blood circulation and energize your legs while skiing. They are made with a merino wool blend, which provides warmth without being too thick to ensure they comfortably fit into your ski boots. The wool also contains anti-odor properties and moisture wicking quality to prevent the buildup of perspiration from your feet. It also has a compression in each ski sock which helps the socks to fit snugly to your feet and legs. The socks will stay perfectly in place and comfortable all day while you ski or snowboard.
8. Darn Tough Vermont Men's Skiing Socks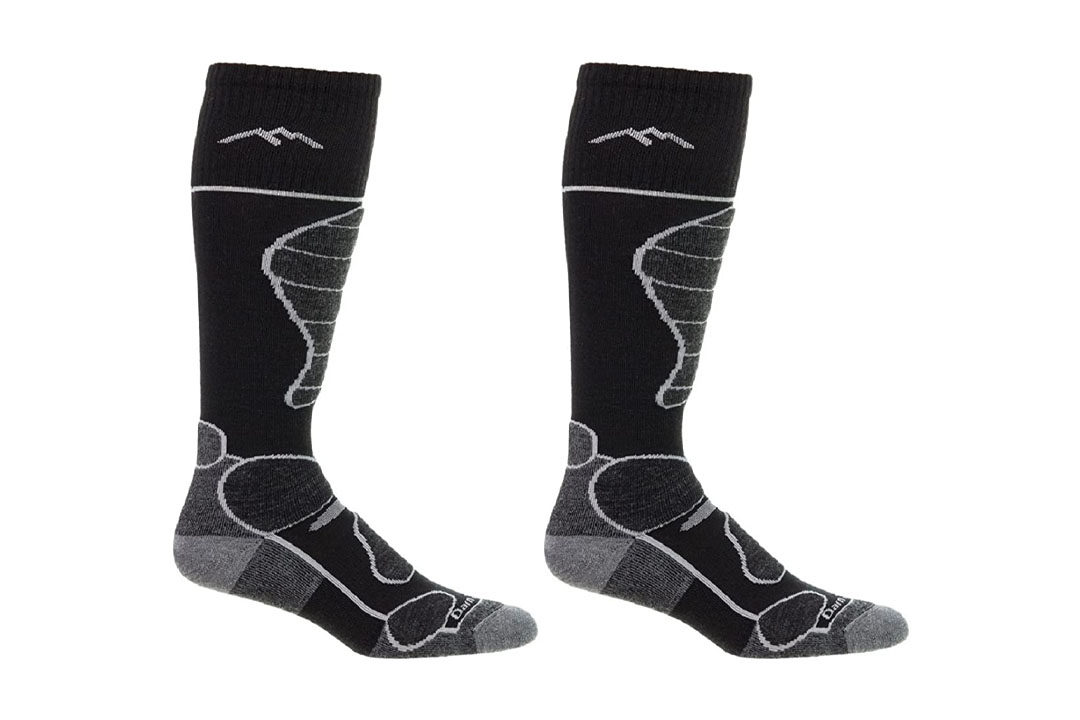 These Darn Tough Vermont Skiing Sock does live to its name. The socks are crafted with the finest material. Their main ingredients include 62% of Merino Wool, 34% of Nylon, and 4% of They are Lycra Spandex. Soft, breathable and anti-microbial merino wool helps cushion your feet while moving sweat and moisture away so your foot stays dry and comfortable for all day. On the other hand, nylon fibers improve durability to the socks and Lycra adds stretch so the socks would conform perfectly to your foot for an optimal fit. Its seamless construction keeps chafing and blisters away. These socks are 100% made in Vermont, USA. All the employees are committed to make the finest Premium All Weather Performance Socks with the best quality. They ski, snowboard, hike, bike and run in the most unforgiving climate in the lower 48 as design, test and manufacture their socks to withstand in those harsh weathers.
7. CompressionZ Thermal Winter Sport Compression Socks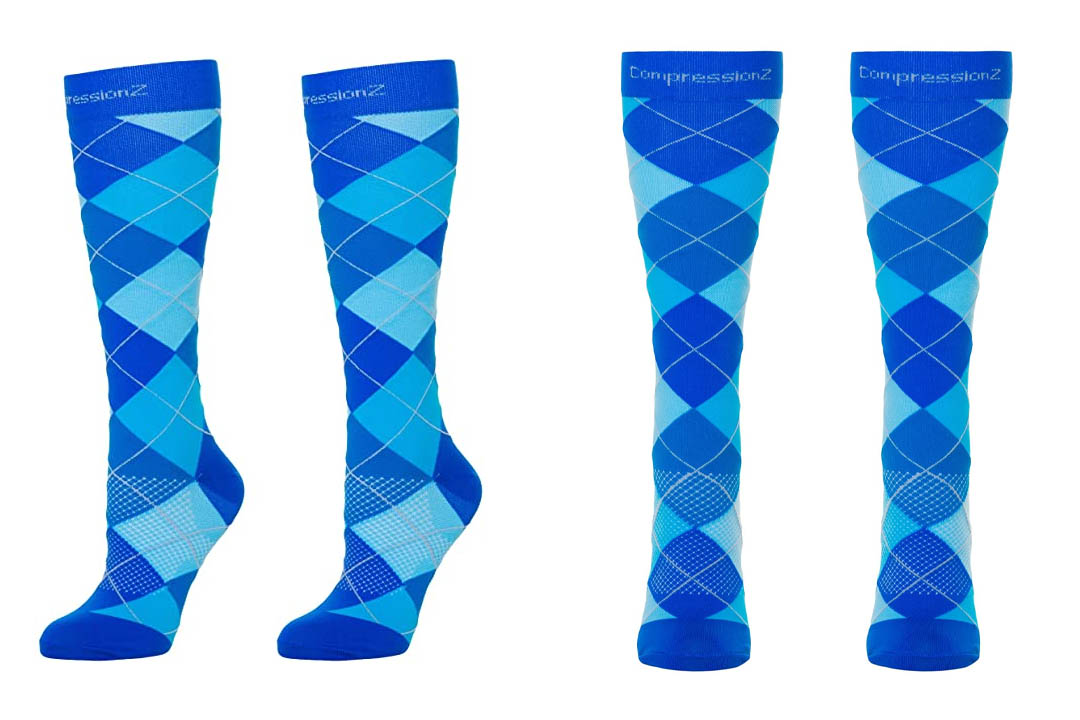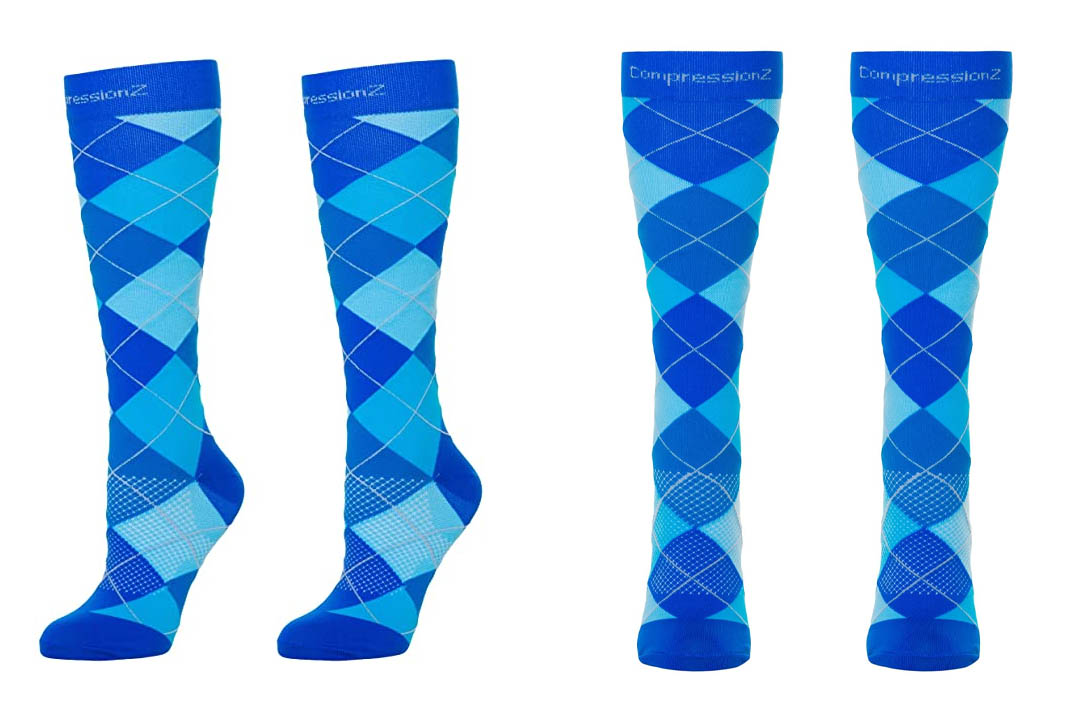 We would like to present to you one of the finest item that claims the seventh spot on this list, the Thermal Winter Compression Socks. This advanced compression in these knee-high thermal socks promote better blood circulation and blood flow to reduce lactic acid, a harmful chemical that build up in your system and reduce your muscle recovery times. These winter socks are crafted with fabric that contains moisture-wicking quality to keep your feet dry in the cold weather. These thick socks are also heavy enough to trap heat for long periods and light enough to keep your calves and feet cool and dry under boots and outerwear. These breathable over-the-calf warm socks are lightweight, form-fitting, and feature padding on the heel and shin to reduce impact from your ski boots. They also boast an anti-slip cuff to reduce sliding or bunching when you ski. These OTC socks always keep your feet warm and moisture-free to help reduce seating and odors while you do any kinds of outdoor activities. These Compression Socks are made with consideration of your health. They also made with anti-itch property which helps reduce chafing and irritation. The compressive support in these hiking socks is ideal for those with plantar fasciitis, Achilles tendon issues, or heel or metatarsal pain, and the warmth is great for any kinds of winter outdoor activities.
6. Ultimate Socks Mens Midweight Merino Wool Ski Snowboard Warm Socks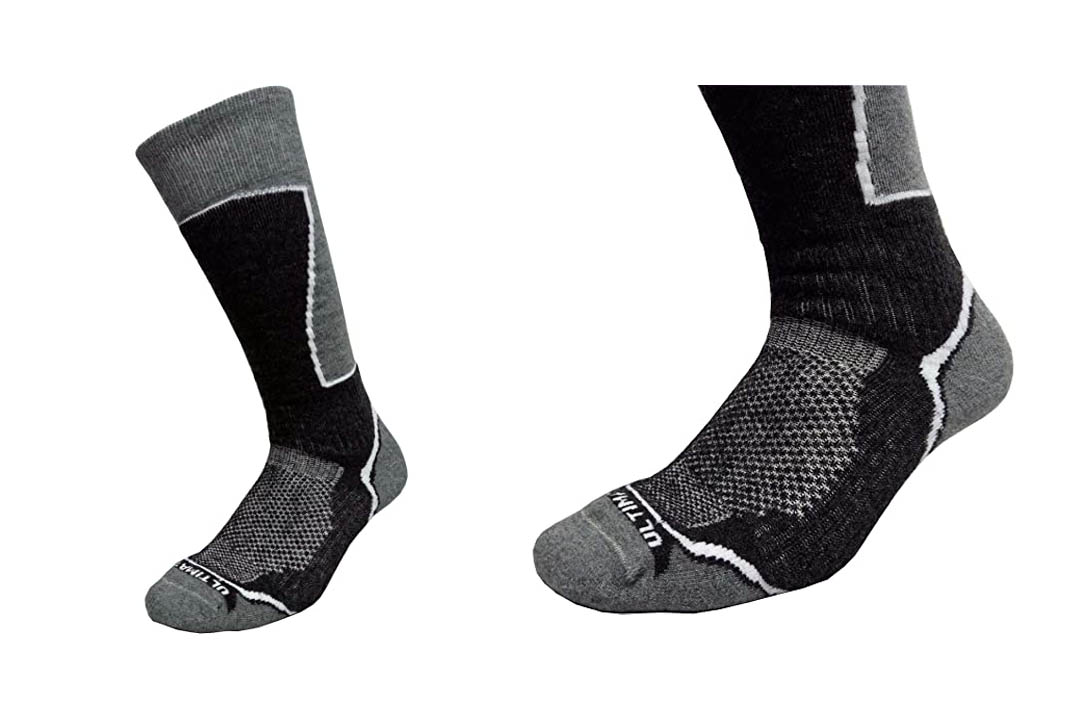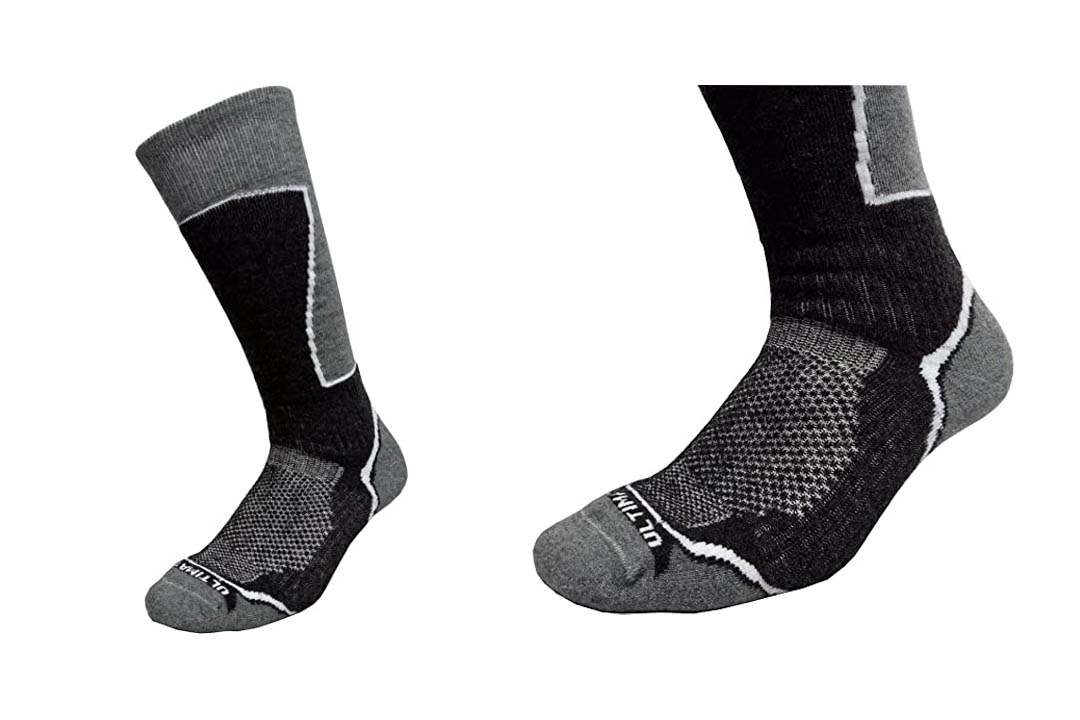 Looking for the ski socks that will help keep your feet effectively warm at all times, then Ultimate Socks would never disappoint you. They made Midweight Ski Socks which contain high content of merino wool up to 70%! Merino wool is soft and has the property to warm your body when the temperature gets cold. They are made with the perfect balance of cushioning, moisture management, and durability. It is also crafted with flat knit toe seam and is virtually unnoticeable even when you wear tight ski boots! The socks feature an arch brace to hold the sock in place and ultra smooth cuff to help the socks to stay up all day. Ultimate Socks utilize their unique knit pattern which aims to deliver the right amount of cushioning in the toe heel and shin. It also comes with the 100% guarantee, so Ultimate Socks will give you your money back if they cannot satisfy you, but we guarantee that you will surely love them.
5. Ski Socks – Best Lightweight Warm Skiing Socks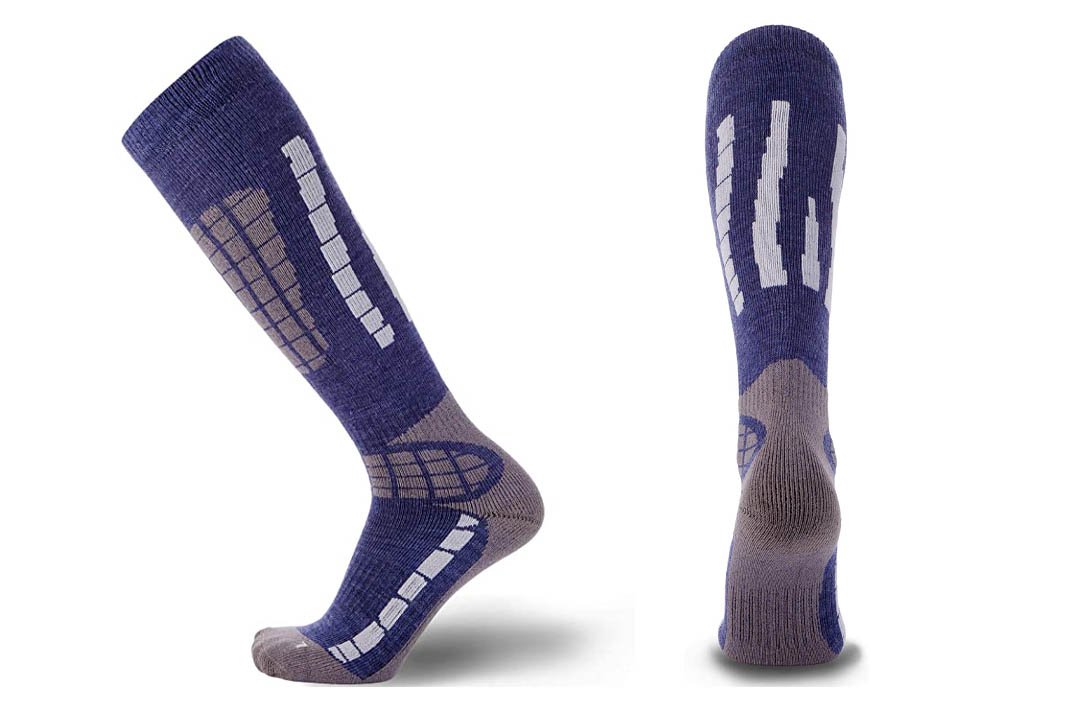 Pure Athlete is proud to introduce its Elite Ski Socks that are made with the finest merino wool blend. The ski socks are lightweight but still warm, perfect for those who are looking for gears that allow more freedom of movement. The wool also has anti-odor properties that helps to prevent the build of smells from your feet. You do not have to worry about your feet getting hot or sweaty in your ski boots thanks to the breathable design. They are also equipped with moisture-wicking ability to help keep the ski socks light and dry. The ski socks feature a special cuff at the top of the socks to prevent the socks from slipping or sliding into your boots while skiing. The socks also have other features such as the comfort sole and light arch support. Your Feet will feel great all day thanks to its ultra-comfortable sole. On the other hand, the light arch support band allows the socks to gently hug your feet and not shift from place to place while you move on the slopes. If at any time they do not live up to your expectations, you can simply contact Pure Athlete for a full refund. However, we are sure that you will never want to part from them at all!
4. Eurosocks Ski Zone OTC Socks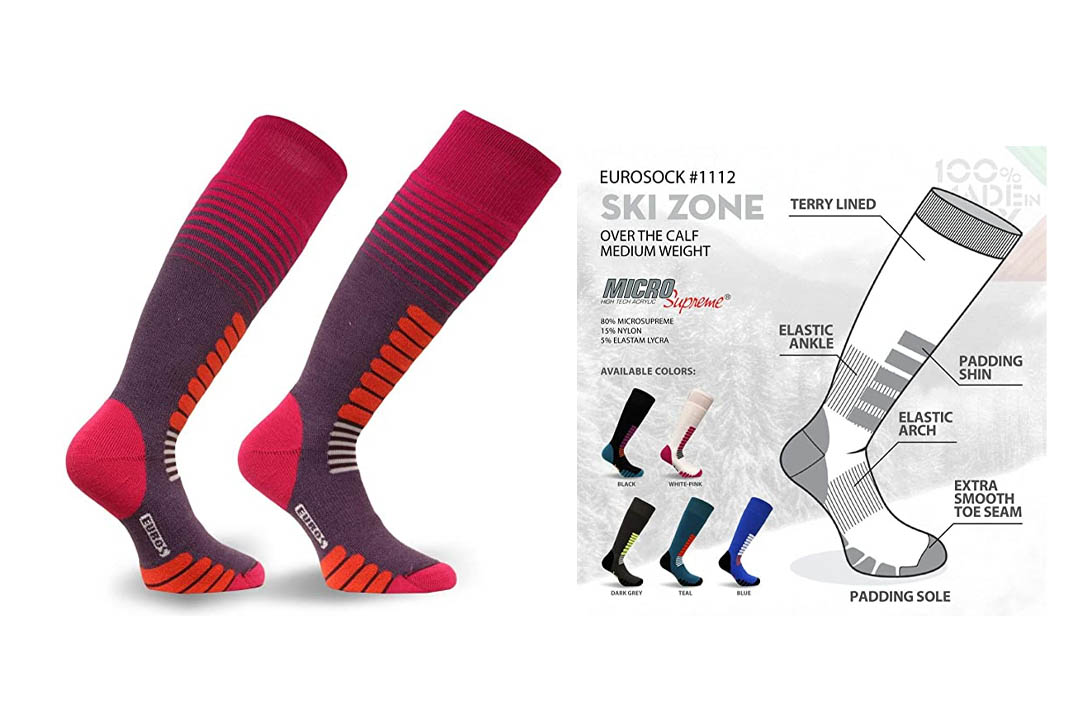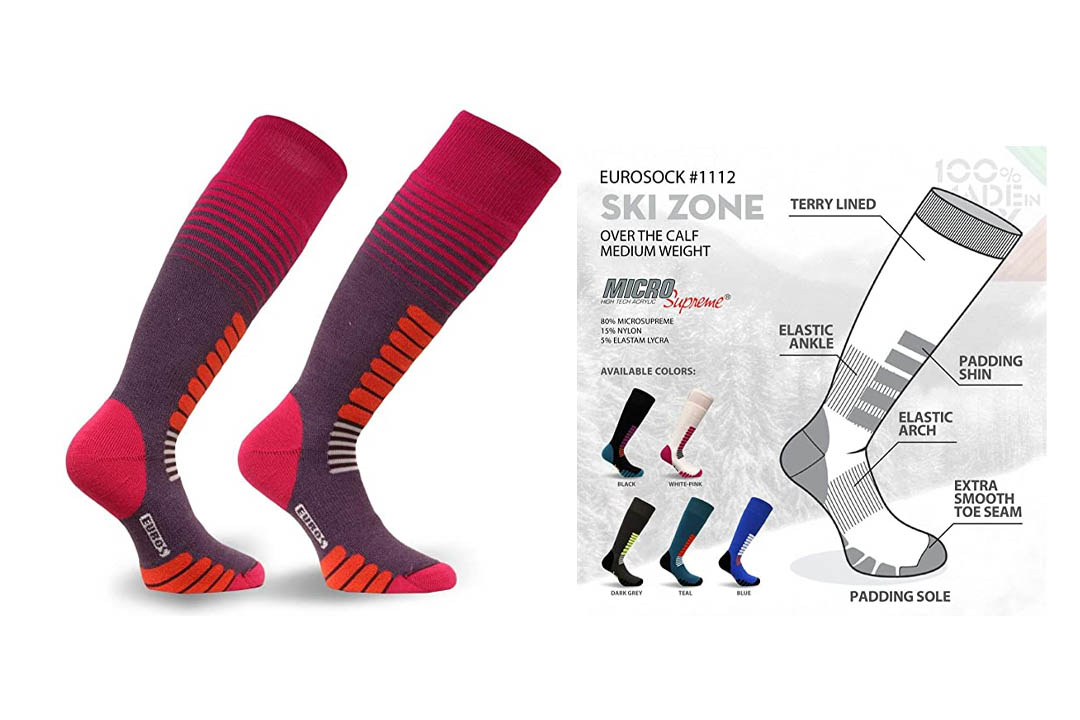 Coming on the fourth place are the finest Eurosocks Ski Zone OTC Socks. This medium-weight ski sock offers great comfort zone and adapts easily. They are extremely soft and comfortable which makes them fit perfectly and easily to any types of ski boots. They also provide cushioning support, eliminate friction, and absorb shock. Some of its supportive features include the elastic arch band and ankle brace, smooth toe, and flat knit construction to ensure both a wrinkle-free fit and feel. The socks are made with micro-supreme technology and exclusive DryStat or MicroSupreme fiber that provides both warmth and protection with optimum moisture control to help reducing the growth of bacteria and fungus and promote a healthier environment for your feet when you ski. Eurosocks are 100% made in Italy and offer ski socks that crafted with advanced technology, exclusive materials, superior craftsmanship, and the highest quality.
3. PureAthlete High Performance Wool Ski Socks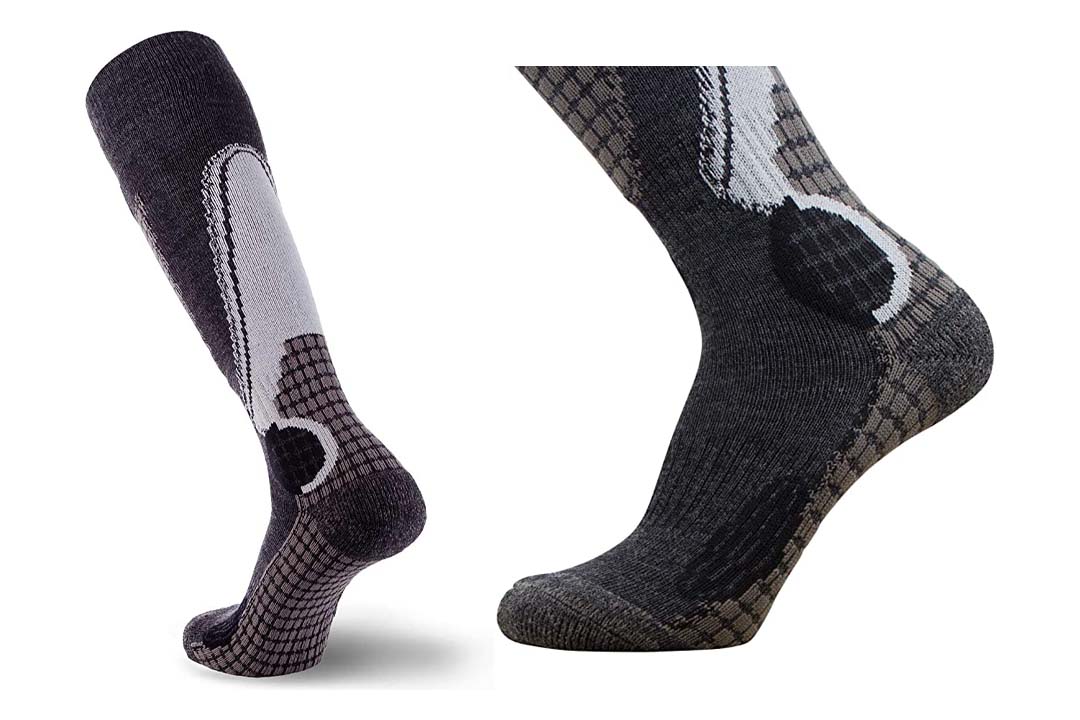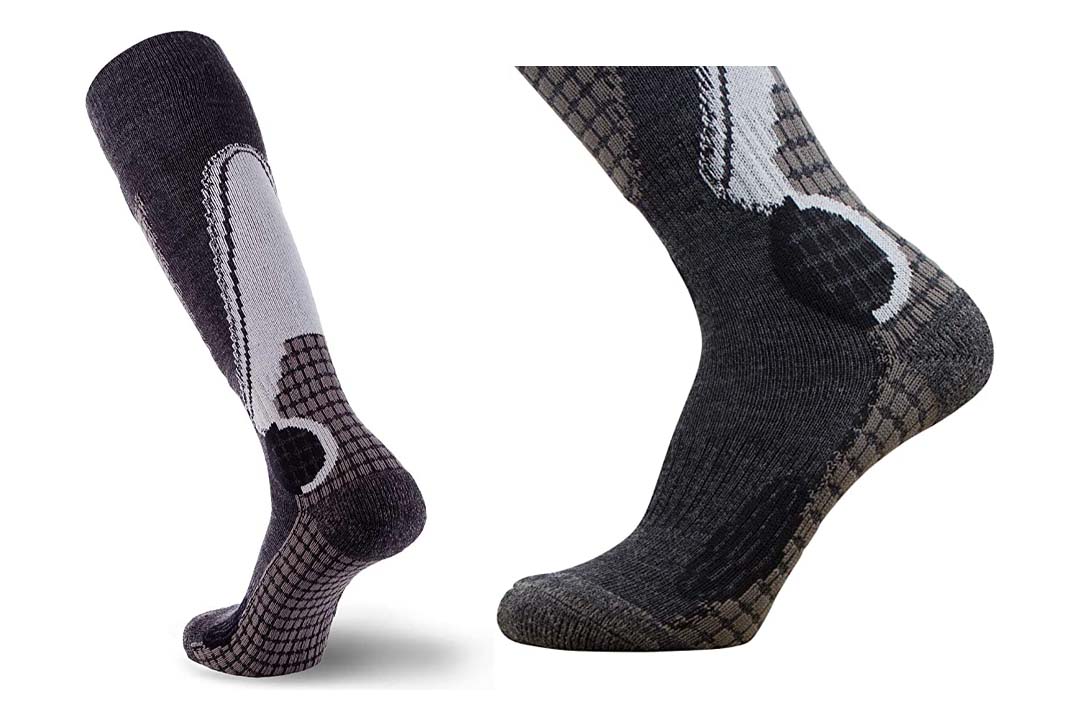 Pure Athlete again would like to offer one of its best selling ski socks, the High Performance Wool Ski Socks. The sock was an innovative blend of merino wool and polypropylene which have the property to wick moisture away while maintaining your feet's natural temperature while also prevent feet from feeling too warm as well. Its main ingredients include 54% of Nylon, 25% of Merino Wool, 16% of Polypropylene, and 5% of Spandex. The socks are made with advanced knitting techniques that offer cushioning in the shin, ankle, and the foot areas to ensure the ultimate comfort and prevent any uneasiness and irritation when worn with ski boots. The ski socks also feature an elastic at the top to prevent themselves from sliding down, ensuring that the socks would stay in place at all time while you are on the mountain slopes. Last but not least, these high performance wool ski socks come with an elastic arch support which provide comfort and helps to reduce fatigue in the feet. The socks are totally machine Washable and are made to last over many years of use.
2. Pure Athlete Alpaca Ski Socks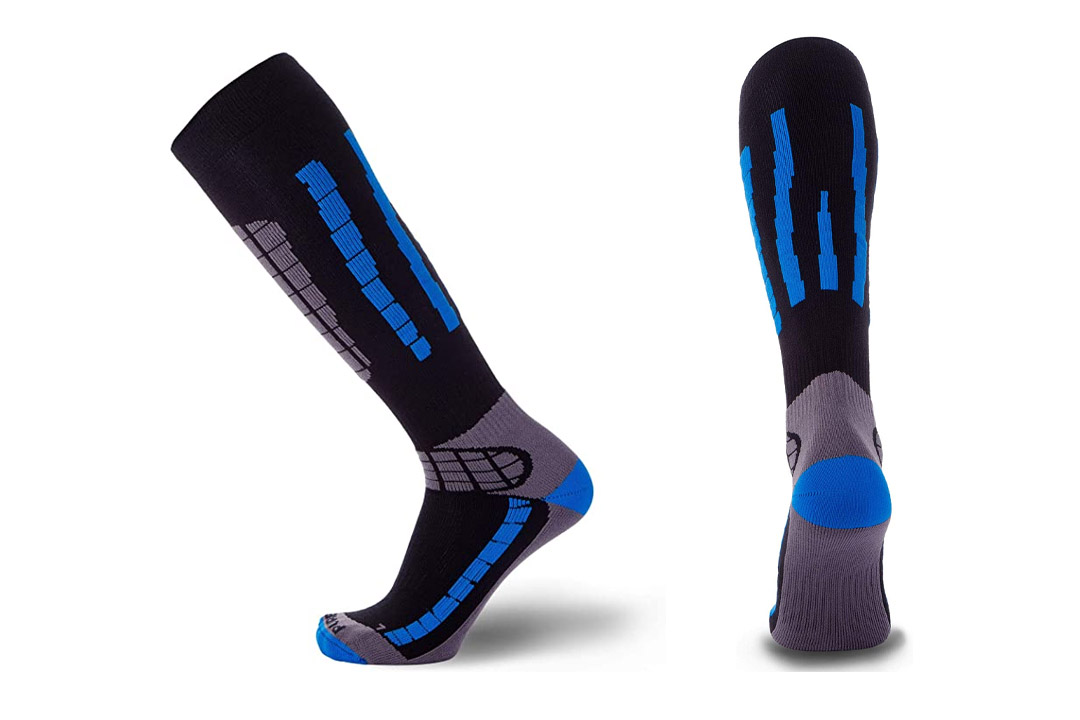 Pure Athlete utilizes the advanced material, merino wool, that would keep your feet warm while skiing or snowboarding. The ski socks are thoroughly designed to provide heat-regulating properties that will bring warmth to your feet without overheating. The ski socks are made with ultra-soft material to ensure there will be no irritation while you ski. The ski socks are also engineered with anti-odor and moisture wicking properties to prevent the buildup stink and perspiration that stuck on your feet. Pure Athlete Sky Socks are made of 23% Merino Wool 16% Polypropylene, 58% Nylon, and 3% Lycra Spandex. Some of their best features are a light cuff at the top of the sock which helps prevent it from slipping or sliding down in your boots, and a light padding in the key areas which helps prevent shin bang. Besides from skiing, those ski socks can be used in other outdoor activities as well including ice fishing, snowshoeing, snowboarding, camping, trekking, or any cold weather activities.
1. Wigwam Men's Snow Sirocco Ski Socks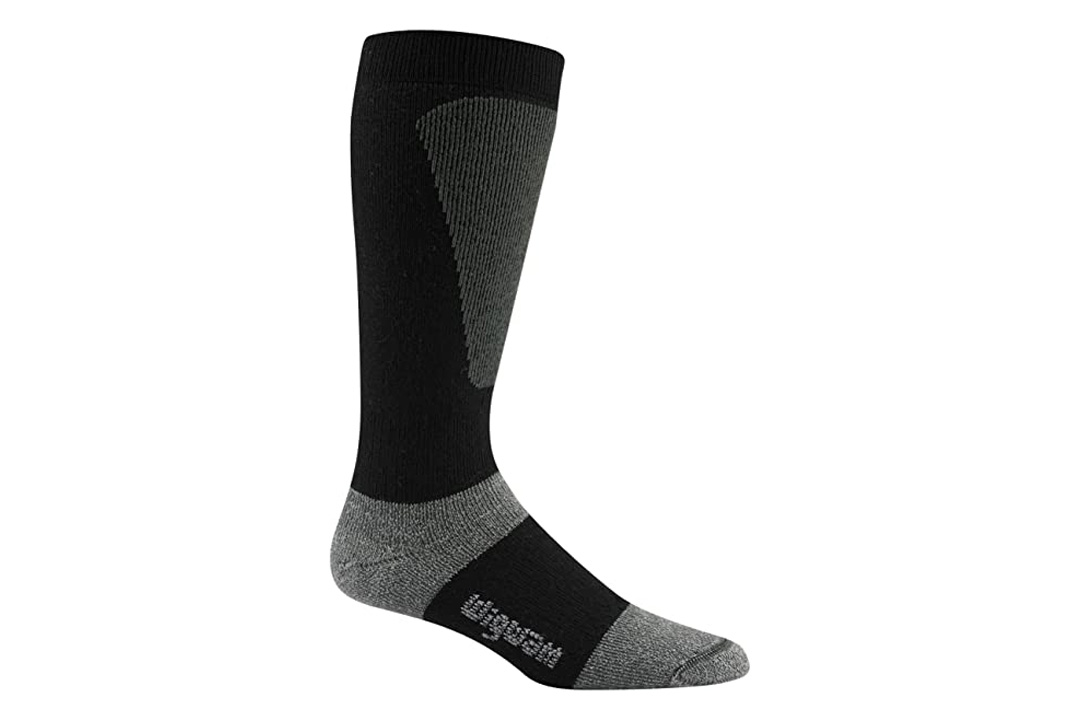 Landing on the top spot of this list is the #1 Amazon Best Seller in the category of Men's Skiing Socks, The Wigwam Men's Snow Sirocco Ski Socks. These ski socks feature several beneficial features that have been praised by many customers. These midweight ski socks are cushioned throughout the leg and foot, keeping your feet protected and comfortable at all times. The socks also have the shin reinforced with durable synthetic fibers and extra cushion, provides extra protection in key impact zone. They also features seamless toe that doesn't cause discomfort for your feet. Their material mainly consist 42% Wool, 24% Stretch Nylon, 21% Polypropylene, and other remaining ingredients such as Stretch Polyester, Olefin, and Spandex. Lifetime Product Guarantee is also included with this item as well. Wigwam Mills, Inc is the company that already has over 110 years of experience crafting and selling one of the most comfortable, durable and innovative socks. The company guarantee that their socks will be made with best quality and they can withstand the most challenging conditions and stand the test of time.
Conclusion
We have already listed and thoroughly describe all the details of the top ten best ski socks. Now it is up to you to decide which ski socks that would suit you the best. If you are going for an ergonomic sock, then you should consider buying ski socks from Wigwam or Pure Athlete. On the other hand, if you want a more basic tube ski sock with less functionality, then you can choose Seirus ski socks. Overall, all the socks come with a reasonable price. You may think that buying socks for ten or twenty dollars can be expensive; however, you should always put your health and comfort as your main priorities. Choosing normal socks with no beneficial features such as those to warm and dry your feet can put you in a terrible situation when you ski. Moreover, you can obtain pain and injuries as well due to the poor quality of your socks. To ensure that you will have the best ski experience, buy one of these pairs of ski socks and you will not regret later on.
Any Top 10 is a participant in the Amazon Services LLC Associates Program, and we get a commission on purchases made through our links.