Debris and algae accumulation profoundly affects the durability, aesthetics, and value of an in-ground pool. Unlike traditional pool cleaners, robotic pool cleaners guarantee higher cleaning success rates. They also boast of unmatched energy efficiency and excellent build quality. Here are ten robotic pool cleaners designed for in-ground pools you should consider buying.
List of the Best In Ground Robotic Pool Cleaners of 2023:
10. Maytronics 2016 Dolphin E10 Robotic Swimming Pool Cleaner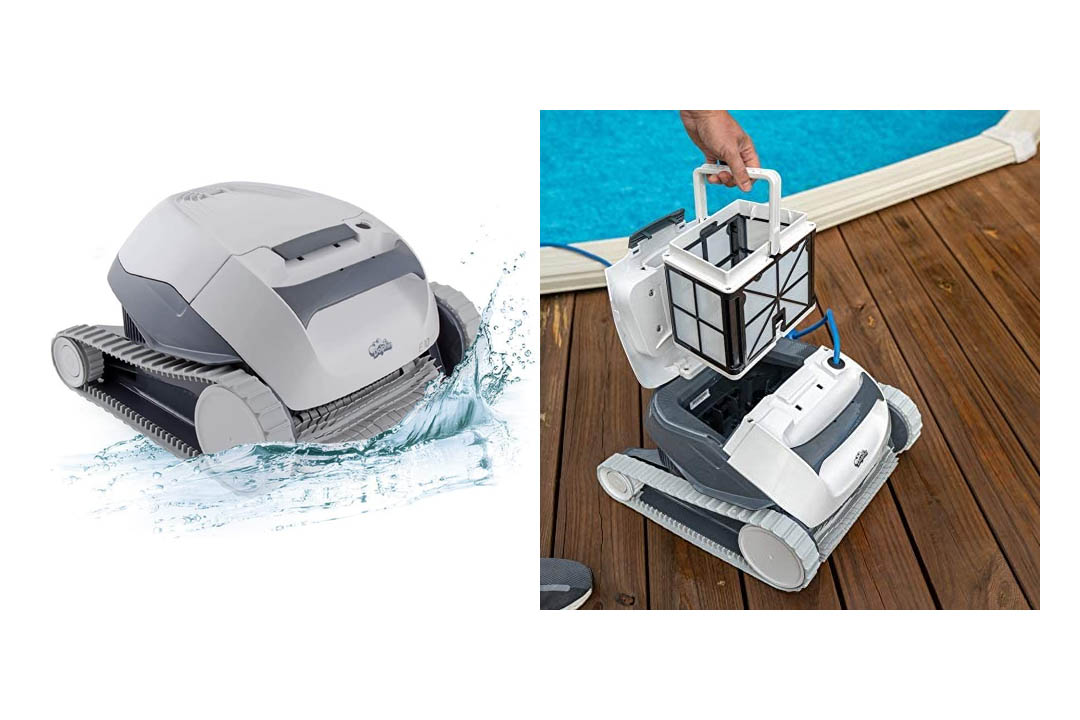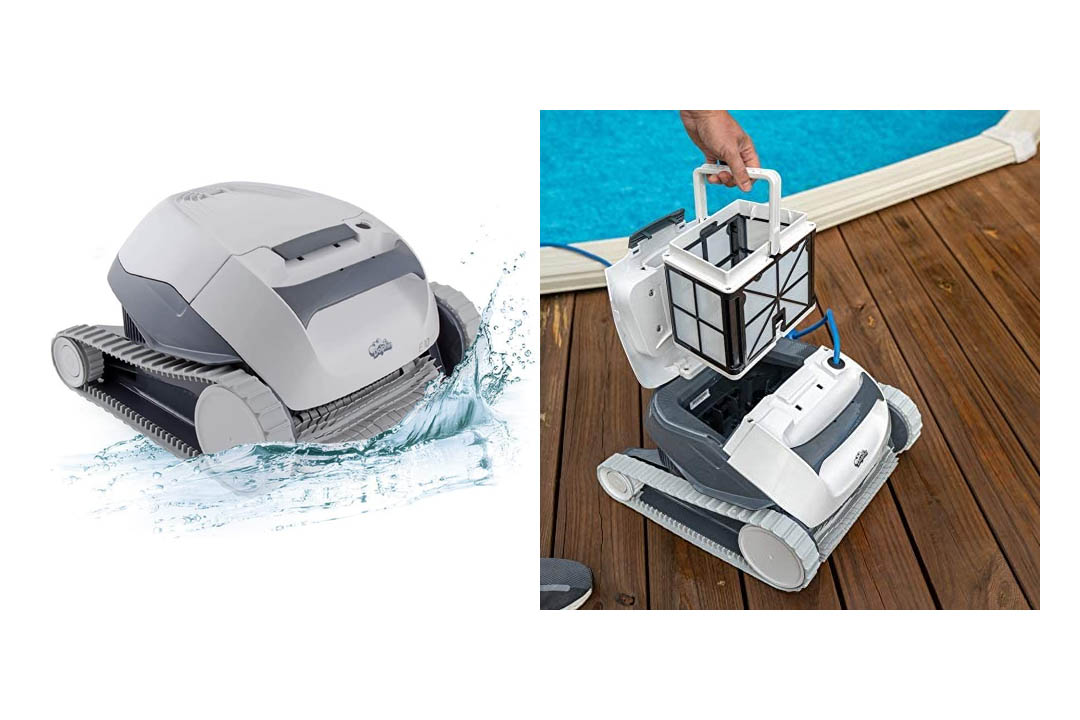 Dolphin E10 is an economical cleaning robot measuring 18 x 22 x 12 inches in dimensions and weighing 22.8 pounds. The in-ground pool cleaner features a top-access filter system and CleverClean sensor technology for keeping your pool free of dirt and debris. Dolphin E10 is lightweight and easy to handle.
The device has a weather resistant power supply system with touchscreen controls. Dolphin E10 features Maytronics renowned microchip technology to offer accurate navigation when cleaning. The brushes on E10 can spin two times the speed of an average robot when removing debris and algae from an in-ground pool.
Learn more from its website.
9. Aquabot Elite Inground Robotic Pool Cleaner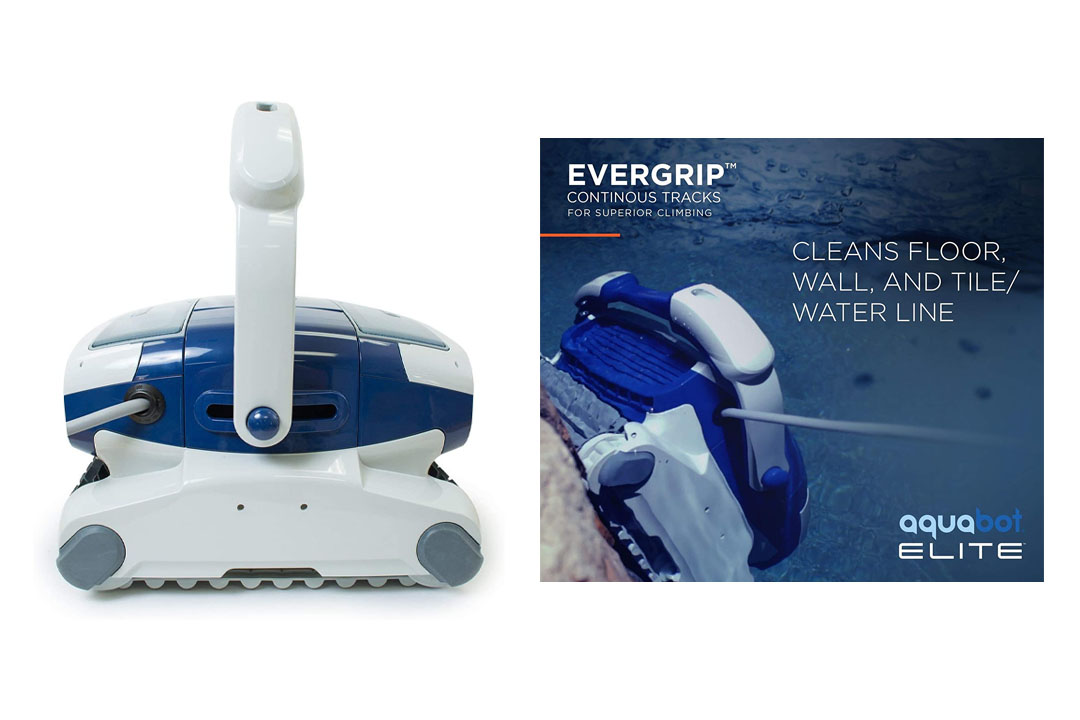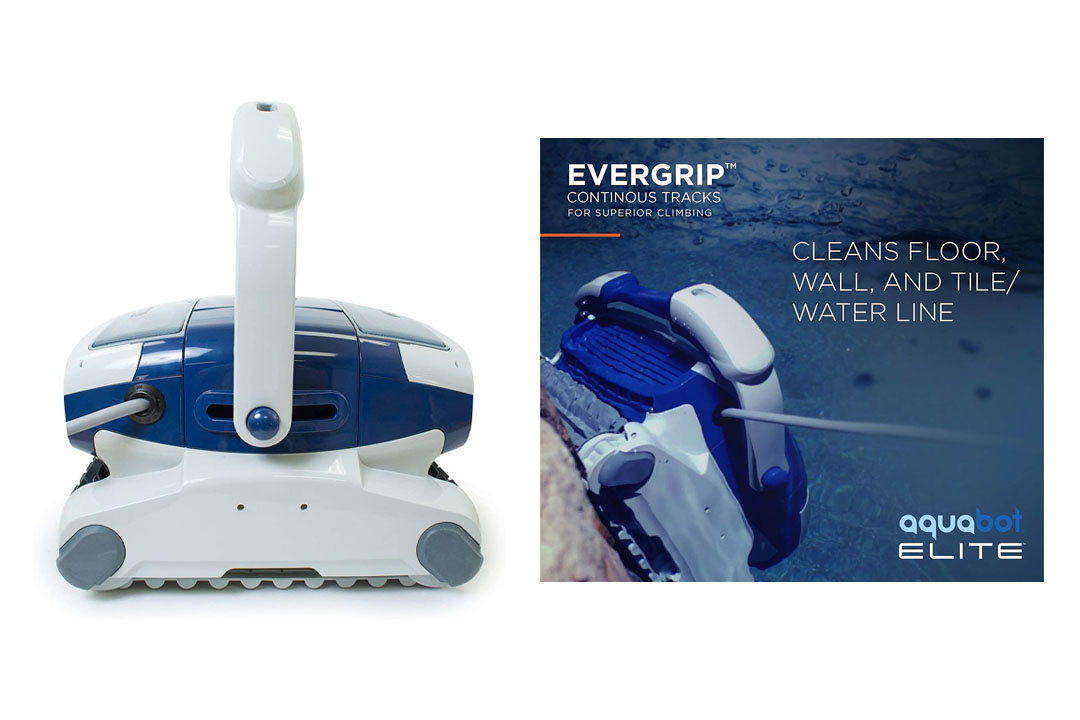 Aquabot Elite is a sleekly-designed in-ground pool cleaner that features dual filtration cartridges. With a 360-degree anti-tangle swivel and dual scrubbing brushes, the device can eliminate algae and debris from your pool. Aquabot engineers designed Elite after several years of researching and consulting with pool owners across three continents. Elite weighs 39.6 pounds and measures 20.8 x 20.5 x 18.5 inches in dimensions.
8. Blue Wave NE3290F Aquafirst Robotic Cleaner for In-Ground Pools
NE3290F Aquafirst is among the few in-ground robotic cleaners that can filter up to 4,500 gallons of water in an hour. Blue Wave's pool cleaner can help you clean a 20 x 40 feet in-group pool in less than 2 hours. NE3290F comes with a 50-ft long floating cord, front, and rear scrub brushes and an auto shut-off feature to improve your pool cleaning experience. With a weight of 17 pounds, the device is lightweight and easy to use.
7. Smartpool NC22 SmartKleen-Robotic Pool Cleaner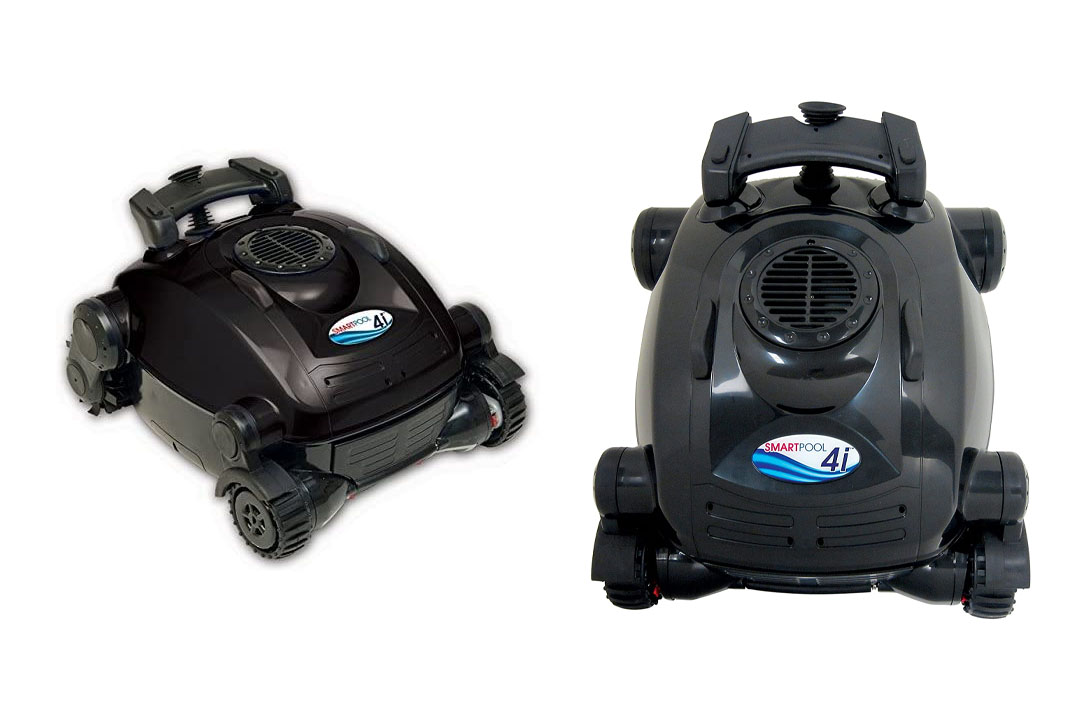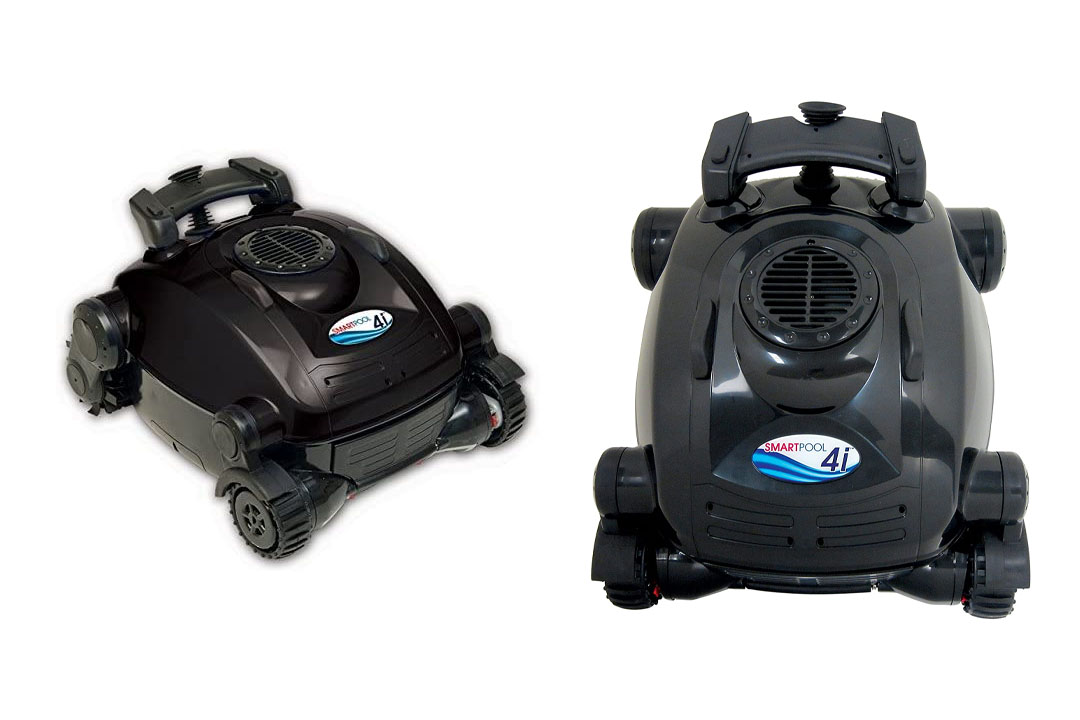 NC22 SmartKleen is a lightweight robotic pool cleaner from Smartpool that features an extra-large filter bag capacity and a 40-ft power cord. You can use the equipment when cleaning concrete, fiber or vinyl liner pools. With an intelligent navigation system, NC22 doesn't need walls to change its direction. The device automatically shuts off after every two hours when left idle to save energy bills.
6. Dolphin Nautilus CC Plus Automatic Robotic Pool Cleaner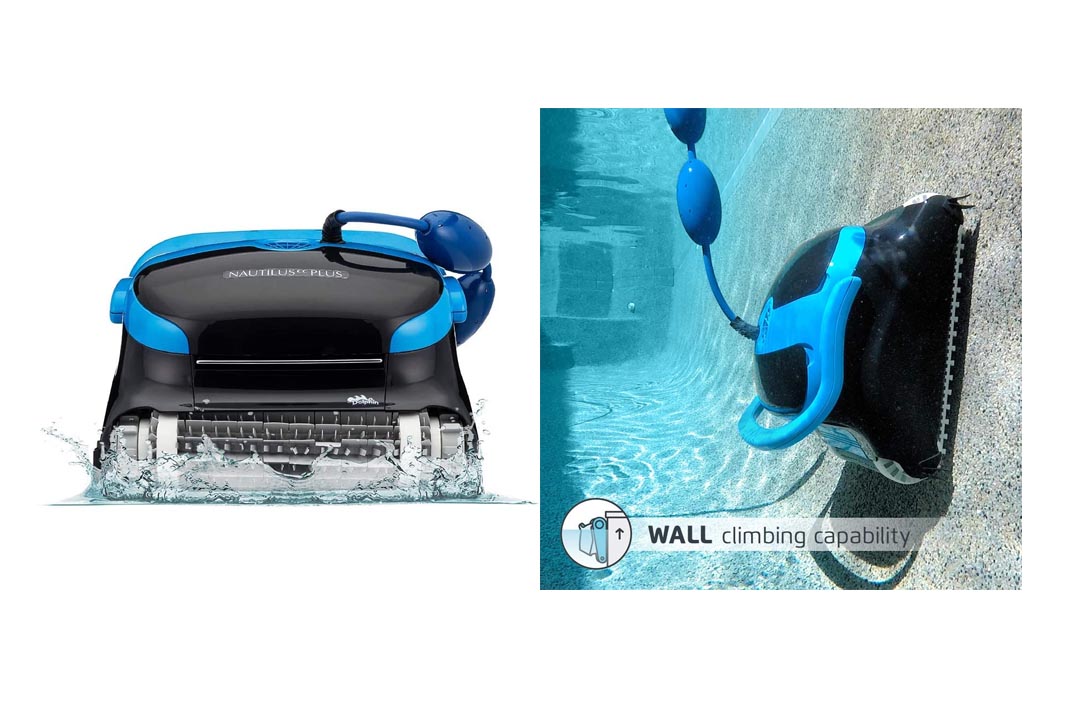 Polaris F9550 is a 4-wheel drive robotic cleaner featuring Aqua-Trax and ActivMotion sensor technology for accurate navigation. You can use it on all pool surfaces without worrying about reaching debris hiding in tight corners or under stairs. Polaris F9550 has a 7-day programmable timer to help you customize your cleaning experiences. The equipment also features a low torque and watertight swivel for protecting the power cord and an easy-to-clean filter.
5. DOLPHIN Proteus DX3 Automatic Robotic Pool Cleaner
Check Price on Amazon.com
DOLPHIN Proteus DX3 allows you to clean your concrete, fiberglass, vinyl or tile pool that is 50-feet deep in 360 degrees. The robotic pool cleaner comes with a Caddy Cart, 4 cartridge filter inserts, 4 net filter inserts, and a 60-ft swivel cable. DOLPHIN Proteus DX3 also boasts of a superior filtration system that can facilitate clog-free cleaning and offer additional water clarity. You can rely on its CleverClean cleaning technology to maintain your pool and achieve long-lasting cleaning performances.
4. Dolphin Quantum Robotic Inground Pool Cleaner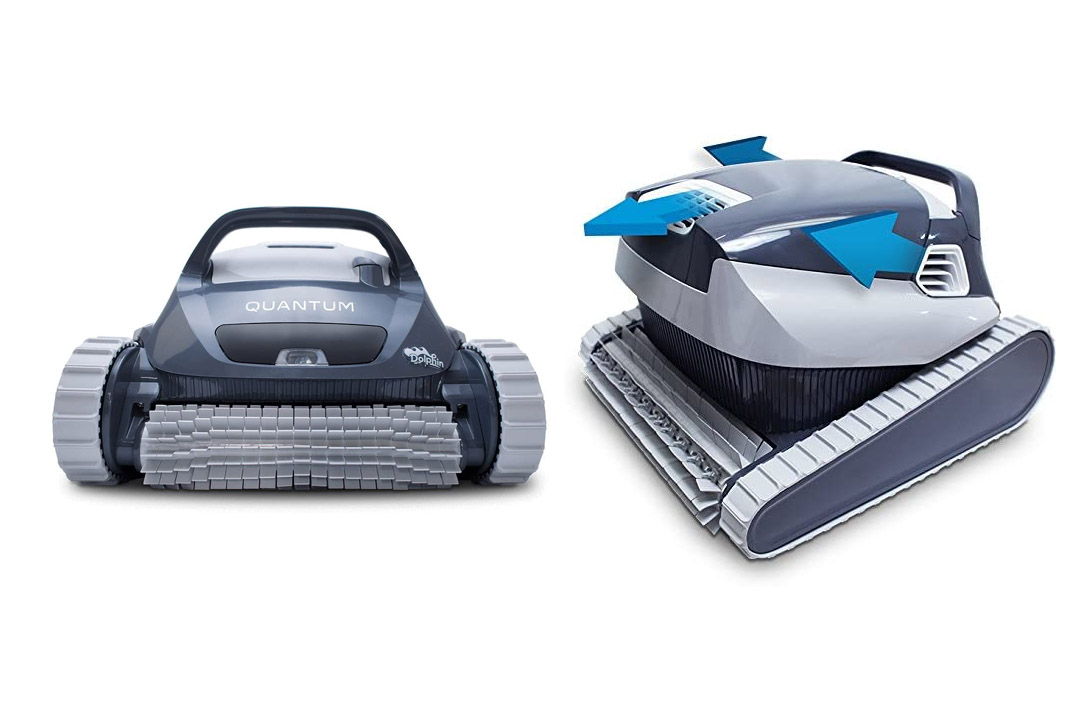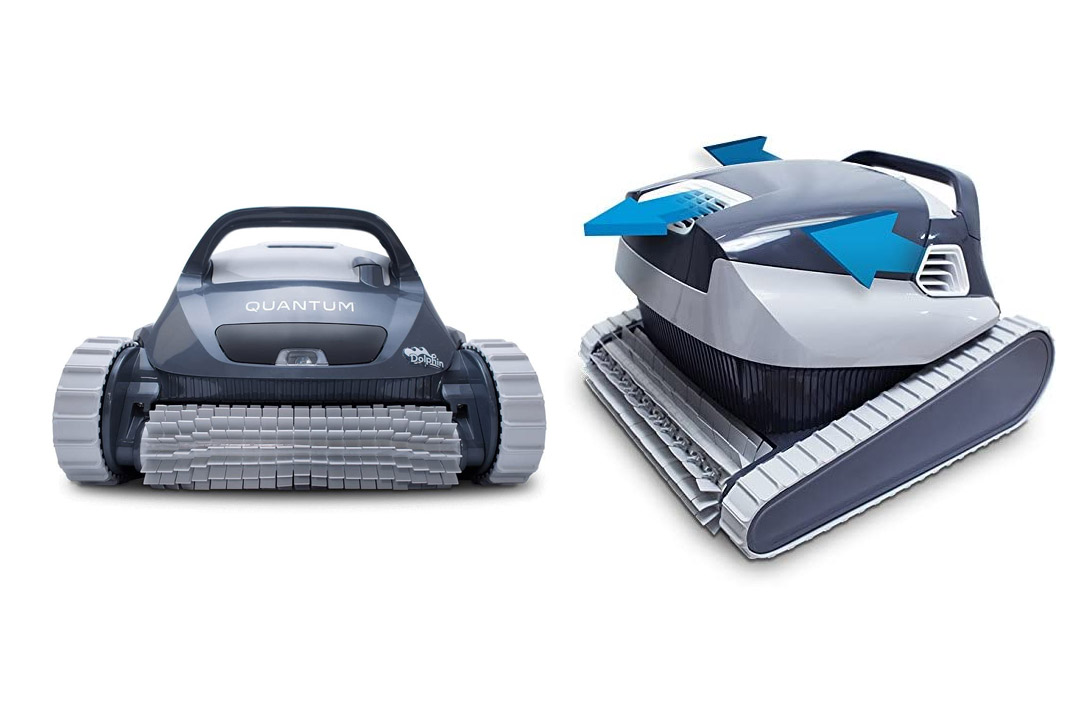 Dolphin solidifies its position in the in-ground pool cleaning market with the Quantum Robotic cleaner, which features the largest (400 square-inch) cartridge filter in the world. Quantum also features variable microfiltration traps for catching the smallest algae and debris. The device has Hypergrip Continuous Rubber Tracks that enhance its movement on different pool surfaces. Other notable features in Quantum include Hyperbrush Dual Scrubbing brushes, SmartNav 2.0 Efficient Robotic Navigation and PowerJet 3D Mobility.
3. Pentair 360032 Kreepy Krauly Prowler 830 Robotic Inground Pool Cleaner with 60 Foot Cord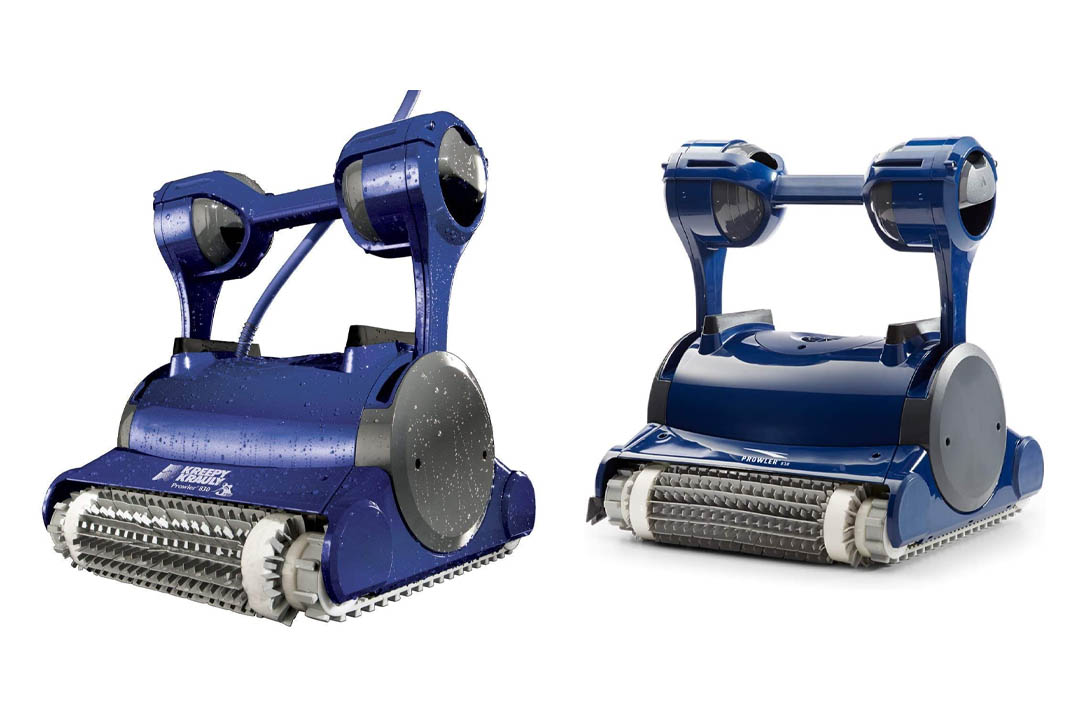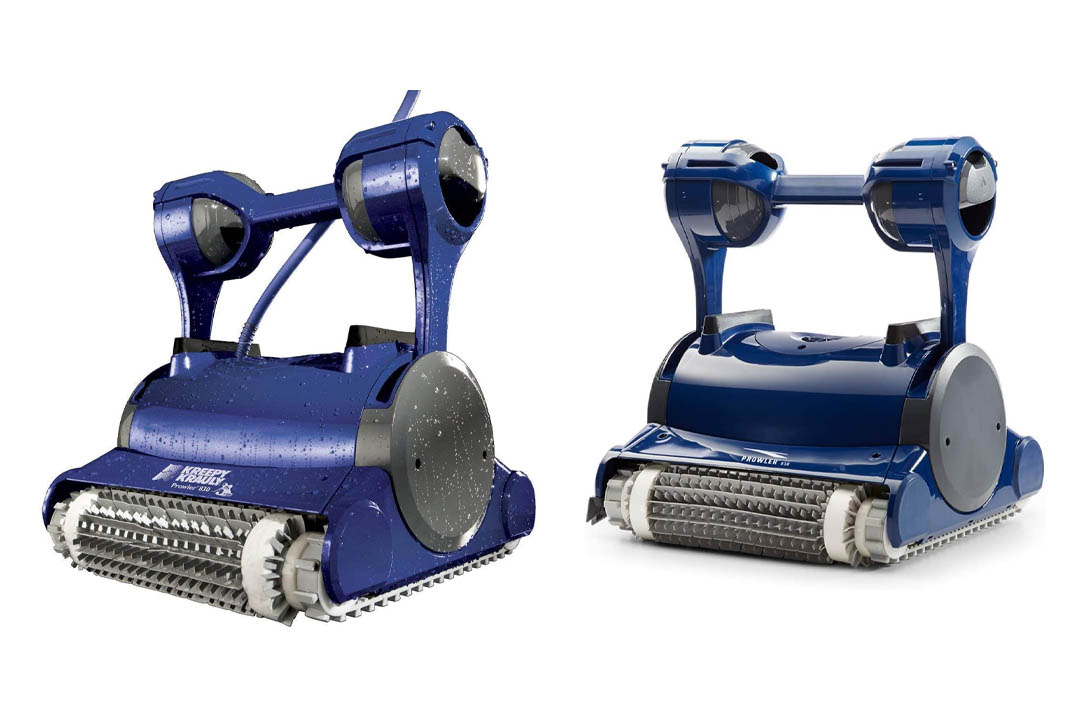 No products found.
Kreepy Krauly Prowler 830 from Pentair offers superior power and cleaning with its wireless remote and 45-pounds weight. The equipment can vacuum clean your pool in two and a half hours and prevent dirt accumulation in corners and stairs. Prowler 830 comes with an integrated filtration for reducing cleaning time and saving on energy costs. You can check the full cartridge indicator to know when the pool cleaner requires maintenance.
2. Dolphin Oasis Z5i Robotic Pool Cleaner by Maytronics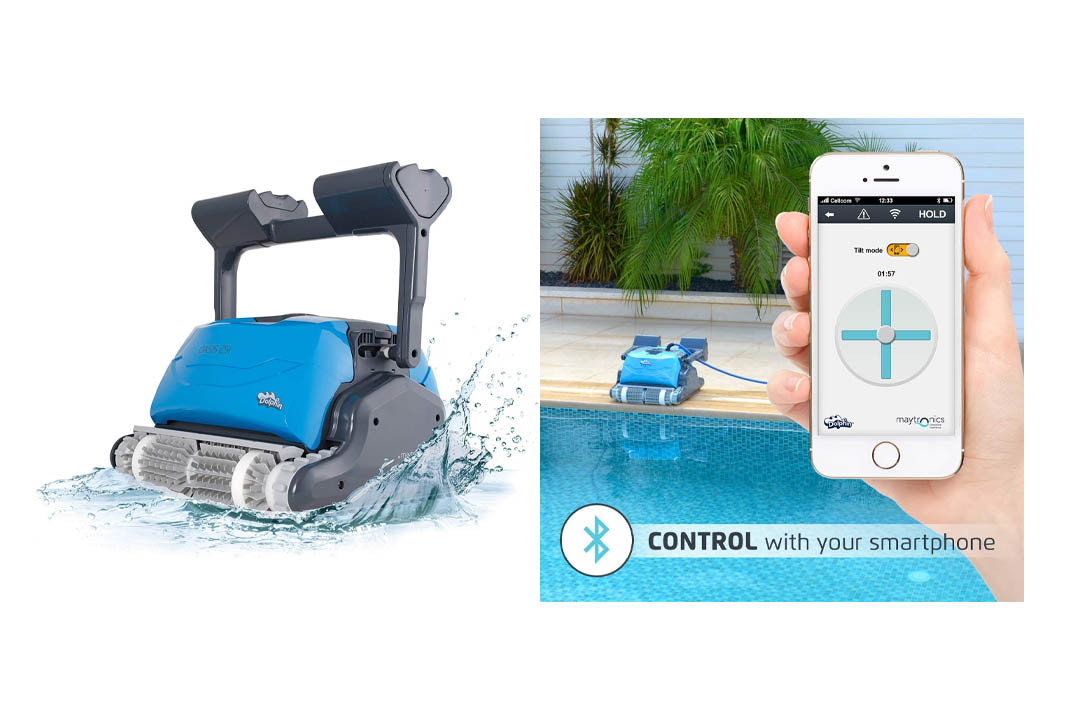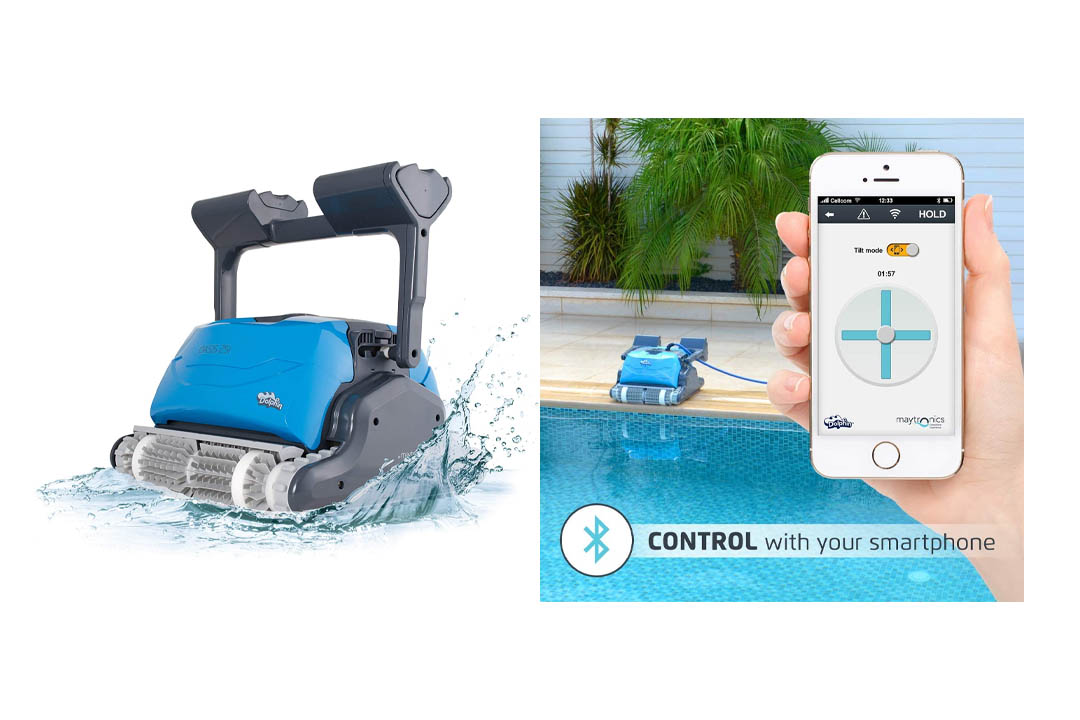 Dolphin Oasis Z5i is a robotic pool cleaner that is ideal for use in in-ground pools measuring up to 50 feet. The device features a remote control system that lets you operate it through your phone's Bluetooth. With the My Dolphin Smartphone App, you can easily sport and rectify cleaning problem areas.
Oasis Z5i comes with a smart navigation system that can scan and clean every corner of your pool. You can rely on its top-loading cartridge filters to improve water clarity in the pool. The device features dual scrubbing brushes and durable tracks that can eliminate debris, dirt, and leaves from a pool's walls and floor. Oasis Z5i weighs 30.9 pounds and measures 23.2 x 19.2 x 14.1 inches in dimensions.
1. Dolphin 2023 Premier Robotic In-Ground Pool Cleaner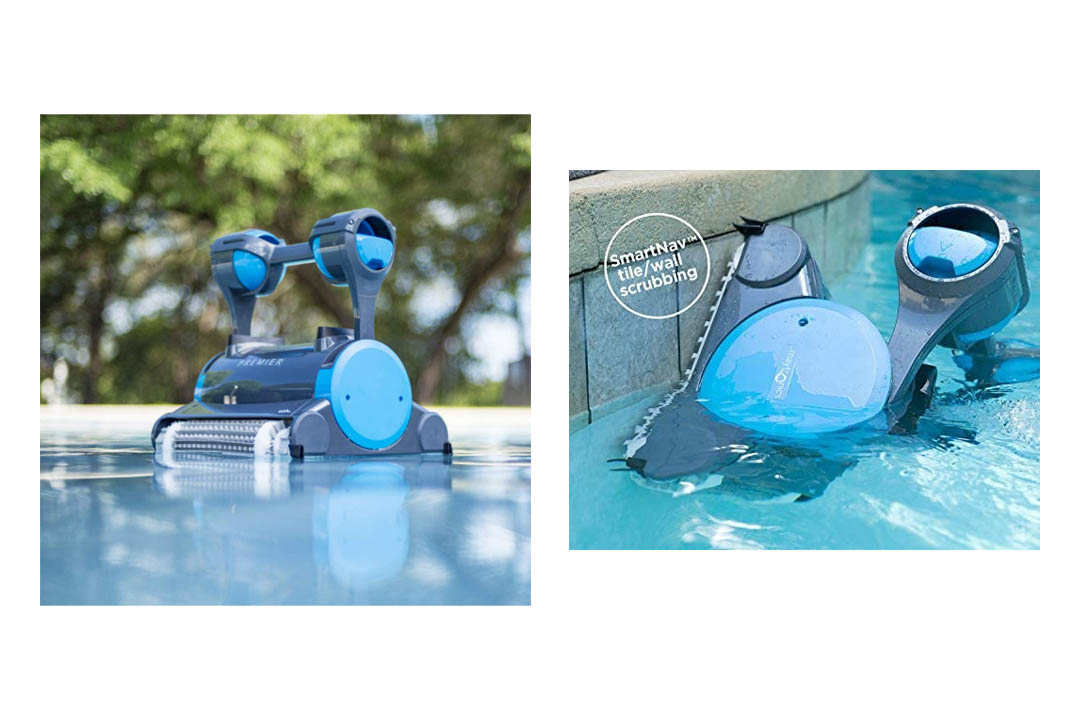 Dolphin Premier is among the recent in-ground robotic pool cleaners with dual scrubbing brushes. The pool cleaner comes with an oversized filter back and dual filter cartridges. Premier uses the latest commercial grade DC motors to minimize energy consumption by 87 percent. You can rely on it to provide unlimited 360-degree cleaning and deliver optimized scanning on different pool surfaces.
The underwater robotic cable swivel included in Dolphin Premier is among the revolutionary engineering achievements in the pool cleaning industry. The cable allows the pool cleaner to clean thoroughly and quickly without compromising on energy efficiency. Dolphin Premier weighs 36.2 pounds and measures 23.5 x 20 x 14 inches in dimensions.
Conclusion
With the above products to choose from, finding an excellent in-ground pool cleaner should be a less daunting task. One of these pool cleaners can work for you depending on the size of your in-ground pool and your budget. They all have different designs, technologies, and power consumption levels.
Any Top 10 is a participant in the Amazon Services LLC Associates Program, and we get a commission on purchases made through our links.