Choosing the best hardside luggage is always challenging! The simple reason is that the bad always outnumber the best. Furthermore, those bad products look a lot more similar to the best which makes us very confused to spot them. If you used to be hypnotized and fallen into the trap of the 'bad,' don't be sad! We're here to help.
Going on trips always leave impression in our lives, either for business or leisure. Every time, you have to have your stuff going along with you, whether they are a few or many. You obviously don't want your stuff to get lost or messy, and you don't want to waste your money on buying luggage after luggage when the old one is broken. Right now, we are going to tell you a few things to spot before you decide to buy any hardside luggage.
Hardside luggage is actually made of several materials. The most commonly used materials are polycarbonate, ABS plastic, and polypropylene. ABS provides the lightest weight of all. Polycarbonate is a bit heavier than hardside luggage made from ABS plastic. The upside to this is that polycarbonate is also stronger. So, you can expect your suitcase to be able to take a bit more battering around and still be virtually unscathed. If you are into flexible luggage, spot the one which is made from polypropylene. The material is quite hardly and makes the luggage more capable of protecting the items inside your suitcase.
Exterior pockets or compartments are not for hardsides. Hence, be aware to spot for as many organization features as you can. This can usually be divided into mesh pockets, small pouches, straps, and even dividers.
Some hardsides are built to only allow a certain amount of items. However, there are certain designs that do give you the chance to expand your luggage so that it can carry even more items. This is often managed by additional length of fabric with a separate zipper attached. On average, the hardside suitcase can expand from an inch to almost five inches, allowing you to store more stuff.
The last point for you to keep in mind is the number of wheels you are looking for. There are hardsides that come with 2 wheels or 4 wheels at the bottom. But recently, more and more hardsides are made with 4 wheels since they make it easier for you to maneuver through tight spots. However, the wheels on hardside luggage tend to be more exposed and don't have the protection of the luggage frame. This is why it is quite important to check that the wheels are durable and will not break easily.
To make you feel more secure, we have gone through research and picked from the best of the best list, the top 10 best hardside luggages for 2023. Let's go through them all together.
List of the Best Hardside Luggages of 2023:
10. Samsonite Winfield 2 Hardside 28″ Luggage, Purple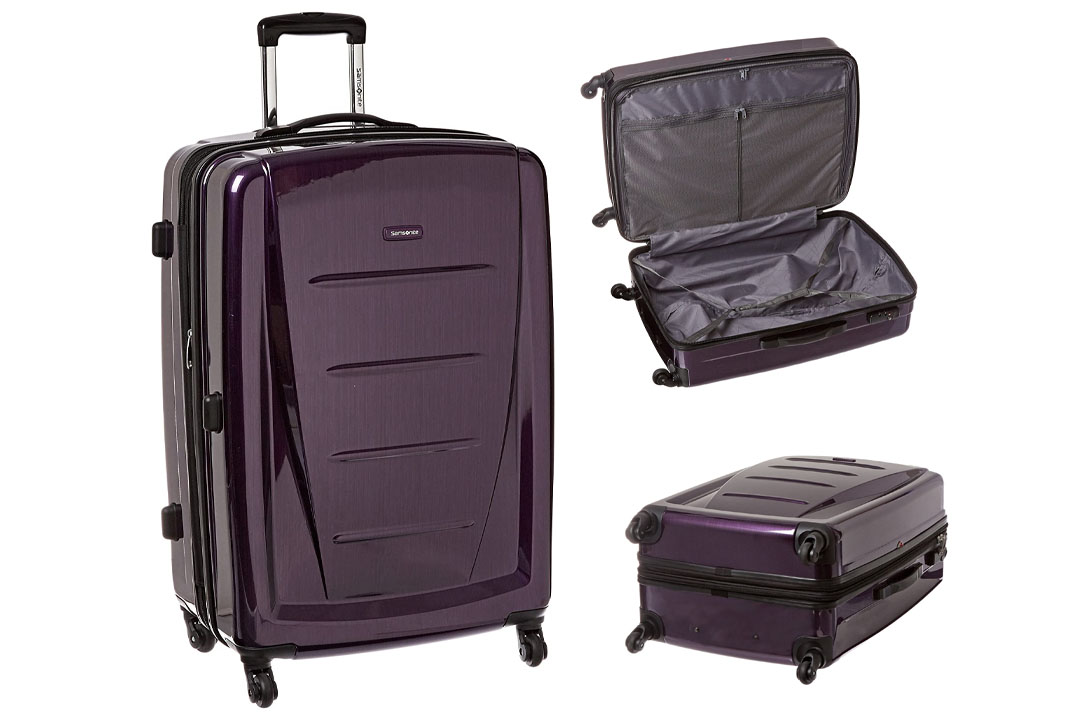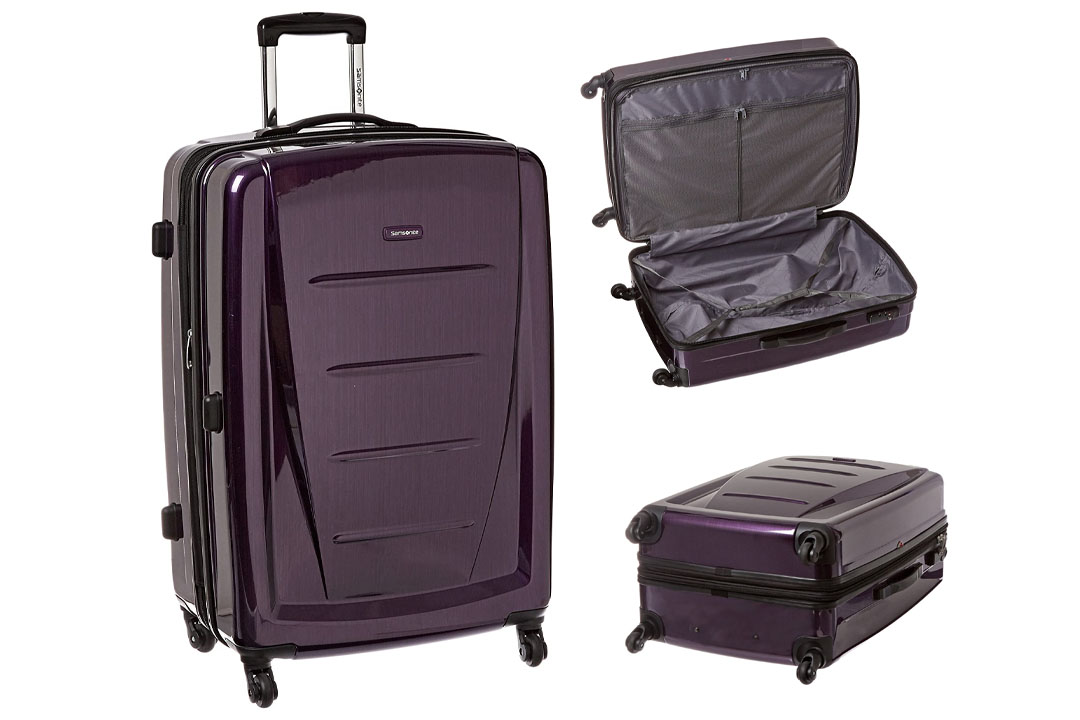 HAUPTSTADTKOFFER, a brand from Berlin, is bringing you the best of the best to enrich the taste of your travel. With a wide variety of luggage and the cheerful colors, their suitcases define the current trends. Each piece is unique and original, as are the people who make up the fresh and lively landscape of Berlin. Reflecting the urban style, each suitcase also expresses the personality of each owner, providing a stronger confidence between the owner and the luggage.
Today, the beast brought by HAUPTSTADTKOFFER are three-piece hardside suitcase set high gloss: 1 cabin luggage 42 liter (21.5 x 13.5 x 7.5 + 1.5 inches), 1 suitcase 74 liter (25.6 x 16.1 x 10.2 + 1.5 inches) and 1 suitcase 119 liter (29.5 x 19.7 x 11.8 + 1.5 inches). The wheels can turn 360° with four multidirectional smooth and silent move providing comfortable transport at all means. Made to last, the material is 100% ABS, and the three suitcases can be stored inside one another. A step-adjustable telescopic rod made of aluminum allows comfortable pulling. On the long side, the case has four plastic feet for storage and carrying handles on the upper and the longitudinal side. For security over the content of the suitcase, a cross-belt comes along to prevent a mess of the utensils. Flexible intermediate floor also is there as well with two separate net compartments. The volume of the suitcase (not the hand luggage) can be extended by 15% by its 4cm expansion fold – which makes it particularly flexible. Depending on the clothes you want to take with you on vacation, the suitcase adapts.
9. COOLIFE Luggage 3 Piece Set Suitcase Spinner Hardshell Lightweight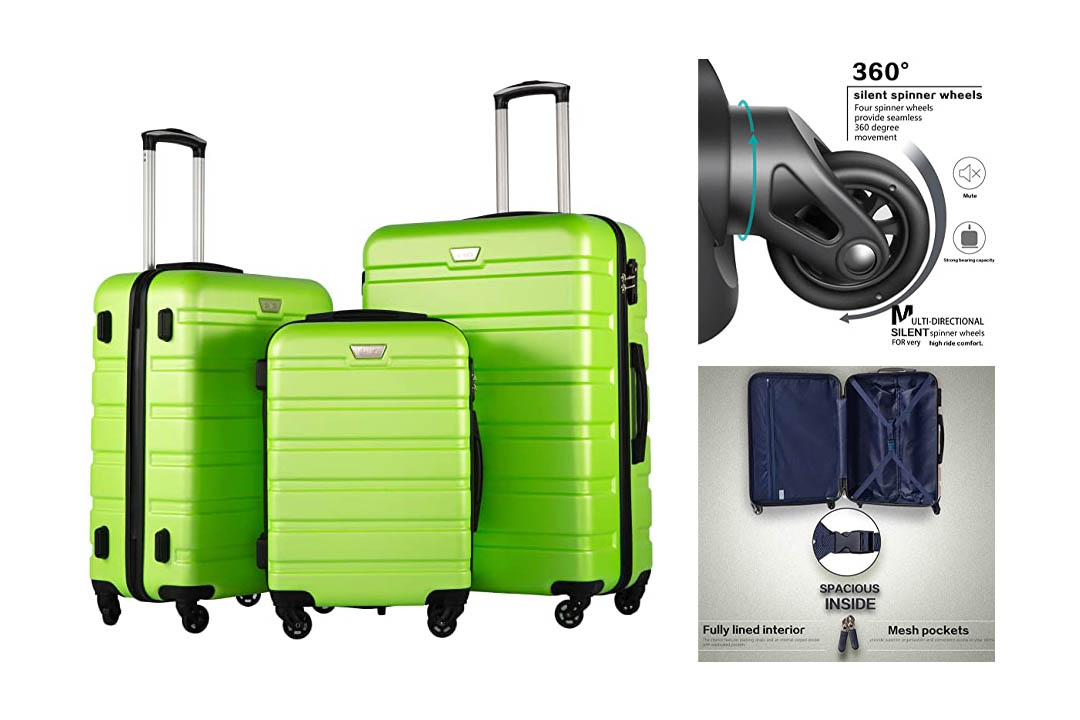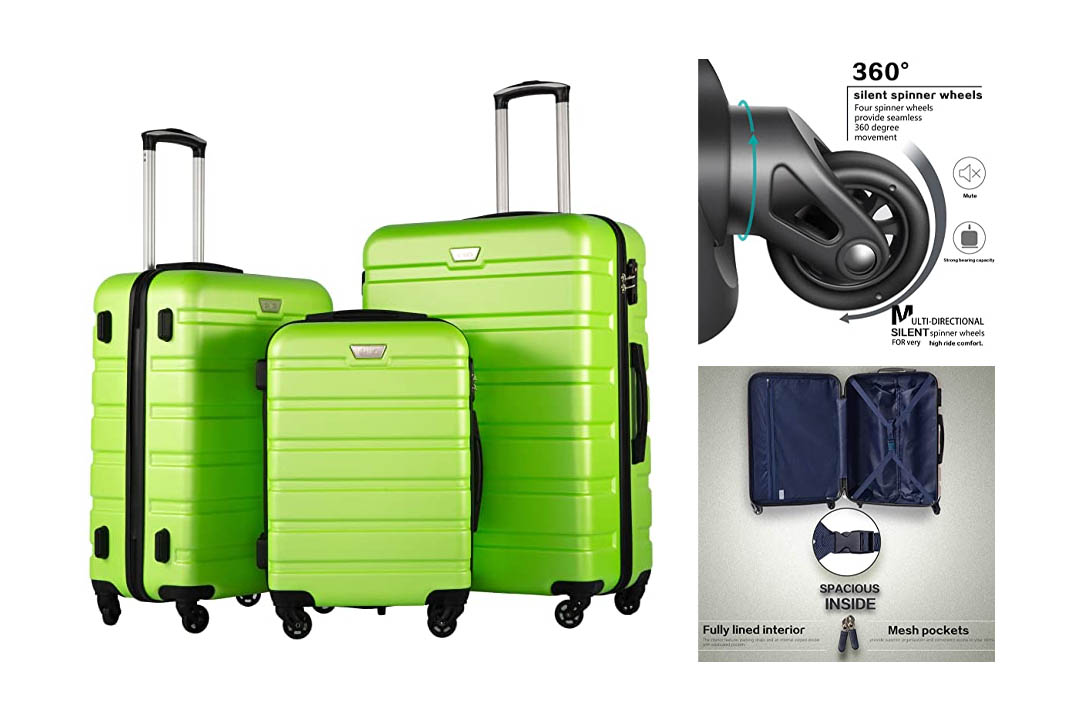 Perfect for your business and leisure travel, the Samsonite silhouette XV hardside spinner is made from strong polycarbonate construction to ensure the best durability possible while the smooth-gliding wheels make for easy pulling on any surface. Don't worry if you have a lot of stuff. In the inside provides plenty of room for storing your essentials in an orderly fashion, and there's even an integrated ID tag for quick identification at carousels. The deluxe cushioning and rubber seals on the new, wider pull handle combine to provide an exceptionally comfortable grip. Perfect for everyone, the right height pull handle system features multiple height adjustments that make it easy to custom fit the bag to most body types. To reduce weight-bearing stress on your arm and back, set the handles at the position that is best for you. Tru-trac wheel system feature a v-shaped, camber instructed design for a straight roll every time while the integrated id tag, side mounted tsa lock, polypropylene corners come along for extra protection. This hardside suitcase protects my items well, has a metal band that seals and is not subject to rupture (which zippers can do), and is easy to maneuver even when weighing 50 lbs. Don't worry about the per trip charges for total dimensions since the case is within the normal size. By plane, train or bus, this spinner is an obvious answer to venturing in comfort.
8. Rockland 3 Piece Sonic Abs Upright Set, Silver, One Size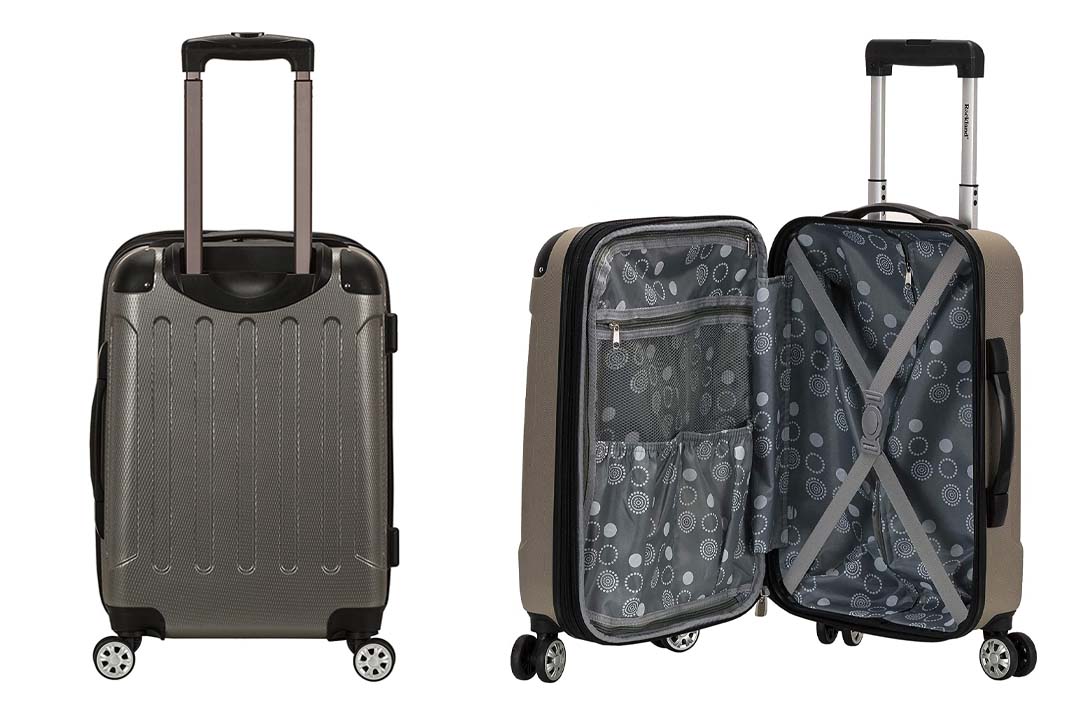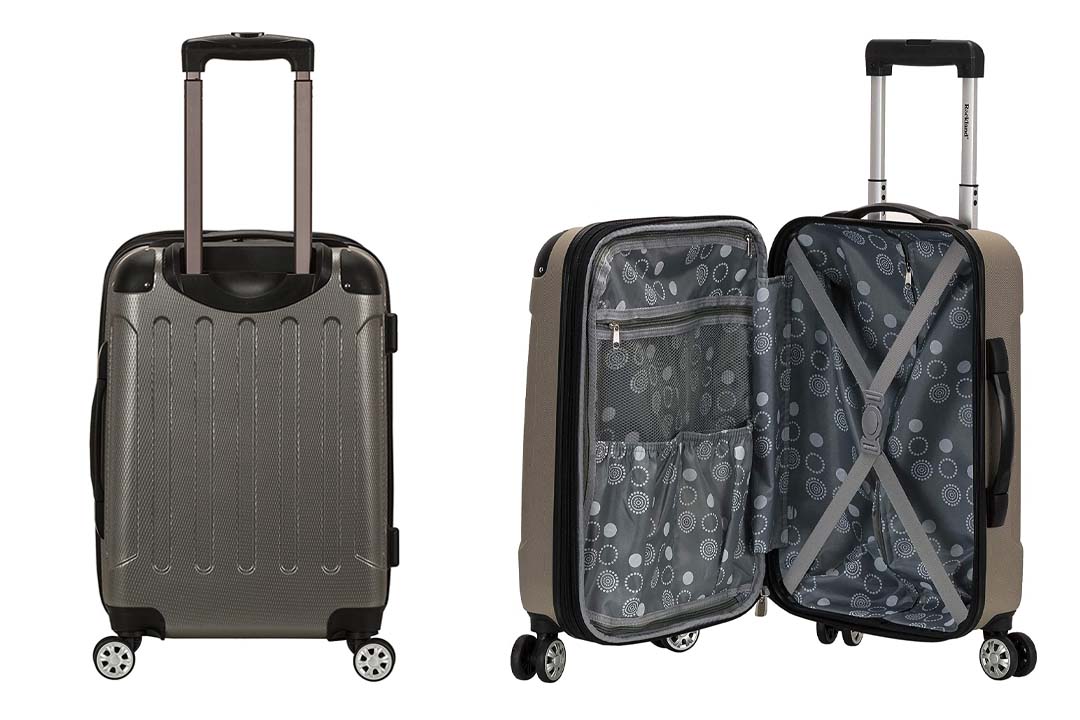 With 100% polycarbonate shell, CHESTER Carry-On Luggage is pretty light in weight, unbreakable, waterproof, scratch-resistant, yet flexible enough to expand and absorb external pressure, eliminating dents and dings. The material highly ensures the ultimate strength, durability and flexibility. This 22-inch hard carry-on is TSA-approved which makes it perfect for 3 to 5 days trips, coming along with lock (set by a combination code). Two spacious compartments, interior organizer to store smaller items, nylon laundry bag to separate clean and dirty clothes and compression straps are specifically designed to prevent shifting and maximize space while the 4 silent, multi-directional wheels help to deliver a smooth and silent roll in any direction on any terrain with minimal weight on your arm. For the convenience, the hardshell doesn't flex or indent like my past suitcase, but it actually withstands whatever goes on behind the scenes in airports. Great looking comes in with inner lining and also with a removable laundry bag that matches the lining. The zipper has a combo lock which is easy to set. The wheels seem pretty smooth and roll in all directions.
7. AmazonBasics Hardside Spinner Luggage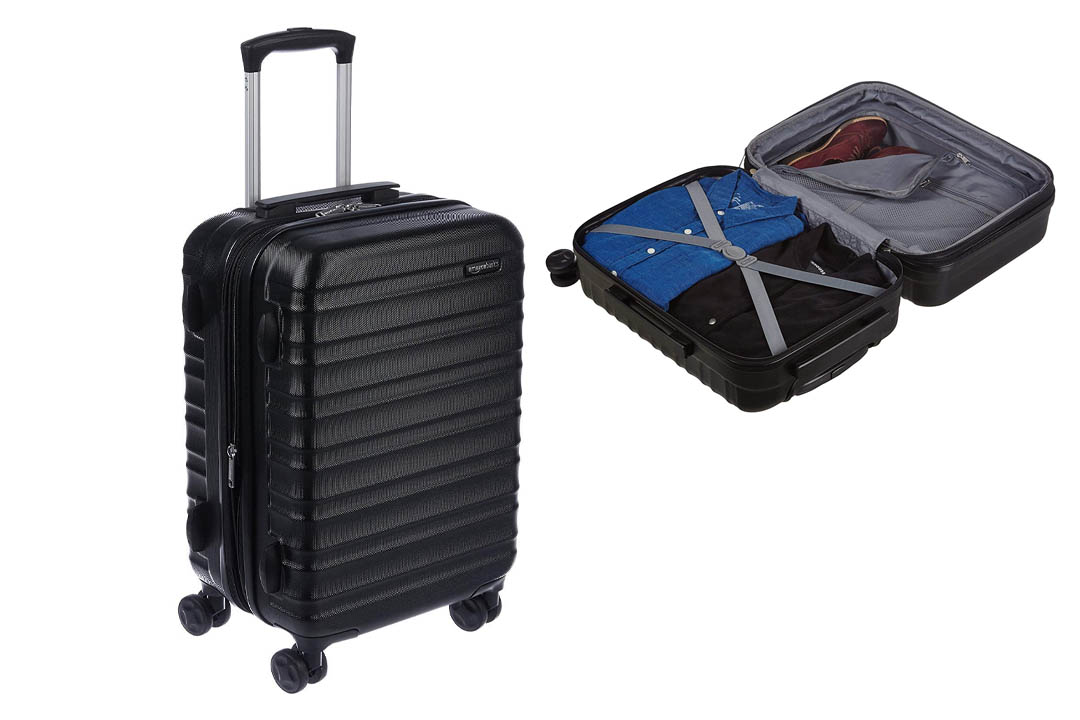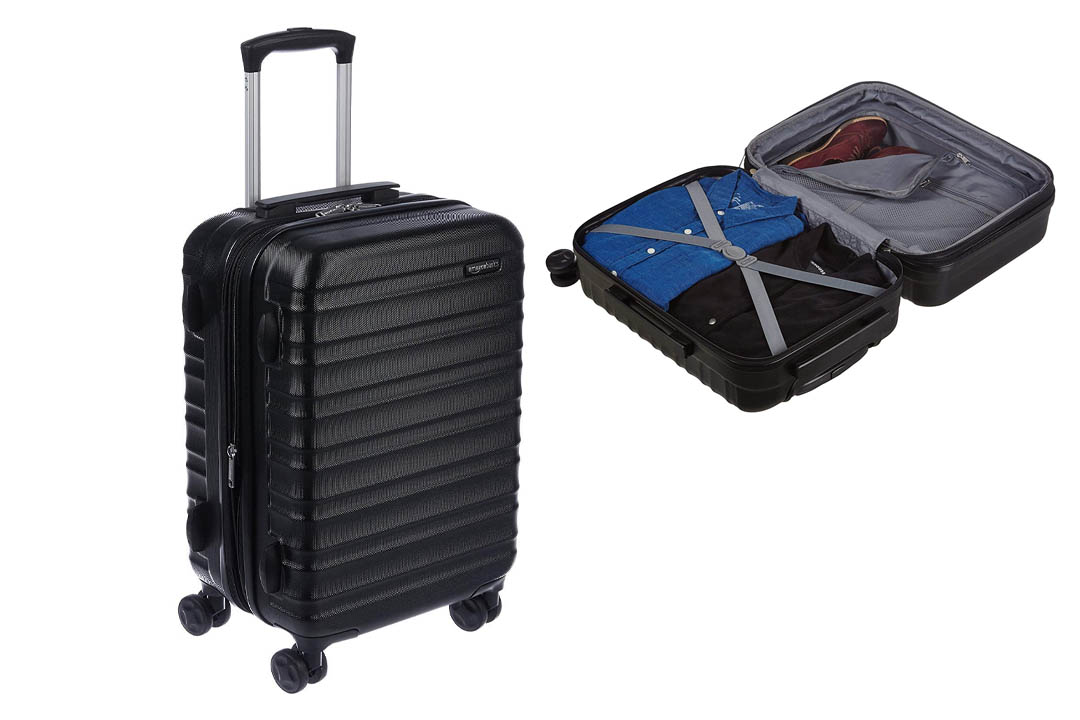 Having undergone under 5 keys strength and durability tests, you are ensured to get the best of the best from this Revelation! Dominica Luggage Set. Made from tough ABS with a scratch resistant embossed finish, Dominica is tough enough to withstand any journey. All of your possessions are kept well in the internal mesh pocket and elasticated packing straps along with the 4 wheels that smoothly rotate 360 degree. Retractable trolley handle and fixed combination lock are integrated to increase the efficiency of the product. The package dimensions is 31.7 x 21.4 x 12.6 inches, providing just more than enough room to store your possessions. Different compartments are available, allowing you to separate your essentials to be stored safely. The material allows the luggage to withstand any journey. Additional values come along with the striking design, streamline silhouette and robust. Fixed combination lock is approved by the TSA. Not only is it safe, it does provide your quick access to your belongings. If you are familiar with the traditional luggage lock, you probably knew that it was vulnerable to thefts. They are absolutely companions for singles and couples on either business or leisure trips.
6. AmazonBasics Premium Hardside Spinner Luggage with Built-In TSA Lock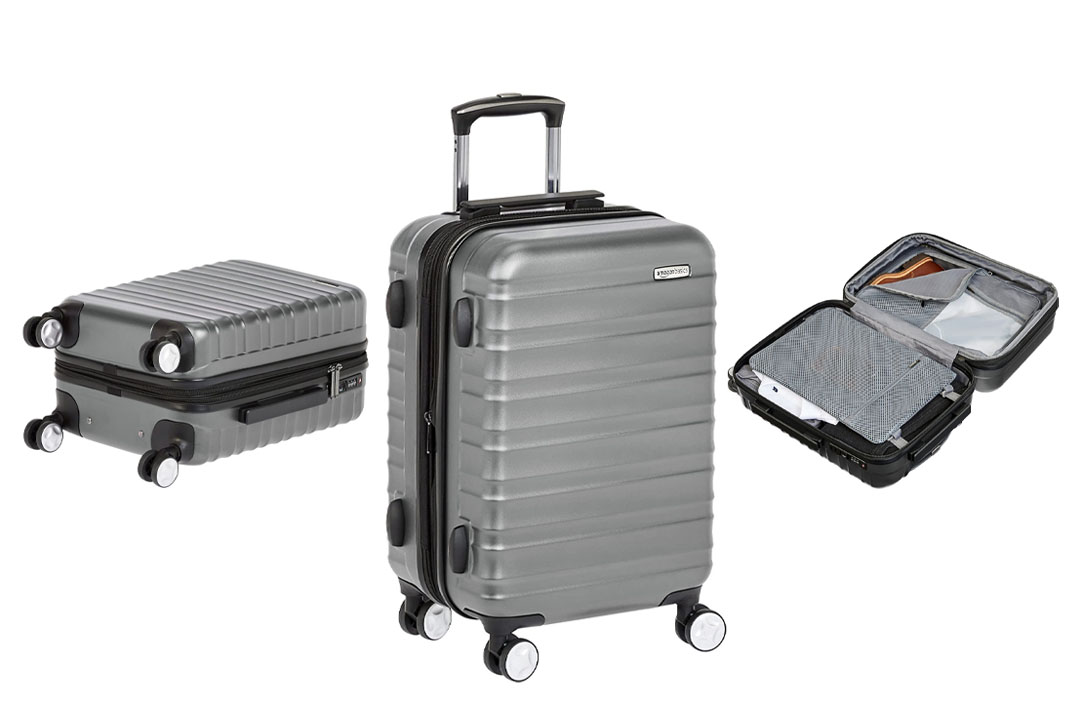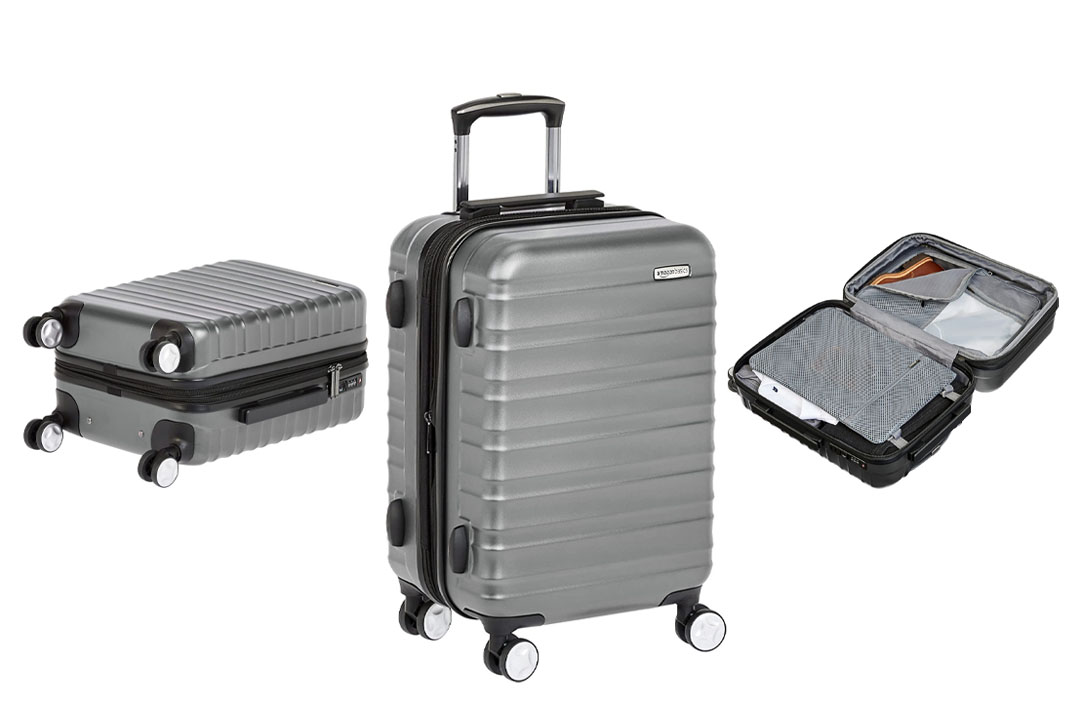 Made to last, this luggage set is pretty light in weight and glide your gear effortlessly across airport floors on smooth spinner wheels, Smooth-Rolling Spinner Wheels. Rotating 360 degree, these spinners allow the cases to roll smoothly and remain stable even as you're rushing to catch a flight or using them as props in your figure-skating routine. The internal zippered dividers keep all your possessions in place and tidy. You can get access to your belongings easily without having to go over all the usual mess. Durable Hard-Side Construction ABS plastic exteriors protect your belongings from the inevitable abuse of air travel, shrugging off scratches and impacts to keep your clothes as neat as when you packed them. The top handles are telescoping which makes the cases perfectly suitable for people of different height. This is also important as it helps you when you need to lift your luggage, such as when you're taking it out of a car trunk, or placing it on a conveyor belt. ABS plastic exteriors protect your belongings from the inevitable abuse of air travel, shrugging off scratches and impacts to keep your clothes as neat as when you packed them. Reinforced corners to prevent tearing, while the ribbed exterior is there to disguise possible scratches or scuff marks.
5. Rockland Luggage Melbourne 3 Piece Abs Luggage Set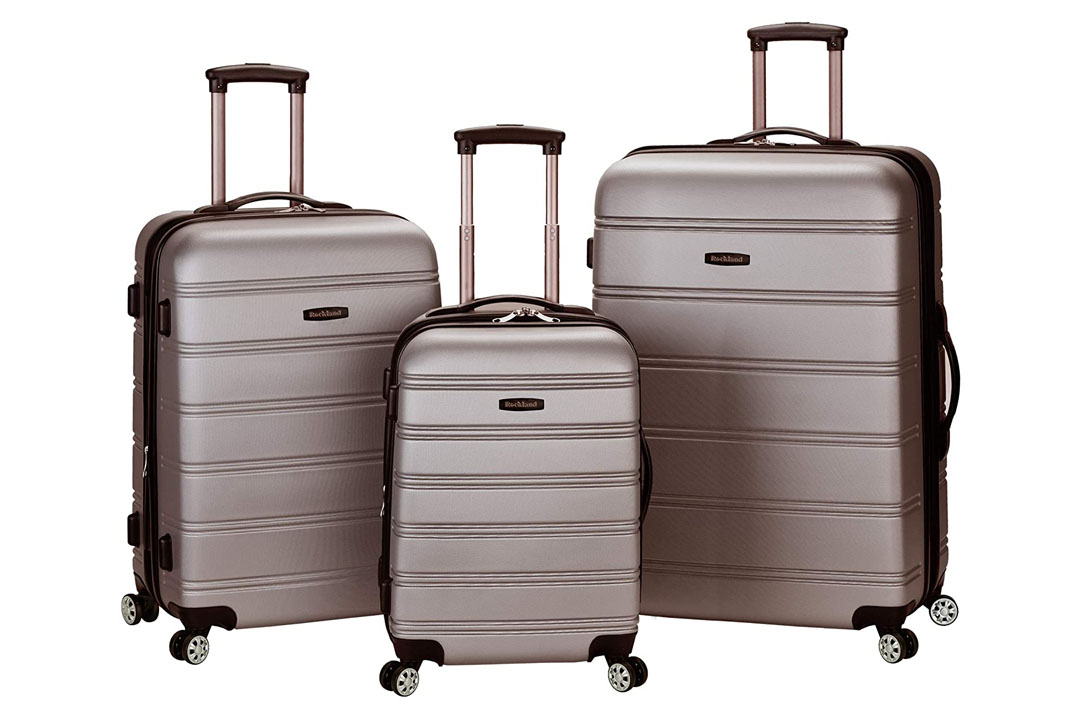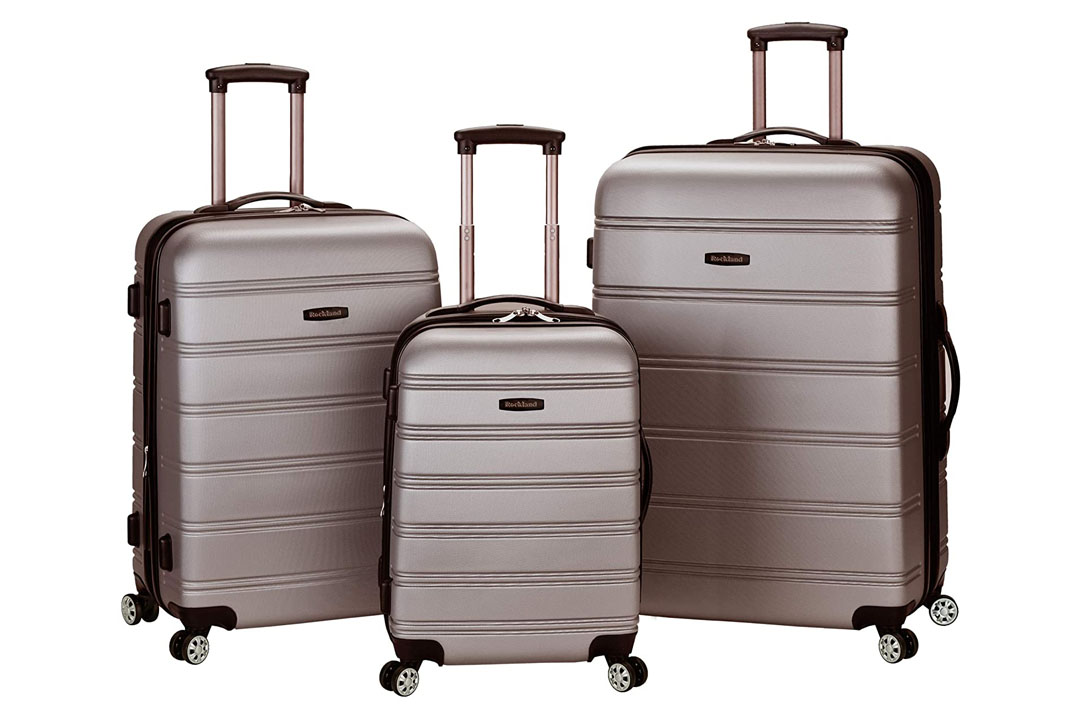 Perfect for business and personal travel, this HyBrid Travel 3 Piece Luggage Set is designed in the ABS material which makes it light and has high impact resistance. Acrylonitrile-Butadiene-Styrene is a common thermoplastic. It is lighter than polycarbonate and strong enough to protect your belongings during a trip. The aluminum material in this luggage has been oxidized that will help maintain the luster of your luggage's colors. The 2-inch expandable feature provides you with extra 25% more packing capacity. Spinners do rotate 360 degree, moving to any direction you wish. The push-button telescopic handle makes the whole experience with the luggage even more convenient with the padded top and side grip handles for lifting. You will face easy navigation on busy terminals and crowded loading bays. All of your belongings are high secured in the luggage with the built-in three-digit TSA-approved combination lock prevents others from getting inside. This eliminates the need to cut off the lock or damage it to physically check the contents of your luggage. Also, TSA locks are integrated with advanced feature that lets you know that your bag has been tampered with. Hardside luggage keeps your items from getting squished or broken. To help you get organized, the luggage comes with separate mesh pocket and functional elastic ribbons to secure packed clothes while keeping your things organized.
4. Samsonite Winfield 2 Hardside 28″ Luggage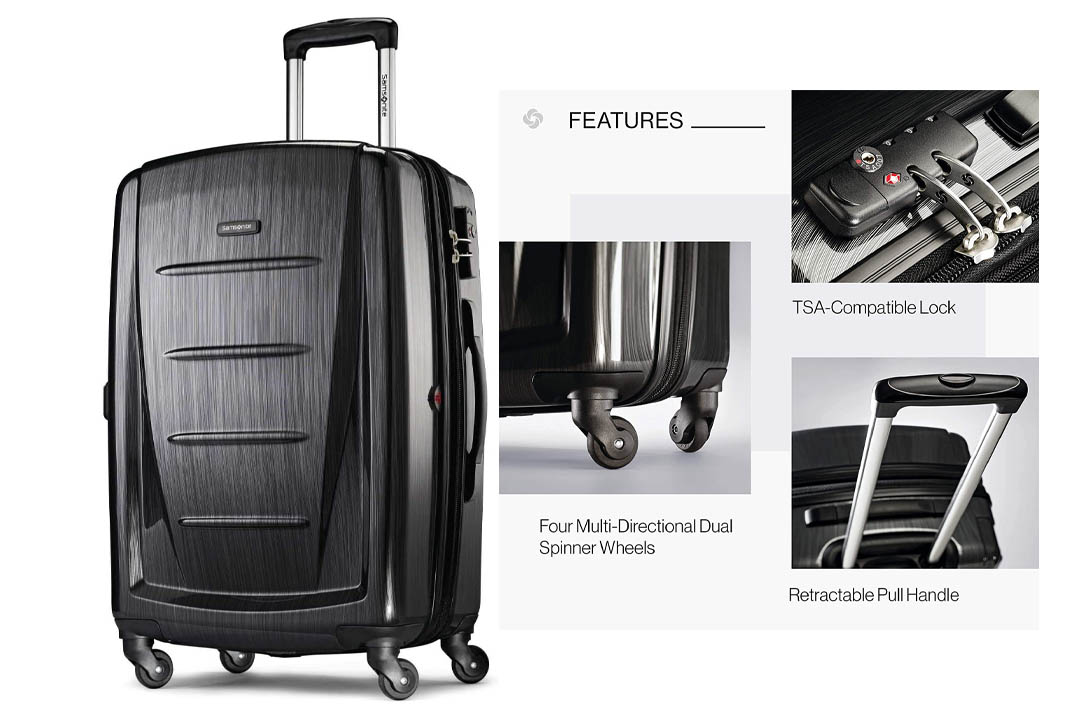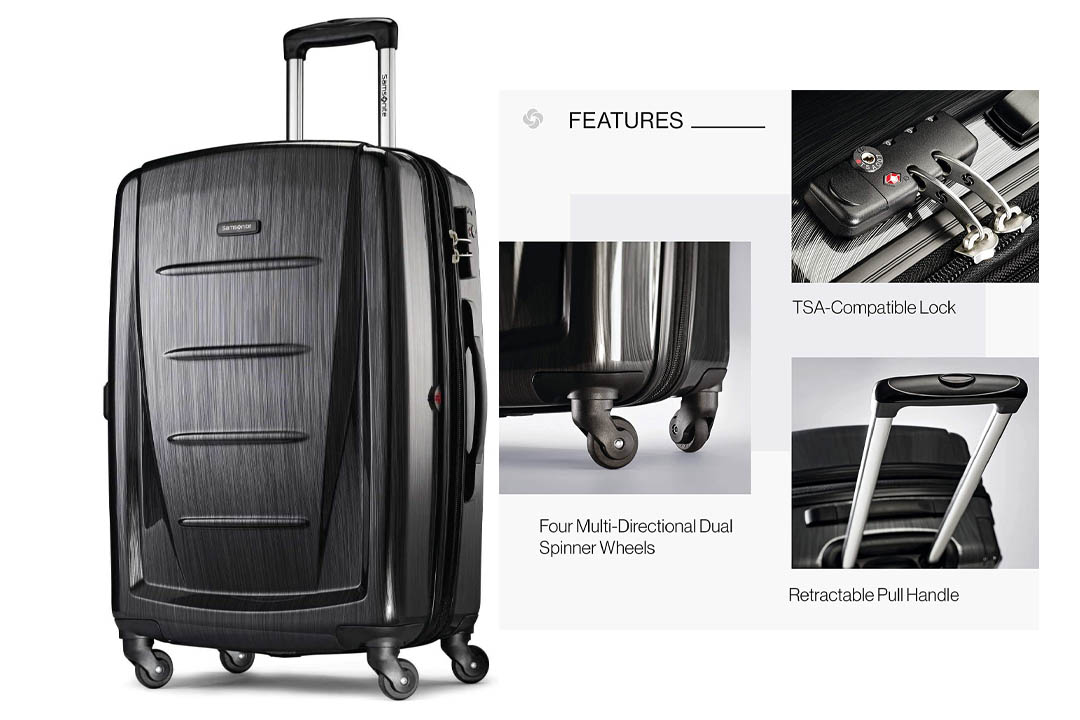 Enjoy your trip with all the stuff you need kept in Genius Pack 21″ Aerial Hardside Carry On Luggage Spinner. Perfect for those who prefer the simplicity, "Aerial" is a maximum size carry on with minimalist design along with the durable 360-degree spinner wheels, allowing you to move to any position you desire. The bag has a large space for your clothes on the other side as well as a laundry compartment which keeps your dirty clothes completely isolated from your clean clothes. To always keep you on track, there is a permanently embedded packing checklist with another separate interior category compartments for socks, chargers, undergarments to make sure there is no bad smelling spreading. Maximum carry on size meets international and domestic requirements. Telescoping handle is made 100% from aluminum with 2 lock position. Don't worry all your stuff will get messy since the compression straps in main cavity secure bag contents. Rubberized push button handles for enhanced comfort with scratch and stain resistant. Reinforced impact-resistant corners make the look even slicker while the luggage comes in pretty light, only 6.2lbs.
3. Merax Travelhouse Luggage 3 Piece Expandable Spinner Set Purple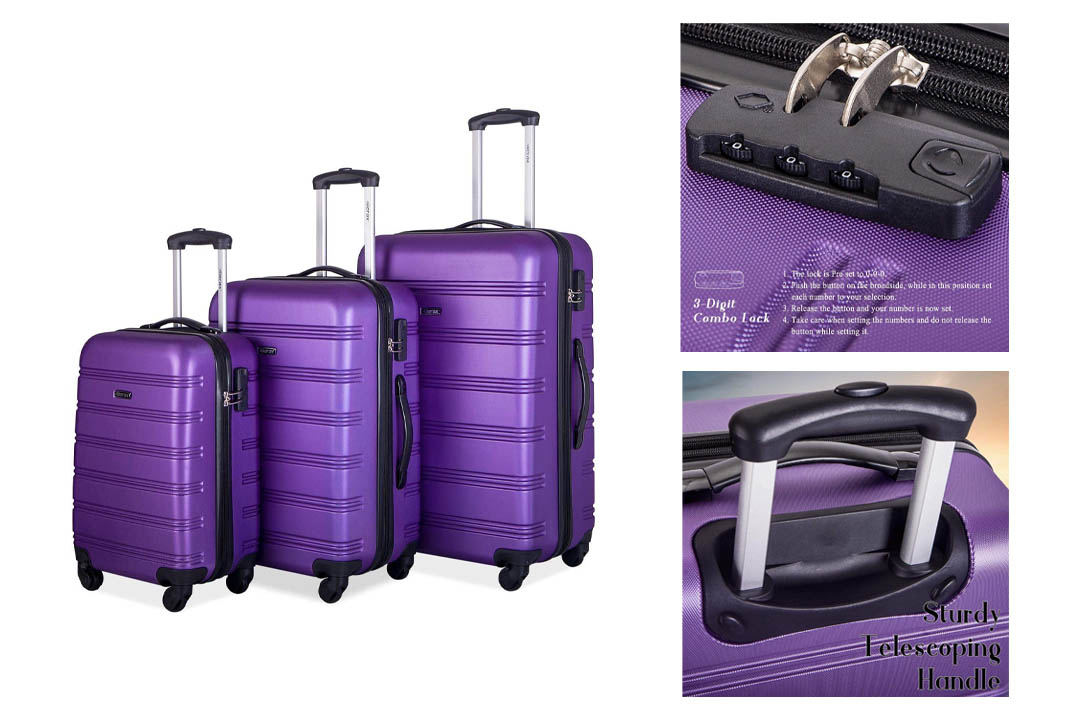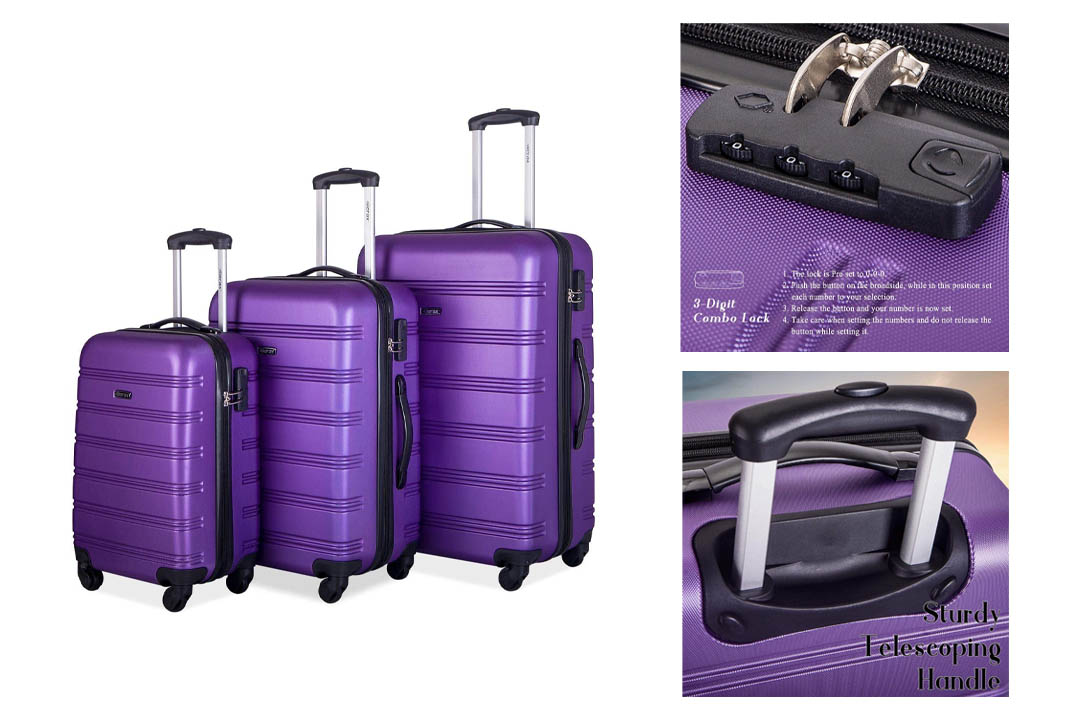 No products found.
Made in 100% Polycarbonate, Samsonite Omni PC 24″ Spinner is obviously stronger than those which are made in ABS. Built to take the harshest travel elements, Omni PC combines scratch-resistant textures with the lightest 100% polycarbonate construction, ensuring your luggage looks as great on the 100th trip as it does on the first. Micro-diamond texture is extremely scratch-resistant, keeping cases beautiful after a trip while the re-engineered lightweight spinner wheels make it effortless for you in mobility. Design includes expansion for added packing capacity when needed. The increase of the packing organization comes with the full-zip interior, divider and cross-straps with side-mounted TSA lock ensures security while traveling. TSA locks ensure your belongings arrive safely to your destination. The luggage is built not mainly because it can store your possession but increases your confidence in travelling. Confidence that when you step off the curb, your luggage wheel isn't going to pop off. Confidence that if you put your laptop in the bag in one piece, that's the way it will come out. With the brand of over one hundred years of reliability, durability, style and innovative functionality have made Samsonite's iconic products, and brand, the global leader they are today.
2. Kenneth Cole Reaction Out Of Bounds 20″ Hardside 4-Wheel Spinner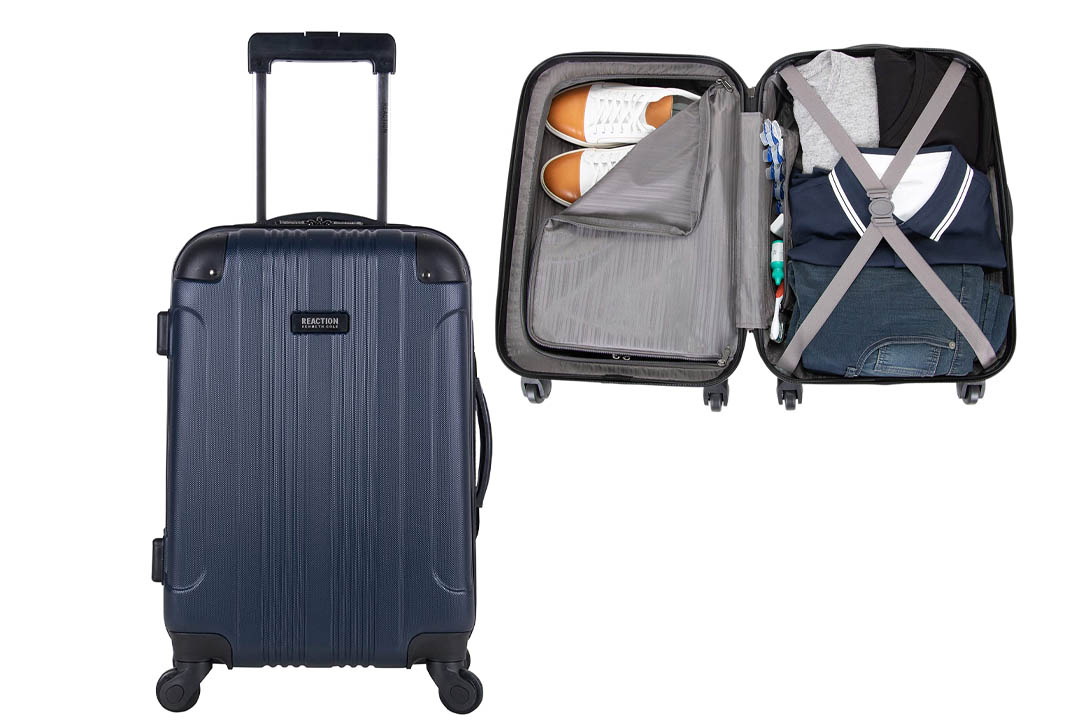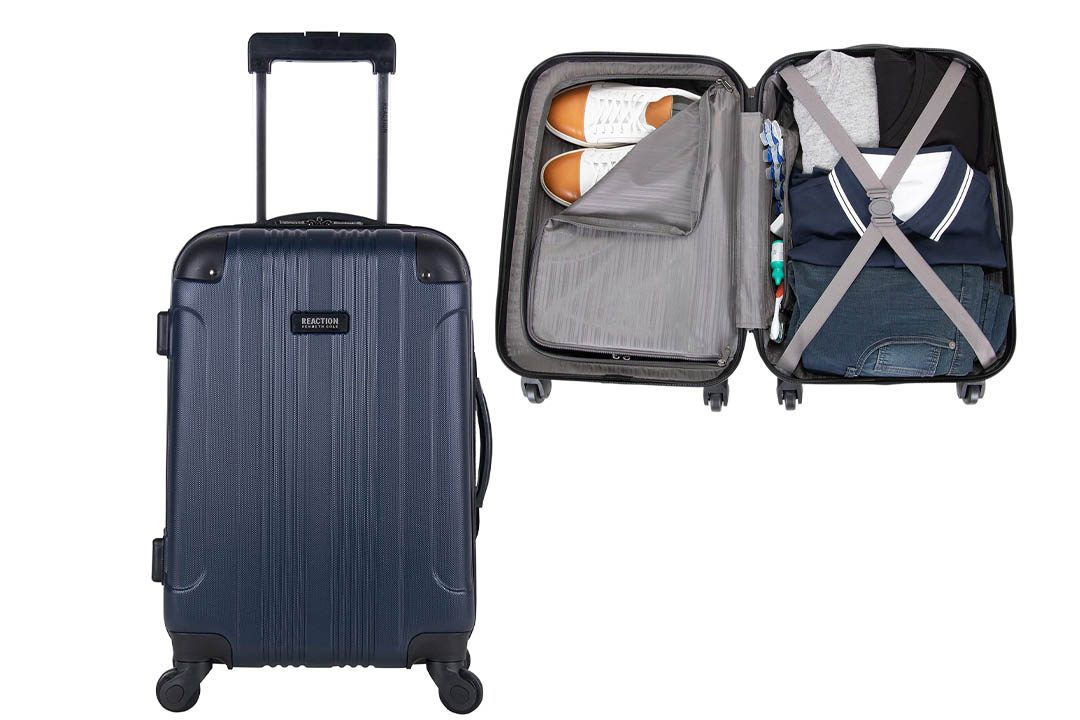 The runner-up of today's list goes to a HAUPTSTADTKOFFER. With this lovely Berlin brand, whether for a short break, summer vacation or a trip around the world with the luggage wide range from us, you will be sure to find the perfect bag for every occasion: from the hand baggage up to XXL bags, passing by laptop bags, kids' suitcases, toilet bags, all in a variety of sizes, shapes, materials and colors! And not to forget: all our useful travel accessories such as locks, covers, labels, beach bags, or sunglasses. Being hybrid, this set made from ABS and Polycarbonate which makes it strong and light. Having gone through various research and experiments, made with top synthesis technology, all these make our products more durable, firmer and more glossy. Four multidirectional smooth and silent wheels provide you the freedom of movement while giving you more confidence with their stronger bearing capacity. TSA combination ensures to keep all your belongings safe, and with all the various internal compartments inside, you freely arrange your stuff, dividing them into types.
1. Samsonite Winfield 2 Hardside 28″ Luggage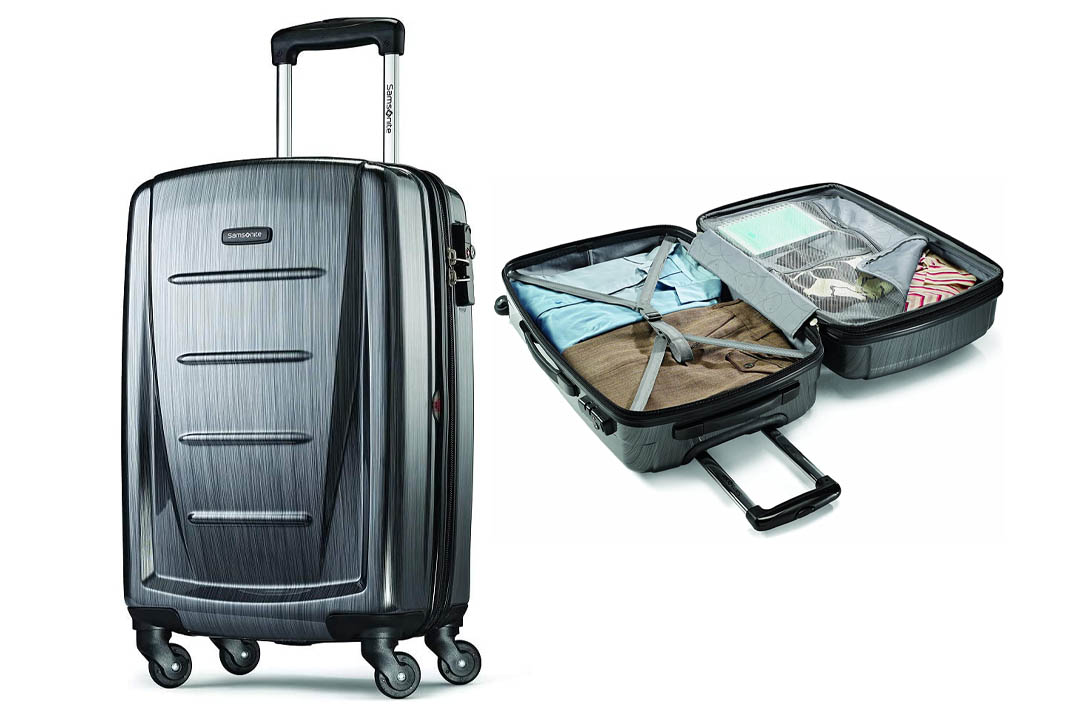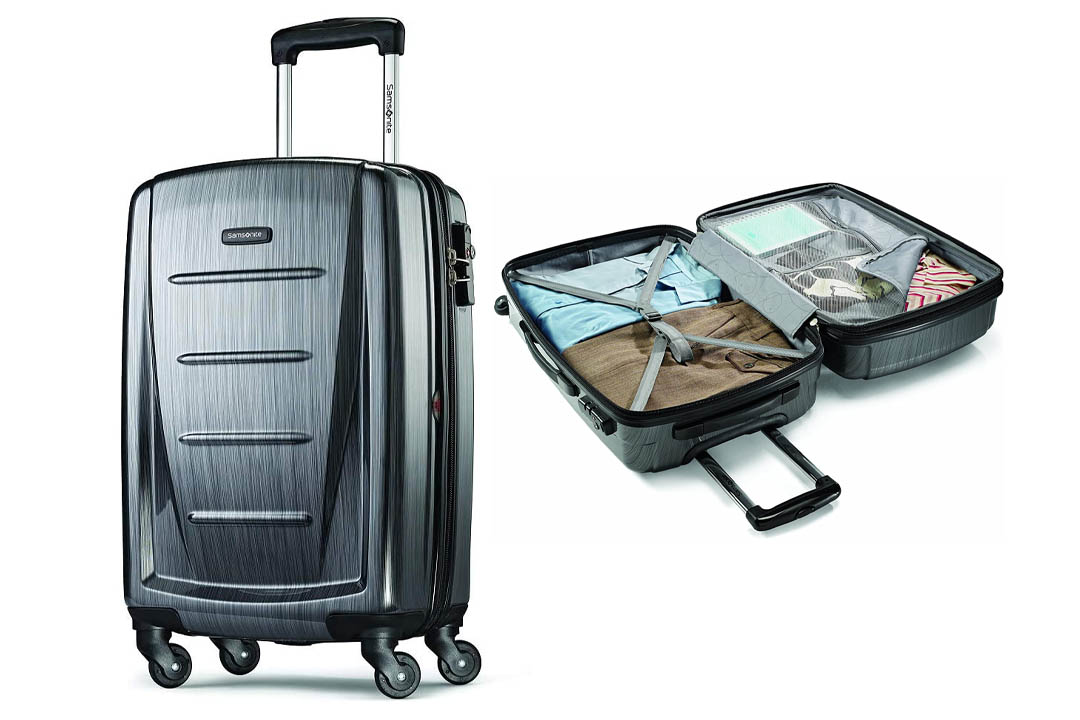 Different from the upper one, this lovely beast is made entirely from polycarbonate with sharp molded details. The luggage is made to absorb impact by flexing while under stress then popping back to its original shape, eliminating dents and dings while protecting its contents. The handsome slider in square full-capacity design features 10 oversized zipper and interior divider with organization pockets with the lightweight locking telescopic handle that allows people of different height move the luggage easily. An elegant brushed pattern hides any potential scratches or scuffs from your journeys, keeping the luggage new and bright. The fully-lined interior has cross-straps, a privacy curtain with its own zippered organizational pockets. The four spinner wheels rotate 360 degree which promotes effortless mobility and re-engineered lightweight. Don't worry that you don't have enough room since full-zip interior divider and cross straps come along for the increase of packing organization.
Conclusion
You've witnessed our top 100 beasts for hardside luggage today. Now it's a matter of choice for you to make the decision. In the introduction, we describe the important points for you to spot in good hardside luggage. You compare those points with your need and favor, and you might be able to come up with something you want. Be aware that you are only one click away from owning one of the best hardside luggages in 2023.
Any Top 10 is a participant in the Amazon Services LLC Associates Program, and we get a commission on purchases made through our links.