The lighting in most bathrooms and bedrooms does not always allow you to apply your make up successfully. Having a lighted vanity makeup mirror is the only way to go if you want to achieve a flawless look.
The best-lighted vanity mirrors should have the following attributes:
On- off swap.
Variable lighting settings.
Adjustability: The mirror positioning should not have you sit in an uncomfortable position to have a proper view of your application. You shouldn't have to stretch or strain at any point in your application.
Different strengths of mirroring sides such as magnifying options to better cater for your eye makeup needs.
How to choose the Best Lighted Vanity Mirror
Price: this is the first thing everyone looks at while shopping, primarily if you are working on a budget. The good news is that the size and quality usually determine the price of such an accessory. So if you settle on either, you should be able to find an affordable lighting mirror.
Quality: the type of lighting on the mirror and also other unique features included in the build usually determine quality. The different types of lighting include:

LED which is the most durable and cost-efficient in the long run. They also mimic natural light best.
Incandescent lighting which helps create the most flattering looks but the bulbs are not energy efficient.
Fluorescent lighting which is the most unflattering of them all because it magnifies your flaws and causes you to overcompensate.

Size: if you are always on the go, consider investing in a portable lighted vanity mirror.
List of the Best Lighted Vanity Mirrors of 2023:
10. Horizontal LED Wall Mounted Lighted Vanity Bathroom Silvered Mirror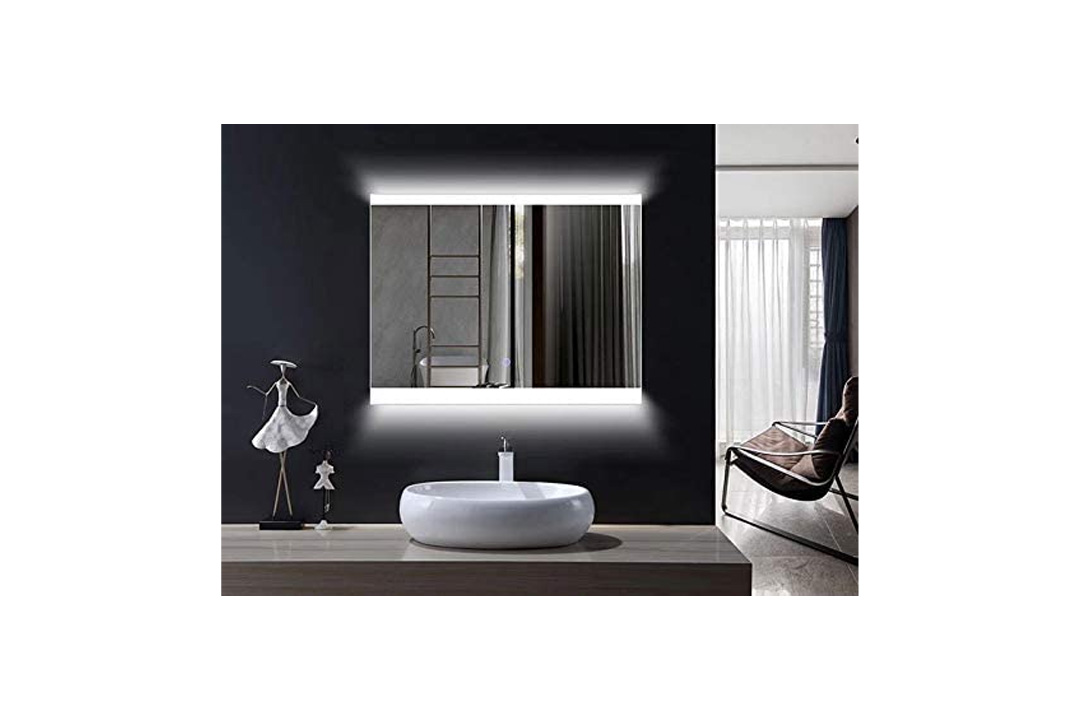 The Decoraport vanity mirror is perfect for users looking for a permanent fixture for their use. The finish is exceptionally stylish, and the invisible screws and switch help to achieve this. Also, it's frameless design is a neat feature ensuring it blends seamlessly with your home décor.
Its operation is smooth because it utilizes a touch button for the on and off switch and the lighting is also easy on your energy bills with the white LED strip that lasts up to 50,000 hours.
The only downside to purchasing this mirror is that you may need to hire a professional to install it correctly.
9. Vertical LED Bathroom Silvered Mirror with Touch Button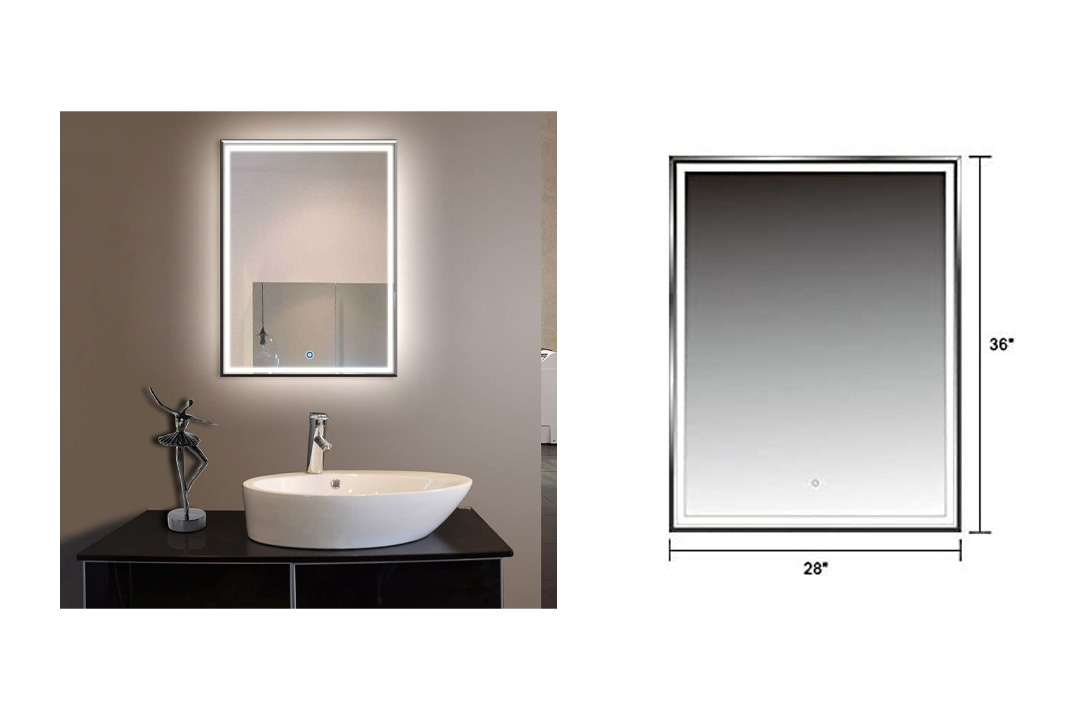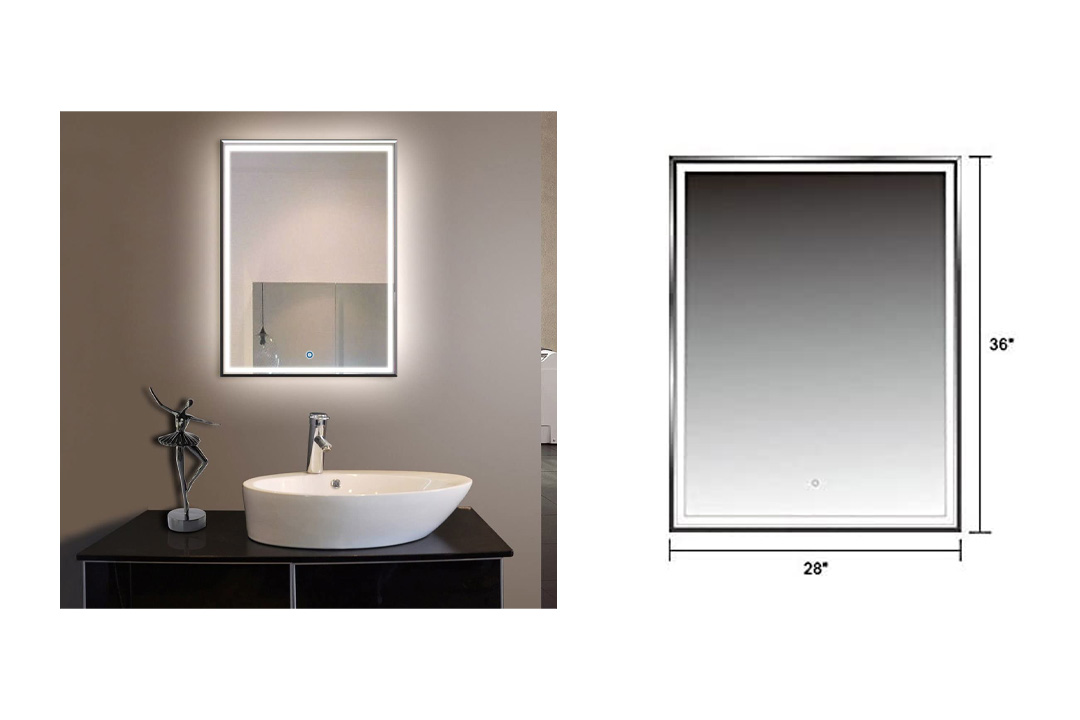 Installing a lighting vanity mirror in the bathroom requires constant cleaning of water stains. The BHBL mirror, however, is moisture roof making it suitable for installation in the bathroom. The silver reflection layer coupled with the LED light source gives off a bright and accurate reflection of your make-up.
This mirror is also perfect because it gives you a movement option if you don't want a permanent fixture, but it also comes with a screw mount option if need be.
The downside to the BHBL mirror is the positioning of the LED lights. They tend to shine outwards instead of towards you so you might want to test it out to make sure it's suitable for you.
8. LED Wall Mounted Lighted Vanity Bathroom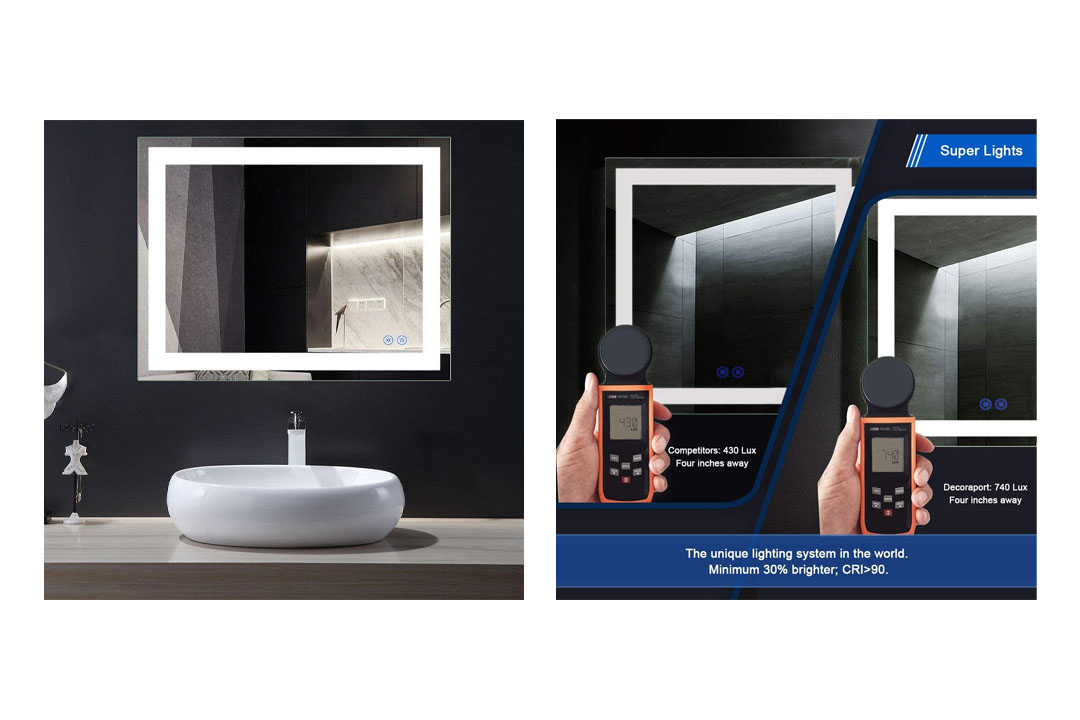 No products found.
This Decoraport mirror, unlike its predecessor, is a smart mirror. It is both anti-fog and Bluetooth enabled to make your make-up time easier. This makes it suitable to use primarily in the bathroom where you can apply your make up even before all the steam has cleared. The frame is Aluminum ensuring it won't rust and is not readily susceptible to damage.
As good as the Decoraport mirror sounds, you will probably require the services of an electrician seeing as the electrical part is hard-wired. Also, the installation will need to be monitored because to touch panel is centrally placed and depending on how you want the mirror to look. This feature cannot be altered.
7. Alice Horizontal Vanity Bathroom Silvered Mirror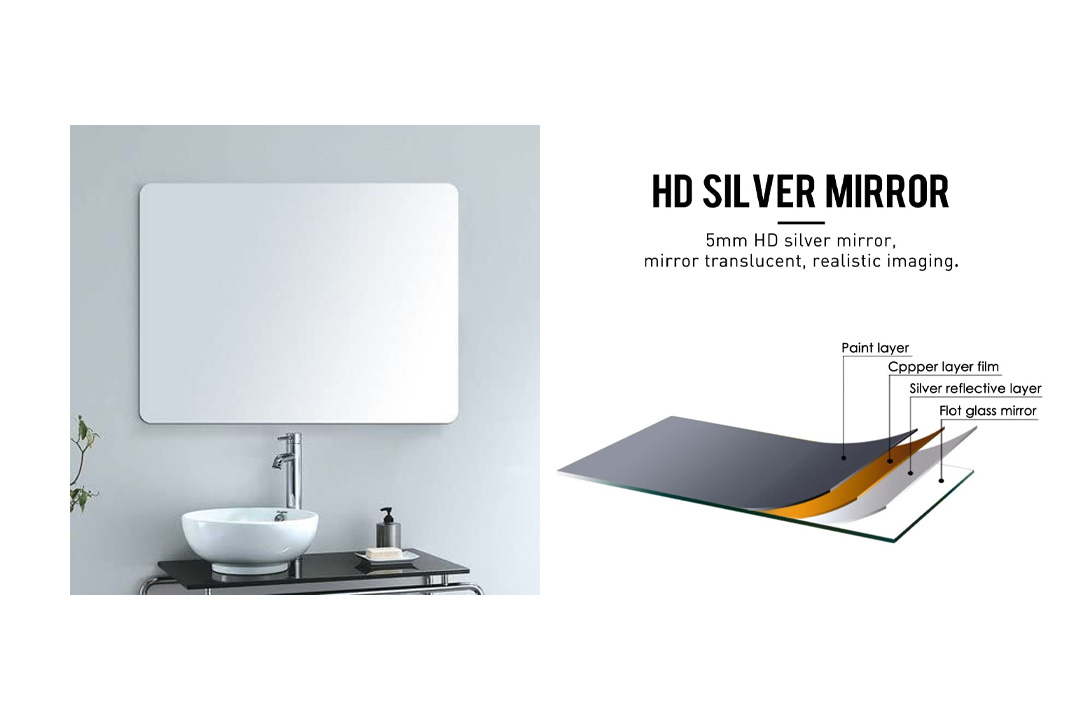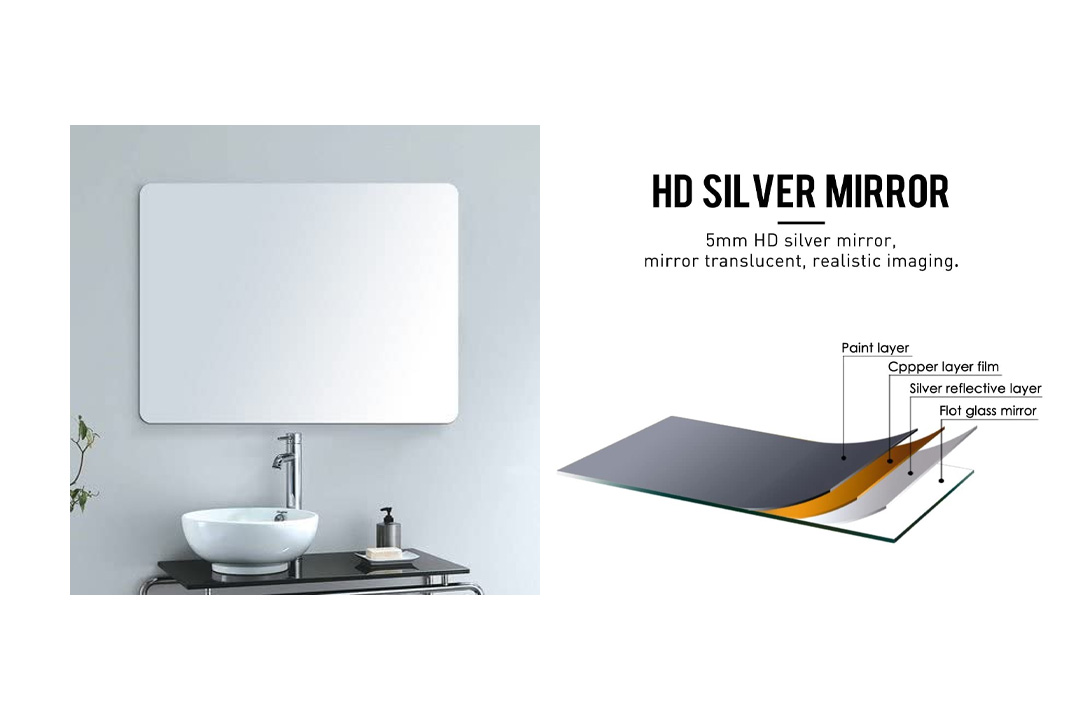 For users who are concerned with style, the H&A mirror is the best option. The frameless design ensures it blends perfectly with your interior décor. However, to ensure it is well protected, it's encased in a thin stainless steel frame and combined with the steel hanging hardware, it is perfectly safe for any room.
The downside is that this particular design does not allow for installation of lighting, so you will either have to find a location with pre-installed lights or have some put around the area where you will be applying your beauty products.
6. 28 x 36 Inch Vertical LED Bathroom Silvered Mirror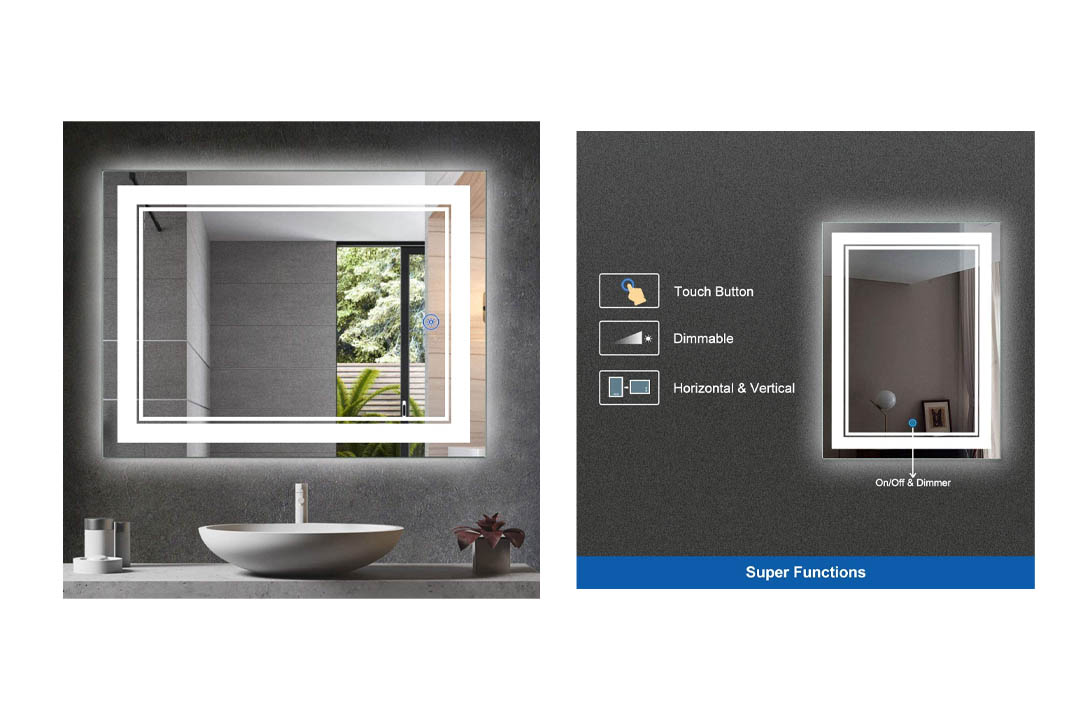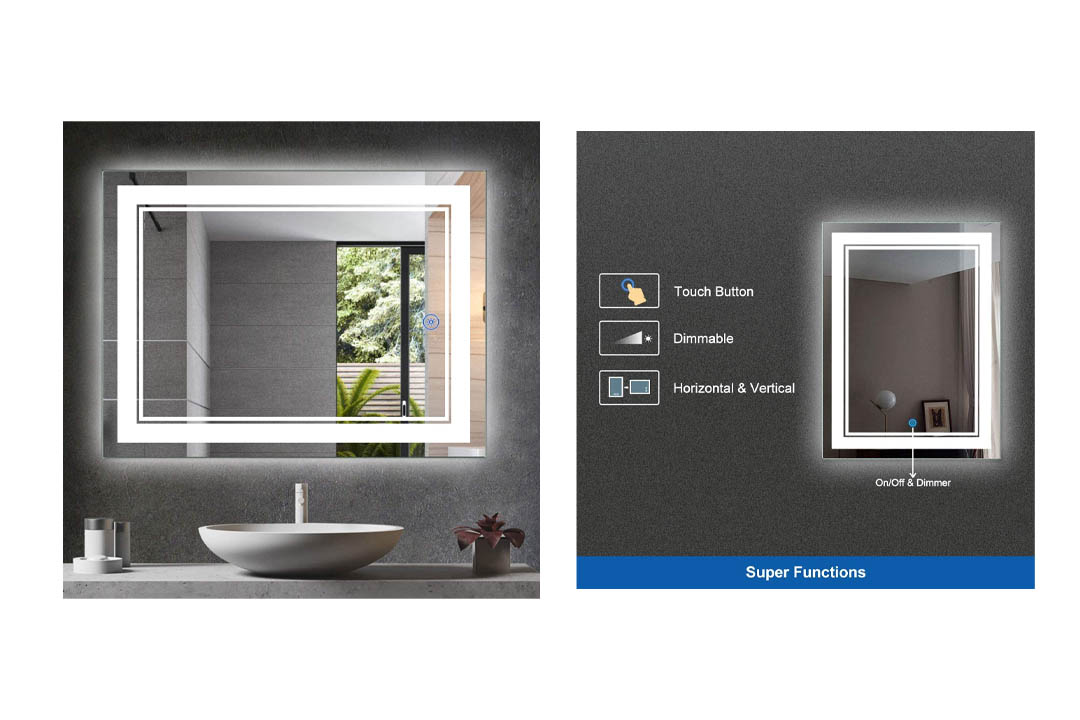 This product is king-size making it one of the most massive mirrors in the market. It's powered by 30W LED lights offering the perfect color temperature for applying flattering makeup. It is also suitable to install in the bathroom as it has been fitted with moisture-proof lacquers at the edges and back.
The lighting mechanism is by touch which is a bonus, and the screw mount feature also gives you mounting location options.
However, the Alice Vanity Lighting Mirror is hardwired. This feature gives you limited options on installation points and requires the work of a professional.
5. Illuminated Large Beautiful Professional Makeup Mirror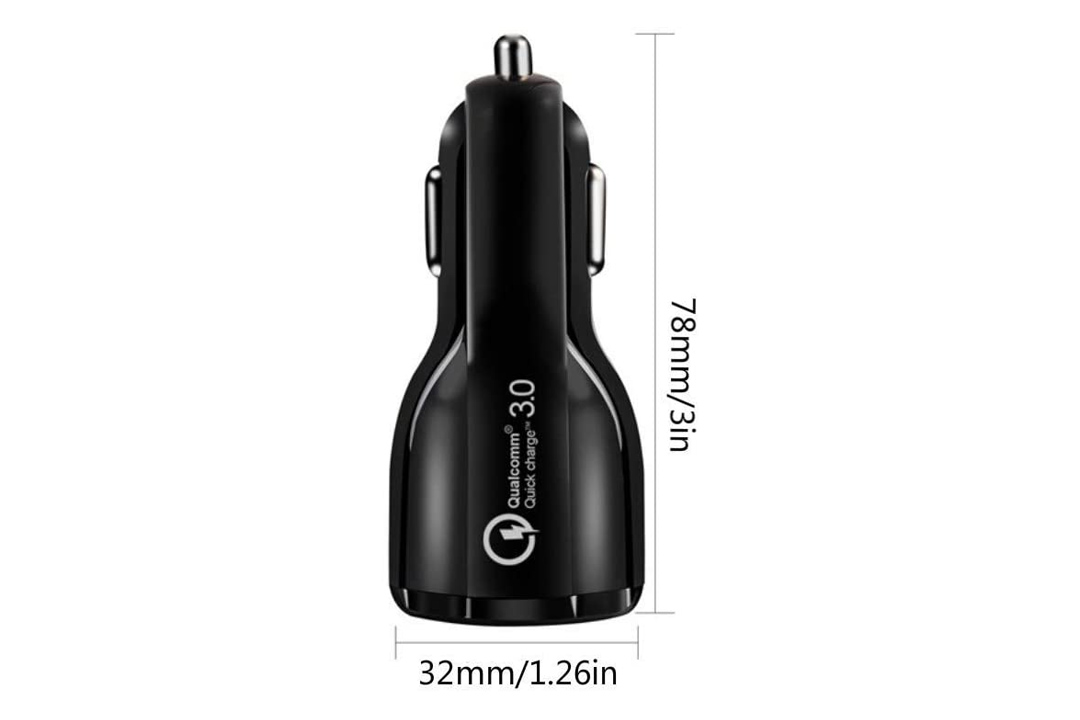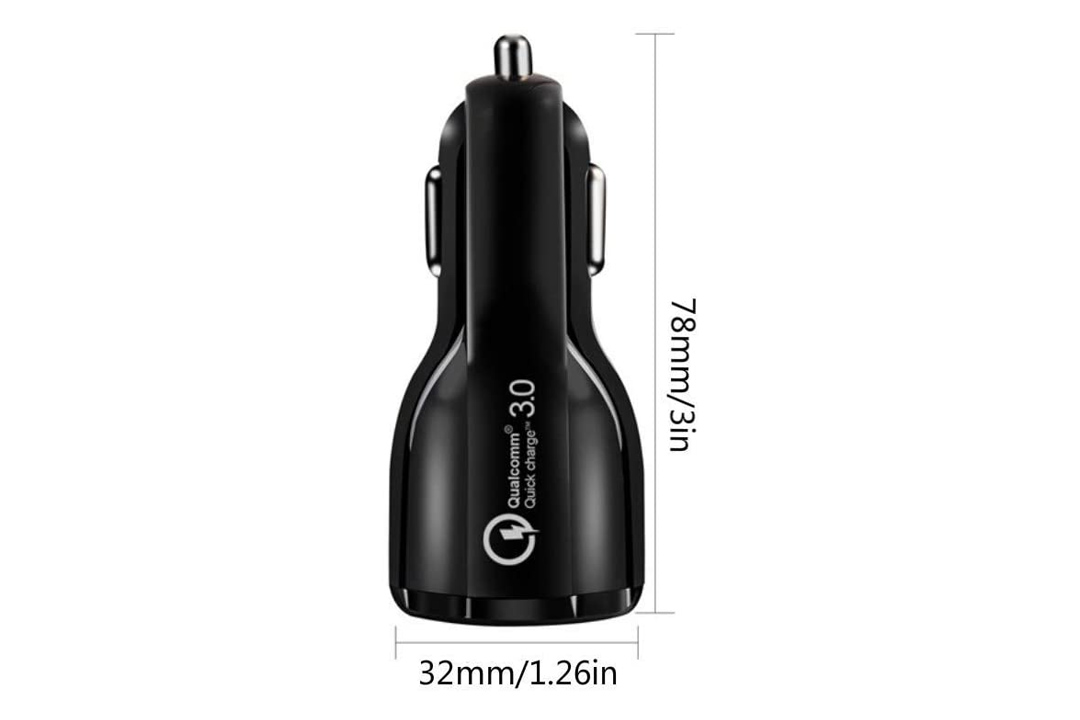 Although the manufacturers describe this as a professional Lighted Vanity Mirror, it's using is just as suitable at home. This is achieved by the 6000 K LED lights which mimic a natural light glow so you can make the most flattering look no matter the occasion. The mirror is also high quality and durable as all the electric components are sealed and waterproofed for long-term use.
The design also ensures it can be installed horizontally or vertically without having any drawbacks as to the adjustability.
The design makes it hard to replace the lighting fixture if it is not suitable or id it's damaged. Also, the bright lights are impractical in small bathrooms, and it does not have an adjustment feature.
4. 55 x 28 Inch Horizontal LED Wall Mounted Lighted Vanity Bathroom Silvered Mirror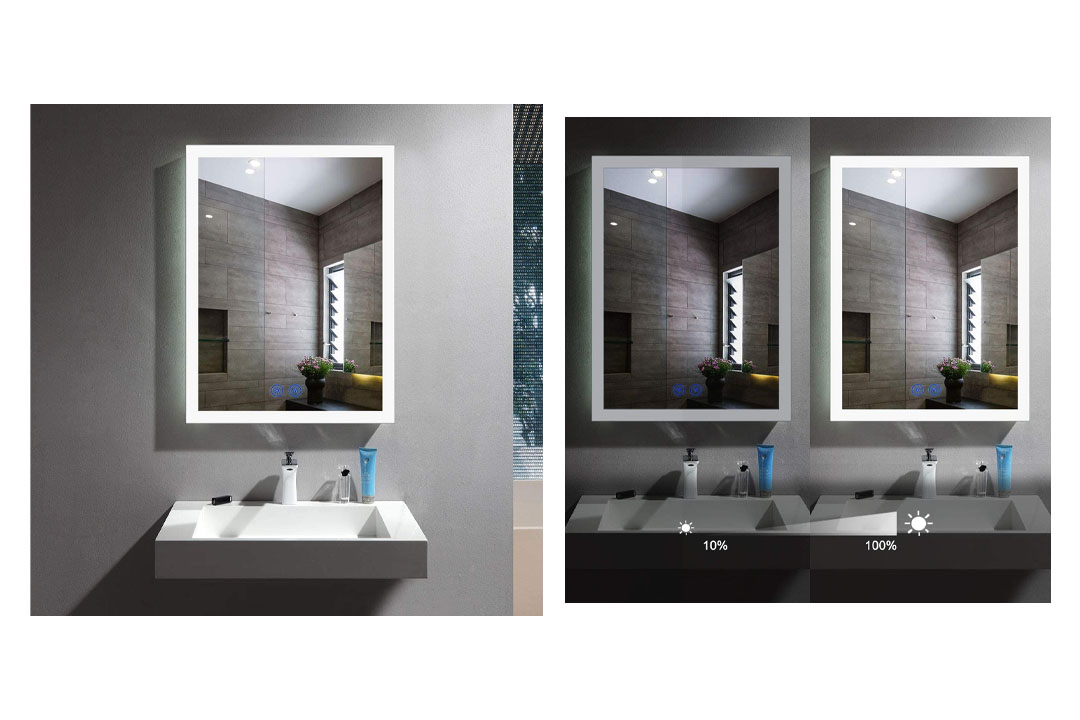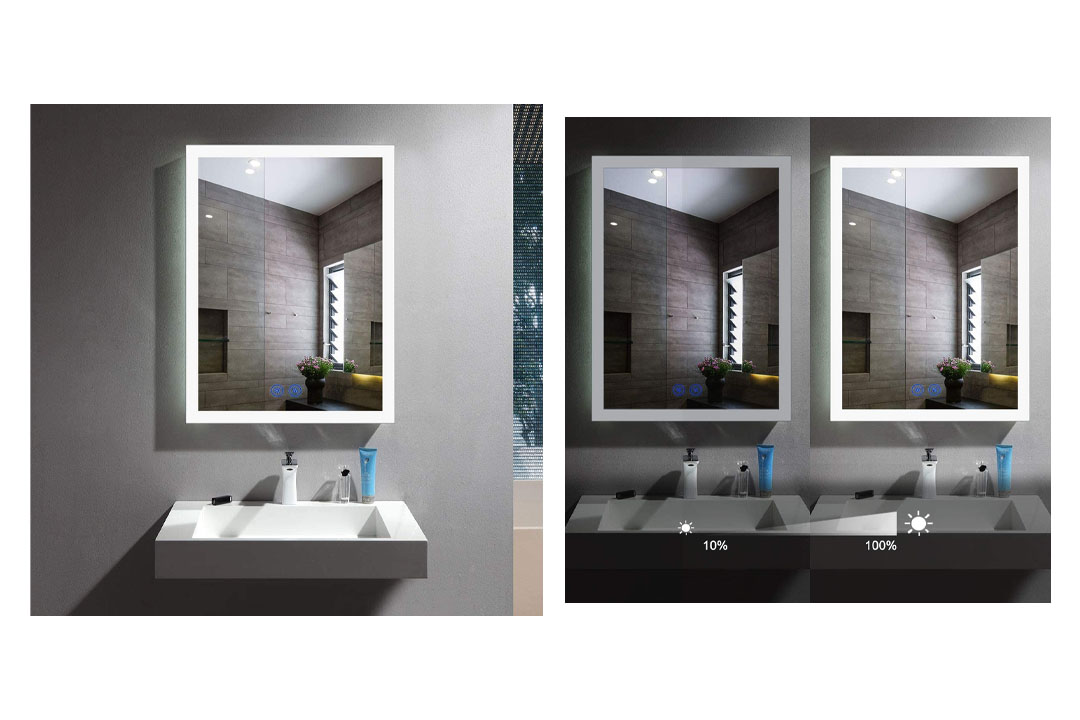 At this point in our list, Decoraport has all the smart lighted vanity mirrors, but they took it up a notch with this 55*28 inch mirror. It is both extensive and yet it comes with a clock function to bring the impeccable finish up a notch. The LED lights are also energy efficient, so while it should use up more power, it doesn't. The mirror is also equipped with an anti-fog and Bluetooth function.
The thick 5mm mirror is encased in a beautiful 40mm finish with is stylish and compatible with any interior décor.
As the mirror is massive, ensure you install it correctly with the correct size of brackets.
3. Wall Mounted Lighted Vanity Mirror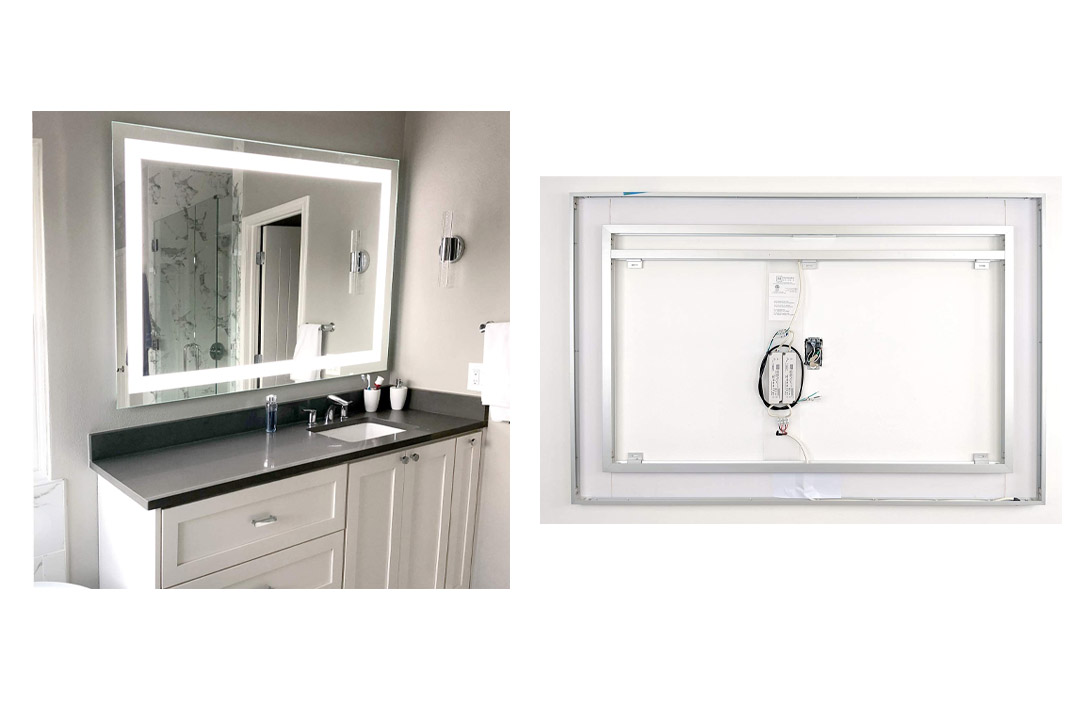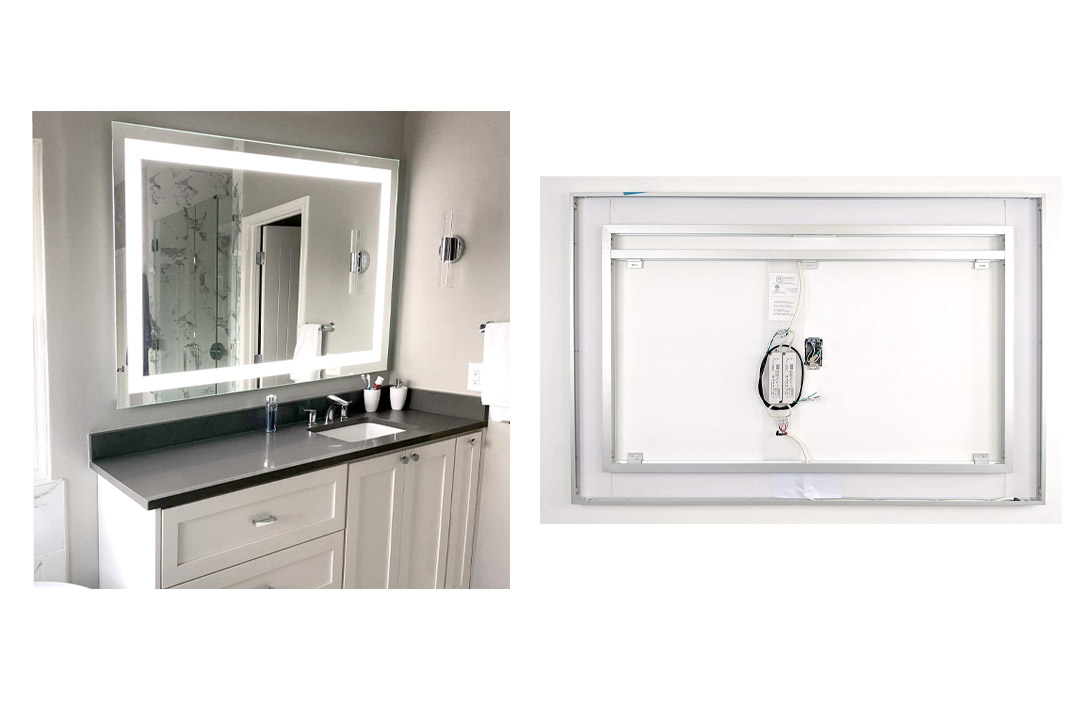 This Mirrors and Marble product is one of the most beautiful in the market. The finishing ensures the LED face towards you, and with their power capability of 6000 K lighting, you can be sure to notice all the makeup and hair faux pas in the mirror.
The big downside to purchasing this mirror is that it installs only one way. So keeping the dimensions in mind, you will have to ensure you find a sufficient and suitable location for your home.
2. Mirror and Marble Side Lighted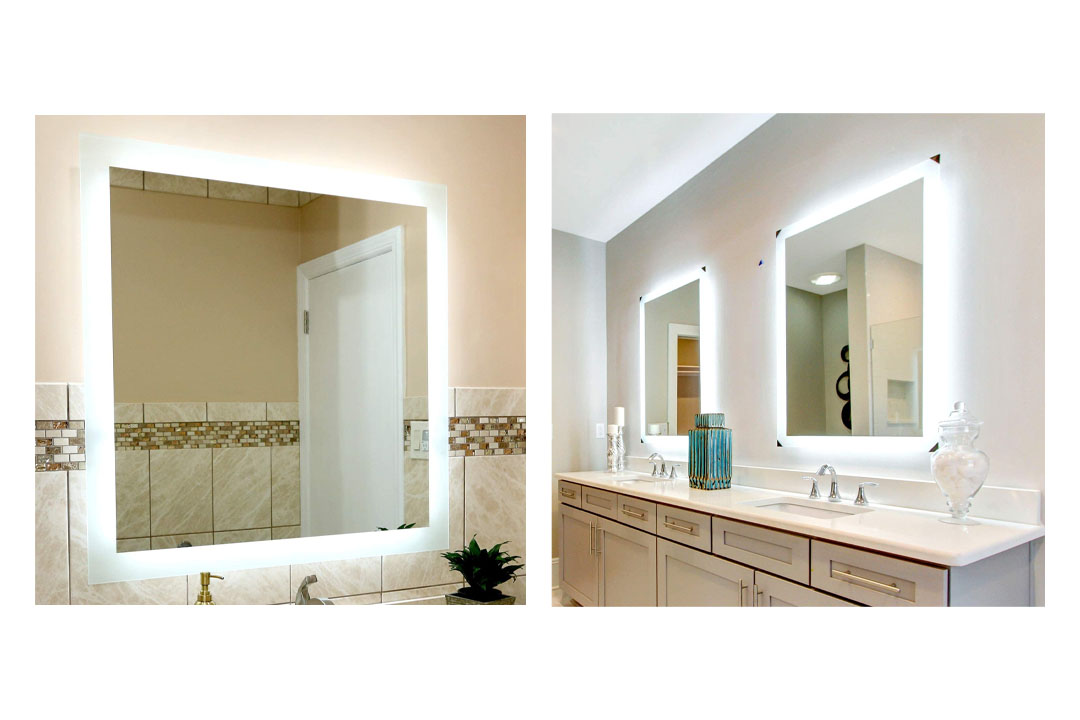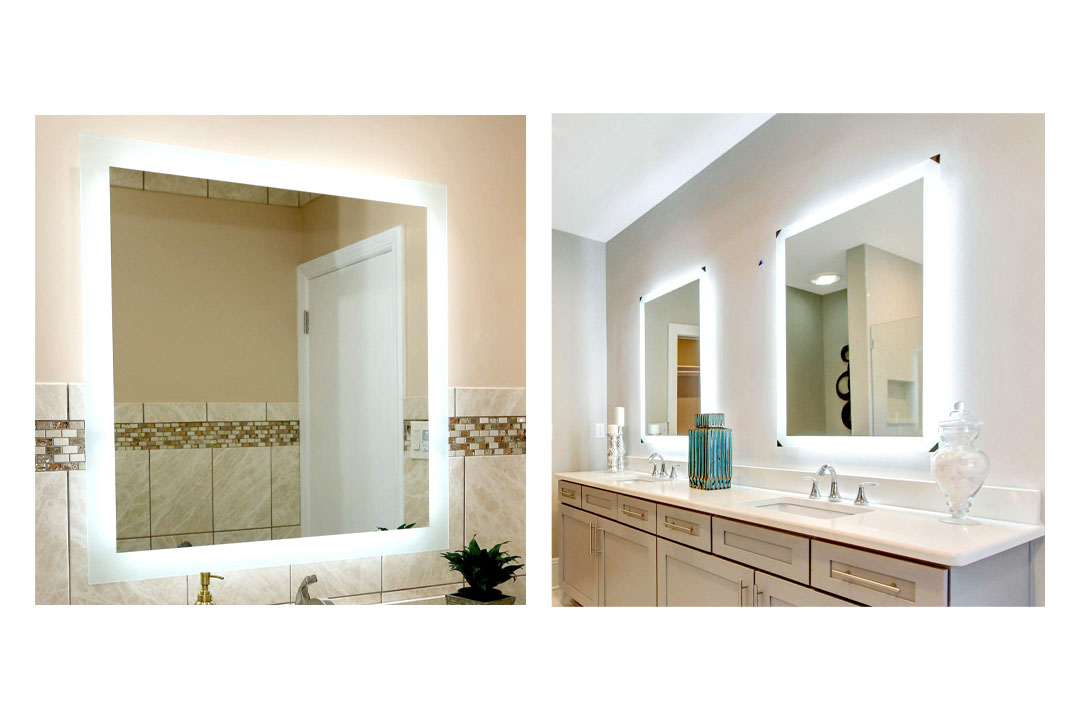 If you want a mirror that will look both gorgeous and is also practical, then this Mirrors and Marble 30*30 size mirror is perfect for you. The edges are 2 and a half inches of frosted glass, so the LED light doesn't shine on you directly. However, the lighting is still sufficient to provide a 6400 Kelvin of mimicked white light which is more than enough to correctly pick out colors even for a professional.
The whole fixture even has a five-year warranty which is more than can be said for other vanity items for sale.
1. Lighted Vanity Mirror LED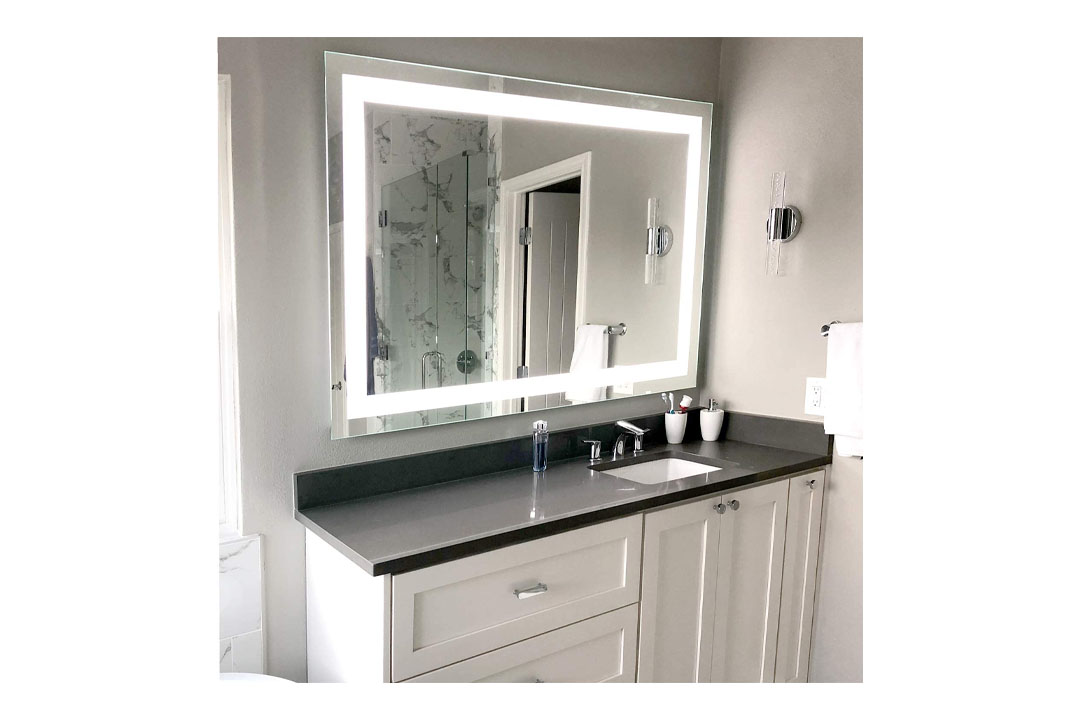 Judging by our list, it is safe to say that we hold the Marbles and Mirrors brand in high regard, and that's why our top pick is their sizeable 60*40 inch commercial grade mirror. It is both perfect for a large home and for professional use. Due to its size, the mirror has to be permanently attached to the power source, but the framing is more than sufficient to hold it in place.
The mirror is moisture proof which ensures that even if you put it in the bathroom, there are sufficient measures to ensure it has a long and clean life.
Conclusion
It is crucial that you choose the perfect permanent mirror for both your needs and also your home. But also remember that you need to take care of and maintain your items for them to last and serve you longer and better. And, now that you have all the information that you could need, we hope that this guide should help you comfortably choose one of our top 10 best-lighted vanity mirrors.
Any Top 10 is a participant in the Amazon Services LLC Associates Program, and we get a commission on purchases made through our links.